The Top 10 things to do in the Smoky Mountains
The Smoky Mountains region is one of the most gorgeous areas in the country. Woodsy hiking trails through diverse terrain (The Smokies is the most biodiverse national park), waterfalls, and scenic overlooks and drives populate the area. The Great Smoky Mountains National Park is one of the most visited parks in the country seeing over 14 million visitors per year.
The Smokies is a great vacation destination for nature lovers, hikers, outdoor buffs, photographers, and bird watchers. Nature aside, there's plenty to do for those who prefer to keep the exercise to a minimum including themed restaurants, quirky museums, ice skating and skiing, scenic gondola rides, shopping, lively shows, mini golf and arcades, and more!
Take a look at 10 things you should do on your first visit to the Smokies.
1. Hike to Laurel Falls
This 1.3 mile hike to a beautiful waterfall is one of only 4 paved trails within the Smoky Mountains National Park. It's also one of the park's busiest trails due to the beautiful scenery, easy accessibility, and ample wildlife sightings (black bears are commonly seen right on the trail). After a moderately intense uphill climb, you will reach 80 foot Laurel Falls, one of the most picturesque waterfalls in the Smokies. Check out more great easy waterfall hikes in the Smokies.
2. Walk across Skybridge
Skybridge is one of the newest and best attractions in Gatlinburg. A scenic chairlift ride leads you up to an 1800 foot overlook of the Smoky Mountains. From here, you will be able to talk a walk across the longest pedestrian cable bridge in the country. A bit of a scary experience for those scared of heights (especially with a glass bottom midpoint), although the views truly are stunning. Overall, a great option for anyone who wants to enjoy fabulous mountain views without embarking on a tiresome hike.
3. Drive the Roaring Fork Motor Nature trail
This one way 5.5 mile loop drive through the gorgeous forests is a great way to take in the natural scenery. Along the way, you will come across tranquil streams, small waterfalls, old growth forest, and even a few historic sites. Access to Rainbow and Grotto Falls, 2 of the park's most breathtaking waterfalls, is available along this route. Note that this drive gets very crowded, especially on summer weekends. Do visit during the off season, if possible. This will enable you to take in the immense beauty minus heavy crowds and also ensure trailhead parking availability. Note that the drive is closed in winter.
4. Hike the Three Waterfalls Loop
The Three Waterfalls Loop is a wonderful moderate hike to 3 gorgeous waterfalls. The hike begins near Bryson City, considered the "Gateway to the NC Smokies." A short 2.5 mile walk will take you to 60 foot tall Tom's Branch, 90 foot tall Juney Whank, and 25 foot tall Indian Creek Falls. Along the way, you will be surrounded by beautiful views of the forest and creek. Overall, hiking this trail is a great experience with this hike being much less crowded than Gatlinburg area hikes. After your hike, there are a number of local restaurants and shops to check out in downtown Bryson City.
5. Climb to the highest spot in the Smokies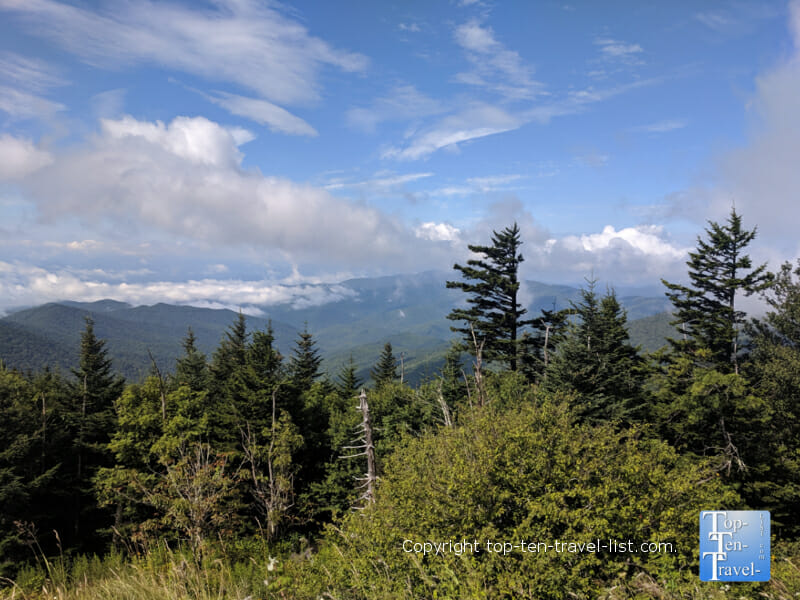 At 6643 feet, Clingman's Dome comes in as the highest point in the Smoky Mountains National Park, as well as the highest point in Tennessee. After a very steep 1/2 mile walk up a paved road, you will reach the observing area. From way up here, you can enjoy 360 degree views of the Smokies. On a clear day, you can see up to 100 miles in the distance! Note that the road to get to the tower is closed during the winter months. That being said, the mountains look much better covered with lush green trees or the golden colors of autumn!
6. Explore "The Parkway" in downtown Gatlinburg
There is lots to see and do in Gatlinburg after a long day of hiking. In fact, Gatlinburg is one of the top base locations for exploring the Smokies due to the easy access to the park and many amenities. While the downtown is definitely high on the cheese factor, it's a fun place to dine, shop, or just walk around. Everything is touristy and mostly overpriced, but still a fun place to check out if you want to kill some time and have extra cash to spend. Attractions include: themed restaurants, mini golf courses, pinball arcades, and Ripley's museums. A few fun ideas:
Breakfast at The Pancake Pantry, known for their crazy pancake toppings.
Brunch at Crocketts, a rustic cabin themed Southern cafe.
Shop at The Village, a German inspired market home to local shops.
Wine tastings – most are complimentary.
Hollywood Cars Museum – Take pictures next to all your favorite movie cars.
Hillbilly Mini Golf – Take an incline ride up to a unique country themed mini golf course.
Ski, ice skate, or take a scenic tram ride at Ober Gatlinburg
7. Enjoy endless entertainment on the Pigeon Forge Parkway
Many touristy attractions line this 5 mile long strip known as "The Parkway." Note that this road is jam packed with traffic all of the time and is not pedestrian friendly. You will have to drive to each attraction separately, so it's best to plan your itinerary beforehand. With so many tourist destinations, the road is often backed up. These attractions include country music shows, gift shops, dinner shows, themed restaurants, and arcades. Here are a few of the best attractions:
Titanic Museum – See over 400 artifacts from the ship in an interactive experience.
Hollywood Wax Museum – Overpriced, although you can take photos next to your favorite stars.
Hard Rock Cafe – The ultimate touristy restaurant. Great comfort food and a fun rock n'roll theme.
The Old Mill – Popular destination for shopping & dining. Attractions include an old time general store, ice cream parlor, pottery shop, and The Old Mill restaurant serving homemade country fare in big portions in a historic grist mill.
The Incredible Christmas Store – Shop for unique gifts/decor in the South's largest Christmas store.
8. Explore Cherokee
Cherokee is located just minutes outside of the Great Smoky Mountain National Park. The area is home to the Cherokee Indians, and thus, there are many cultural attractions to enjoy. These include the Museum of the Cherokee Indian and Oconaluftee Indian Village, a replica of an 18th century Cherokee village. Other attractions include: Harrah's Cherokee, golf courses, and 2 gorgeous waterfalls. Mingo Falls, a 200+ foot tall wonder is accessed via a simple quarter of a mile hike and Soco Falls, a stunning double waterfall (pic above) is viewable roadside via US 19. Also, from Cherokee, you can easily access the breathtaking Blue Ridge Parkway.
9. Plan a whitewater rafting adventure
Rafting is an unforgettable adventure. It's exciting, a bit scary, a bit dangerous, and fun all at the same time. Summers can get really hot and humid in the Smoky Mountains. Sometimes, it's best to opt for a cooler activity than hiking. Whitewater rafting is a fun way to spend time in the great outdoors without overheating. There are many rafting companies in the the Smokies region, with trips available for all skill levels. The Nantahala Outdoor Center near Bryson City was rated "One of the Best Outfitters on Earth" by National Geographic. Half and full day trips on 6 different rivers, Class II-IV rapids available.
10. Rent a rustic cabin
Most of the touristy towns near the Smoky Mountains are filled with cheap overpriced lodging options. A better option is to rent out a beautiful, relaxing cabin in the woods. There are more than enough options to pick amongst whether you are looking for extra amenities like hot tubs and pool tables, a super secluded location, or looking for a massive space big enough for a family reunion. Timber Tops is one great company which offers a variety of cabin styles for every budget.