SkyBridge: The Longest Pedestrian Suspension Bridge in the US
Gatlinburg's newest attraction just happens to be the most exhilarating of them all. Due to the recent completion in May of 2019, tourists are flocking from all over to walk across the 680 foot long SkyBridge. Now the longest pedestrian suspension bridge in the country, a walk across this bridge is number 1 on most tourists to-do list. Despite the lengthy wait (bypass long lines by purchasing your tickets online), making the almost 700 foot trek across Sky Bridge should top your Smoky Mountain bucket list.
Sky Lift chairlift rides
The 5 foot wide, 140 foot tall bridge is part of SkyLift Park. The scenic chairlift rides, which take tourists up to the top of Crockett Mountain for a 360 degree of the Smokies, has long been a favorite of visitors.
Check out those gorgeous mountain views!
Today, you get an extra bonus as SkyBridge is included with your lift tickets. This is a much better deal than before as you can take some time to walk the bridge and check out the views before taking the return chairlift ride back down. Before you would simply travel up the lift, take in the views, and head back down.
The views from SkyBridge, as expected, are incredible.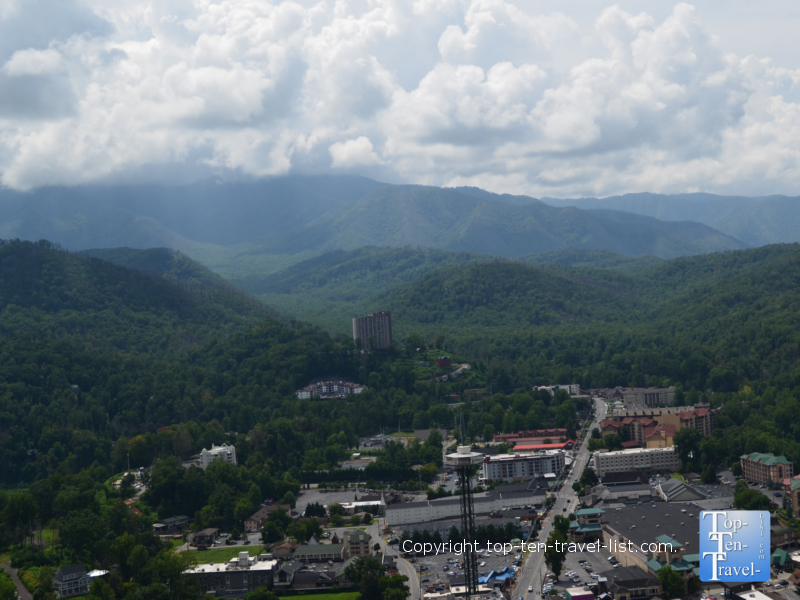 Most interesting is a see-through glass section near the mid point of the bridge. Yes, it is a bit scary if you are at all squeamish of heights. On the other hand, a cool pretty photo opportunity if you don't mind looking down upon the forest 140 feet beneath your feet!
The bridge tends to shake as you walk across it, especially on high traffic days. Prepare to feel a bit dizzy as everyone is bouncing around you. Fortunately, the bridge is safe and can hold 200,000 pounds! The guardrails will give you a bit more balance, not to mention make you feel more secure, if you need something to hold onto. Take your time and enjoy the tremendous view!
More great views from the bridge and observing area
The best part of all is that you can come back and re experience Skylift and SkyBridge as many times as you want during a 24 hour period. As the views look stunning both day and night, I recommend enjoying the view at both times as it will cost you nothing extra.
Additional Details on SkyBridge
Location: 765 Parkway Gatlinburg, TN
Hours: 9am-10pm, 7 days a week, year-round
Admission price: $32 adult, $25 senior, $19 junior, Under 3 free
Tip: Purchase online for a discount