9 Fun things to do in Tarpon Springs: The Sponge Capital of the World
Tarpon Springs, a small town located along the Anclote River in Northern Pinellas County, is most famous for being "the sponge capital of the world." Greek immigrants settled this Gulf Coast village in the early 1900's. Even to this day, Tarpon is still the world's largest producer of natural sponges. These sponges are actually skeletons of living sea creatures. They can be used for bathing and cleaning. And, as opposed to artificial sponges, they last a long time as mold and bacteria are naturally inhibited.
Today, the area is still home to the highest percentage of Greek Americans in the country. According to Census figures, more than 1 out of 10 residents have some Greek ancestry. With an abundance of Greek historical landmarks and ongoing cultural events, plus authentic Greek restaurants, bakeries, and dessert shops, Tarpon is the closest you can get to Greece without taking a lengthy flight.
Below are 9 fun activities to add to your Tarpon bucket list!
1. Try authentic Greek cuisine
There are a lot of local Greek restaurants to choose amongst in Tarpon. From touristy favorites like Hellas (known for their amazing bakery), to local under-the-radar gems like Mr Souvlaki, there are more than enough Greek restaurants to keep you busy your entire visit. A fresh Greek salad is always a must to start the meal out right. Mr Souvlaki serves the best Greek salad in town.
As for Greek entrees, you really cannot go wrong with a spanakopita. This traditional Greek dish, which consists of layers of phyllo dough, feta cheese, and spinach, really is the top Greek dish. Also, do not leave the area without treating yourself to something from Hella's homemade bakery. They offer all sorts of delectable treats here, from baklava, to cannoli, to cheesecake, to various Greek cookies and cakes.
A few more Greek restaurants to try out
2. Book a cruise to Anclote Island
Anclote Island is a secluded beach only accessible via boat. If you do not have your own boat and would prefer not to pay for a pricey rental, the Tarpon Odyssey Adventure Cruise is your next best option. This 2 hour cruise is the perfect summer activity. The boat is mostly covered so you can kick back and enjoy the scenery without totally overheating. The staff are friendly and knowledgeable. And, best of all, prices are super affordable compared to other Bay cruises (just 22 bucks a person!).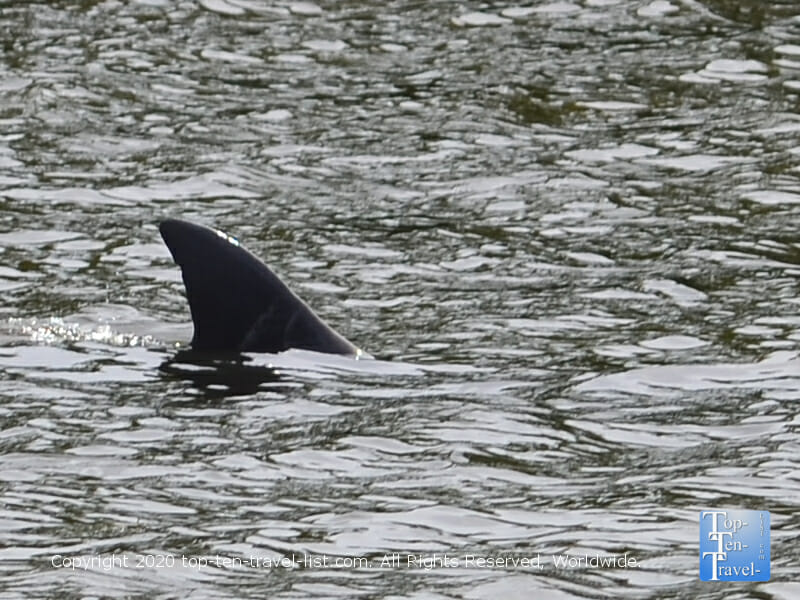 The ride over to the island is scenic and relaxing. Your tour guide will tell you stories and give you a bit of background history on the Greek sponge industry of Tarpon. There are lots of dolphin sightings along the way (in fact, they are guaranteed!). The tour guides are nice enough to move the boat around so everyone gets the unique opportunity to see marine life up close. Once you arrive at the island you will receive a shelling bag to collect all your treasures. Anclote is a shelling paradise!
Read more about the Odyssey dolphin cruise
3. Take a hike through the largest natural area in Pinellas County
Brooker Creek Preserve is a beautiful quiet nature oasis where you can hike, bird watch, wildlife watch, and simply enjoy some peace and quiet. The rustic natural surroundings of Florida feel so far away from the bustling tourist congestion of the sponge docks. Within this large wilderness area lie several miles of trail which cross through native Florida pine flatwoods, cypress domes, and forested wetlands. The boardwalk trail is a nice shady option during the hot summer months.
You will likely see various small animals during your visit. White tailed deer, wild turkeys, gopher tortoise, armadillo, and owls often make an appearance. The best time to see alligators is during the winter sunbathing season. Fortunately, it will cost you nothing to immerse yourself in the natural side of Florida. Note: guided tours are available via reservation.
Check out the Brooker Creek annual event lineup and guided tour options
4. Bike the Pinellas trail
If biking is more your style, then you are in luck as Pinellas County is home to one of the top rail trails in the country. All over the country abandoned railroads have been transformed into valuable multi purpose recreational paths which can be enjoyed by local and visiting fitness buffs alike. The Pinellas trail runs a 50 mile course between Tarpon Springs and St. Petersburg.
Tarpon is a great place to begin your adventure as this is the more scenic, shady, and (usually) least congested portion of the path. There are lots of fun detours along the way including downtown Dunedin, Honeymoon Island Beach, as well as numerous preserves.
Consider starting in Tarpon and making the 7 mile journey over to Dunedin. Because this path is flat and well-maintained, it's a great choice for everyone, including beginners.
Full map of the Pinellas trail
5. Go back in time to the heyday of pinball
Playing unlimited games of pinball at Replay Amusements is the perfect indoor activity on a super hot summer day. At ReplAy, you can play pinball and arcade machines to your heart's content for one low price (best of all, admission is good all day!). It's so much fun to take a fun trip down memory lane to the heydall of pinball and arcade gaming (before all the modern video games, cell phones, and Internet took over!) At just $14 a person, it's a much better deal that modern gaming options like Dave and Busters.
You will see so many classic favorites here like the Pac Man and Super Mario Brothers joystick arcade games, the Teenage Mutant Ninja Turtles stand up arcade game, the Back to the Future and Addams Family pinball machines, amongst dozens of others. However, the collection is not limited just to oldies. As soon as you walk in, you will see a Stranger Things pinball game – super fans of this eclectic 80's themed TV series will surely love this!
6. Shop for retro treasures
Bear Haven Land Company Vintage shop is a must for anyone who loves hunting for old treasures. Even if you do not plan on buying anything, it's really fun to take a trip down pre-high tech memory lane. Seeing so many fun nostalgic board games and toys which you had long forgotten about is quite a blast from the past. I have found some pretty cool stuff here including a collector's Beatles Monopoly Game, priced at just 20 bucks.
After you have your fill of looking at thousands of nostalgic toys, you can continue on the trip down memory lane at the Replay pinball museum, conveniently located right next door.
Check out some of the vintage collection offered at Bear Haven
7. Watch a sunset at Fred Howard Park
This small beach is considered one of the best places in Pinellas County to watch a sunset. Unlike the more popular Southern Pinellas County St. Pete & Clearwater beaches, this one retains a more local laid-back vibe. Featuring soft smooth white sand, this beach is not surprisingly popular with sunbathers.
Take a stroll along the water, swim, birdwatch, enjoy the small wildlife which frequent the beach, take a stroll along the nature trails, rent a kayak or paddleboard, or enjoy a scenic picnic. There's lot to do here to justify the small $5 parking charge. Overall, it's a great off-the-beaten path beach option for anyone seeking a little more solitude and less of a party vibe.
8. Relax at Sunset Beach
Sunset Beach is another Tarpon beach known for its' great sunsets. The sand isn't as smooth here as that found at Fred Howard and other Gulf beaches, however, the scenery is quite exotic. The palm trees give this beach a nice tropical vacation vibe. Sporty types will also love the volleyball courts.
Another bonus is the free admission. Although the beach is quite small, you really can't complain about the free parking – a true rarity along the Gulf coast!
9. Shop for natural sponges
Artificial sponges tend to grow bacteria and mold rather quickly, and thus, need to be frequently replaced. While you are in Tarpon, you will definitely want to pick up a quality durable, bacteria resistant natural sponge. As Tarpon produces over 90% of the world's sea sponge supply, there is definitely no shortage. Every shop sells all different types of sponges.
Spongeorama Sponge Factory claims to offer the "world's largest selection of natural sea sponges." They also sell homemade bath soaps, beach shells, and various Florida souvenirs. Yellow sea sponges due to their coarseness are great for cleaning and arts and crafts, while wool sponges are great for bathing due to their absorbent nature.