A Spectacular Sunset & Beautiful Natural Trails on Florida's Honeymoon Island
Honeymoon Island, a barrier island just west of Dunedin, Florida, is well regarded as being home to one of the best beaches in Florida. 4 miles of beaches, including a pet beach attract visitors from all over the world. Honeymoon is famous for its' spectacular sunsets, and often regarded as one of the top beaches in the state for sunset photography. In addition to swimming in the warm waters of the Gulf, collecting seashells, bird watching, walking the nature trails, and picnicking are popular activities.
Mike and I were expecting a lot from this beach after hearing rave reviews and seeing it listed in numerous publications as one of the best beaches. To be honest, we were quite dissapointed.  Don't get me wrong, the sunset was stunning, however, the beach left a lot to be desired.
The water was not as clear as I was expecting, the water was too warm to swim in, the sand too rocky at most points, and in general it felt way too overcrowded for my taste. Maybe it was just the day we visited, but we were expecting a quieter setting. When the crowds finally dwindled down later in the day, we were able to appreciate the beauty of the area.
It was an extremely hot day in the 90's and really crowded. Had it been less crowded with milder temperatures, maybe my opinion of the beach would have differed. We also had to wait over an hour in traffic to get into the beach! I will definitely remember to plan weekday trips to the beach from now on.
The sand was not as smooth as I imagined. Too many rocks and broken shells to to enjoy walking around. In addition, the water was surprisingly too warm! I knew the waters of the Gulf were warm, but the water here was too warm to even be considered refreshing on a hot day. Also the narrow strip of sand led to a crowded, noisy environment with not enough area for everyone to spread out and enjoy the day. I prefer beaches with a wide strip of sand.
Take a look at a few pictures of the beach (about an hour or so prior to sunset). As you can see most of the crowds had died down by this time.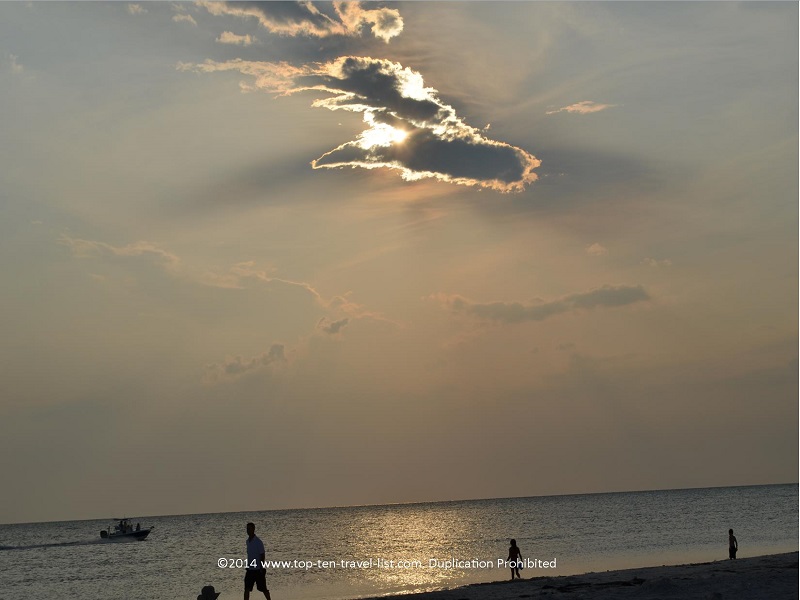 On the other hand, the nature trails are definitely a must-do when visiting the island. 2 miles of strolling along beautiful natural Florida coastal forests allow you to take a much needed break from the beach crowds. We decided to take an hour break on the trails, and by the time we came back the beach crowds were long gone.
We completed the Osprey Trail, a beautiful 2 mile journey through the Florida pine forests with ample opportunities for wildlife spotting. We came across several sea turtles, an armadillo, and plenty of hermit crabs.
An armadillo hiding in the trees
One of the many hermit crabs we encountered on the way! They are very fast! Luckily, we were able to capture a quick picture.
In addition, we saw a sign stating that several bald eagles have decided to make the trail their home. Here is a picture of one of the eagle nests.
Near the nature trails, you will find plenty of shaded picnic tables. The picnic area is especially scenic with dozens of palm trees. It was not overly crowded and the lush landscaping made it feel like a tropical escape. I recommend bringing with your own lunch if heading out all day as the cafe offers a very limited menu.
After the trail, we headed back to the beach to wait for the sunset. A storm hit the area and the temperatures dramatically decreased. It's crazy to think that just a few hours earlier I was extremely overheated, and now I felt the need for a sweater! We stuck out until sunset, later happy that we waited for the stunning views. Check out a few of the amazing views below!
Other amenities on Honeymoon Island include: Honeymoon Cafe (offering burgers, hot dogs, and light snacks), public restrooms and showers, a pet beach, playgrounds, and umbrella rentals.
Honeymoon Island State Park is located at 1 Causeway Blvd in Dunedin, Florida. Fees are as followed: $4 per vehicle with one occupant, $8 per vehicle with 2-8 occupants. Entrance by foot or bike is a bit cheaper ($2 per person).
Have you ever visited Honeymoon Island? What did you think of the beach and trails? How would you rate this beach in comparison to others in Florida?