Best of Tampa Bay Dining Guide
It may not be a world-class foodie destination like New York, Chicago, or San Francisco, nevertheless, the Tampa Bay metro area offers a number of interesting restaurants choices across the board. From fresh seafood along the Gulf coast, to authentic Cuban fare, to the world's largest Spanish restaurant, to some of the best Greek food in the country, as well as a growing health food scene, there is an option here for everyone.
Here's a look at some of the best dining choices in the Bay metro area.
Breakfast fare
Breakfast is the most important meal of the day, even moreso if you are getting up early to explore the beach or other city attractions. Here are a few great local choices that will keep you satisfied until lunch.
Samaria Café – Popular family-run downtown establishment known for their diverse menu of breakfast offerings which are served all day. A simple no frills place to enjoy classic American fare. Convenient location to the riverfront and other downtown attractions.
What to try: Veggie Quiche, served with fresh fruit and the muffin of the day
St. Pete Bagel – Delicious authentic NY bagels in every variety imaginable. Boiled and baked fresh daily. Voted best bagel shop for the past 9 years. Sandwiches, donuts, and quiche also available. Be prepared to wait on weekends.
What to try: Pumpernickel hummus bagel sandwich (hummus, sprouts, tomatoes, and cucumbers)
Keke's- Florida chain known for their big breakfast menu. Treat yourself to specialty pancakes (options include banana nut, granola crunch, blueberry, pecan, and chocolate chip) or Stuffed French Toast. Ambiance is cozy and old school. Overall – great food, service, and coffee!
What to try: Veggie scrambler (2 eggs and hashbrowns with your choice of 3 veggies and cheese)
Ryan's Island Beach Café – Low key tropical beach diner located within walking distance of Clearwater Beach. Great bang-for-your-buck in a pricey tourist area. Cute décor. Coffee is excellent.
What to try: Vegetarian hash browns (potatoes with sautéed mushrooms, onions, peppers, spinach, tomatoes, and Cajun seasoning)
Clear Sky Café – This downtown Clearwater café offers the prefect classy ambiance for a brunch date. Great food, nice décor, and great service. Beautiful patio to enjoy on cooler fall/winter mornings.
What to try: Burrito Grande (Chicken, onions, peppers, black bean relish, cheddar, salsa roji & verde, queso blanco, homestyle potatoes), Breakfast tacos
Local Coffeehouses
Move over Starbucks! The independent coffee scene continues to expand in Tampa. Here are a few great local coffee shops to get your morning buzz.
Sips – Super cute local coffeehouse with adorable seasonal décor and the friendliest baristas. Coffee is always delicious, as are the bagels and pastry treats. Comfy with a neighborhood vibe not found elsewhere in the metro.
What to try: Homemade coffee cake and a multi grain bagel, house coffee (always delicious)
Indian Shores Coffee – Popular local coffee roaster across the street from Indian Rocks Beach. Features a breezy covered patio. Great specialty drinks, best espresso in town, and fresh pastries baked daily.
What to try: Chocolate croissant, Apple Cinnamon muffin, Americano, house coffee
Belleair Coffee Company – Spacious roaster located near Indian Rocks Beach. Serves 4th wave coffee. The coffee is top-notch, as are the pastries. Another highlight is the great presentation in an area where most coffee shops only serve drinks in paper cups.
What to try: Overnight oats, Americano, Veggie quiche
Buddy Brew – Local roaster with numerous locations including a prime spot in Tampa's lovely Hyde Park shopping village. Enjoy a homemade biscuit and expertly made espresso drink while people watching on the relaxed patio.
What to try: Pumpkin spice latte, Americano, biscuit with honey
Caffeine Roasters – Laidback local roaster with 2 convenient Tampa locations. Downtown shop features brick walls. Convenient access to city attractions. Coffee is always top-notch. The pastries are always fresh!
What to try: Pour over, Americano, croissant, homemade muffin of the day
Healthy fare
Numerous cafes and smoothie shops focusing on the use of organic and sustainable ingredients have popped up in recent years. As a bonus, most of these cafes offer plenty of gluten-free and vegetarian choices.
Cali – California/American style regional chain which serves an array of fresh salads, wraps, and bowls. Lots of fresh veggies used. Ample protein options including delicious vegan lentil bites. The New Tampa café features a lovely patio with lots of pretty landscaping.
What to try: Big Italy Bowl (features your choice of base, roasted broccoli, roasted cremini mushrooms, charred grape tomatoes, herb garlic oil, and almond ricotta). Try the Coconut Avocado rice (base) and lentil bites (protein).
Ohana Cafe – Hawaiian café serving a big menu of healthy breakfast and lunch entrees. Offers the most creative GF and vegan choices in the Bay. Best pancakes, smoothies, and omelets in town. Staff greets each customer with a traditional Aloha greeting!
What to try: Big Lucy Breakfast (3 plant based pancakes with fresh fruit, choice of side), Very Veggie Omelette, Tutu's Berry banana smoothie, Vegan falafel wrap
So Fresh – Made-to-order grain bowls, salads, and wraps. Grass fed meats, organic tofu, and sustainable seafood available. Healthy smoothie and juiced drinks also available.
What to try: Superfood bowl (brown rice, red quinoa, tomatoes, broccoli, avocado, walnuts, balsamic vinaigrette)
Greek
Home to Tarpon Springs, which clams the title of "Greek capital of the US," there are plenty of enticing choices in this category.
Hellas – Touristy Greek favorite in the sponge dock district of Tarpon Springs. Great ambiance and décor. Amazing selection of dozens of homemade desserts including delicious baklava cheesecake.
What to try: Spanakopita (served with rice pilaf, veggie of the day, Greek potatoes and bread), Greek salad, Chicken Souvlaki
Mr. Souvlaki – Where the locals go for fresh no frills Greek fare. This Greek gem is located off the main tourist drag. Known for their fresh salads and their trademark Greek Chow Mein (choice of meat, feta, sautéed peppers and onions, and rice pilaf).
What to try: Greek salad, Spanakopita, Souvlaki dinner
Greek Village – Low Key local family-owned Greek joint tucked away in a quiet strip mall in Seminole. The food here is great and the ambiance is cozy and casual. Highlights include amazing lunch specials and a tantalizing dessert display!
What to try: Spinach/cheese pie lunch combo (served with Greek salad and half grilled pita topped with feta)
Louis Pappas – Quick service Greek joint known for their trademark chopped Greek salads. Fresh, fast, and affordable. Best falafels in Tampa. Nice outdoor patio.
What to try: Chopped Greek salad with falafel
The Hungry Greek – Casual Greek chain known for their affordable tasty Greek dishes, clean ambiance, and quick service.
What to try: Greek salad, Veggie or chicken pita, Greek bowl topped with falafel (brown rice, tomatoes, garbanzo beans, cucumbers, olives, pepperoncini, feta cheese, tzatzaki sauce)
Asian
It's not New York or San Francisco, however, there are a number of decent Asian restaurants throughout the Bay.
Liang's Chinese Bistro – Local favorite in the New Tampa region. Great ambiance and service. The food is delicious and the lunch specials are fantastic. Best spring rolls in the Bay!
What to try: Buddha's Delight, Veggie fried rice, spring rolls, egg drop soup
Yummy House – Popular Chinese bistro with several locations. The ambiance, service, and presentation here are all top notch. The egg drop soup is amazing! Huge portions – come hungry! Lots of fantastic lunch specials which come with Jasmine rice and tea.
What to try: Egg drop soup, Chicken or Veggie Lo Mein, Vegetable Fried Rice
Island Fin Poke – Best place for poke bowls in Tampa. Customize your bowl with fresh veggies like seaweed, cucumber, and pickled veggies) and a protein/base of your choice. Don't leave without trying the Dole Whip!
Michi Ramen – Top choice for quality ramen in the bay area. Located in a small strip plaza in New Tampa, and thus, never overcrowded. In addition to ramen, rice bowls, Michi tea drinks, salads, and appetizers available.
What to try: Vegetable ramen featuring veggie broth, soy milk, avocado, zucchini, mushrooms, egg, tomatoes, tofu, and noodles.
Indian
If you have never tried Indian food before, you are missing out. Here are a few of the best options around the metro.
Minerva – Best Indian buffet in the region. Lots of great choices on the lineup including paneer tikka masala, pakora, channa masala, chicken vindaloo, and much more. Awesome naan bread and chai tea. A bit on the spicy side. Affordable, clean, and always maintained. Nice ambiance despite the Strip mall location.
What to try: The Lunch Buffet, Narvatan Korma, Saag Paneer, garlic Naan, samosas, dosa, eggplant curry, chicken masala
Athihi Indian – 100% vegetarian Indian restaurant located in a New Tampa strip mall. Everything is delicious and fresh, although the service is a bit slow. Highlights include the delicious naan bread and Veggie Korma.
What to try: Narvatan korma, Alo Gobi, samosa chaat, palak paneer, mixed veggie curry
Mediterranean
A few great choices for Mediterranean fare around the Bay.
Bayshore Mediterranean – Casual Turkish café known for their kebabs and tasty appetizers. The oven baked hummus with mozzarella, served with lavash bread is the must try here. Lots of great entrees including a few delicious vegetarian options, plus the best Turkish coffee in the area.
What to try: Oven baked hummus, Vegetable casserole (mix of tomatoes, green peppers, zucchini, carrots, eggplant, and red peppers, baked with mozzarella cheese), Chicken Adana (Ground chicken seasoned with bell peppers) and grilled.
Acropolis – Mediterranean chain with several locations throughout the Bay. Nice ambiance, great appetizers, and a pretty outdoor patio. Known for their belly dancers and hookah bar. Amazing falafel appetizer. Not the best Greek food in the area, but the ambiance is nice.
What to try: Falafel appetizer, Chicken gyro platter (Chicken topped with onions, tomatoes, and tzatziki, served with pita, salad, and Greek fries
Pascal's Artisan Bistro – Eclectic Mediterranean themed breakfast and lunch café in David's Island. Features attractive artistic décor and a nice outdoor seating area. Lots of interesting choices for brunch.
What to try: Shashuka (a Middle Eastern dish consisting of poached eggs in a savory tomato sauce)
Are-pitas – Quick service café specializing in Mediterranean and Latin America fare. Aprepas, pitas, Lebanese entrees, cachapas, and empanadas are all available on the diverse menu.
What to try: Chicken pita, Guava and cheese empanada, Lebanese special (salad, hummus, baba ganoush, 1 dolma, 2 falafels)
Themed restaurants
Rumfish Grill – Touristy St. Pete beach restaurant located inside the Tradewinds Resort. Known for their gigantic colorful aquarium which was featured on Animal Planet's Tanked reality series. A perfect choice for seafood lovers!
What to try: Tuna poke, Seared Scottish Salmon
Hard Rock Cafe – Touristy rock n' roll themed chain serving American comfort style foods in an eclectic dining area. Their mac and cheese is the best anywhere, period. Lots of fun appetizers and drinks served in souvenir glasses. Located inside the Seminole Hard Rock Casino in Tampa.
What to try: Jumbo Appetizer (includes spring rolls, bruschetta, onion rings, wings), Twisted Mac and Cheese
Italian food
Instead of indulging in endless salad and breadsticks at the Olive Garden, consider supporting one of the following local gems.
Slyce Pizzeria – Excellent upscale casual pizza joint with locations in Madeira Beach and Indian Rocks. Perfect comforting choice after a long day of fun-in-the-sun. Excellent pizza, amazing garlic knots, and the best Greek salad in town. The Madeira location features a beautiful patio overlooking the water.
What to try: Cheese pizza, garlic knots, Greek salad
Edie and Sams – Popular downtown pizzeria serving authentic NY style pizza. Known for their humongous 28 inch pizza. Imports NYC water for the dough which gives the crust that trademark flavor.
What to try: 28 inch cheese pizza, garlic knots, toasted ravioli
Gino's – Authentic local Italian joint known for its' cozy ambiance, great food, and old school vibe. The food is totally authentic and portion sizes are quite big considering the affordable price tag.
What to try: Eggplant Parmesan, Chicken Parmesan. All entrees served with garlic bread and a salad.
Vito & Michael's Pizzeria – Low key Italian establishment located in a no frills strip mall near St. Pete Beach. Very friendly service, casual vibe, and most importantly, excellent food. Great pricing and excellent lunch specials. Nice laidback choice after a long beach day.
What to try: Hand spun pizza, Eggplant Parmesan, Chicken Parmesan. All entrees served with bread and salad.
Paul's Chicago Pizza – Best place for an authentic Chicago pie in Pinellas County. Also serves tasty appetizers including the most delicious parmesan poppers, garlic bread, toasted ravioli, and cheese sticks. Great ambiance with plenty of Chicago sports memorabilia.
What to try: Thin or stuffed crust pizza, garlic parmesan poppers
Mexican
Lots of great Mexican choices, both casual and upscale, throughout the Bay. Here's a look at the best.
Capitol Tacos – Great a la cart taco shop which has won numerous awards. Located a bit out there in Wesley Chapel but worth the drive for the creative taco options, Mexican street corn, and tasty chips and queso.
What to try: Mean Verde (Fried avocado, crushed chips, lettuce, jack cheese, pico, poblano ranch, and queso dip), Hen house (Adobo chicken, pico de gallo, caramelized onions, sour cream, chihuahua cheese, and poblano ranch)
Tijuana Flats – Popular Florida Tex-Mex chain with over 100 locations. All food is made fresh to order including the delicious salsa and guacamole. Lots of great choices including a variety of vegetarian options (black or refried beans are an option for most entrees).
What to try: Enchiladas, Chimichanga, Tijuana Trio (Chips with salsa, guacamole, and queso)
Jakes Coastal Cantina – One of the best casual places to grab a bite near the Indian Rocks/Redington beach area. The Tex Mex food here is terrific and the vibe is so casual, so you can come in right from the sand. Highlights include a tropical ambiance, large bar, affordable daily specials, and build your own margarita bar.
What to try: Fried Mexican street corn, Mexican pizza, build your own taco/burrito/tostada (comes with chips/salsa)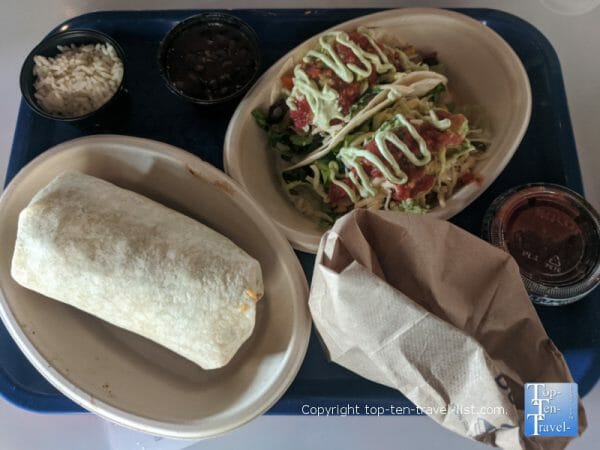 Mekenita Cantina – Upscale Mexican restaurant in the Seminole Heights neighborhood. The food is so delicious, and the presentation is perfect. The décor is eclectic and colorful. Best enchiladas and burritos in the city! They make their own salsa and chips and they are so good, and fortunately, complimentary!
What to try: Charred Vegetable Enchiladas, Citrus Grilled Chicken Burrito
Cuban/Spanish
Most famously, Tampa is known for being home to Columbia, the world's largest Spanish restaurant. The award winning restaurant opened in historic Ybor City back in 1905. Today, it has expanded to include multiple locations across Florida.
Columbia – Famous Florida Spanish chain with numerous Tampa Bay locations. The Sand Key restaurant features a gorgeous patio overlooking the water. The service, ambiance, and authentic food are all hard to beat. All entrees come with the most delicious Cuban bread and butter. Best place for a date or celebratory occasion.
What to try: Black Bean cakes, Black bean soup, Vegetarian Paella, Chicken and Yellow Rice, Chicken Salteado
Mr. Empanada – Low key local gem serving the best empanadas in the area. Also known for their Cuban sandwich and dessert empanadas (Apple pie, guava & cream cheese). Eight convenient locations so you are always within easy reach no matter where your day's activities take you.
What to try: Spinach, artichoke, & cheese empanada, Black bean soup, Chicken, broccoli, & cheese empanada
Barracuda Deli Café – Caribbean Mexican fusion café with locations in St. Pete Beach and Seminole. The friendly no frills vibe makes it a great post-beach dining choice. Voted one of the best places for a Cuban sandwich. Great variety of Mexican entrees, pressed sandwiches, and fresh salads.
What to try: Barracuda bowl (choice of meat or veggies, plus lettuce, rice, black or red beans, tomato, cheese, and cilantro), Turkey and Pepper Jack pressed sandwich
European/International
Mr. Dunderbaks – Known for their authentic German fare and large beer menu. Lots of great apps. Great place to catch a game. Menu features a diverse selection of entrees, sandwiches, and even a vegetarian section.
What to try: Cheese Spätzle, potato and cheese perogies, fried pickles, potato pancakes
The Living Room on Main – New American bar and restaurant featuring locally sourced fare. Menu features a range of dishes inspired by global cuisine. Features colorful eclectic décor inside, as well as a nice patio for the cooler season.
What to try: Truffled ricotta gnocchi, Green Goddess salad
Pierogi Grill – Charming authentic Polish café in Clearwater. The menu is quite large with something for everyone. Offers a range of pierogi including meat and veggie options, plus decadent dessert pierogis. Pricing is a bit on the high side, however, the food and décor are both fantastic. Bonus – a great little European market is located on site.
What to try: Potato Pancakes, Pierogi Platter (includes a mix of 12 meat and/or veggie)
Irish 31 – Casual Irish pub with numerous Florida locations. Great food, live entertainment, a full bar with all the sports stations, and fun events (trivia nights). Menu includes a mix of traditional Irish fare and Southern specialties, plus a few vegetarian options. Produce is sourced locally.
What to try: Legendary Boxty (reg, loaded, or Shepherds Pie), Fish and Chips, Veggie Hummus wrap
Seafood
There are no shortage of restaurants which serve fresh seafood along the Gulf coast. In addition to the two favorites featured below, consider the following highly regarded restaurants: Eddie V's, Oystercatchers, Shells, Ocean Prime
Guppy's – Indian Rocks Beach favorite known for their Grouper sandwich. Serves the best lobster mac and cheese! Super close to the beach. Nice covered patio.
What to try: Truffled lobster mac and cheese, Key Lime Pie
Seabreeze Island Grill – Relaxed seafood favorite with a scenic waterside patio. Great local choice for seafood lovers after visiting Redington Beach. Fantastic early bird options.
What to try: Early dining meal (11-5 daily, includes a side, pineapple coconut bread, and cheesecake for $13). Options include crab stuffed baked flounder, shrimp, Island coconut shrimp fish tacos, and smothered Key West chicken
American/Pub
In the mood for a great place to grab some good grub, kick back a few drinks, and watch the game? Here are a few great casual pubs to consider. Fortunately, the pubs featured below offer a number of "heathier" game day choices.
Mad Beach Craft Brewing – Great place to relax with a few drinks and appetizers after a beach day. Menu features seafood, southern specialties, and even a few vegetarian and GF options. Known for their house brewed beers. Bonus – pool and pinball on site.
What to try: Falafel Dinner (served with vegetable roast), Black beans and rice, crispy pickle spears, T'Willy's Turkey burger
Clear Sky Draught Haus – The best place to eat in Dunedin. There is something on this menu for everyone in your party. The chef driven pub menu includes everything from burgers and ribs, sandwiches and pizza, burritos, and high end craft beers. Brunch menu is awesome with various burritos, bennies, French Toast, omelets, hashes, & more.
What to try: Burrito Grande (scrambled eggs, black beans, cheddar, veggies, topped with salsa, ranchero sauce, and sour cream).
Ella's American Folk Art Cafe – Trendy local café and gallery in the Seminole Heights neighborhood. Décor is eclectic and artsy. Great apps and delicious pizza! Bonus – live entertainment and a gorgeous shady patio. On Sundays, they serve a special soul food menu.
What to try: Spread the Love (Hummus and pimento cheese dip, served with homemade pickles, veggies, and grilled pita), The Hippy Pizza (healthy pizza topped with mozzarella, arugula, portabella, roasted garlic puree, toasted almonds, artichoke hearts, Kalamata olives, sundried tomatoes, and basil – vegan cheese as sub available).
Bakeries
What's better than waking up on a weekend morning to a hot cup of coffee, along with a freshly baked pastry? Here are a few great bakeries to start your morning off on a high note.
Le Segunda – Cuban bakery known for their homemade bread and pastry teats. There are 2 locations, one in Ybor City (opened in 1915) and another in South Tampa. The South Tampa location features a large, always bustling seating area. The coffee is a bit on the bitter side, however, the Cuban toast and pastries make it worth a stop while in the vicinity.
What to try: Cuban toast with butter, Guava turnover
Café de Paris – Popular family-owned French bakery/coffeeshop located in a strip mall near Indian Rocks Beach. Come for the delicious coffee and treat yourself to a delicious quiche, crepe (over a dozen sweet or savory buckwheat options are available) or pastry while you are here.
What to try: House coffee, Spinach parmesan & garlic quiche
La Casa del Pane – Authentic Italian bakery just minutes from St. Pete beach. Fresh bread and pastries baked daily. Also serving great coffee and espresso, pizza, sandwiches, and salad. Nice patio to enjoy during the winter season. On a disappointing note, they only serve drinks in paper cups.
What to try: Americano, Sfogliatella, Blueberry muffin
Sweet treats/Dessert
Plenty of refreshing treats all around the Bay. However, you do not necessarily need to splurge on something unhealthy. Here are a few "healthier" sweet treats to consider.
Raining Berries – Best place in the Bay for acai bowls. All bowls (pick amongst 5 options) are made fresh in house using fresh fruit. The interior is hip and modern. Their coffee is also terrific and they offer a number of smoothies, kombucha, and specialty drinks including seasonal favorites like the Pumpkin Spice Latte and a Honey Lavender Latte.
What to try: House coffee, Prickly Pear tea, Acai berry bowl (acai, granola, coconut flakes, chocolate chips, peanut butter, strawberries, banana, blueberries)
Menchie's – Best place for a frozen yogurt fix. Self service with a rotating selection of flavors including one 100% plant based yogurt made using almond milk. Lots of fun toppings. Yogurt is made using rBST free milk.
What to try: Vegan Salted Caramel, Dole Soft serve pineapple, Double chocolate, original tart vanilla, red velvet
Nekter Juice Bar – Healthy modern juice bar serving fresh squeezed juice drinks, acai bowls, and smoothies. Great place for a healthy mid afternoon snack. Cool down from the heat with an antioxidant packed fruit and/or veggie loaded treat! Plenty of dairy-free options.
What to try: Elderberry smoothie (elderberry, blueberry, strawberry, acerola cherry, housemade cashew milk, and agave. Great choice during the winter to keep your immunity up as it is packed with zinc and vitamin C!
Vegan/vegetarian
Today, it is pretty easy to find quality vegetarian/vegan fare in almost any major city thanks to the popularity of the plant-based diet. Here are a few of your best bets in Tampa. Note: The restaurants in the healthy section also offer a number of veggie friendly entrees.
Farmacy Kitchen – Vegan eatery and coop located downtown. Menu is 100% plant based. This place is great as they offer many comfort foods as opposed to the standard boring salads. Enjoy a vegan Philly cheesesteak, burger, grilled cheese, or even mac and cheese.
What to try: Cashew Mac (house made cashew cheese with a smoky seasoning), curry chickpea salad (roasted garbanzos with veggies in a curry dressing), Loaded Philly Cheesesteak (Impossible w/ garlic & aioli, grilled peppers, onions, mushrooms)
Harvest Bowl – Fast service health restaurant located inside a natural market. Features build-your-own healthy grain and veggie bowls (choose toppings, base, veggies, and sauce). Lots of vegan choices including falafel and tofu as protein choices.
Green Table – Farm to table vegan restaurant in Palm Harbor. Everything is made from scratch in house using mostly organic ingredients. Menu ranges from impossible burgers, to seitan Philly cheesesteaks, to stir fry. The highlight here is the decadent selection of milkshakes which include butterbeer, banana oatmeal, and Reese's peanut butter cup.
What to try: Hummus Roll up (whole wheat wrap stuffed with homemade hummus, lettuce, tomato, carrots, and cucumbers, Wowper (Impossible on sesame seed bun with lettuce, tomato, onion, pickle), Reese's shake
Rawk Star Cafe – 100% plant-based café serving fresh creative raw food dishes. Enjoy a variety of healthy smoothies, salads, wraps, and even a slice of raw pizza.
What to try: Avocado veggie wrap (Collard leaf stuffed with avocado, cucumber, celery, carrots, mixed baby greens, tomato, red bell pepper, and tahini mustard sauce), Raw pizza (dehydrated seed based crust topped with marinara, spinach, carrots, zucchini, macadamia nut cheese, sundried black olives, and homemade Parma sprinkle.
Gluten-free dining
The restaurants below all feature an abundance of gluten-free menu items. In addition to the picks below, many Bay area restaurants now offer at least a few GF choices.
Ozona Pizza – The best place in Tampa Bay for gluten-free Italian food. They offer an extensive selection of GF choices including pizza, calzones, garlic knots, pasta and appetizers. Don't leave without trying the garlic knots! The food here is amazing. This place is hidden away in Palm Harbor's small downtown region, and thus, it remains attractively quiet.
What to try: Eggplant Parmesan appetizer (vegan and GF), garlic knots (vegan and GF avail), build your own pizza (deep dish or thin crust, red or white sauce, vegan cheese available, GF crust available).
Gourmet Pizza Company – Excellent local pizza shop in Hyde Park which offers a gluten-free crust and vegan cheese. Lots of interesting specialty pizza available or build your own. They even offer a GF brownie and Reese's peanut butter cup pie for dessert!
What to try: Cheeseless vegan (pizza sauce topped with sundried tomatoes, spinach, caramelized red onions, Portobello mushrooms, red cabbage and garlic)
Buttermilk Provisions – Local coffeeshop in Wesley Chapel which serves GF pastries. First off, their coffee is delicious. Second, they serve GF poptarts, quiche, and doughnuts.
What to try: Quiche, Pumpkin chai donut, Blueberry lemon poptart, Americano, house coffee
Mickey's Cafe – Organic health restaurant in downtown St. Petersburg. Full juice bar and espresso menu available. Large selection of fresh salads, smoothies, and wraps using GF tortillas.
What to try: Just Green salad (romaine and spinach with cucumber, avocado, celery, sprouts, and green peppers), Hummus wrap (homemade hummus, sprouts and tabbouleh, romaine, shredded carrots and cabbage
Vertoris – Pizza house in Bradenton known for their large gluten-free menu. Choices include pizza, mozzarella sticks, Eggplant parmesan, toasted ravioli, bruschetta, garlic bread, lasagna, and hoagies. Best selection of GF appetizers near Tampa.
What to try: Eggplant Parmesan, Foccacia Bread, Potato skins, Create your own pasta (choose from marinara, alfredo, tomato, or creamy scampi sauce, plus meat, seafood, and/or veggie toppings