A Relaxing Tram Ride around St. Petersburg's Boyd Hill Nature Preserve
St. Petersburg, Florida is home to many beautiful natural attractions, including: preserves, bike paths, beaches, and parks. Most worthy of a visit, Boyd Hill Nature Preserve, a 245 acre park consisting of several different ecosystems and dozens of wildlife species, is the number one spot to visit while in town.
It is part of the Great Birding Trail, and an excellent location for bird watching as the preserve is home to 200+ species of birds.
The smallest falcon in the US
This gorgeous oasis provides a much needed escape from city life and also the hectic, commercialized St. Pete & Clearwater beach areas. Here, you can wander around for hours without a single person in site, especially during the less crowded summer months. The natural hiking trails provide a beautiful setting for long weekend morning walks.
At Boyd Hill, you will find numerous attractions including an interpretative center, a narrated tram ride, and 6 miles of trails and boardwalks.
The birds
There are several interesting birds to view while you are waiting for your tram tour. The preserve rescued these injured birds. Here's a quick look at some of these beautiful birds!
Bald Eagle
Turkey Vulture
Shaheen
Red Tailed Hawk
Montezuma
Barred Owl
Eastern Screech Owl
Tram tours
The highlight here is a 1 hour guided tram tour which takes you around most of the preserve The ride is relaxing and educational. As opposed to hiking, you will enjoy a nice breeze even on hot days. Along the tour, you will likely spot alligators, gopher tortoises, ospreys, tons of butterflies, and various other small wildlife.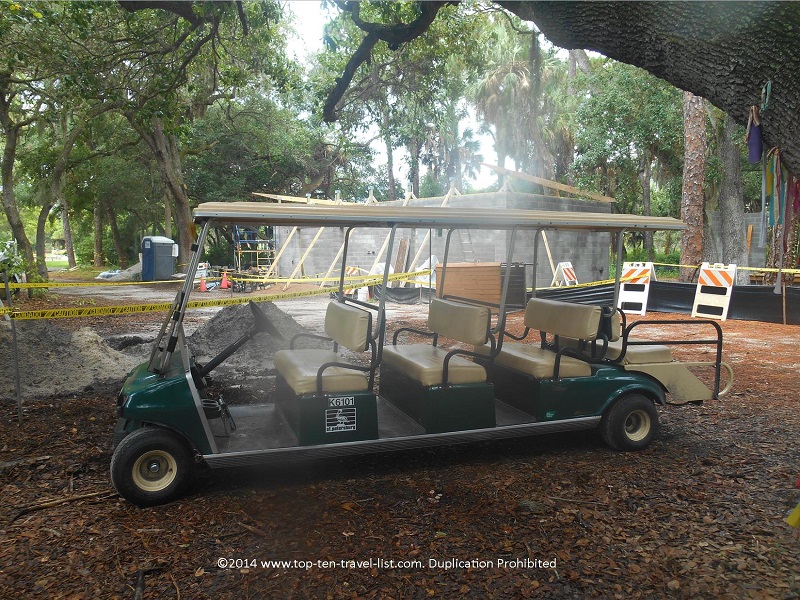 We learned a lot in a short period of time about the history of the preserve, different plants and mammals found within, and a general history about Florida. The tour guides are very knowledgeable and will point out different types of wildlife and plant life seen in each section of the park. Our friendly volunteer was able to show us where the alligators typically hang out, in a location we may have never thought to explore by ourselves.
A gator seen from one of the boardwalks – it's hiding, however, you can still glimpse its' back
Gopher Tortoises seen along the Sand Scrub Trail
An Osprey nest
During the Lake Maggiore Island portion of the tour, we saw several baby alligators. This was a really unique experience. Take a look below.
This tour is highly recommended, especially for anyone new to St. Petersburg.. Trams are offered once a day, twice on Saturdays. Arriving for the first tram ride will greatly increase your chances of seeing a gator. We were informed that the morning ride saw 10 gators, compared to 3 on our afternoon outing. Also be aware that gator sightings are much more common during the cooler months. Luckily, it was a rainy, overcast day so we were able to observe several gators.
Boyd Hill trails
Hiking the trails at Boyd Hill, you will find several different ecosystems. This is what makes taking a walk through the variety of nature trails so interesting. You get to observe various forms of landscapes including: pine flatwoods, hardwood hammocks, swamps, lakes, marshes, and sand pine scrub. This also gives you the opportunity to see various forms of wildlife.
The trails are clean, although a bit under marked. You can access the side trails from the main trail loop, which is approximately a mile long. Below is a brief description of each trail.
Main Trail (0.82 miles) You can access all the other trails by starting on the main loop.
Lake Maggiore Island – One of the best areas in the park to see gators. We saw several baby alligators up close. This is also a great spot to see turtles in the water.
Another baby alligator seen on our hike!
Sand Scrub Trail – (0.32 miles) This trail is home to a large population of gopher tortoises, an endangered species that prefers dry, sunny climates. Boyd Hill is home to the area's largest population of these rare species. Along the trail, you will find turkey oak, sand pine, and wiregrass.
Pine Flatwoods Trail (0.20 miles) This trail features beautiful tall pine trees and plenty of shade coverage. It is the most peaceful of all the trails within the preserve.
Elderberry found on the trail (an immune supporting berry used in juices, teas, and pies)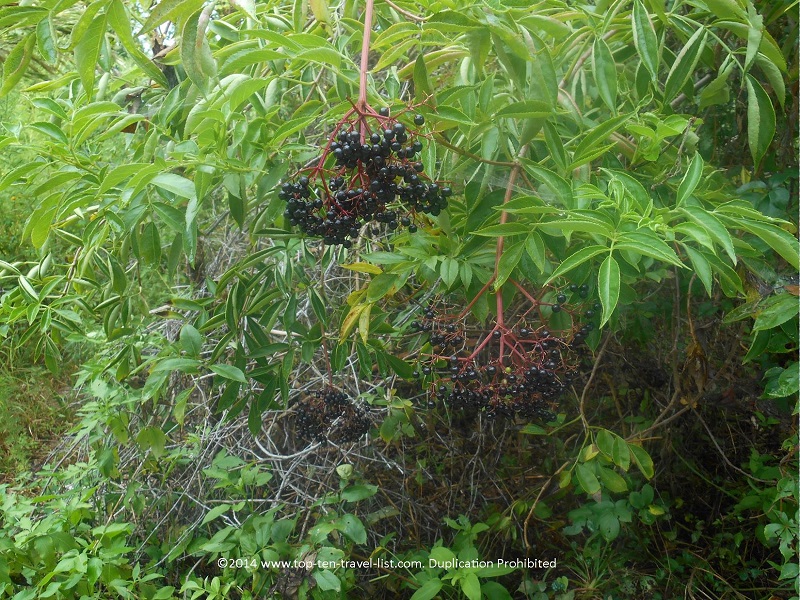 Wax Myrtle Pond Loop (0.12 miles) A beautiful man made pond within the preserve. Occasional gator sightings.
A cool Armadillo sculpture created by a local artist
Uplands Trail – Just under a mile. This trail is a hotspot for gopher tortoises.
Willow Marsh Boardwalk. A beautiful spot for photography. Great views of the city from a distance.
Swamp Woodlands Boardwalk
A walk across this boardwalk allows you to take in beautiful views of a Florida swamp. Even in the heat, it is a comfortable stroll due to the shade coverage provided by cypress, bay, and sugarberry trees.
The Education Center
The education center has several interesting exhibits to browse through. Take a quick look.
On our visit, we were able to hold a tarantula and learn some interesting facts in the process. Did you know that a tarantula bite is not strong enough to cause any major damage? At most it will feel like a bee sting. Tarantulas rarely ever attack. In fact, it takes a lot for a tarantula to bite.
A Must-do in St. Petersburg
Boyd Hill Nature Preserve is a beautiful local gem with lots to do and see. Bring your camera – there are plenty of beautiful pictures to take of trees, swamps, lakes, and wildlife. Water stations are located around the park for your convenience. In addition, restrooms, snacks, and souvenirs are found in the education center.
Boyd Hill is a great half day escape. You can spend hours walking around in the quiet atmosphere, just observing wildlife and their natural surroundings. Plan some time away from your busy schedule to take in the beauty of this St. Petersburg gem.
Admission, Locations, Map & Parking Fees
Address: 1101 Country Club Way South St. Petersburg, FL 33705
Admission fees: $3 per adult & $1.50 (ages 3-16)
Hours: Tuesday-Friday from 9am-7pm, Saturday from 7am-7pm, and Sunday from 9am to 7pm
Tram tours are offered daily at 1:00pm. On Saturdays, additional 10:00am tours are offered. Prices are $3 per person.
*Bikes are allowed in the park, however, dogs are not.
Tips for a great experience
*Bring a reusable water bottle. You can refill it up at any of the water stations. You will need it, especially during the hot, humid summer months.
*Pick up a map at the front desk. It will help guide you around the park.
*Wear plenty of sunblock. Some portions of the trails are not shaded.
*Bring a good camera. There are plenty of fantastic photo opportunities.
*Take the guided tram ride. Not only is it a relaxing, scenic ride, but you will also learn loads of new information.
*Sign up for an event – various programs such as Night Hikes, Bird Watching Hikes, and Yoga are offered throughout the month.
*Plan your visit for the morning or evening hours during the winter months. This is the best time to see a gator.
*Wear a hat and sunglasses to protect yourself from the sun.
*Wear gym shoes as opposed to sandals. The boardwalks can get very slippery when wet. You never know when it may start raining- random thunderstorms are common during the summer months.
*Wear bug spray. It is not uncommon to come home with 10 mosquito bites after a Florida hike.