10 Must-Dos in St. Petersburg, Florida
This beautiful Gulf Coast city is a great destination for year-round fun-in-the-sun. Nicknamed "the Sunshine City" for its' attractive climate, St. Petersburg is a popular oasis for fitness buffs, fishermen, boaters, beach goers, and golfers. The city holds the Guinness Book World record for "the most consecutive days of sunshine" (768 days). In addition to being located in close proximity to several of the country's best beaches, St. Petersburg is known for its' many cultural attractions, strong arts scene, and wonderful downtown. Below is a guide to the best things to do on your first trip to St. Petersburg.
1. Get back to nature at Sunken Gardens
For the ultimate in relaxation, wander through 4 acres of beautifully manicured gardens featuring over 50,000 tropical plants and flowers, waterfalls, and free roaming flamingos. In 2020, Sunken Gardens celebrated its' 100th anniversary. As one of the country's oldest roadside attractions, it's beloved by both tourists and locals. This historical gem is the perfect place to escape the city and beach crowds for a morning. Opens a bit late (10am), although there is plenty of shade even for a summer visit.
2. Relax at Pass-a-Grille beach
As a quieter alternative to neighboring Clearwater and St. Pete beach, you can opt to join the locals at Pass-a-Grille, located on the laid-back southern tip of St. Pete Beach. The 4 mile long beach is unique in that there is an attractive lack of commercialization on the beach. Thus, this beach is just perfect for anyone seeking something a bit more old school and less touristy. A bit rocky, but one of the best shelling beaches in the Bay. Adjacent to the beach you will find Pass-A-Grille village, home to a number of local shops and restaurants. This charming area features colorful homes and a refreshing lack of big chains.
3. Explore the Chihuly Collection
St. Petersburg is no stranger to the arts scene. Most notably, the famous Dali Museum draws much praise. In addition to numerous local galleries, there are art festivals, walks, and markets throughout the year. One of the most unique places to explore is the Chihuly Collection. Although quite small and expensive, this museum features the most dazzling colorful collection of glass blown art pieces by renowned artist Dale Chihuly. Your admission also includes glass blowing demonstrations across the street at the Morean Art Center.
4. Dine and shop in Downtown St. Petersburg
Downtown St. Petersburg is a gorgeous waterfront destination featuring gorgeous views of the skyline and marina. A diverse variety of bars and restaurants populate the area. The district is also home to a number of world-class attractions including The Museum of Fine Arts, The Dali, and The Mahaffey Theater. On any given weekend, there is sure to be a festival to attend. Popular events include the 2nd Saturday Art Walk and the Saturday Morning Market.
Downtown St. Pete event calendar
5. Take a tram tour at Boyd Hill Nature Preserve
This wonderful oasis provides habitat for many native wildlife and plants. There are 6 miles of beautiful trails to explore here through diverse habitat including hardwood hammocks, pine flatwoods, and swamp woodlands. Get in a nice workout or opt to relax on a narrated tram ride. In addition to being a great bird watching destination, Boyd Hill is home to a diverse range of wildlife species including gators, armadillos, and gopher tortoises.
6. Bird watch at Weedon Island Preserve
If peaceful hiking and bird watching sounds like a great morning to you, head over to Weedon Island Preserve. A hidden gem which sees little tourist traffic, Weedon is a real treat for anyone seeking to escape the hustle and bustle. A variety of hiking trails plus an easy boardwalk stroll up to a 45 foot tall look out are amongst the amenities. The highlight here is the fantastic views of Tampa Bay via the tower. Other activities include kayaking/canoeing trails and guided hikes. With over 210 species identified, Weedon is one of the best birdwatching destinations in the Bay. In winter, be on the lookout for white pelicans.
7. Take a bike ride on the Pinellas trail
This beautiful long 45+ mile long rail trail is the perfect place to take a bike ride or long run. Because the trail is mostly flat and scenic, it's a great vacation ride. Hop on the trail in downtown St. Petersburg and enjoy a beautiful day soaking up the vitamin D and enjoying the pretty scenery. Plenty of detours and places to eat along the way. Tip – head out early in the morning to avoid both the heat and the crowds!
8. Escape to the tropics at Gizella Kopsick Arboretum
This under the radar garden is a must visit by anyone who loves palm trees. More than 150 species of gorgeous palms from around the world are displayed at this little gem. Both admission and parking are free. Exploring this small park will not take up much of your time. Consider also visiting nearby Vinoy Park, featuring beautiful waterfront recreation trails. Many events take place at this park year-round including concerts and festivals.
9. Alligator watch at Sawgrass Lake Park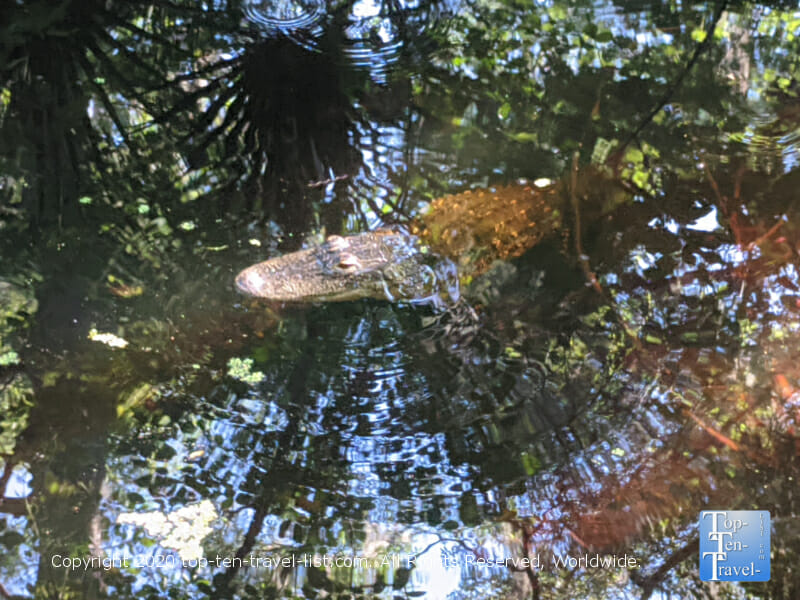 This quaint park features a mile long boardwalk trail through one of the largest maple swamps on the Gulf. Bird watchers are drawn to the area during the spring and fall migration. Egrets and heron are commonly sighted. Also be on the lookout for gators as this park is home to a large population. Gopher tortoises also frequently make appearances. Overall, Sawgrass is a nice quiet, shady park to enjoy nature for a little bit before getting back to the hustle and bustle. Note there are a few small picnic tables so bring with a healthy lunch to enjoy after your walk.
10. Explore the local coffee scene
St Pete is joining a growing list of cities which are offering many options in the independent coffee scene. No need to grab a quick drink at Starbucks when there are plenty of cozy and eclectic local coffeehouses to enjoy around the city. A few of my favorites include:
Cafe Soleil – Amazing French pastries, close to the beach
Grove Surf & Coffee – Cool surf vibe, great bagel bites
Black Crow – Eclectic vibe, lots of vegan options