Attraction of the Week: The Chihuly Collection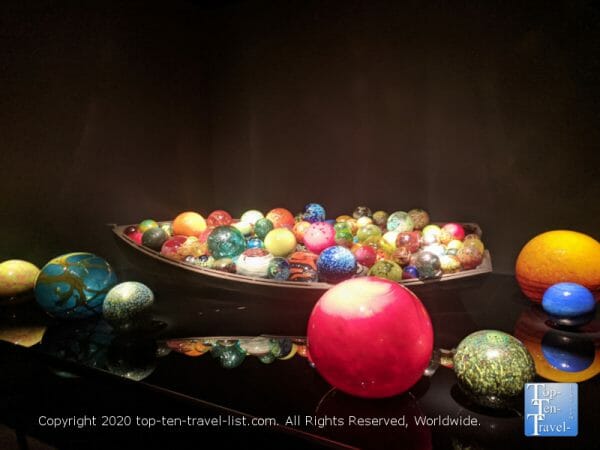 While St. Petersburg is most popular with vacationers for its' proximity to world-class white sand beaches, the artsy city is also rich in culture. The art scene here is particularly impressive, with the city being home to numerous notable museums including the Dali, The Imagine Museum, and the Museum of Fine Arts. The most eclectic of the bunch is the Chihuly Collection, which features incredible installations by artist Dale Chihuly, famous for being a pioneer in the hand blown glass art movement.
Chihuly's vibrant sculptures can be explored via temporary and permanent exhibits at over 200 museums worldwide. St. Petersburg's Chihuly Collection at the Morean Art Center is a great place to start. If you fall in love with the pieces here, you will definitely want to put a trip to the Oklahoma City Museum on your bucket list. This museum is home to the largest permanent Chihuly collection in the US!
Even without stepping foot into the museum, you will be able to take in a little of Chihuly's magnificence. Right outside the St. Petersburg museum stands a gorgeous 20 foot piece known as the Rose Crystal tower. More than 1000 pieces of polyvitro crystal, a glass like lightweight plastic comprise this sculpture. Chihuly used this glass imitator in numerous heavier works.
Inside, you will pass by 18 gorgeous installations, as well as many individual pieces. The 10,000 square foot space, designed by award winning Albert Alfonzo, is dark and cool, and really, a work of art in and of itself.
While the gallery is pretty small, all of the pieces really are quite mesmerizing. If you do not mind splurging 20 bucks to take a quick walk through an impressive museum, by all means put the Chihuly Collection high on your to-do list. Even if you are not an avid art lover, it makes for a nice break from the hot touristy beaches, if only for an hour or so. And, because the museum is located on trendy Central Avenue, there are plenty of great restaurants, bars, and attractions to check out after your visit.
A few of the more mesmerizing pieces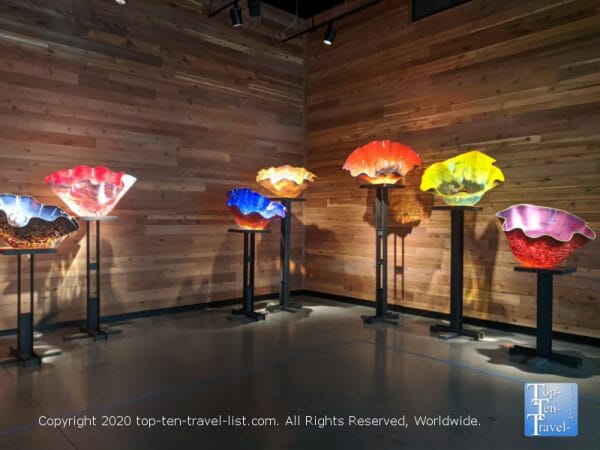 Additional Details
Location: 720 Central Ave. St Petersburg
Admission: $20 per adult (Discounts for student and seniors).
Parking: Metered ($1 per hour)
Hours: 10am-5pm (Monday-Saturday), Noon-5pm (Sundays)
Tip: Find a coupon for $2 off in any of the discount brochues (any newsstand on Grand Central).
Where to eat nearby: Maple Street Biscuit Co.
Note: Enjoy free glassblowing demonstrations at the Morean Glass Studio from 10am-2 with your Chihuly ticket.