The Best Attractions in Pinellas County, Florida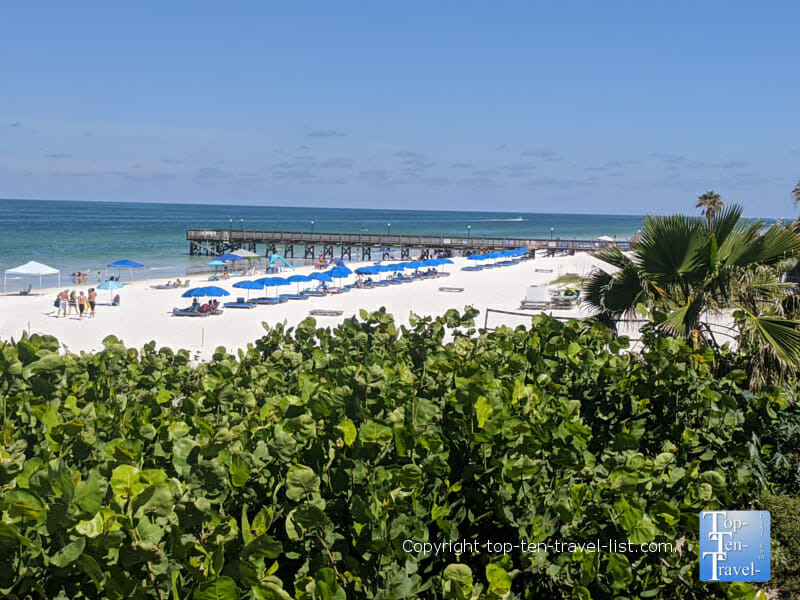 Pinellas County is a highly populated area (900,000+ residents) on the west coast of Florida. This tourist hotspot is part of the Tampa-St Petersburg-Clearwater metro area. Most of all the great Tampa Bay tourist attractions, like the white sand beaches, beautiful nature preserves, quaint downtowns, boat tours, and museums and cultural attractions, are found throughout Pinellas County.
Central and Southern Pinellas County includes the tourist hotspots of Clearwater, famous for its' white sand beaches and aquarium featured in Dolphin Tale, and St. Petersburg, known for its' thriving arts scene and close proximity to beautiful beaches. The Northern Pinellas County communities of Tarpon Springs, Dunedin, and Safety Harbor offer a more laid-back ambiance. Within these quaint towns, you will find charming old-fashioned downtowns, low-key beaches, and numerous parks.
Northern Pinellas County attractions
Northern Pinellas County includes the small communities of Tarpon Springs, Dunedin, Palm Harbor, Oldsmar, and sections of Clearwater. This area is popular with vacationers seeking a low-key getaway. Secluded beaches, bike paths, and quiet parks and preserves make this portion of the county a big draw for nature and fitness buffs.
Additionally, the area is home to a number of small old-fashioned Main Streets. If you love supporting local businesses, you will have no problem finding wonderful coffee shops, seafood restaurants, waterfront cafes, and local Greek and Italian joints. Below are a few of the top sights of interest to add to your bucket list.
Downtown Dunedin
Dunedin, most famous for being home to Honeymoon Island, is also home to the best Main Street in the Gulf region. This charming laidback area is lined with unique coffee shops, restaurants, boutique shops, and galleries. It's a nice quiet place to come back to after a long day at the beach. Stop by for a coffee and quiche at Dunedin Coffee Company, enjoy breakfast at the cozy Sandpiper, or lunch at international favorite, The Living Room on Main. Browse local shops, visit The Beatles Museum, and take a stroll or bike ride along the Pinellas trail.
Downtown Dunedin directory of shops and cafes
John Chesnut Park
John Chestnut is one of Pinellas County's most gorgeous parks. Most notably, there is a long swampy boardwalk trail which looks like a scene straight out of Jurassic Park. Tranquil views of Lake Tarpon, several shady nature trails, and plentiful wildlife sightings make a visit here even more interesting. Be on the lookout for gators, especially during the winter! John Chestnut is the best park to spend an hour or so soaking in some nature. It's a gorgeous picnic destination. And, best of all, it's completely free!
Fred Howard Park
This quiet local favorite is a great alternative to the party beaches frequented by tourists staying in Southern Pinellas. Besides being a great place to watch a Florida sunset, the park is also home to numerous amenities such as picnicking facilities, nature trails, and a baseball field. Fred Howard is an ideal beach destination for those looking to avoid big crowds.
Greek restaurants in Tarpon Springs
Tarpon Springs is known for its' excellent assortment of authentic Greek restaurants. Greek immigrants settled the area in the early 1900's, and to this date, it claims the highest Greek ancestry of any US city (more than 1 out of 10 residents claim Greek ancestry). A number of Greek cafes and bakeries line the sponge docks. Head over to local favorite Mr Souvlaki for authentic casual Greek fare (excellent spanakopita & Greek salad), and then head over to Hellas for the best homemade Greek desserts in town.
Ohana Cafe
A friendly Aloha greets you as you enter the doors of this local Hawaiian dining gem in Dunedin. The menu here is so fresh and healthy, a massive difference in comparison to most of the surrounding restaurants. From plant-based pancakes, to GF popovers, to veggie omelets, to fruit smoothies and acai bowls, fresh organic local ingredients are used in every dish. Their pancakes and smoothies are seriously the best! Ohana is the best place in the region for anyone needing gluten-free or vegan fare, hands down!
Honeymoon Island State Park
Time and time again Honeymoon Island has been rated one of Florida's top beaches. With miles of smooth soft white sand, iconic sunsets, on-site nature trails, a special dog beach, and even cruises (separate tickets required) over to a secluded island (Cadaelsi), is there anything this beach is missing!? Honeymoon is a gorgeous Gulf Coast destination whether you want to relax, sunbathe, take a beach walk, beachcomb, snorkel, hike, or play with your dog on the beach.
Brooker Creek preserve
Nature lovers visiting Tarpon Springs will definitely want to take some time out to check out the county's largest wilderness area. Brooker Creek Preserve offers 5 miles of diverse trails. Along the way, you will pass a variety of natural Florida habitats (forested wetlands, oak hammocks, pine flatwoods) and possibly see some wildlife (armadillos and gopher tortoises are commonly spotted). Best of all, this place is super quiet, so you can really enjoy a little isolated me-time rejuvenation in nature.
Pinellas Trail
This lengthy 50 mile long rail trail begins in Tarpon Springs and travels all the way up to St. Petersburg. Many of the Gulf's most notable attractions can be enjoyed via simple detours. The Tarpon to Dunedin route, a tree-lined 7 mile course, is the most scenic section. Start your ride in downtown Dunedin, grabbing a quick breakfast at Toula's trailside cafe to fuel up, and then treat yourself to lunch at a local Greek joint upon arriving in Tarpon.
Anclote Island
This beautiful remote island, located 3 miles off the coast of Tarpon Springs, is accessible only by boat. A fantastic Dolphin Adventure cruise in Tarpon takes you on a relaxed, picturesque journey to this island. Sit back and enjoy some music and drinks as you learn more about the history of the sponge industry. Keep your eyes peeled as you will see lots of dolphins enjoying their natural habitat. Upon arriving at the island, you will have a half hour to awe at the secluded beauty and look for hidden treasures at this shelling hotspot.
Safety Harbor Spa
This waterfront spa was once the site of a healing natural spring. In 1539, Hernando De Soto believed he had found the fountain of youth missed by Ponce de Leon. Today, the resort's water stations, swimming pools, hot tubs, and spa treatments all use this natural healing water. Legend says that the natural mineral water is able to cure a wide range of diseases. Book a spa treatment and you will also get to enjoy all the resort swimming pools, minerals tubs, as well as a steam room and sauna. Bonus – they offer a wonderful weekend brunch buffet.
Sponge docks
Tarpon was settled by Greek sponge divers in the early 1900's. As the city harvests over 90% of natural sea sponges, it is known as "the sponge capital of the world." These sea sponges naturally inhibit bacteria and mold and are known to last much longer than artificial sponges. Consider stocking up on a few bathing and cleaning sponges at Spongeorama, home to the " world's largest selection of natural sea sponges."
Replay Amusements
Replay is an old-school gaming arcade in Tarpon Springs. With all our new tech today, it's fun to take a temporary step back in time. For just 14 bucks, you will get to play unlimited pinball and arcade games. They have lots of nostalgic games here including the original stand up Super Mario Brothers and Pacman arcade, the classic Silver Strike bowling arcade, as well as various pinball machines from the 50's up till today. Your wristband is good all day so you can come and go as you please.
Check out the full selection of games at Replay
Wall Springs Park
The highlight at Wall Springs Park is a 35 foot observation tower which offers a bird's eye view of the Gulf. This quaint park was once the site of a mineral springs resort. While you can no longer enjoy the benefits of natural springs, you can enjoy a variety of tropical nature trails. Not only does this park feature a beautiful boardwalk trail, but it also connects to the wonderful Pinellas trail. Parking here is free and abundant, and therefore, this is the perfect place to start your biking adventure.
Oldsmar Flea Market
Take a walk around the largest flea market in the South, still going strong after 40 years. Today, you can find just about anything at the Oldsmar Flea Market – furniture, collectibles, toys, jewelry, as well as gourmet foods. Because much of the flea market is inside, this is a great activity idea during the summer months when it's too sunny and hot to do much else.
Central Pinellas County attractions
The most famous town in Central Pinellas is Clearwater, famous for its' white, cool to the touch quartz sand. The sugar smooth sand consistency has won this beach numerous awards over the years. Another famous site is the Clearwater Marine Aquarium where the popular Dolphin Tale film was shot. Clearwater is the busiest area of the Gulf with lots of boat cruises, dolphin tours, waterfront restaurants, and other touristy sights to keep you occupied.
The town of Largo is home to numerous parks including beautiful McGough Nature Park, Eagle Lake Park, & the wonderful free Florida Botanical Gardens. You will find lots of great local restaurants in this area, including Italian, Greek, Indian, Mexican, and American choices.
Below are the top attractions to check out in Central Pinellas
McGough Nature Park
This great little local park is known as "the turtle park" for its' high population of gopher tortoises. Keep your eyes peeled as you stroll through the oak hammock lined trails as they tend to hide. The 1 mile trail here is unique as it is made of recycled tires, and thus, thankfully a bit easier on your joints. Other features include a boardwalk trail through mangrove forests, a butterfly garden, ranger bird feedings, a playground with a stand up zip line, and indoor nature exhibits.
Columbia Restaurant Sand Key
This wonderful Spanish restaurant originally opened in Tampa's historic Ybor City. Fortunately, today there are numerous locations including the most scenic waterfront destination on Clearwater's Sand Key. Enjoy Spanish Paella and Cuban black bean soup in a gorgeous Mediterranean style dining room overlooking the water. Or better yet, take a seat on the breezy patio if weather permits. Whatever you do, do not leave without trying their famous Guava cheesecake!
Check out the Columbia Sand Key menu
Studio Movie Grill
Dinner and a movie is the perfect way to spend a hot summer day in Florida, when in all honesty it is way too humid to be outside for too long. As opposed to a traditional theater, at Studio Movie Grill, you can enjoy a real meal while taking in the latest flick. Along with the standard popcorn and candy movie treats, Studio offers a full menu of apps, entrees, and even dessert! You have the choice of ordering food prior to the movie or buzzing for service from your seat.
Check out the full menu and upcoming movie releases at Studio
Boca Ciega Millennium Park
One of the best Pinellas parks for a quick scenic stroll is Boca Ciega Millennium Park. Here you will find a nice boardwalk trail, as well as an observation tower which overlooks the bay. This park is always quiet, and thus, a great place to escape the tourist crowds for a bit. Boca is an excellent destination for birdwatching (the park is located on the Great Florida Birding trail), picnicking, and light exercise. Other features include a canoe launch, a playground, and a dog park.
Indian Shores Coffee Company
Tampa Bay area is becoming a hotspot for coffee connoisseurs. Wallet Hub recently ranked it one of the best coffee cities in America and independent gems are to be found around the metro. The best-of-the-best is Indian Shores Coffee Company, an amazing local roaster conveniently located within walking distance of The Bay's best beach. Enjoy a cup of expertly brewed coffee or espresso and a homemade pastry on their beautiful outdoor patio before spending the morning soaking up the sun at Indian Rocks Beach.
Indian Rocks Beach
Indian Rocks is the perfect Bay area beach destination for anyone seeking a laid-back local vibe. Beautiful dunes and quaint vacation rentals line the shores of this tranquil beach. There is an attractive lack of commercialization here, thus making this the perfect beach choice for anyone seeking a quiet day of fun-in-the-sun. Indian Rocks is the perfect place to take a beach stroll, read a book, collect seashells, or swim in the light waves.
Clearwater Beach
Almost every beach lover has heard of Clearwater. The world-famous beach continues to make headlines for its' super smooth white sand and clear waters. If soft sand that you can dig your toes into is what you are after, then you need to put this beach tops on your itinerary. Also as an entertainment oasis, this is the place to go if you want to take a dolphin cruise, try stand up paddleboarding, go parasailing, dine at a beachy cafe, etc. Also be on the lookout for the Pier 60 festival featuring free movies on the beach and live entertainment.
Sunset Tropics Cruise
The Clearwater beachfront area is lined with seemingly endless cruise options. Sunset Tropics offers an enjoyable 2 hour nightly cruise which features a narrated tour around the Gulf. A complimentary champagne toast is offered for all guests over 21. An evening boat ride is a relaxing alternative to sweltering on the beach. Unfortunately, smoking is still admitted on the outdoor decks – a shame in this day and age!
Sand Key Beach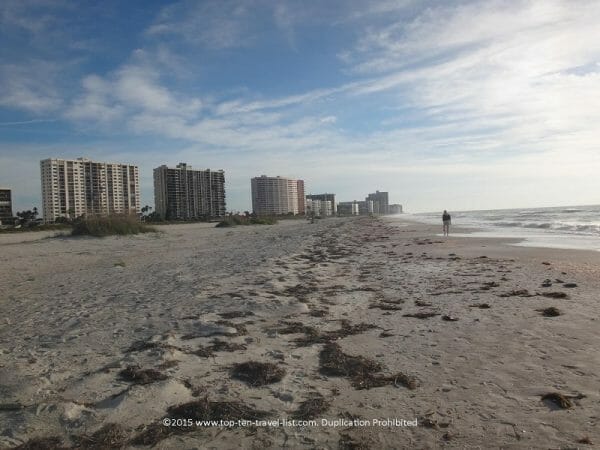 A shelling paradise, this overlooked beach gem located right next to Clearwater, stays attractively quiet all year round. You will find a noticeable absence of smooth white sand at Sand Key. However, tons of shells are to be found of every shape and size. You might even find a coveted sand dollar – just be sure to leave it where you found it if still alive (it's illegal to collect live sand dollars)! From here, you also get a pretty nice view of the Clearwater skyline. Bring a picnic – this is a beautiful destination to do so!
Waterfront dining
You will find a number of beachy themed restaurants as well as waterfront dining options in Clearwater and surrounding beach towns. While these places are often overpriced, sometimes it's fun to splurge on vacation a bit, foregoing quality food and value in favor of a fun ambiance/great view. Pictured above is the amazing waterfront deck of Columbia Sand Key. It's no wonder it was rated one of America's most scenic restaurants!
Northern Pinellas County
Northern Pinellas County is most famous for being home to St. Petersburg, the second largest Bay area city after Tampa. Although the city is most famous for its' access to white sand beaches, it is also an ideal destination for art lovers. The renowned Dali Museum and Chihuly Collection can both be enjoyed here. Additionally, the city hosts numerous art walks and festivals through the year. Nature more your style? St. Pete is home to incredible preserves, many of which are gator sighting hotspots!
Also in North Pinellas, you will find a number of fun tourist attractions in the Madeira/Treasure Island region. From waterfront dining, to beautiful beaches, to dolphin tours, there is a bit of fun for everyone here.
Pass-a-Grille beach
This quiet beach is known to be the place to go when you are seeking to avoid a rowdy ambiance. Nearby St. Pete Municipal Beach tends to be crowded all the time thanks to the many resorts and restaurants which line the coast. Pass-a-Grille, in comparison, offers a charming "Old Florida" style vibe. Surrounding the beach is historic Pass-A-Grille village, home to quaint shops and restaurants.
Gizella Kopsick Palm Arboretum
Palm tree lovers will want to plan a quick pit stop at this beautiful park which houses palms from around the world. The small 2 acre park is home to more than 500 gorgeous palms – if this doesn't say tropical, than nothing does. It will not take up your time, nor cost you a penny.
Florida Botanical Gardens
This free 182 acre botanical garden in Largo is a must see for any nature lover visiting the region. You will find more than a dozen maintained gardens, plus several miles of rustic nature trails. These trails feature increasingly rare sand and scrub hill habitat. Note: If you are in town during the month of December, they put on a pretty spectacular Christmas display featuring over a million LED lights.
Map of the Florida Botanical Gardens
Boyd Hill Nature Preserve
One of the more unique Pinellas preserves features a narrated tram tour. And thus, Boyd Hill is an excellent option for anyone who prefers to limit the hiking. During your tour, you will see lots of wildlife (armadillo, gopher tortoise, gators, lots of exotic birds). If you are up for breaking a sweat, the trails here really are unique, considering that they pass through a diverse range of habitat. Highlights include quiet views of Lake Maggiore and sand scrub, one of the most endangered habitats in the state (only 2% remain).
Weedon Island Preserve
The best preserve in St. Petersburg to fully escape the tourist crowds is definitely Weedon Island. Despite the immense beauty and ample wildlife sightings, this place remains attractive isolated. Get in a light workout on the 2 mile loop trail, enjoy the sights and sounds of isolated Florida nature, birdwatch, and keep your eyes peeled for armadillos, turtles, and gators. And be sure to climb the 45 foot observation tower for an amazing view of the Bay!
Slyce Madeira Beach
For the best pizza near the beach, head over to Slyce (with locations in Madeira & Indian Rocks Beach). The Madeira location features a wonderful patio with spectacular views of the water. The pizza here is really terrific, definitely the best near the beach. They offer a number of specialty options or you can customize your own. Meatball Mushroom, Margarita, Roasted Veggie, Greek, Hawaiian, and Chicago Deep Dish are a few popular choices. Their garlic knots are also amazing, and so is the Greek salad!
Rumfish Grill
If you love aquariums, you will definitely want to put a dining experience at Guy Harvey's Rumfish Grill on your to-do list. You may have already seen this restaurant featured on Animal Planet's Tanked TV series. At this tourist favorite, you can dine on fresh seafood while taking in the sights of a massive 33,500 gallon aquarium. Along with tropical fish, eels and stingrays are also to be found. The colorful tank takes up the entire wall of the dining room, so every guest has a decent enough view.
Key Lime pie
This delicious American pie is the official state pie of Florida. A trip to Florida would not be possible without indulging in this trademark Sunshine state dessert. Thankfully, many restaurants and cafes throughout Pinellas serve this sweet treat. If you will be staying near the beach area, Guppy's in Indian Rocks serves an amazing slice of pie. They are also known for their many seafood entrees, and beautiful breezy covered patio.
Seafood restaurants
There are no shortage of seafood restaurants in Pinellas County, especially near the touristy beach areas. In St. Pete Beach, check out Crabby Bills, Sea Hags, Sea Critters, or PJ Oysters Bar. Near the Madeira/Redington/Treasure Island, check out Seabreeze Grill, Dockside Dave's, or Caddy's. From extravagant waterfront fine dining experiences, to hole-in-the-wall gems, there is an option to suit every budget.
Seafood restaurants to check out in St. Pete
The Chihuly Collection
Any art lover visiting St. Pete will definitely want to put a visit to the Chihuly Collection at the Morean Arts Center on their bucket list. Although admission is pretty steep ($20), the collection is pretty incredible. It will not take you more than a half hour or so of your time to explore the incredible glass works of renowned artist Dale Chihuly. You will also have the opportunity to view a glass blowing demonstration and pick up some cool glass souvenirs in the gift shop.
Treasure Island family Fun center
The family friendly Treasure Island arcade (the largest in Pinellas) is a great place to duck out of the heat for a few hours. Inside you will find a combination of arcade and pinball games, plus ticket style redemption games. They offer a number of fantastic deals including unlimited arcade games for an hour. The combination of old school and newer games will please adults and kids alike.
Treasure Island Beach
This beach got its' unique name from a legend of hidden treasure being buried somewhere on the beach. Supposedly back in the day, a hotel owner made up the story to attract tourists to the area. Today, there is no need to attempt to attract anyone to Treasure Beach, as the soft sands and calm waters do their own work. This beach is particularly wide with plenty of room for everyone to stretch their legs, play beach sports (it's the only beach with vball nets), and enjoy some peace and quiet.
Sunken Gardens
As one of Florida's most classic attractions, a trip to Sunken Gardens is a must for anyone seeking the best-of-the-best that "Old Florida" has to offer. Now over a century old, Sunken still stands strong as one of the country's oldest roadside attractions. Nature lovers will enjoy strolling through the shady grounds of this 4 acre oasis which include more than 50,0000 tropical plants & flowers, as well as beautiful cascading waterfalls. It's quite small, yet a gorgeous destination for anyone who appreciates tropical beauty.
Sawgrass Lake Park
This local St. Petersburg park features a mile long boardwalk trail and a short 1/2 mile nature stroll. Sawgrass is home to one of the largest maple swamps on the Gulf. It's one of the best parks to spot an alligator in the region. If you are a bird lover you will also love this park. Egrets, ibis, and heron, amongst many other bird species migrate here in the fall and spring, drawing bird lovers from across the country.
North Redington Beach
This quiet beach is the perfect laid-back alternative to nearby rowdy Clearwater and St. Pete beaches. The charming low key vibe is hard to find on the Florida Gulf coast nowadays. Featuring the same smooth white sand and clear waters, you really are not losing much here except for the noisy crowds and commercialization. Before your beach visit, grab a coffee at Gypsy Souls, a local coffeeshop with a great waterfront location.
Hubbard's marina dolphin tours
A dolphin sightseeing cruise is a must while visiting the Gulf Coast. St. John's Boardwalk in Madeira Beach offers a guaranteed sighting cruise which also happens to be incredibly scenic. Along with lots of dolphins, you will also see tons of seabirds and possibly a manatee during your 1.5 mile journey. As an added bonus, this cruise is completely smoke-free! All tours are narrated and sightings are guaranteed or you will receive a free return ticket. Snacks and beer available for purchase.
Alligator watching
Whenever you visit Florida, it's a fun experience to see an alligator in its' natural habitat. Summer mating season (May/June) and the winter season (when gators are often seen sunning) are the 2 best times to gator watch. Many parks are known for their large gator populations, particularly St. Pete's Sawgrass Lake Park and Boyd Hill Nature Preserve. In Northern Pinellas, John Chestnut is your best bet to see a gator in the wild. Don't ever feed a gator and keep your distance!