10 Gorgeous Gardens to Visit
Strolling around a beautiful garden is a great way to add on a bit of nature and relaxation to any vacation experience. There are dozens of fantastic gardens in cities across the US. From exotic cacti in Tucson, to an extravagant fall pumpkin display in Dallas, to a beautiful bonsai collection in Asheville, each of the gardens listed below offers a unique sensory experience for the nature lover. Whether you feel like taking a quiet nature walk, birdwatching, learning more about plant life, enjoying a picnic in beautiful natural surroundings, or taking photography, each of the gardens featured below is a perfect addition to your vacation itinerary.
Longwood Gardens
Location: Kennett Square, PA
Admission: $25pp
Highlight: A beautiful 4.5 acre conservatory with dramatic changing seasonal displays
Best time to visit: A Longwood Christmas featuring thousands of poinsettias
This gorgeous 1100+ acre garden lies an hour outside of Philadelphia. It's the perfect daytrip for any nature and garden lovers looking to escape the city congestion. This is quite a large garden with lots to explore within its' 1100 acre space. Over 10,000 varieties of plant life can be explored via 40 seasonal gardens. Longwood is often ranked amongst the world's best. There are numerous indoor and outdoor gardens, fountain shows, a greenhouse, an orchid room with a collection of 5500 diverse species, a Sliver Room spotlighting plants of the desert & Mediterranean, and a large 4.5 acre conservatory which stuns during the winter seasonal as thousands of poinsettias, flowers, and decorated trees take center stage.
Bellagio Conservatory
Location: Las Vegas, NV
Admission: Free
Highlight: A new extravagant theme for each season
Best time to visit: Winter (Thanksgiving-Jan) for the incredible Christmas display
So many tourists leave Vegas without exploring the many unique attractions found in just about every casino. In fact, most of the best attractions in Vegas lie off the gambling floor. While the Bellagio fountain show is fantastic, the gardens next to the lobby are just as spectacular. The best part of all is that you do not have to stay at the hotel to view this beauty. The artistic display changes each season, with thousands of flowers and plants dazzling in a grand room with a 50 foot glass ceiling. Most impressive is the winter display which features thousands of poinsettias, polar bears made of carnations, and other whimsical creations. A team of 150-200 horticulturalists are needed to maintain this masterpiece anytime of year!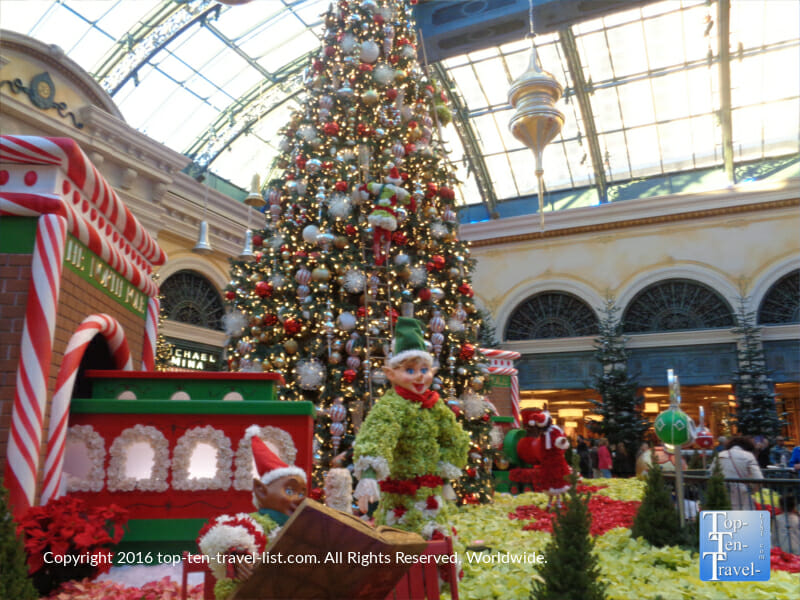 The Wynn Gardens
Location: Las Vegas, NV
Admission: Free
Highlight: Carousel and hot air balloon constructed entirely of flowers
Best time to visit: Anytime you need a break from The Strip action
The Wynn is one of the most elegant resorts on the Vegas Strip, and the beautiful atrium garden is enchanting to say the least. Although under visited, a trip to The Wynn to stroll through this artistic masterpiece is a must for any nature and art lovers. A canopy of trees with hanging colorful flowers balls and a whimsical 6000 pound carousel and 4000 pound hot air balloon creates an imaginative youthful scene. More than 110,000 flowers and 3500 hours of manwork by artist Preston Bailey went into creating one of the most stunning displays in all of Vegas. Like the Bellagio, they also put on quite an extravagant holiday display.
Sunken Gardens
Location: St. Petersburg, FL
Admission: $12pp
Highlight: Tropical oasis with fountains & flamingos
Best time to visit: The rainy summer season when the most tropical plants will be in bloom
Sunken Gardens, a 100 year old garden established in 1935, claims the distinction of being one of the oldest roadside attractions in the US. Take a break from the beach commotion for the day in exchange for a lovely walk through a lush tropical oasis. More than 500,000 tropical plants and flowers from around the world comprise this gorgeous garden. It's small, yet extremely beautiful nonetheless. Lovely waterfalls, streams, exotic birds, and free roaming flamingos add to the peaceful environment.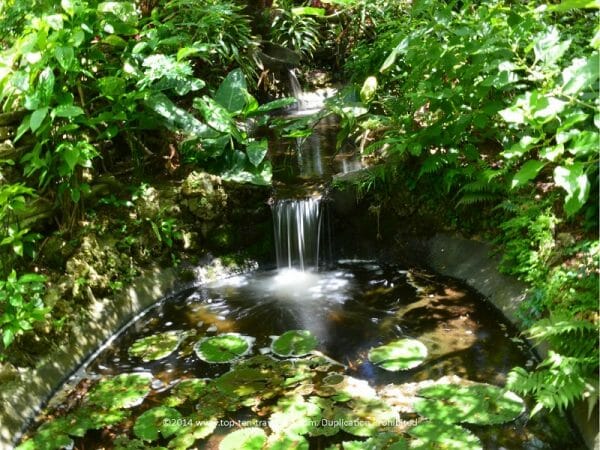 North Carolina Arboretum
Location: Asheville, NC
Admission: Free, $16 parking fee
Highlight: An impressive bonsai collection
Best time to visit: Fall to enjoy the lovey foliage
The North Carolina Arboretum is a gorgeous 400+ acre space featuring groomed gardens, as well as 10 miles of hiking trails. It is located along the beautiful Blue Ridge Parkway about 20 minutes from downtown Asheville. The highlight here is a dazzling Bonsai Collection, featuring 100 species of American, European, and Asian origin. The unique aspect of this garden is that the bonsai are cultivated with a special Appalachian touch. The Quilt Garden (flowers arranged in a quilt pattern to reflect the Southern Appalachian arts & crafts history) is also stunning with new flowers planted each season.
Dallas Aboretum
Location: Dallas, Texas
Admission: $17pp
Highlight: Numerous water features
Best time to visit: Fall during the spectacular pumpkin festival
Southern Living magazine ranked the gorgeous Dallas Arboretum as "one of the South's best botanical gardens." Highlights of the 66 acre space include the vibrant Margaret Elizabeth Jonsson Color Garden, featuring seasonal flowers, the Nancy Rutchik Red Maple Rill featuring 80 varieties of Japanese maples, and Nancy's Garden featuring pink crape myrtles and azaleas. The entire space is beautiful, with the reflecting pools, waterfalls, and fountains adding a serene touch. If possible, time your visit during the pumpkin extravaganza held each fall. This event, rated as "one of America's best pumpkin festivals" by Fodor's, features over 90,000 pumpkins arranged in a new creative theme each autumn.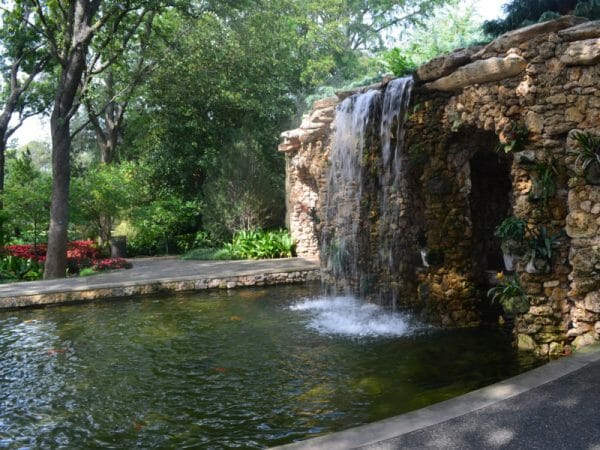 US Botanical Gardens
Location: Washington, DC
Admission: Free
Highlight: The oldest continuously operated botanical garden (est. 1820)
Best time to visit: Anytime you need a history break
An under visited gem in DC's historically rich Capitol Hill neighborhood is the US Botanical Gardens. Like most of the Smithsonian museums in this area, admission is completely free. The space is quite small compared to others on this list, however, the combination of indoor and outdoor gardens, plus many rare plants makes for an exciting visit. The orchid room, conservatory, tropical rainforest, garden primeval, and world deserts gardens are all particularly impressive. The National Gardens (outside) focuses on plant life found in the mid Atlantic region. This garden is a wonderful shady oasis during the warm summer season, while the indoor gardens are the perfect cozy escape on frosty winter days.
Tohono Chul
Location: Tucson, AZ
Admission: $15pp
Highlight: Diverse range of plants native to the Sonoran desert
Best time to visit: Anytime outside of the extremely hot summer season
National Geographic Traveler called this spectacular garden "one of the Top 22 Secret Gardens in the U.S. and Canada." This park is a real gem, even moreso if you are interested in desert plant life, being that it is home to 49 acres of grounds featuring cacti & plants of the Sonoran. Here you will find over 300 varieties of cacti including the stately Saguaro, over 50 varieties of wildflowers, as well as 150 species of trees. Native animals you may encounter on the trails include bobcats and Gila monsters. A hummingbird garden, a Saguaro Discovery trail, and an endangered Riparian Habitat are also must sees here. Also do stop by the wonderful shady garden cafe and check out the unique gift shop featuring cacti plants and Mexican pottery.
Portland Japanese Garden
Location: Portland, OR
Admission: $19pp
Highlight: The former Ambassador of Japan (Nobuo Matsunaga) declared it "the most beautiful and authentic Japanese garden in the world outside of Japan."
Best time to visit: The summer months (less chance of rain)
Strolling through this tranquil 12 acre garden is an absolute must do when visiting Portland. There is no better place to relax, rejuvenate, meditate, and enjoy nature. Featuring quiet waterfalls, a koi pond, a fabulous view of Mt Hood, and lush greenery in 8 separate gardens, it's a true sanctuary. The Strolling Ponds Garden, a picture-perfect oasis, is a popular photography destination due to the iconic Moon bridge. The Bonsai terrace features a rotating selection from around the region. Also quite unique is the Sand and Stone Garden, called a karesansui, and more commonly known as a Zen Garden.
The Arnold Arboretum of Harvard University
Location: Boston, MA
Admission: Free
Highlight: The oldest public arboretum in North America
Best time to visit: Spring cherry blossom season (late March-April)
This free arboretum in Boston was established in 1872, making it the oldest public arboretum in the country. There is no admission fee, so really this is a must for anyone looking for something fun, free, and peaceful to do. The 281 acre well landscaped space includes over 16,000 plants from around the world. Featuring lots of quiet nature trails and a large pond, this is the perfect place to escape the city congestion for a bit. The arboretum takes on a new fresh look each season. From spring cherry blossom blooms, to vivid fall foliage, to a wintry wonderland – there is always something new and beautiful to look forward to.