The Legendary Fountain of Youth in St. Augustine
Stores of a mythical healing fountain of youth date back to tales from the 4th century involving Alexander the Great. As the story goes, anyone who drinks from the mystical waters will remain youthful forever due to the water's restorative health properties. Although many places claim to have springs with healing powers, the St. Augustine legend is the most notable. The spring water is rich in many minerals including magnesium and sulfur, both of which are beneficial for any type of pain, especially of the muscles or joints.
This National Geographic article provides great detail on the legends surrounding the Fountain of Youth.
The search for immortality has been a common theme throughout history. Mark Twain once said, "Life would be infinitely happier if we could only be born at the age of 80 and gradually approach 18. Today, there are many options for taking in the benefits of mineral rich waters including soaking in hot springs (Pagosa Springs is my favorite) and bottling your own water at natural springs.
St. Augustine – The search for the elixir of life
In the 16th century, Spanish explorer Ponce de Leon set out on a mission to locate the Fountain of Youth. His first search took him to the island of Bimini in the Bahamas. Native Americans told him that Bimini was the site of the fountain. Drinking from the fountain of youth water supposedly granted immortality to whoever drank it. Hence, numerous explorers have attempted to locate it throughout history.
Ponce did not find the fountain in Bimini. Instead he landed on what would later become Florida. The island discovery occurred around Easter (Easter in Spanish translates to Pascua Florida, "feast of flowers"). Hence, Ponce named the island "La Florida." Ponce reportedly discovered the legendary fountain in St. Augustine. You can learn more about Ponce de Leon and his search for the fountain via this interesting History Channel article.
The Fountain of Youth Archaeological Park
Visiting the Fountain of Youth Park should be near the top of your list of things to do in St. Augustine. Not only will you get to drink from the iconic natural mineral spring, but you will also get to explore a number of historical attractions. Dating back to the 1860's, this park still stands strong as Florida's oldest attraction.
Below is a list of the attractions within the park
The Spring House
The Fountain of Youth is located inside a 60 year old coquina building. The Florida Aquifer (found beneath most of Northern Florida) is the source of the spring. The water is rich in over 30 minerals. The rich mineral content of natural springs could be the reason why fountain of youths/springs were revered for their healing properties in ancient times.
Navigator's Planetarium
This show features a projection of the night sky on April 2, 1513, the night before Ponce de Leon landed in Florida.
Discover Globe
Discover the routes taken by various explorers to reach the new world via a 30 foot globe.
Blacksmith Exhibit – Guests can watch live blacksmithing in action on a site dating back to 1565.
Timucuan Village – The Timucuan Native American tribe lived here before European diseases and warfare eventually took them out. Interpreters will show you how these tribes lived day by day, hunting, fishing, canoeing, and making pottery.
Nombe de Dios – Take a walk inside the first mission in the US -dating back to 1587. Local cypress was used in construction, as well as coquina for the floors.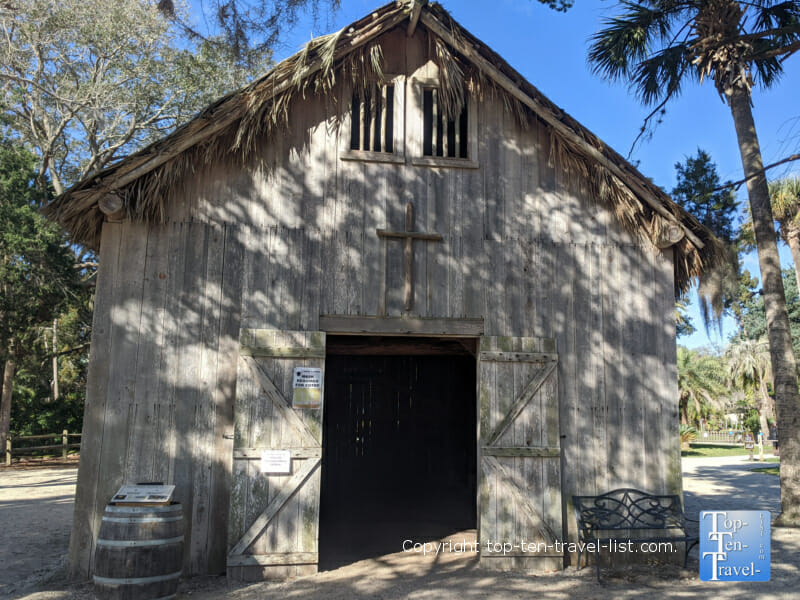 The Watchtower -Once used to discover threats from afar, the tower now serves as a scenic lookout. In June of 1568, Sir Francs Drake and his 2000 men looted and burned down the town. The attack may have been prevented if the watchtower did not have a light which could be seen from afar.
Weapons firing demo – Pedro Menedez de Avile brought 20 cannons with him when he landed in St. Augustine on September 8, 1565. You will be able to watch a live demonstration of a canon firing, plus a cross bow and gun firing simulations.
Founders Riverwalk – Take a stroll along this 600 foot boardwalk and enjoy views of Matanzas Bay and the St. Augustine Inlet.
Mendez statue – Dedicated to Pedro Menéndez de Avilés, founder of St. Augustine.
Peacocks – The park is home to over 30 Indian peafowl.
Tips for a great visit
Check out the daily schedule of shows so you do not miss anything. Look up times via the park brochure.
Pick up a coupon booklet around town. It will save you a buck on each admission. Or better yet, order online to save $2 per admission.
Visit early in the morning during the hotter season. There isn't much shade within the park.
Enjoy as much water as you would like. You can go into the spring house as you please.
Grab breakfast in downtown St. Augustine prior to your visit. This way you do not have to rush through the park attractions. Here are a few good choices:
Kookaburra – Aussie coffee shop serving homemade Aussie pies. Try the Vejjo veggie breakfast pie with a long black espresso.
Maple Street Biscuit Company – Popular Southern chain featuring delicious homemade biscuits, served with a traditional meat or veggie shitake style gravy. Try the Sunshine in the Garden entrée. Great coffee too.
Relampago – Trendy hipster style coffee shop serving excellent espresso, coffee, plus tasty pastries. Extra points for the great patio.
Location & Pricing
The Fountain of Youth Park is located at 11 Magnolia Ave, St. Augustine, FL 32084.
Tickets are $18 adults, $17 seniors, $10 kids 5-12, Under 5 free. Save $2 by purchasing tickets online.
Parking is free.
Hours are 9am-5pm, 7 days a week