10 Must-Do's in Atlanta for Every Type of Traveler
Ever since the 1996 Olympics, Atlanta has seen a massive surge in business and tourism. Post Olympics, Atlanta has drawn numerous Fortune 500 companies. Today, the city is one of the most visited in the US with over 50 million tourists per year. With a walkable city center and numerous museums and attractions, the downtown is always bustling. The revitalization of the downtown has drawn tourists from all over the world, particularly those who are interested in history.
The city spent years prior to the Games improving the downtown by way of new hotels, walkways, and the iconic Centennial Park, which today still serves as the central gathering spot, just like it did 20+ years ago. Besides the Olympics, Atlanta is most associated with Coca Cola, Waffle House, Chick-Fil-A, the Civil rights movement, Martin Luther King, the busiest airport in the world, CNN, and Gone with the Wind.
Many of the attractions throughout the metro have something to do with the above mentioned. The World of Coca Cola and The Georgia Aquarium, both located downtown, tend to draw the biggest crowds each weekend. At the World of Coca-Cola, you can learn more about the history of Coke, plus sample 100+ beverages. At the renowned Georgia Aquarium, you will find many fantastic exhibits including an aquarium tunnel you can walk underneath. As one of the world's largest aquariums, you can expect big crowds any given weekend!
Below are 10 interesting things to do in Atlanta. Whether you are a foodie, history buff, nature lover, or just looking for a few fun things to do, this list should give you more than a few worthy additions to your Atlanta trip itinerary.
For fitness buffs
Take a leisurely bike ride along the Big Creek Greenway
The 8.5 mile long paved recreational path known as the Big Creek Greenway is Atlanta's nicest bike path. This is an excellent place to enjoy a long shady run or bike ride. The path is flat and reasonably quiet, and thus, the perfect weekend recreational choice for fitness buffs looking to enjoy a peaceful, relatively easy workout session.
The trail is located in the upscale suburb of Alpharetta. There are lots of pretty trees lining the path, and thus, this one is doable even during the miserable hot & humid "Hotlanta" summer season. If you are looking for a quiet place to escape the city congestion, the Big Creek Greenway is a great place to do so.
Note: The Atlanta Beltline is a nice alternative for those who prefer to stay close to the city. The 22 mile path transverses numerous vibrant sections of the city. A recently opened art installation will give your eyes plenty to feast upon along the route.
Additional Details
The best access point is near the Alpharetta YMCA: 3655 Preston Ridge Road.
Parking is free.
Need a bike rental? Check out the Bike Sharing program conveniently located at the Alpharetta YMCA, just a short walk from the trail access point.
For night owls…
Take a ride along the SkyView Ferris Wheel
Unfortunately, there is not a whole lot to do in Atlanta at night besides bars and nightclubs. A ride on the 20 story Skyview Ferris Wheel is a fun alternative for those looking to avoid the noisy bar scene. SkyView is conveniently located nearby Centennial Park, so you can walk here from most other attractions.
The line is often very lengthy at night, however, this really is the best time as you get to take in the beautiful city lights. While it cannot compare to more scenic Ferris Wheel rides like the Linq High Roller in Vegas, the ride is just $17 bucks and makes for a budget friendly date night.
Before your ride, enjoy dinner at one of numerous restaurants located in the immediate vicinity. Although I try to avoid chains, Hard Rock Cafe is one of my favorites for tasty comfort food. They have the best mac and cheese anywhere! This touristy hotspot is located just a few blocks away. The rock n' roll vibe and fun menu makes it a prime vacation choice. It's okay to splurge a bit while on vacation! Meehan's Public House (authentic Irish fare) is another great choice in the immediate vicinity.
Additional details
Skyview is located at: 168 Luckie St NW, Atlanta, GA 30303.
Admission is $17, $12 (ages 3-11), $15 (seniors).
Deals can frequently be found on Groupon.
Hours are Noon-10pm (Mon-Thurs), Noon-11pm (Fri), 10am-11pm (Sat), 10am-10pm (Sun)
For family friendly fun…
See the panda at Zoo Atlanta
Zoo Atlanta is one of just a handful of US Zoos which houses a panda bear. If you have never seen this adorable bear up close before, this is one of your only chances in the US to do so as these unique bears are native only to South central China. The San Diego Zoo, the National Zoo in Washington D.C., and the Memphis Zoo are the only other zoos with panda exhibits.
This zoo is spacious enough, although the weekends tend to be insanely crowded, so plan for a weekday visit or at least arrive right at opening. Other interesting exhibits include The Primate House, an impressive reptile house, and a beautiful aviary which just opened in April of 2019. The gorgeous African lion, the endangered red panda, the mesmerizing Bald Eagle, & the colorful flamingos are must-sees while at the zoo.
Currently the zebras and giraffes are off exhibit. They will return, as well as African elephants, in a new African Savanna exhibit which will open Summer 2019.
Update: As of 2023, the only other zoos which still house pandas are the Memphis Zoo and the Smithsonian National Zoo in D.C.
Additional details
Admission ranges from $24-32 per adult, $19-25 per child, and $22-29 for seniors.
The zoo is located at: 800 Cherokee Ave SE, Atlanta, GA 30315. Parking is free.
Check Groupon for special discounts.
Hours are: 9am-5pm (last admission at 3:30pm).
For cat lovers…
Play with cats while you sip on coffee at Java Cats Cafe
Cat cafes are seemingly popping up in trendy cities across the country today. The first US cat cafe, Cat Town Cafe, opened in Oakland in 2014. Since then, you can find these cat cafes in almost any big city or popular tourist area. The premise is simple. You sit in a room (along with a handful of people) and sip coffee as you watch felines in action. You have the option to adopt, or simply walk away knowing that you donated to a great cause!
Java Cats is located just outside of the downtown region and is worth the detour if you love cats. Java Love has partnered with PAWS Atlanta, a no kill shelter. All cats are adoptable (and are up to date on shots) with adoption pricing ranging from $50-125. As the number of people admitted at one time is limited to just 10 or so people, there is often a lengthy wait on weekends. Reserve your spot in advance as walk ins are limited.
Additional details
Admission is just ten bucks and includes a drip coffee or tea.
Java Cats is located at: 415 Memorial Drive Southeast Ste C Ste C, Atlanta, GA 30312.
If you find a cat you would like to adopt, you will fill out an application with PAWS. Ask Java for additional details.
Update: Java Cats Cafe closed in 2022.
For history buffs…
Explore The Center for Civil and Human Rights
The city of Atlanta played a pivotal role in the civil rights movement, with many key events taking place here. As prominent leaders, including Martin Luther King, fought for equal rights, the city became known as "the cradle of the civil rights movement." In 2014, the Center for Civil and Human Rights joined an ever growing collection of museums in Atlanta's Centennial Park region. The center details both the American & global civil rights movement, by way of videos, recordings, artifacts, and artwork.
The museum is split into 3 sections – civil rights, human rights, as well as a large exhibit dedicated to Martin Luther King, an Atlanta native. The Lunch Counter is considered to be the most moving exhibit. You will sit down, put on headphones, close your eyes and imagine what it would be like to be a protester in the 60's facing violence over fighting against the segregation of Atlanta's lunch counters.
Check out 11 other must-see attractions along the Civil Rights trail in Georgia.
Additional details
The museum is located at: 100 Ivan Allen Jr Blvd NW, Atlanta, GA 30313.
Hours are Noon-5pm (10am on Sat), Closed on Monday. Last admission is one hour prior to closing.
Admission is $20, $16 (ages 6-12), $18 (senior & student).
For nature lovers…
Take a peaceful walk at Cascade Springs Nature Preserve
If you are the type of person who prefers the great outdoors, bird watching, and exercising as opposed to busy tourist attractions, you will want to take some time out to explore a nature preserve or state park in the area. Cascade Springs is one of the closest preserves to the city: a quiet place where you can escape the tourist congestion without traveling very far.
A series of easy nature trails, along with a small waterfall and lush foliage make this the perfect place to escape the traffic, if just for an hour or 2. On an interesting side note, Utoy Creek was the site of a Civil War battle. Other nature escapes not requiring a lengthy drive out of town include the Atlanta Botanical Gardens, Blue Heron Preserve, and the Morningside Nature preserve.
If you are willing to travel outside the city, there are plenty of great outdoorsy day trips to consider. Northern Georgia is home to an impressive concentration of waterfalls and natural attractions. The 730 foot tall Amicalola Falls, the tallest waterfall in the state of Georgia, is just over an hour away.
Additional Details
The preserve is located at: 2852 Cascade Rd SW, Atlanta, GA 30311.
Hours are 8am-11pm.
Admission and parking are free.
For fish lovers…
Visit one of the world's largest aquariums
At one point (2005-2012), The Georgia Aquarium claimed the title of world's largest aquarium. Marine Life in Singapore eventually overtook the ranking. However, The Georgia Aquarium is still the largest in the US with over 10 million gallons of water, as well as 100,000 marine animals on-site.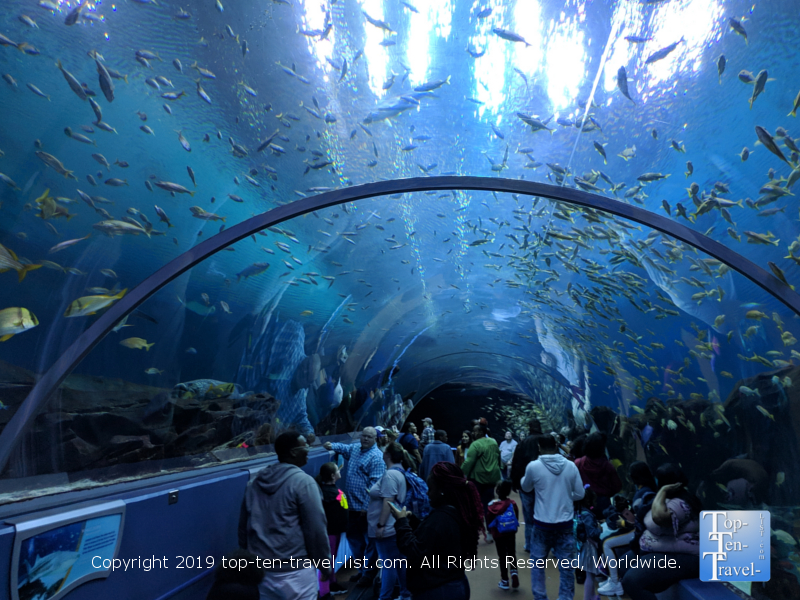 It is also the only aquarium to house whale sharks outside of Asia. A massive 6 million gallon tank houses these incredible sharks.
You will also see beluga whales, California sea lions, and all sorts of colorful fish and coral. Admission includes a 4D show, a sea lion show, a penguin walk show, and an incredible dolphin show. The highlight of a visit to the Georgia Aquarium is by far the impressive dolphin show. A line begins to form almost an hour before showtime, so plan on getting here at least a half hour early to ensure your spot!
An extension is currently being built with a new shark exhibit coming in the fall of 2020.
Additional details
The aquarium is located at: 225 Baker St NW, Atlanta, GA 30313.
Admission is quite hefty at $48 for regular admission (although this does include all shows). Advance purchase (at least one day prior) tickets are $43. Dolphin and sea lion presentations are included but require reservations when you arrive.
The aquarium garage is $20 for the entire day ($15 members) and located within close proximity to most major attractions.
Hours are 9am-6pm (weekends until 9pm).
For sports fans…
Explore Centennial Olympic Park
Centennial Park was constructed before the 1996 Olympics and quickly became a popular gathering spot for visitors. The '96 Games were one of the most memorable, on account of both triumph and tragedy. Despite the horrific bombing at Centennial Park, American athletes still came up on top with the most gold medals (44) as well as the most medals overall (101).
There are numerous commemorative statues including a new Olympic rings structure, which is a popular photo opp with tourists. Take a stroll around and you will see a variety of Olympic memorials.
The choreographed fountain show is the highlight of a visit to the park. Several times a day, a choreographed dancing fountain show featuring music and lights takes place on the world's largest interactive fountain featuring the Olympic rings symbol. As this is located just across the street from the Ferris Wheel, it's a great quick stop before your ride!
A sneak peek of the fabulous fountain show!
Note: College football fans will definitely want to check out the nearby College Football Hall of Fame.
Additional details
The park is located at: 265 Park Ave W NW, Atlanta, GA 30313 .
Hours are 7am-7pm.
The Fountain of Rings show runs 4 times a day (12:30, 3:30, 6:30, and 9).
For foodies…
Check out Atlanta's food scene
Atlanta is becoming one of the top foodie cities in the South. While you can find plenty of traditional Southern style fare, the city is now receiving much recognition for its' diverse food scene which includes everything from Indian, to Ethiopian, to Japanese, to European inspired fare.
If you like Indian food, Chai Pani in Decatur is a wonderful choice. This restaurant has been the recipient of numerous awards over the years and was even a James Beard semi finalist (for Best Chef in the Southeast) last year. Here you can test out all sorts of interesting Indian street fare.
The daily Thali (veg or non-veg) is the way to go. A regional specialty is offered daily, and served alongside basmati rice, homestyle daal, homemade roti, raita, kachumber, and papadum. I prefer Indian buffets, however, the food was really terrific! Nothing too fancy, yet the decor was pleasant enough!
Check out the Eater Atlanta guide to the hottest restaurants right now.
For coffee lovers…
Check out the independent coffee scene
Sure Starbucks is convenient and consistent, however, there are plenty of fantastic local coffee shops which easily outdo the corporate chains, both in quality and ambiance. Atlanta is home to a thriving independent coffee scene, with unique shops scattered throughout the metro area.
One of the most recognizable is Hodepodge Coffee in East Atlanta. This eclectic shop is known for its' interesting artwork.
The vibe is hipsterish and trendy. Besides all the usual espresso drinks, Hodepodge offers several creative selections. Try the "Bless Your Heart, a Ghirardelli Caramel and French Vanilla Latte. On especially hot summer days, cool off with a "Slap Yo Pappy," a cold brew with half and half and Ghirardelli chocolate.
Here are a few more great Atlanta coffeehouses to add to your bucket list.
Tips for a great Atlanta visit!
Consider a City Pass if you intend on visiting Zoo Atlanta, The Georgia Aquarium, and the World of Coca Cola. You will receive admission to all 3 of these, plus the CNN studio tour and the Fernbank Museum of Natural History or the College Football Hall of fame for just $89 per person. As the zoo is $24+, the Aquarium $48, and the World of Coca Cola $19, it would be $90+ simply to visit these 3 attractions alone. You save with Citypass, plus get 2 additional attractions for free.
Atlanta is extremely busy on weekends! The Zoo and Aquarium can get insanely overcrowded, so much so that it is difficult to view the exhibits. I highly recommend visiting on a weekday to avoid added stress.
By staying downtown, you will avoid the hassle of finding parking (on weekends, many garages are completely full!). Most major attractions are conveniently within walking distance to most downtown hotels (with the exception of Zoo Atlanta). Omni Atlanta is a nice upscale choice, while Home 2 Suites is a decent budget friendly option. The Marriott Marquis is a nice mid-price option.
Visit the zoo as close to opening as possible. It will be less crowded, plus the weather will be a bit cooler. In a hot and humid climate like Atlanta, even a ten degree drop in temperature helps tremendously!
The Georgia Aquarium tends to get insanely packed. If you want any chance of actually enjoying your visit, avoid weekend nights at all costs! It is just way too crowded to enjoy the exhibits. Plus, the wait to get through security is crazy!