3 Days in Charleston, South Carolina
Charleston, South Carolina is a city rich in culture, architectural marvels, and natural beauty. Whether you are a photographer, history buff, foodie, or nature lover, fun abounds in South Carolina's most historic and beloved city. A weekend in this Southern charmer is a worthy addition to any traveler's "historic-cities-to-visit" bucket list. As Charleston frequently ranks amongst America's best historic cities, history buffs will surely be impressed.
From narrated carriage rides, to plantation tours & historic museums, to gorgeous beaches and nature preserves, to low country cuisine, there are more than enough interesting things to do and see to fill up a jam packed weekend itinerary.
Below is a sample 3 day itinerary. There is much to do and see in Charleston. And therefore, this list is by no means all inclusive, but rather comprised of just a few of my must-do's for those on a limited time frame.
Day 1
3:00pm – Check into the beautiful Plantation Oaks Inn in the charming community of Mt Pleasant. Homebaked cookies will be waiting your arrival. Charleston is home to its' fair share of charming B&Bs. While you could stay at a standard resort, being in one of the country's oldest cities, it just seems right to find a nice quaint B&B. This property stands on the grounds of what once was the Snee Farm plantation, owned by Charles Pinckney, signer of the US Constitution.
The property is really gorgeous being that it is located on serene Boone Hall Creek. The marsh backdrop is really picture-perfect. Each morning, you will feast on a full breakfast as you gaze upon the beautiful lush grounds which includes plenty of pretty oak trees. During the warmer months, you can take your coffee outside and enjoy the quaint natural surroundings. Whether bird watching or relaxing amongst the trees via an Adirondack chair, the ambiance is sure to please nature lovers.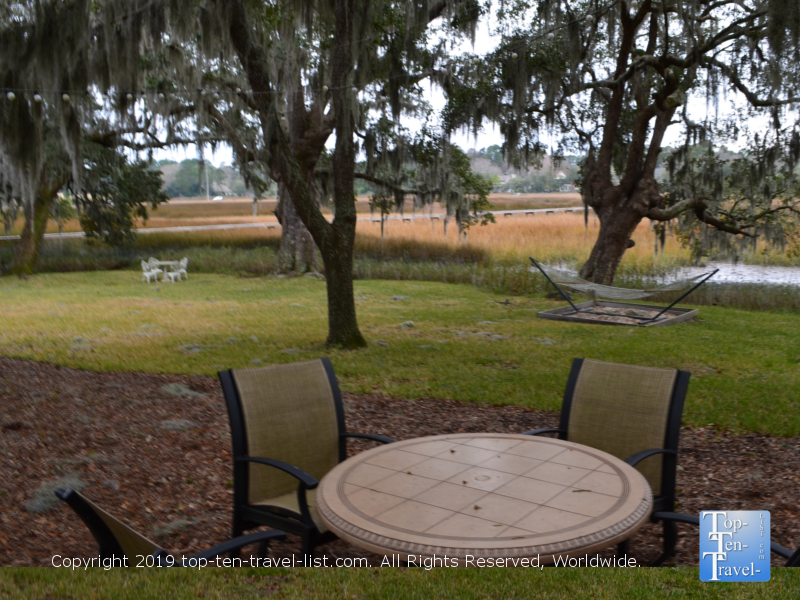 If you are seeking the ritzy amenities of a big resort, this B&B will likely disappoint. However, if you seek peace and quiet, and a (much needed) break from technology, then by all means book a stay at the Plantation Oaks Inn. The owners are super friendly and willing to help make your stay in Charleston a great one.
Update: This inn is now closed. Check out more historic inns of Charleston. The Post House (also in Mt. Pleasant) is a nice coastal choice located just 10 miles from the historic district. In this village, you will find the Pitt St. Pharmacy (Noah and Allie's ice cream date location in The Notebook).
4:00pm – Plan for an hour or so to explore gorgeous Palmetto Islands County Park. This quaint preserve is an excellent place to bird watch, alligator watch, or simply enjoy the lush tropical surroundings of the Low Country. If you need a caffeine boost, Vintage is a great coffeeshop in the area which has a beautiful outdoor deck where you can lounge around for a bit and enjoy the Southern sunshine.
6:00pm – Grab dinner in the Mt Pleasant area, so you do not have to drive all around the city the first day of your trip. Five Loaves, is a trendy local favorite which offers a diverse menu of American comfort dishes. The menu is healthy, and the company works with local businesses. The atmosphere is hip and stylish and they have a great outdoor patio. If you are craving seafood, check out Vickery's, a waterfront favorite featuring coastal fare and Southern style cuisine.
Five Loaves – To the left, a delicious bowl of homemade soup, alongside a Caesar salad topped with warm cheese tortellini. To the right, a delicious Chicken Marsala dish.
Vickeri's – Try their amazing Black Beans Cakes & Fish and Chips! Sit outside for a gorgeous waterfront view!
7:00pm – Take some time to lounge around the inn and enjoy the beautiful serene tidal marsh surroundings. Have a glass of wine outside (note: the inn does not offer wine or glasses, however, you can bring your own).
Day 2
You will want to dedicate at least a full day specifically for exploring downtown Charleston as there is just so much to see and do. The city is located just a quick 20 minute drive from the inn, so you can get up early, enjoy a great breakfast, and still get here before all the afternoon crowds begin to arrive. Surprisingly, mornings are very quiet (especially Sundays).
7:00am – Breakfast is served around 7, thus allowing you to get to downtown Charleston pretty early. Breakfast varies by day, and is always filling & delicious. The staff works with any type of food allergies or special diets. No need for a separate coffee run either as the coffee is quite good. Views are tremendous – really you can linger cup after cup. But, don't stay too long as you want to get to Charleston before it gets too busy!
9:00am – Arrive in Charleston and immediately reserve your spot for a carriage ride through the historic district. There are numerous companies, so it is usually pretty easy to get on right away if you arrive early enough. Palmetto Carriage Works is the oldest and most respected company in town. The tour guides here are really knowledgeable about the history of the town, so much so that even the biggest history buffs will learn a thing or two! Consider booking online to ensure availability.
Carriage routes are selected via random draw. Our tour included a beautiful ride past many of Charleston's historic churches. The city's history of religious freedom landed it the nickname "The Holy City." St Michael's, built in the 1750's, is the oldest surviving religious building in Charleston. Beth Elohim, founded in 1749, is the oldest synagogue in continuous US, as well as the second oldest in the US.
A few of the gorgeous historic churches you will see if you get this tour
10:00am – The tour is only an hour long, yet still incredibly detailed. This leaves you plenty of time to explore more of the city. Right across the street, you will find the historic Charleston City Market, established in the 1790's, and still one of the city's most popular meeting spaces. Here, you can shop for all sorts of unique souvenirs and art pieces. Hand crafted Sweet Grass Baskets, brought to Charleston by enslaved West Africans, are extremely popular.
11:00am – By now, you will probably be starting to get hungry. Charleston, now a popular foodie destination, is most famous for its' low country cuisine. Right across from the market, you will find the touristy favorite, the Charleston Crab House. If you are up for a long walk, check out Gaulart & Maliclet Cafe, a quaint French restaurant offering a perfect lunch special (half sandwich, cup of soup, and wine or coffee for just $13 bucks).
12:00pm – Explore Charleston's Museum Mile on historic Meeting Street. Here, you will find over a dozen museums, historic houses, and numerous historic churches. During the off-season, they offer an affordable all inclusive deal, a great value if you intend on visiting multiple museums. A few of the most interesting to check out include: The Gibbes Museum of Art, The Charleston Museum (America's first museum), and The Powder Magazine (South Carolina's oldest public building).
Check out the full list of Charleston Museum Mile offerings.
2:00pm – Although the carriage rides cover a large section of the city, you will want to walk around and explore more on your own. The architecture is so gorgeous everywhere you turn. It's really hard to take photos on the cramped carriage ride, so walking around will give you the opportunity to photograph away. Here are a few interesting sights to add to your must-do list.
King street is a gorgeous 300+ year old street now home to lots of boutique shops and restaurants. Fans of "The Notebook" will definitely want to stop for a photo opp by the historic American Theater.
If you are up for a fright, take a tour of the haunted Old Charleston Jail.
Philadelphia Alley is one of Charleston's many hidden pathways. Numerous companies offer a tour of all these enchanting alleys. Philadelphia Alley, dates back to 1776, and is the most enchanting of them all. The setting is picturesque and secluded with high brick walls and plenty of shade. It is also quite eerie (take the night ghost tour to learn more about the haunted legends).
4:00pm – Head over to Rainbow Row, one of the most famous and photographed streets in America. The brightly colored section of town is home to a row of pastel colored houses. This is a great quick photo opp before continuing on to The Battery. The Battery, a gorgeous area on the harbor, is home to multi million dollar mansions and million dollar views.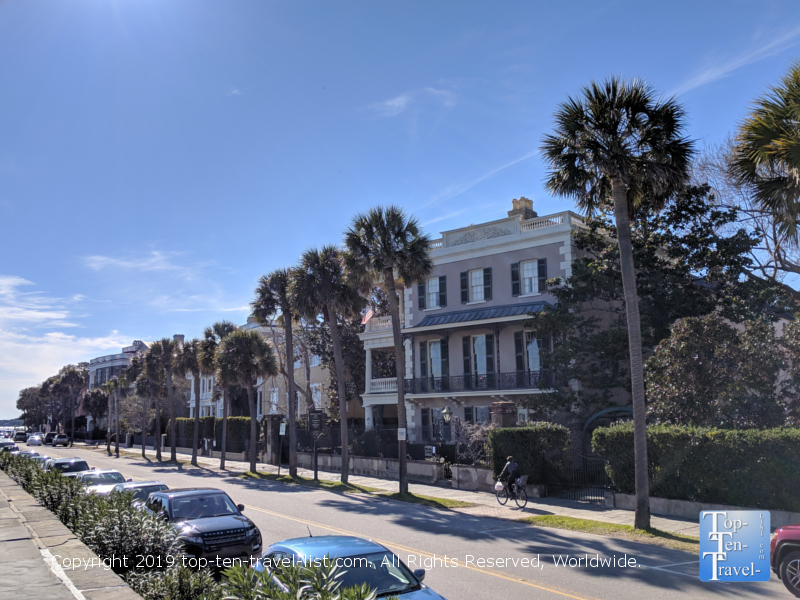 A quick tour of Charleston's beautiful downtown district…
5:30pm – Head over to Isle of Palms for a nice dinner and sunset at the beach. Isle of Palms is one of the more tranquil beaches in the Charleston area. The wide stretch of sand is perfect for a nice sunset stroll. The Boathouse is a popular seafront restaurant conveniently located in the vicinity. You can basically get anything seafood related here, all while enjoying the quaint coastal scenery.
The Boathouse – Great place for seafood lovers!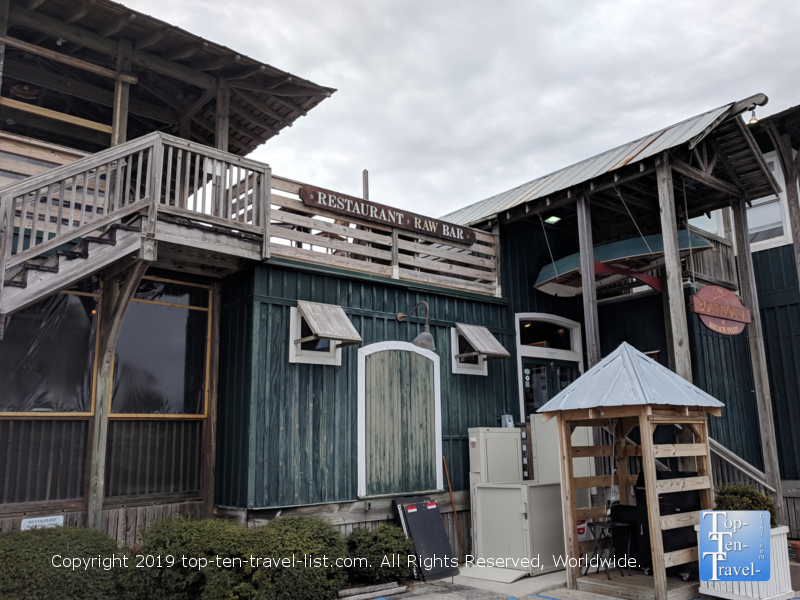 7:30pm – Head back to the inn and enjoy another night relaxing under the stars. Summer nights are typically pleasant, mild in the 70's or so. If your visit falls during the winter season, you might be surprised to find that the temps are surprisingly cold. Don't worry, the inn has a nice relaxation room with a cozy fireplace and several cozy couches. Plus, there is a screened in balcony.
Day 3
7:00am – Start your day off with your last relaxing breakfast at the inn. Isle of Palms beach is located just minutes away from the inn, and thus, is a great place to start your morning. This really is the best beach in the area, and such a short drive. And thus, there is no point in going anywhere else. Whether you feel like sunbathing, collecting seashells, or simply strolling along the water, the early morning hours are the most tranquil time for doing so.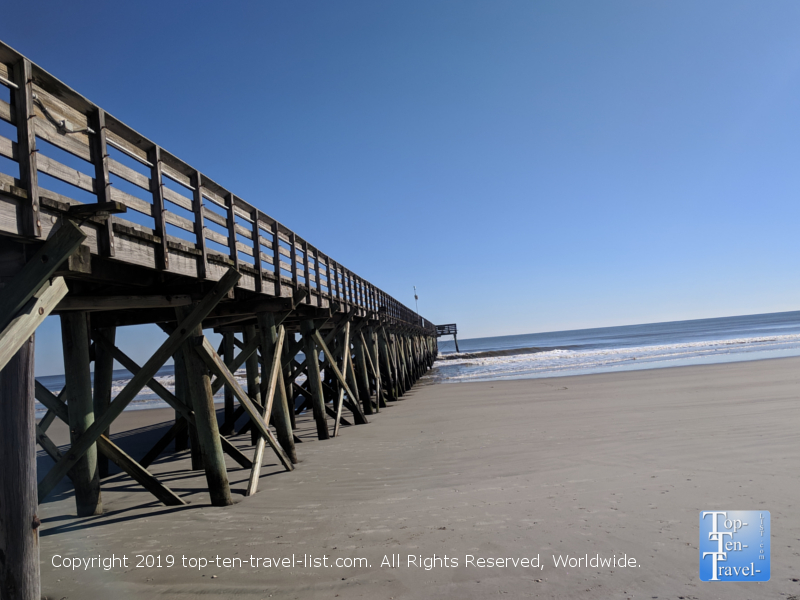 9:00am – Grab lunch at The Pickled Palate on your way back to the inn. This cozy local cafe offers a large selection of panini sandwiches and salads. They have a great shady outdoor patio for the warm season!
10:00am – Head back to the inn and enjoy those beautiful marsh/tidal creek views one last time before checking out.