Attraction of the Week: Congaree National Park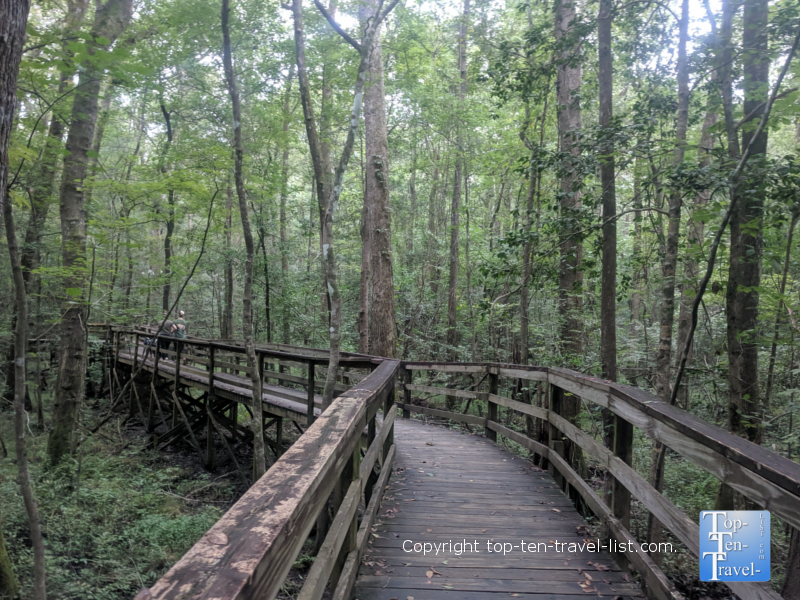 Most people are more than familiar with the Smoky Mountains National Park. As one of America's most beautiful nature treasures, it's no surprise that it is America's most visited park with over 11 million visitors per year. However, it is not the only park to check out while in the region. If you are planning a Southeastern road trip, little known gem Congaree NP near Columbia, South Carolina, is a mere 3.5 hours away.
Congaree National Park
Few have heard of Congaree National Park in South Carolina, despite the park's close proximity to numerous big Southeastern cities. While Congaree may not offer the big and bold vistas of other national parks, it does offer a bit of history and rare scenery rolled into one. Being that the park was not established until 2003, this makes it one of America's 5 newest national parks. Compare this with Yellowstone, America's first national park, which was founded back in 1872.
"Redwoods East"
Congaree is home to the largest tract of old growth bottomland hardwood forest in the country. The park is also home to the largest concentration of champion trees in the world (25 have been identified). A loblolly pine towers at 167 feet, making it the largest of its' kind anywhere. Other champion trees include a 157 foot sweetgum, a 154 foot cherrybark oak, and a 133 foot swamp chestnut oak. In total, 15 species of trees here are the tallest of their kind in the world.
Hiking amongst some of the tallest & oldest trees
A beautiful 2.5 mile loop trail along a boardwalk will take you past mesmerizing bald cypress and water tupelo forest. Some of the tallest trees in the Eastern US are located within this park. This is a really quiet and peaceful national park which does not receive nearly as much traffic as the more popular places. Walking the boardwalk trail really feels like a step back in time.
While the boardwalk is the most popular trail within the park, there are several additional options if you feel like exploring more. The 1.7 mile Bluff Trail passes through a forest of loblolly and longleaf pines. Additionally, there are a few really long trails for the adventurous types out there.
Canoeing on Cedar Creek is also popular with visitors. If you have the time, a guided tour is a nice opportunity to learn more about this rare habitat. Free tours are offered several times per year. Check out the 2019 canoe tour schedule.
Wildlife Watching
Wildlife watching opportunities are plentiful with deer, river otter, armadillo, turtles, and various bird species frequently sighted. Occasionally, alligators can be seen, although don't get your hopes up as it is pretty rare to come across one. If you want to see tons of gators, you will have to travel a bit further near the coast! Just watch out for the gigantic spiders often lurking right above your head! Anyone with a spider phobia may want to think twice before visiting this park!
Also, consider visiting during the synchronous firefly season. These are the only species in the country which can synchronize their lights. The unique flash of light is used during mating season as a mode of attraction. Although the park is quite busy at this time, this is definitely a unique experience to look into. However, the time frame is limited, taking place for just 2 weeks, sometime between mid-May to June. Check the Congaree park website for details.
Why visit Congaree?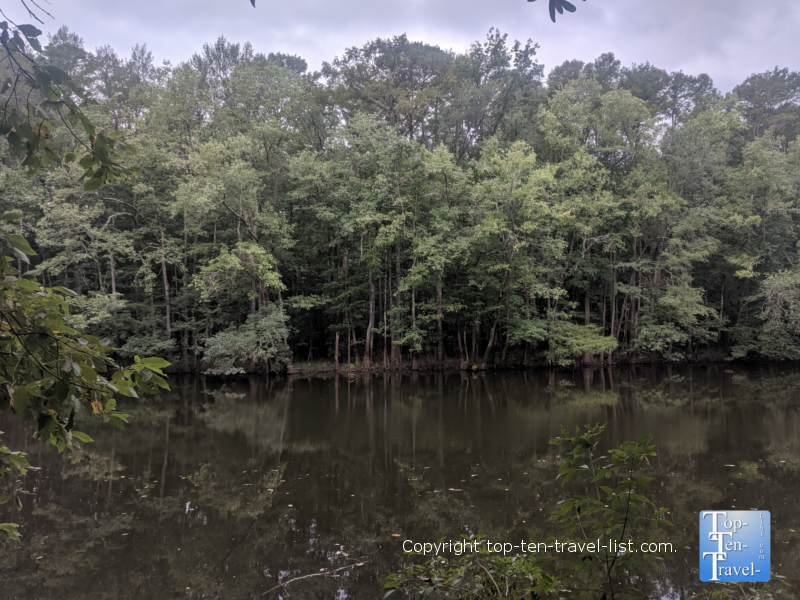 Anyone set on visiting every US National Park definitely needs to add Congaree to their bucket list, if for anything just to collect another stamp in your passport book. For anyone else, there are bigger and better parks on the East coast which offer more impressive scenery and an overall bigger band-for-your-buck experience. As Congaree is an easy daytrip from Greenville, enjoying all the great attractions around the Upstate will make your trip a bit more memorable.
Location & Additional Details
Location: 100 National Park Rd, Hopkins, SC 29061
Hours: The visitor's center is open from 9am-5pm.
Fee: Admission to Congaree is always free! Parking is also free.
Dogs are allowed on all trails (must be leashed).