5 Free National Parks to Visit
Yellowstone (est. 1872) was America's First National Park, while New River Gorge National Park in West Virginia is the newest addition (est. 2020). Planning your annual vacation around one of the 63 national parks (424 national park sites) makes for a great budget friendly trip. Vacations today can be super costly with the high price of hotels, gas, flights, restaurants, and attractions. You can easily save yourself hundreds of dollars (and also get in plenty of exercise and fresh air) by centering your vacation plans around a gorgeous free national park. Exploring the great outdoors is a wonderful way to stay active, connect with nature, as well as take a much needed break from technology.
Fortunately, a few free national parks still remain. And, even if these parks were not free, they are still worthy of a visit for the shear number of budget friendly recreational opportunities present. Whether you prefer hiking, biking, horseback riding, picnicking, or scenic drives, you can find it all and more within America's wonderful National Park system.
Here are 5 wonderful national parks which offer free admission.
1. Cuyahoga Valley National Park
Location: Ohio
Nearby city: Cleveland
Est. Date: 1974
This gem is located in Ohio about 30 minutes outside of Cleveland. It's super easy to access whether you live in, are visiting, or traveling through Cleveland. Because of the easy access, it is one of America's most visited National Parks with over 2.2 million tourists per year. There are over 125 miles of hiking trails to explore here, with fall being the prime time to enjoy the cool temps and vivid foliage.
Park highlights:
Brandywine Falls, a gorgeous 60 foot waterfall accessible via a moderate hike of just 1.5 miles.
Ohio & Erie Canal Towpath trail – A 20 mile section of this 100+ mile long beautiful trail passes through this park.
Cuyahoga Valley Scenic Railroad – Relax and take in scenes of the Cuyahoga River on this peaceful ride.
Bike and Hike Aboard – Hike or bike a section of the Towpath trail and receive discounted admission on the train ride!
Read more about Cuyahoga Valley National Park
2. Great Smoky Mountains National Park
Location: Tennessee/North Carolina
Nearby city: Gatlinburg
Est date: 1934
Located in the beautiful & biodiverse Appalachian mountains of Tennessee and North Carolina, and offering habitat to a wide range of plants, birds, and wildlife, it's no wonder that Americans have made the Smokies the top national park in the country. This park sees over 12 million visitors a year with a record breaking 14 million in 2021. Gorgeous waterfalls, ample wildlife watching, scenic mountain vistas, and easy access to family-friendly attractions have made this park one of the South's top vacation destinations.
Park highlights:
Laurel Falls – Beautiful 80 foot waterfall accessible via a moderate 1.3 mile paved trail.
Roaring Fork Motor Nature Trail – Rustic 5 mile drive through the park featuring access to creeks, waterfalls, and historic sites.
Clingman's Dome – The highest point in the Smokies at 6643 feet. A moderate paved path of just 0.5 miles lead you to the breathtaking summit.
Wildlife watching – Many black bears call the park home. It fact, it is home to the highest concentration in the US. With a population of 1900+, it's not rare to see a bear in action on a trail. Check out the bear that walked right in front of us in the photo below! Note: Keep your distance always!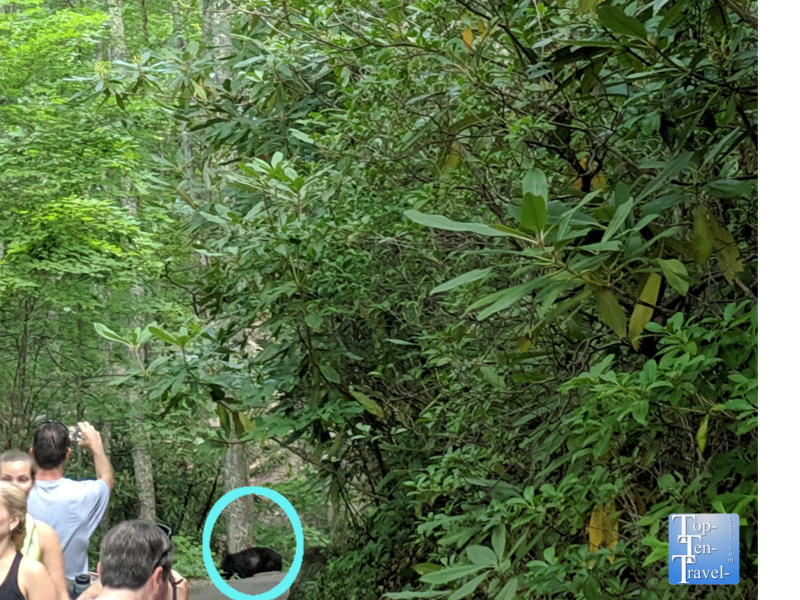 More fun things to do in the Smokies
3. Congaree National Park
Location: South Carolina
Nearby city: Columbia or Greenville (recommended)
Est. Date: 2003
This hidden gem is located in central South Carolina, about 18 miles outside of Columbia. While it's not one of the most visited or exciting national parks, it's worthy of checking off your bucket list if you are vacationing to nearby cities like Greenville or Charleston. Most notably, this park features the largest intact expanse of old growth bottomland hardwood forest in the Southeast. An easy stroll along a boardwalk trail will enable you to see many of these trees, as well as all sorts of unique birds and wildlife.
Park highlights:
Home to many Champion trees – The tallest of 15 tree species reside within the park. The tallest loblolly pine comes in at 169 feet!
Spectacular wildlife diversity – Coyote, bobcat, armadillo, and many other species call the park home.
Ancient cypress trees – Many of which are 500-700 years old.
Synchronous fireflies – For 2 weeks between mid May-June visitors can see thousands of fireflies flashing during mating season.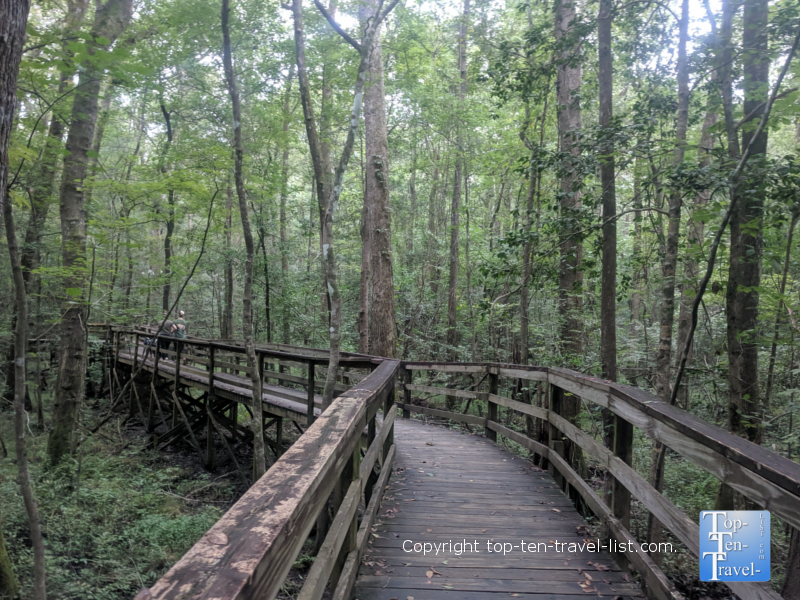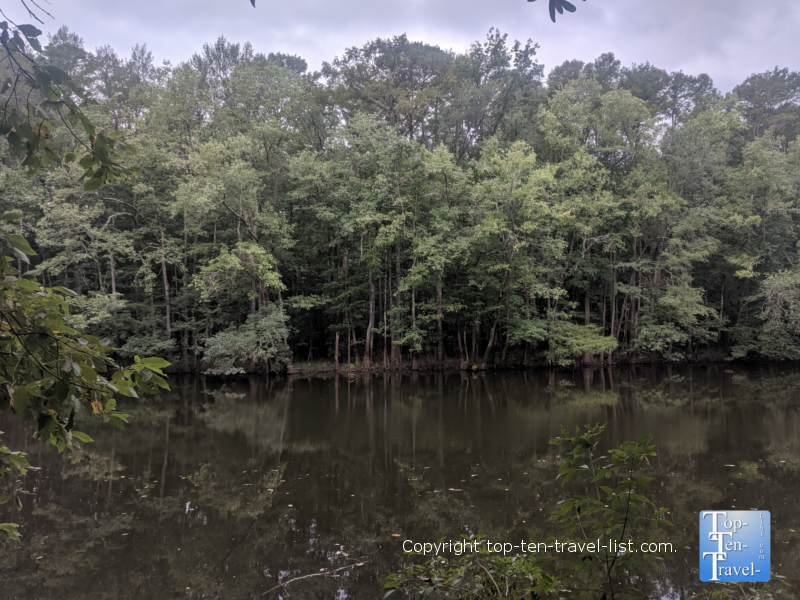 Read more about Congaree National Park
4. Redwood National and State Parks
Location: Northern California
Nearby city: Willits or Klamath
Est. Date: 1968
The redwoods trees are amongst the most majestic trees on earth. They are the tallest trees and can grow upwards of 300 feet. Currently, the world's tallest tree is Hyperion (height 380 ft), residing in Humboldt County. According to the NPS, most of these ancient coastal redwoods live to be 800-1500 years old with the sturdiest lasting 2000 years!
Park highlights:
Scenic drives – If you prefer to keep the exercise to a minimum, a picturesque drive is your best bet to take in these beauties. Check out the 9 mile Coastal Loop for starters.
Visit "The Big Tree" – Easy walk to old growth redwoods in Prairie Creek State Park.
Trees of Mystery – Quirky roadside attraction featuring redwood interpretive trails and gondola rides.
Humboldt Redwoods State Park – Great destination for hiking, picnicking, biking, & more. Most known for Avenue of the Giants, a 32 mile scenic drive featuring towering redwoods.
5. New River Gorge National Park
Location: West Virginia
Nearby city: Beckley
Est Date: 2020
America's newest national park, New River Gorge, was established in 2020. It is also one of the nation's few free national parks. If you find yourself visiting or even traveling through West Virginia, do plan for a few hours hiking or simply taking in the mountain scenery at this gem. The beautiful Appalachian mountains create a picture-perfect background for your activity of choice, weather that be hiking, biking, rafting, or simply sightseeing.
Park highlights:
Whitewater rafting – Premier rafting (Class III-IV+) on one of the oldest rivers in the world.
New River Gorge Scenic Drive – 83 mile drive featuring grand views of the river and gorge.
~100 miles of trails – Trails range from easy to hard and feature a rustic setting, perfect for getting lost in nature. Lots of cool rock formations to explore along the way.
Scenic overlooks – The main overlook at Grandview (1400 ft above the river) offers outstanding views of the mountains.
And one amazing National Park Site (NPS)
While not technically a National Park, the Blue Ridge Parkway is one of 400+ national park sites. It is free to enjoy, absolutely gorgeous during every season, and loaded to the brim with amazing views and worthwhile attractions. In 2022, it came in as the most visited National Park Site with 15 million visitors (More than the Smokies 12 million!).
5. Blue Ridge Parkway
Location: North Carolina/Virginia
Nearby city: Asheville
Est. Date: 1966 (partial), Completed in 1983
469 miles of scenic beauty line "America's Favorite Drive," as it winds its' way through 29 counties in Virginia and North Carolina. Linking Shenandoah and the Great Smoky Mountains National Park, the mountainous terrain is awe-inspiring every mile in-between. The Blue Ridge Parkway is easily one of the most picturesque drives in the country. Waterfalls, scenic overlooks, and hiking trails can be enjoyed throughout. Whether you feel like driving just a small portion, or the entire route, this peaceful drive will never disappoint.
Drive highlights:
Linville Falls – Gorgeous 150 foot multi-tiered waterfall in the Linville Gorge Wilderness.
Mt. Mitchell – Highest peak east of the Mississippi at 6684 ft.
Devil's Courthouse – See 4 states (GA, TN, SC, NC) from atop this stunning 5720 foot summit, accessible via a very steep half mile hike.
Fall leaf peeping – One of the best destinations in the country for fall foliage. Hotspots include: Graveyard Fields overlook & waterfall (Milepost 418.8), Rough Ridge hike (MP 302.8), Grandfather Mountain (MP 305), and Linn Cove Viaduct (MP 304).
Free National Park Days
Also be sure to check out the list of National Park Free Dates. Everyone receives admission for free during National Park Week, held annually in April. Also the following dates are free in 2023:
Jan. 16th – Birthday of Martin Luther King Jr.
Aug. 4th – Anniversary of the Great American Outdoors Act
Sept. 23rd – National Public Lands Day
Nov. 11th – Veterans Day
Also keep in mind that a National Park vacation (whether or not admission is free) is going to be cheaper than a vacation packed with pricey activities and tourist attractions. Keeping that in mind, here are 10 more great parks to visit (some involving admission fees).