15 Amazing Free Tourist Attractions in the Midwest
From photographing one of the best skylines in the country, to exploring amazing cultural institutions, to hiking at one of the country's only free national parks, there is plenty of free fun to be had in the Midwest. Below are a few highlighted attractions throughout the Midwest states. Note that all attractions featured here are free (outside of any minor parking fees). For those seeking a budget friendly trip, there are many exciting city attractions, beautiful parks, and fun events to keep your itinerary jam packed. Of course, there are many more fabulous things to do in the Midwest (both free and paid), however, this list serves as a great starting point.
1. Chicago Lakefront Path
Location: Downtown Chicago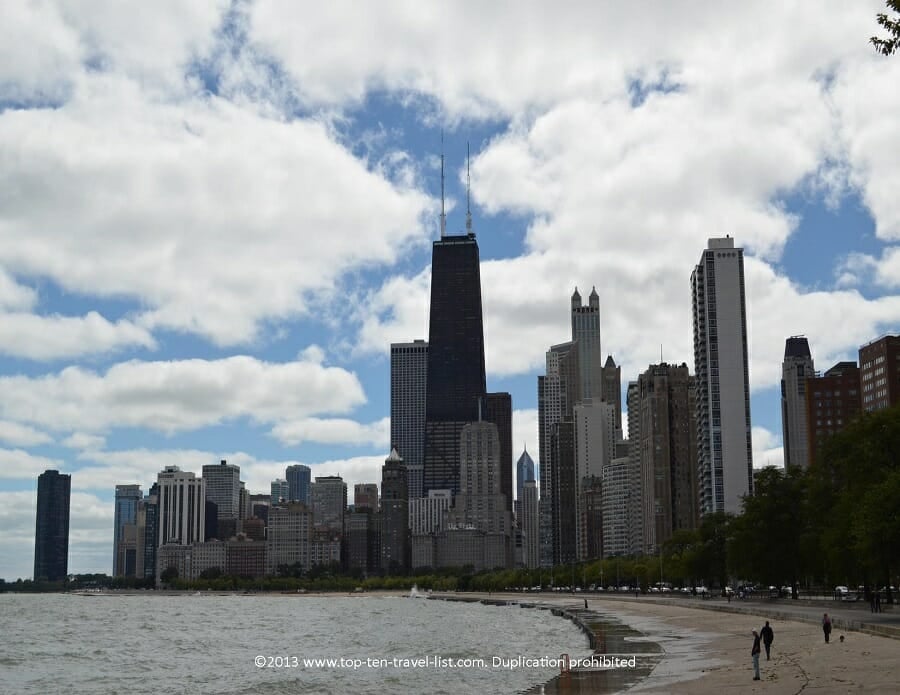 A ride along this lengthy 18 mile long paved recreational path along gorgeous Lake Michigan is one of the best ways to take in the country's most magnificent skyline. The scenery is beautiful throughout with unending views of the beautiful cityscape. Another benefit is being able to take in some of the city's top rated attractions conveniently, without having to hassle around dealing with traffic and finding parking. Attractions along the route include: Lincoln Park Zoo, Navy Pier, and Chicago's Museum Campus (home to the renowned Field Museum, Adler Planetarium, and The Shedd Aquarium).
More info on the Chicago Lakefront trail and a map
More free things to do in Chicago
2. Navy Pier
Location: Downtown Chicago
One of the most visited attractions in downtown Chicago is beautiful Navy Pier, a 3300 foot long pier, famous for its' 200 foot Ferris Wheel and ongoing entertainment lineup. Although there are lots of tasty treat shops (try an iconic Rainbow cone!) and fun restaurants to enjoy, as well as shops to browse, there are plenty of fun freebies to enjoy as well. On Wednesday-Saturday nights, from Memorial to Labor Day, you can enjoy a magnificent free fireworks show. However, the best free thing to do is to stroll along the pier and enjoy breathtaking views of Lake Michigan and Chicago's iconic skyline. Also be sure to check the event calendar for upcoming free art shows, movies, and concerts.
3. Starved Rock State Park
Location: Oglesby, Illinois
One of the state's most beautiful state parks is located just 2 hours outside of Chicago. 13 miles of trails, some featuring great views of the Illinois River, offer the perfect rustic escape from the city congestion. There are 8 beautiful canyon waterfalls (green marked trails) which are usually most active in the spring after heavy rains. The park is home to 18 canyons featuring vertical walls of moss-covered St.Peter Sandstone (created by glacial meltwater that slices through the sandstone bluffs). The best month to visit is in October where you will be able to enjoy vivid fall foliage, along with exploring the canyons and taking in the gorgeous river scenery.
More info on Starved Rock State Park
4. Cuyahoga Valley National Park
Location: Cleveland, Ohio
As one of the nation's only free national Parks, Cuyahoga is definitely worth a visit if you find yourself seeking nature activities near Cleveland. It's the most beautiful place to hike, bike ride, kayak, picnic, horseback ride, and enjoy winter sports in the Cleveland metro. The highlight here is the extensive network of hiking trails, with 125 miles of diverse terrain to explore. 60 foot Brandywine Falls is a must-see, and fortunately, the hike is only 1.5 miles. For those who prefer to enjoy the scenery in a more relaxing way, a ride on the Cuyahoga Valley Scenic Railroad is a great alternative means of enjoying the scenery. Another park highlight is the 100 mile Towpath trail which crosses through the park for about 20 miles. Bonus – the Bike Aboard program allows you to bike to your comfort and take the train back!
More info on Cuyahoga Valley National Park
5. Millenium Park
Location: Downtown Chicago
The now iconic centerpiece of downtown Chicago was constructed in 1998 to celebrate the millennium. Millennium Park was supposed to open to the public in 2000, however, opening was delayed 4 years. On July 16, 2004, the city celebrated with a 3 day extravaganza which included concerts and various events. Not only does the park feature a number of free art attractions and a wonderful free winter ice skating rink, but it is also site of numerous free city events. The top thing to do here year round is taking your picture by the famous Cloud Gate "bean" sculpture. Anish Kapoor created the iconic sculpture which is now one of the largest permanent outdoor art displays. The reflective nature of the piece makes it a fun spot to take souvenir photos with the skyline in the background.
Millennium Park event calendar
6. Cincinnati Art Museum
Location: Cincinnati, Ohio
This free art museum is one of the country's oldest and best. It was founded in 1881 and can claim the title as the first purpose built art museum west of the Alleghenies. Not only is it the best attraction in Cincinnati, but admission and parking are both free all year round! The collection is quite large and includes 67,000 pieces spanning over 6000 years. From European and American paintings and sculptures, to Native American art, to decorative arts and design, you will find a bit of everything here. The East Asian Art collection, featuring art from China, Korea, and Japan is not only impressive, but one of the oldest collections of its' kind. The South Asian Art and Antiquities collection is also outstanding. Here you will find architectural fragments from Khirbet et-Tannur as well as ceramic vessels and sculptures from ancient Greece, Rome, and Egypt.
More info on the Cincinnati Art Museum
7. Cleveland Art Museum
Location: Cleveland, Ohio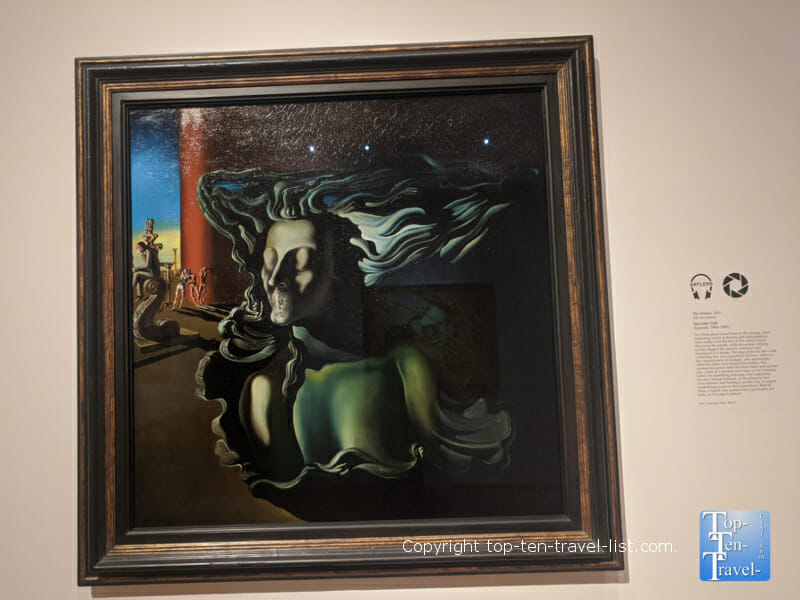 Exploring The Cleveland Museum of Art is one of the top things to do in the city. The collection is extensive (more than 45,000 pieces spanning 6000 years) and free for all to enjoy. The building itself is also quite gorgeous. Highlights include: Marilyn x 100 by pop art icon Andy Warhol, Nataraja, Shiva as Lord of Dance from South India (Chola period, 900-1200s), Water Lilies by Claude Monet (1915-1926), and The Dream by Salvador Dali (1931).
More info on the Cleveland Art Museum
8. Lake Erie beaches
Location: Ohio, Pennsylvania, New York, Michigan
Lake Erie is the 4th largest of the 5 Great Lakes and the 11th largest in the world. The water is the shallowest and warmest of the Great Lakes which makes it a prime destination for summer swimming. Buffalo, Erie, Toledo, and Cleveland all are located within close proximity to a number of top rated beaches. The best way to cool down on a hot and humid summer day in Northern Ohio/Pennsylvania is to head to the Lake Erie beaches. USA 10Best Reader's choice rated Presque Isle State Park as the best freshwater beach in the country. With 11 pubic beach options, there is something here for everyone. Hiking, picnicking, and biking are more ways to enjoy some fun-in-the-sun. Headlands Beach State Park is your best bet for beachcombing – this beach is a hotspot for seaglass.
Check out a few of the best Lake Erie beaches in Ohio and Pennsylvania
9. Ohio & Erie Canal Towpath Trail
Location: Cleveland to New Philadelphia, Ohio
This ~100 mile trail travels along the historic Ohio and Erie Canal. This is the same path which was used by mules to pull boats from 1827-1913. Along the lengthy course, which runs from Cleveland to New Philadelphia, there are many attractions and beautiful sights to take in. A leisurely bike ride through the 20 mile section transversing through the gorgeous Cuyahoga Valley National Park is a great place to start. The Cuyahoga Valley Scenic Railroad offers a really cool Bike/Hike Aboard program where you can bike/walk one direction and take the train another (the train can be flagged down at any boarding station along the trail). Best part of all – you will receive a discount over the regular train admission price.
Towpath map and attraction guide
10. Lincoln Park Zoo
Location: Downtown Chicago
Lincoln Park Zoo was founded in 1858, making it the 4th oldest zoo in the nation. The zoo holds a lot of historical significance and has been a favorite city attraction of both locals and tourists. It's one of the only free zoos in the country so definitely take advantage if you are seeking budget friendly entertainment in The Windy City. Lincoln offers 49 acres to explore with over 200 beautiful animal species calling the zoo home. Best of all are the gorgeous city views! The zoo hosts many unique events. If your visit happens to fall over Christmas, be sure to check out Zoo Lights (free on Mondays, $5 otherwise) – easily one of Chicago's most festive holiday light shows!
Zoo parking is free for the first half hour (side street parking is available but is hard to find. Consider biking from the Lakeshore Path).
More info on the Lincoln Park Zoo
11. White Pines & Castle Rock State Forest
Location: Mt. Morris, Illinois
Castle Rock and White Pines are 2 great parks located within close proximity in Northern Illinois. White Pines is small at 385 acres, yet a beautiful place to picnic, hike, and enjoy the great outdoors. The picnic areas are beautiful with plenty of tree coverage for the hot summer months. Trails range from easy to moderate and offer great views of the limestone bluffs and pines. The best time to visit is during the tranquil winter months. After a snowstorm, you can enjoy cross country skiing or snowshoeing on 4.5 miles of mostly flat trail.
Castle Rock State Park is located on the beautiful Rock River in Oregon. The park is named after a sandstone bluff. There are 6 miles of trails to enjoy including numerous lookouts to enjoy the pretty river scenery. At just under 2 hours from the city, both parks combined are the perfect daytrip for nature lovers looking to escape the urban hustle and bustle for a few hours.
12. Eden Park
Location: Cincinnati, Ohio
One of the treasures of Cincinnati is beautiful Eden Park. Along with walking trails, lakes, the iconic Mirror Lake Bettman Fountain, and an ongoing lineup of events, Eden is home to some of the city's premier attractions. Most notably, the beautiful and free Cincinnati Art Museum draws plenty of tourists. Other attractions include Krohn Conservatory (a small, yet beautiful nature escape), a 172-foot high Water Tower established in 1894, and the Cincinnati Playhouse in the Park. Don't miss out on the Eden Park overlook – one of the most scenic viewpoints in the city!
13. Cleveland Metroparks
Location: Cleveland, Ohio
Surprisingly, Cleveland is home to one of the best park systems in the US. With 18 reservations covering 24,000 acres, you will never run out of fun ways to explore the outdoors. In 2021, Cleveland Metroparks was honored with the "Best in Nation" award for excellence in parks and recreation management. Hundreds of miles of hiking and biking trails, beaches, picnicking, fishing, and boat ramps give you plenty of opportunities for getting in a great workout or just enjoying time in nature.
The Cleveland Metroparks zoo is one of the best in the country, although a bit pricey. Edgewater Park is one of the most beautiful destinations and features swimming and dog beaches, a gorgeous waterfront bike path (the 17 mile Lakefront BIkeway), fantastic views of the skyline, picnic areas, and plenty of green space. Also check out the gorgeous 50+ mile long Emerald Necklace trail which connects various parks.
Cleveland Metroparks directory
14. Buckingham Fountain
Location: Chicago, Illinois
This iconic landmark, which opened in 1927 in Grant Park ("Chicago's Front Yard" is home to many events), is one of the world's largest fountains. This is easily one of the best places to take pictures in the city. Chicago's incredible skyline in the background really leads to some amazing photos. There's lots of open space to take a walk, people watch, and just enjoy being out in nature taking various photos of the fountain at different angles. Also be sure to visit at night – the fountain looks even more stunning lit up. The music and light show lasts about 20 minutes and occurs every hour beginning at dusk.
Read more about Buckingham Fountain
15. Free museum days
Location: Various
There are many interesting museums to visit throughout the Midwest, and fortunately, free admission is easily found throughout the year. Chicago is home to the best museums. The renowned Field Museum, Shedd Aquarium, and The Art Institute offer free dates for Illinois residents throughout the year. Not a resident? There are still plenty of fun free museums to explore anytime.
Bank of America cardholders get into many world class museums for free on the first full weekend of each month. This is a great program called Museums on US which opens museum access to many who would otherwise not be able to afford to go. Here are a few of the best freebies in the Midwest:
Illinois: Adler Planetarium, The Art Institute, Museum of Contemporary Art, The Museum of Science and Industry, The Morton Arboretum.
Indiana – Indianapolis Museum of Art
Iowa – Science Center of Iowa
Michigan – Henry Ford Museum of American Innovation
Minnesota – Mill City Museum, Minnesota History Center
Missouri – Negro Leagues Baseball Museum, National World War I Museum and Memorial
Ohio – Great Lakes Science Center, The Dayton Art Institute
*Also check each individual museum's website for additional free dates throughout the year.