Attraction of the Week: Edgewater Park in Cleveland
Cleveland Metroparks is a beautiful network of 18 parks in Northwestern Ohio. With over 100 miles of trails, 8 beachfront parks, and a zoo, there are endless opportunities for recreation. In 2021, Cleveland Metroparks was rated the National Gold Medal "Best in Nation" Award for Excellence in Parks and Recreation Management. The most gorgeous of these parks is Edgewater Park featuring 9000 feet of shoreline, public beaches, a dog beach, picnic areas, and fishing piers.
As one of the most beautiful parks in the Cleveland metro, Edgewater is the best place to get out there and exercise. On any given spring or summer day, you will see lots of people out enjoying the season. Beach goers, volleyball players, boaters, cyclists, paddleboaters, runners…there really is a positive and motivating energy here once the weather warms up. You can't help but want to get in a great workout with the strong fitness vibe and beautiful lake scenery. It's the place to be in Cleveland on a beautiful summer day. The highlight here is a 1.4 mile long trail which is perfect for jogging, walking, or biking.
Lake Erie
Out of the five Great Lakes, Lake Erie is the 4th largest. It's also the shallowest and the least voluminous with an average depth of only 62 feet. This means that it warms quickly in summer and freezes easily in the winter.
Summertime in Cleveland is all about Lake Erie. This is the time of the year when everyone is out and about. All the trees are green. Fitness buffs are enjoying the mild weather via bicycle rides and long jogs. Tourists are lying out on the beaches. Every type of beach sport imaginable is in full gear. Events and concerts are nearly always on the lineup. It's just a great time of the year to be active. Turn off the TV and computer for an hour or 2 and enjoy some old-fashioned fun-in-the-sun!
Edgewater Park beach is the perfect place to enjoy all the lake has to offer. In addition to swimming, you can enjoy a game of volleyball, rent a cabana and umbrella and sunbathe, or simply enjoy the fabulous skyline scenery. If you need a cool treat, Honey Hut ice cream (a local favorite) is there to tempt you. For anyone who prefers to get a more active, simply hop on your bike (or walk) to your heart's content. About a mile of the trail travels through Edgewater Park, although you can continue on the lakefront path for about 17 miles.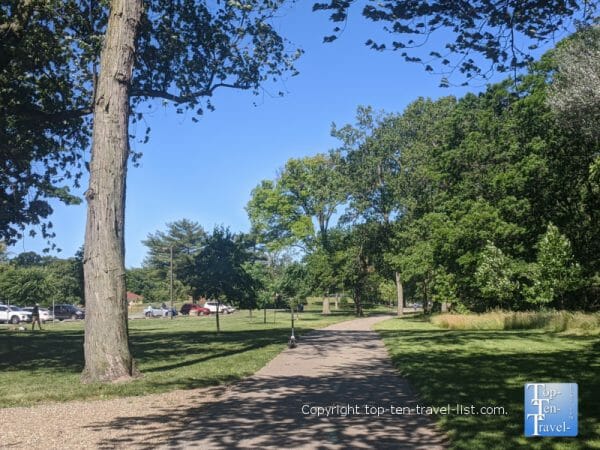 Bike and watersport rentals available.
Best place for skyline views
This park is easily the best place to enjoy views of the Cleveland skyline. The beautiful Lake Erie makes the setting even more spectacular. No matter what time of the year you visit, you can take photography and enjoy the wonderful mix of nature and urban amenities. The park is especially scenic around sunset. While more often than not freezing cold, this park is tranquil and mesmerizing following a winter storm.
The Cleveland script sign
Most notably, this park is known for the famous Cleveland script sign. The beautiful lake and skyline views create a beautiful backdrop. This makes for a fun photo opportunity. Note that oftentimes there can be a wait on summer weekends. If you keep walking or biking past the Cleveland sign, there is beautiful grassy park space and picnicking areas.
Note that there are 5 other iconic Cleveland script signs around the metro. Here's an article detailing where to find them.
Edgewater Park is located at:  6500 Cleveland Memorial Shoreway. Cleveland, OH 44102. Free parking. Plenty of spaces available in the massive lot.