10 Must-Do's in Cleveland, Ohio
Most notably, Cleveland is famous for being "the birthplace of Rock n' Roll." Cleveland Disc Jockey Alan Freed is credited with first using the phrase on a radio show in the 1950's. Today, you can explore the history of rock and roll at the Rock & Roll Hall of Fame, one of the city's most iconic attractions. The city is also known for its' beautiful award-winning park system, close proximity to Lake Erie Beaches, world-class art institutions, rich sports history, and its' burgeoning food scene, recently ranked #7 in the country by Travel and Leisure. Highlighted below are a few Cleveland must-do's, in no particular order.
1. Tour A Christmas Story House & Museum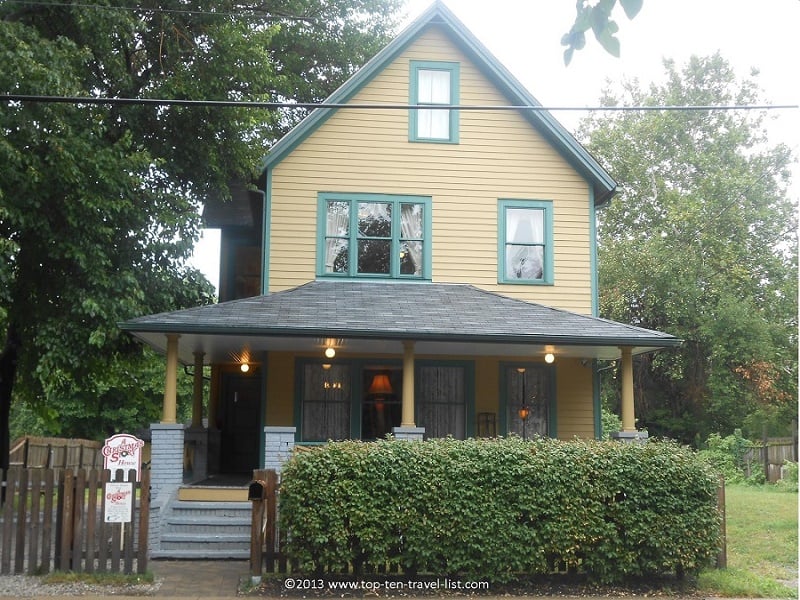 One of the most timeless holiday films is "A Christmas Story," a box office failure in 1982 which now airs 24/7 every Christmas Eve. With so many memorable lines ("You'll shoot your eye out!") and iconic moments (the leg lamp, the bunny suit), it's easily one of the most recognizable Christmas films. The colorful house may be just as memorable. In Cleveland, you can tour the actual house which was used for filming. Everything looks exactly the same as it did in the film, right down to the leg lamp in the window. For more details about house tours, the attached museum and gift shop, and pricing visit my full guide to exploring the A Christmas Story house.
2. Explore the Cleveland Museum of Art
One of the country's premier art museums is located right in Cleveland. And best of all, it will cost you nothing to visit asides from a small parking fee. The collection is quite extensive and includes over 45,000 diverse works. You could easily spend several hours exploring, making this a great bang-for-your-buck activity. The museum is most well known for its' large and impressive collection of Indian, African and Southeast Asian art, although just about every culture is represented. Particularly impressive collections include: Modern European painting and sculpture, Medieval Art, Japanese Art, and Art of the Americas.
3. Enjoy fun-in-the-sun at Edgewater Park
Cleveland's park system is pretty impressive. In 2021, it was even awarded the National Gold Medal "Best in Nation" Award for Excellence in Parks. With over 24,000 acres to explore, you will never run out of outdoor activities. Edgewater Park is a gorgeous choice come summertime. With 9000 feet of shoreline, beaches, bike trails, fishing piers, and picnicking facilities, it's the best place to enjoy some fun-in-the-sun. A gorgeous section of the Lakefront Bikeway travels through this lively park. Fabulous views of the skyline and lake keep you company the entire way. Also on-site is one of the famous Cleveland script signs.
4. Bike the Towpath Trail
For those who prefer to get in a fabulous workout, even on vacation, the Towpath Trail is where you will want to start your journey. The lengthy 90+ mile trail follows the route of the Ohio & Erie Canal. 20 miles of the trail passes through the beautiful Cuyahoga Valley National park, another must-see during your time in Cleveland. The highlight of this trail is a Hike & Bike Aboard program where you can hike, bike, or run to your comfort level and then ride the Cuyahoga Valley Scenic Railroad back for the reduced price of only 5 bucks. Simply flag down the train at any boarding station along the route.
5. Stroll around the Cleveland Metroparks Zoo
Although it does not receive as much press at the more popular big city zoos, the Cleveland Metroparks Zoo is pretty impressive. The zoo is home to over 3000 animals including 500 diverse species. The spacious 200+ acre zoo is beautifully landscaped with a number of really impressive exhibits including an indoor rainforest, a beautiful tiger exhibit featuring overhead walkways, and a world-class African Elephant Crossing (the zoo's largest exhibit to date). Special events to look out for include a festive winter holiday lights celebration and a colorful Asian Lanterns festival.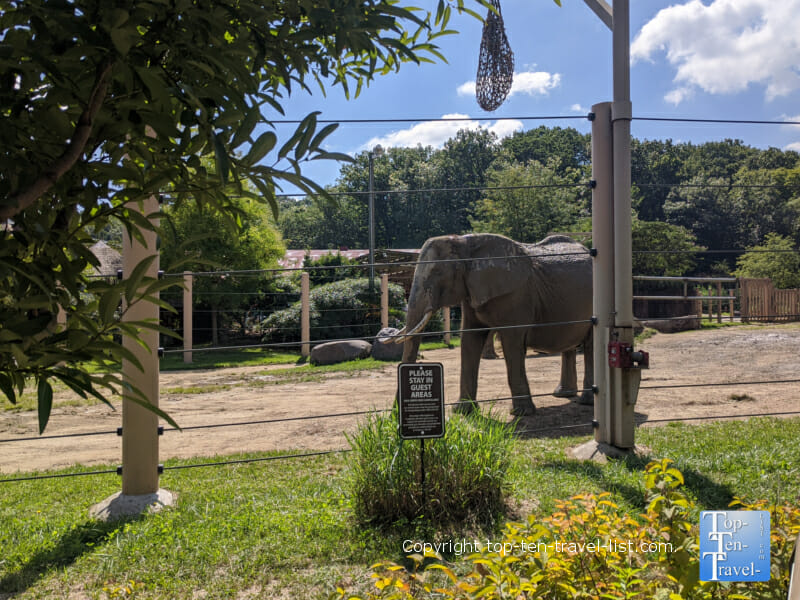 6. Get back to nature at Cuyahoga Valley National Park
While Cuyahoga may not be one of the nation's most stunning national parks, it's got several things going for it. One, admission is completely free! Second, it is located within close proximity of many major cities, making it more easily accessible than beautiful, yet isolated parks like Yellowstone. Third, there are 125 miles of beautiful hiking trails to explore, with treks for both beginner and advanced hikers available. And finally, it's a prime leaf peeping destination. One must-do here is the Brandywine Falls trail which leads you to one of the most spectacular waterfalls in the Midwest. A beautiful 1.5 mile loop through the woods is all it takes to see this 60 foot tall waterfall wonder.
7. Relax at a beautiful beach
On a hot, humid summer day in the Midwest, nothing beats a relaxing day at the beach. Being on the shores of beautiful Lake Erie, there are many beaches in the Cleveland region. Whether you feel like sunbathing, collecting seashells, or playing a game of beach volleyball, there is a beach for you. Edgewater Beach is located close to the city and features kayak and paddleboat rentals, umbrella and cabana rentals, as well as a long lineup of summer events including a popular concert series. Headlands and Perkins are great for collecting sea glass – discarded glass which has had years to tumble and thus transform into beautiful gem-like pieces!
Check out more great Cleveland area beaches
8. Cheer on a Cleveland team
Cleveland locals are very passionate about their sports teams, especially the Cleveland Browns. In 2022, Chris Russo named Cleveland the top sports market in the US. This ranking was based on fan loyalty and enthusiasm. Cleveland joined the rank of sports loving cities like Chicago, Philadelphia, and Detroit. If visiting in the summer, consider cheering on the Cleveland Guardians at Progressive Field. Wintertime is a great time to check out a Cavaliers or Browns game.
9. Explore historic neighborhoods
Many diverse neighborhoods make up the city of Cleveland. The Tremont neighborhood, established in the 1850's, is home to some incredible architecture. Several notable attractions including beautiful old churches, A Christmas Story house, the Rowley Inn, as well as numerous coffeeshops and restaurants can be found in the newly revived historic district. Little Italy is another historic neighborhood to explore. Here you can enjoy authentic Italian food in the city's oldest restaurants, enjoy authentic bakery treats, browse art galleries, and explore the Cleveland Cultural Gardens. Ohio City, located just a mile from downtown, is known for the West Side Market, a popular indoor/outdoor public market dating back to 1840.
Check out more historic Cleveland neighborhoods
10. Check out the food scene
You can find a bit of everything in Cleveland, and thus, it is no surprise that it usually ranks amongst America's best foodie cities. Most notably, the city is know for pierogi and Polish food due to the rich history of Eastern European immigrants in the city. There are lots of great choices for authentic Pierogi including the Rowley Inn featuring a delicious & unique Pierogi pancake. While in town, you may also want to try out a Polish Boy, corned beef sandwich, or an authentic Italian pastry or pasta dish in the city's historic Little Italy district.
A few local restaurants to try
Mia Bella – Authentic Italian
Mama Santas – Old school charm, great pizza
Le Petit Triangle Cafe – Excellent crepes, authentic vibe
Tandul – Delicious local Indian restaurant in the Tremont neighborhood
The Bourbon Street Barrel Room – Lively restaurant serving New Orleans style cuisine & craft beer