5 Must-Do's in Cincinnati
Cincinnati is the 3rd largest city in Ohio with a population just over 300,000. In the mid 1800's, Cincinnati was the country's 6th largest city and referred to as the "Queen City of the West." To this day, "The Queen City." has remained the city's most popular nickname. Most notably, the city's strong art scene lent to its' reputation as a cultured city. Today, you can enjoy many art and history museums, ballet, opera, the symphony, galleries, and performance art venues in one of the Midwest's most vibrant art cities.
The city is also known for its' interesting food scene (including the famous Cincinnati chili), baseball (the first pro baseball team – The Cincinnati Red Stockings played here back in 1869), and breweries (at one point the city was known as "the beer capital of the world."
Amongst the most popular attractions in the city are The Cincinnati Zoo & Botanical Garden, The Cincinnati Music Center, The National Underground Railroad Freedom Center, and The Great American Ball Park (home of the Cincinnati Reds). Below are 5 additional activities to add to your must-do list.
1. Cincinnati Art Museum
One of the country's best and oldest art museums is located in Cincinnati's Eden Park neighborhood. The museum was established in 1881, and thus, holds much historical significance. It was the first purpose-built art museum west of the Alleghenies. The huge collection includes over 67,000 diverse works of art. The permanent collection features many diverse types of art including:
African
East Asian
Contemporary
American paintings, sculptures, and drawings
European paintings, sculptures, and drawings
Native American
South Asian
Islamic
Fashion
Decorative and design
Musical instruments
Best of all, both the museum and parking are free so you can come back and explore anytime you want. With such a huge collection, you will want to visit more than once to take it all in.
Explore the online collection at The Cincinnati Art Museum
2. American Sign Museum
This eclectic museum is the largest public museum dedicated to signs. During a self guided tour, you will be able to explore more than 100 years of American sign history. The 20,000 square foot space includes a variety of sign styles including: gold-leaf, early electric, art deco neon, and modern plastic face. You will see lots of iconic signs here including: McDonald's, Gulf, Marshall Fields, Holiday Inn, and many more.
One particularly interesting section of the museum recreates an old-fashioned Main St. with signs in the windows.
On the downside, this museum is really small and quite overpriced at $15 per person. Do watch the informative video to get a little more bang-for-your buck in return for the high admission tag. Overall, a cool nostalgic place, albeit one that comes with a high price tag.
Learn more about the history of the museum
3. Krohn Conservatory
This small conservatory is located in beautiful Eden Park, one of the city's most beloved attractions. Here you will be able to view over 3500 plants and a gorgeous waterfall. Special events take place year-round, most notably the Butterfly Show and annual holiday exhibit featuring poinsettias and train displays. 2022 featured an interesting Prismatica interactive light experience (see pic below). The nice thing about this conservatory is that it is primarily inside so you can visit on a hot summer day, during the snowy winter months, and even on a rainy day. Like the sign museum, tickets are a bit too expensive.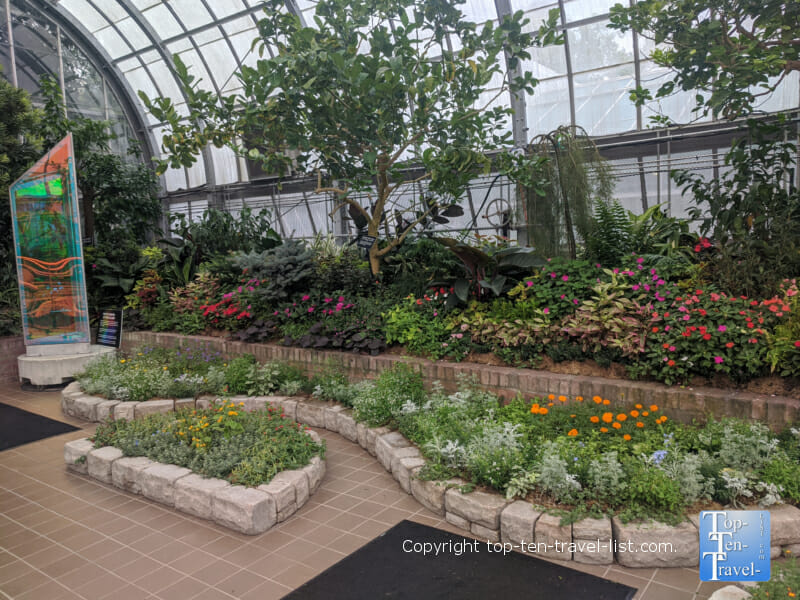 Although it's a beautiful place, it will not take you long to walk around, and thus, the $10 price tag is pretty steep. Combine this with a visit to the Art Museum and Eden park for a full morning out.
Stay updated on special events at the Krohn
4. Explore Eden Park
This beautiful urban park is centrally located and home to many top attractions including the Cincinnati Art Museum and Krohn Conservatory. There's lots to do and see here including hiking trails, scenic overlooks, picnic areas, public art sculptures, and basketball courts. Highlights include: Hinkle Magnolia Garden, Mirror Lake featuring the Bettman Fountain, and the Twin Lakes overlook. The park is located in the historic Mt. Adams neighborhood. After your day exploring, enjoy lunch or dinner at the historic Mt Adams Bar and Grille. The dining room is beautiful and the food is great. Bonus – this neighborhood features some beautiful Victorian homes.
Check out a list of amenities at Eden
5. Dine, shop, and play downtown
Downtown is home to a number of popular foodie restaurants and bars. Attractions include the Carew tower observatory, The Contemporary Arts Center, The Cincinnati Red Hall of Fame and Museum, and Fountain Square where numerous events are held throughout the year. One cool place to check out is 16-Bit Bar and Arcade. Here you can enjoy craft beer while testing your skills at old-fashioned pinball and arcade games. The ambiance is hip and young. Pinball games priced $1 a game. As a bonus, arcade games are included free with the purchase of a drink! A great date night destination and fun nostalgia for anyone who grew up at the arcades.
Additional Info
Where to stay? The Westin is a gorgeous property that is centrally located to many great attractions including Fountain Square and The Contemporary Arts Center.
Where to eat? Restaurants span the culinary board. Incline Public House is a popular bar and grill which features a wonderful view of the skyline. One great local choice is Ambar Indian, a great Punjab Northern Indian style restaurant. Try the Navratan Korma and the veggie pakoras! Note – it's a bit pricey!
Best views of the skyline? Head over to Devou Park in Covington, Kentucky. Asides from a scenic overview of the city, there are nature trails, picnicking facilities and an 18 hole golf course on-site.