Attraction of the Week: The American Sign Museum in Cincinnati
History buffs, art lovers, and/or fans of the strange & unusual visiting Cincinnati should plan a visit to The American Sign Museum. While The Cincinnati Museum of Art, The Cincinnati Zoo and The Great American Ball Park rate amongst the city's most iconic attractions, there is always something quirky and off-the-beaten path worth exploring in every major city. In Cincinnati this place is The American Sign Museum. At this eclectic museum, you will be able to take a trip down memory lane, exploring various signs used at notable businesses throughout the decades.
The history of signs
Signs have been used as a marketing tool for centuries. There are few things that make a business more recognizable then its' trademark sign, slogan, and advertising. Signs make popular brands easily visible when traveling. According to this Medium article, the oldest known advertising insignia dates back to 3000 BC in the Middle Eastern city of Ur. Signage was also used in Ancient Rome, Greece, and Egypt from 3000BC-5AD. Signs were initially made out of simple common materials. Eclectic signs made a debut in the 19th century. Neon signs debuted in the next century.
Eye catching neon
According to this Smithsonian article, in the mid 20th century, neon signs were used throughout America. In 1898, two British chemists (Sir William Ramsay and Morris William Travers) were credited with the discovery of the four gases eventually used in the creation of neon signs: neon, krypton, xenon and argon. Georges Claude created the first neon lamp. This new tech spread throughout the US. Many businesses proudly lit up their businesses with signs of "liquid gold."
Cities eventually banned neon for its' gaudiness. As many people moved to the suburbs, plastic became more popular. Plastic is also cheaper and easier to maintain. However, what is old is always new again. People nowadays tend to have a fascination with anything vintage. Thus, the resurgence of neon popularity and the opening of museums like The American Sign Museum in Cincinnati, The Neon Graveyard in Las Vegas, and The Museum of Neon Art in Glendale, CA.
Read more about the history of neon via this Smithsonian article.
The largest public sign museum in the US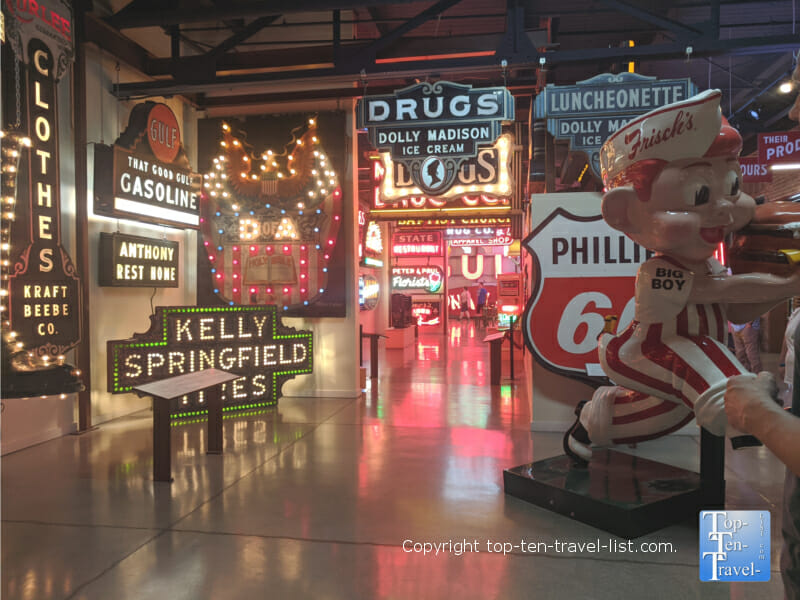 This unique museum displays popular American signs from the past 100 years. The 20,000 square foot facility is jam packed with signs. Everything from pre-electric gold leaf signs, early electric signs, colorful art-deco neon, and modern plastic-faced signs are incorporated into the museum.
A brief history of the museum…Tod Swormstedt worked on the Signs of the Times magazine for 26 years. He wanted to find a way to bring new life to old signs. In 1999, He opened the National Signs of the Times Museum (which was later reopened and renamed the American Sign Museum). Once the collection became large enough, the museum was moved to where it stands today (in Camp Washington area). Since June of 2012, tourists have been coming from all over to enjoy the nostalgic collection.
Read more about the history of The American Sign Museum
Self-guided tours
Book a time slot online for a self guided tour. You will be able to explore the signage at your leisure. The museum is quite small (and in all honesty a bit overpriced) and should not take more than 20-30 minutes to explore in its' entirety. Guided tours are also available, on Saturdays at 12:30pm & 2:30pm and on Sundays at 2:30pm. These educational tours are 45 minutes long. A great option for anyone who would like a more in depth history lesson on the materials and processes used to make the signs.
A look at a few of the more impressive signs in the collection
Single arch McDonald's sign, Huntsville Alabama, early 1960's
Porcelain enamel Marshall Fields sign, 1955, full sign said 'and Company," however, due to size limitations it was shortened.
Satellite Shopland – Sign from a shopping mall in Anaheim, CA during the Sputnik craze, Early 1960's
Neon Holiday Inn, 1960's
Genie, 1960's, carpet cleaning business in California
Admission and Parking
Admission is $15 per adults ($10 for military, senior, and kids 13-18).
Parking is free.
Also, check out my full guide of the best things to do in Cincinnati