Attraction of the Week: Tucson's Mini Time Machine Museum of Miniatures
Here's a unique museum to add to your Southwestern bucket list: the Mini Time Machine Museum of Miniatures in Tucson, Arizona. While Tucson is most well known for the stately Saguaro cactus, amazing hiking trails, and authentic Mexican food, a number of unique museums can also be explored. The Mini Time Machine Museum of Miniatures showcases over 400 antique and modern dollhouses. It's quite impossible to imagine the patience these artists must of had to make such small & intricate pieces.
History of the museum
Miniatures have always interested founders Patricia and Walter Arnell. And thus, they wanted to share their passion with the community of Tucson and also the many tourists that visit each year. When their collection (Patricia began collecting in the 1930's) began to outgrow their available space, they came up with the idea for this museum. Today, this oddball museum has become a favorite amongst both locals and tourists.
The Time Machine name is spot on. As you wonder through 3 distinct rooms: The Enchanted Realm, the History Room, and Exploring the World, you really feel as if you have time traveled to a number of incredible places. This museum is like taking a step back in time before all our modern technology. It's a place where you get to feel that youthful joy of using your imagination instead of relying on technology to do it for you!
The Miniatures
The Enchanted Realm features fairies, imaginary creatures, and other mystical stories. The History section allows you to take a look at life in the 18th-20th centuries. Most notably, you will findthe oldest miniature house in the United States (designed in 1775). Exploring the World features recreations of diverse places around the world. This is by far the most impressive area of the museum as the attention to detail is just amazing in every single display.
Below is a brief photo tour of some of the most incredible dollhouses. As with all impressive works of art, pictures really do no justice. You need to see them with your own eyes to truly appreciate the beauty!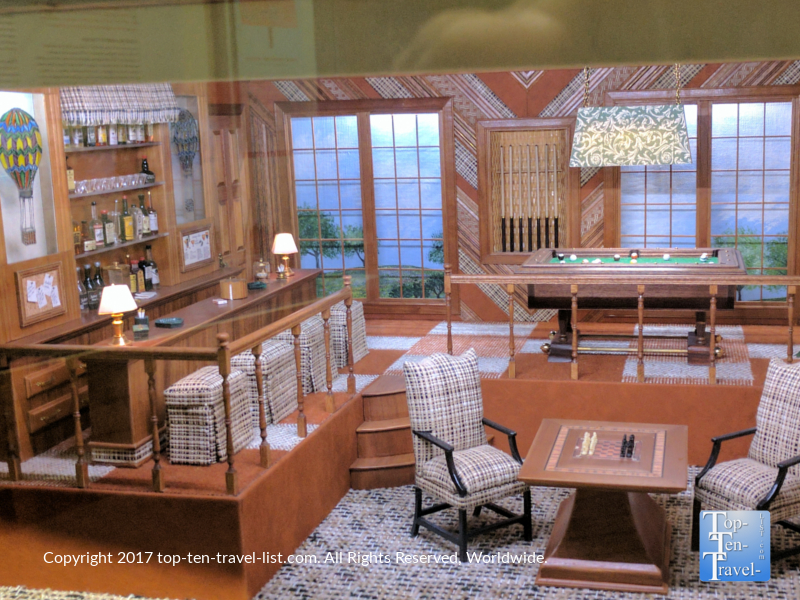 This is not a museum where you quickly glance at an exhibit and then head to the next, as each dollhouse is truly an incredible work of art. As you take a closer look at each display, imagine how much effort was put into even the smallest of details. From mini chandeliers, to a dressing room with tiny individual clothing pieces, to neatly folded up miniature towels in the bathroom, every detail is so polished and perfect.
The collection here is really extensive with a bit of something for everyone. Holiday collections include an impressive Halloween miniature set, along with several Christmas miniatures. There's also a really unique Christmas village display under the glass where you can view the incredible set up beneath your feet. A few of the best holiday pieces below…
A truly haunted house
The house pictured below, a replica of a real house in New England, has a haunted history. Objects have apparently relocated around the house! Pretty spooky! Even stranger, both the dollhouse and real life house are supposedly haunted!
30 years in the making
Chateau Meno is perhaps the most impressive sight at this museum. This elaborate work of art was constructed over a period of 30 years! The stunning piece includes 14 lavishly designed rooms furnished with handmade furniture and chandeliers.
Best time to plan your visit
The summer is a great time to plan your visit to the museum. As it is too hot to do much of anything outside this time of year, the museum comes in as a nice indoor alternative. You can easily spend a few hours here enjoying the fine details. It is one of the best indoor attractions in Tucson, as well as one of the more unique & memorable museums of the Southwest.
Location, Hours, & Pricing Info
The Mini Time Machine Museum of Miniatures is located at: 4455 E Camp Lowell Dr, Tucson, AZ 85712. Hours are 9am-4pm (closed Mondays and most major holidays). Admission prices are $14 adults, $12 seniors, college students, & military, $8 ages 4-17, and free for 3 and under. Save $1 if you book online.