19 Fun & Free (or cheap) Things to do in Asheville
While having a surplus of disposable income does not hurt in a foodie/shopping destination like Asheville, freebies still abound in every direction. For those on a tight budget, no need to fret as the area is filled to the brim with gorgeous natural attractions, Additionally, a lively calendar of free events, plus a variety of free cultural and artsy attractions, will give you more than enough budget friendly activities to enjoy during your trip. After living in the region for several years, I have come up with a list of the best free (and almost free) things to do and see while visiting Asheville.
1. Take a walk around the Botanical Gardens of Asheville
For a quick escape from the downtown tourist crowds, head over to the Botanical Gardens of Asheville for a refreshing nature stroll. It's beautiful here no matter the season. Whether the trees are alive with the golden colors of fall, or dusted with a layer of fresh snow, it's definitely the best place in town to refresh and rejuvenate. This tranquil oasis in the city remains delightfully absent of crowds despite the free admission.
Location: 151 W T. Weaver Boulevard, Asheville, NC 28804. Hours: Sunrise-sunset
2. Check out the shops downtown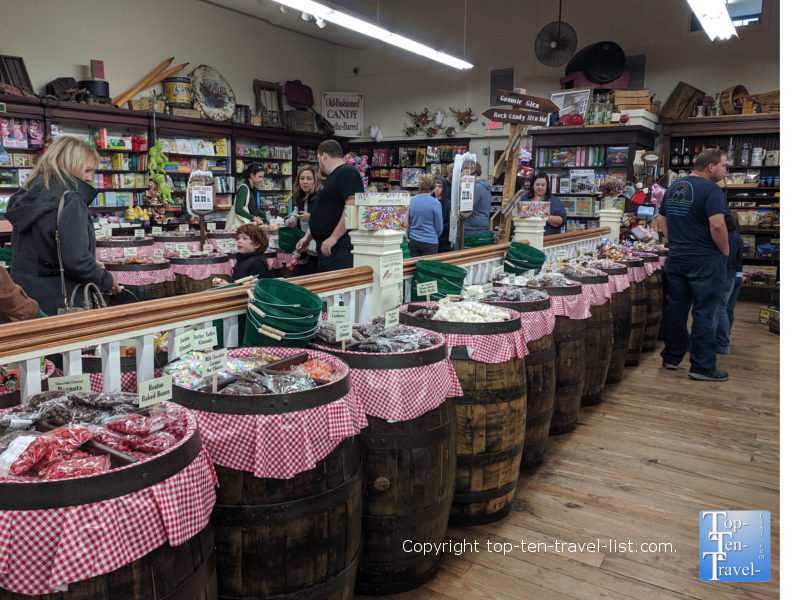 Downtown Asheville offers no shortage of interesting shops. Even if you do not feel like shelling out a ton of cash, there are tons of fun novelty shops to explore. Check out all the cool old time memorabilia items in the Mast General Shop. They also carry all sorts of souvenirs, outdoor gear, and wacky items. Treat yourself a few nostalgic goodies from the old time candy bar.
Additionally, you will find plenty of souvenir/gift/specialty shops scattered up and down Main.
Check out a full list of downtown Asheville shops
3. Explore the fantastic art scene
The Asheville Art Museum is worth a look if you have the extra time. It's conveniently located downtown, open everyday but Sunday, and is completely free to visit the first full weekend of every month for Bank of America cardholders as part of the Museums on Us promotion. While the collection is not huge, you will find an impressive selection of regional Southeastern American pieces.
Additionally, you will find numerous art galleries scattered about downtown. The best-of-the-best is the Benjamin Walls gallery. Feast your eyes on some truly incredible works by this award-winning artist whose works have been featured in 50 museums in 12 countries including the prestigious Smithsonian National Museum of Natural History and the National History Museum of London. The city's strong arts scene has lent it the nickname of "San Francisco of the East." On any given weekend, there is sure to be an art festival or walk to attend.
Read more about the Asheville art scene
Location: 2 S Pack Square, Asheville, NC 28801. Hours: 10am-5pm
4. Check out the yearly lineup of events
It seems every weekend the Asheville area is bustling with events. Fortunately, many of these are completely free to attend. For anyone attempting to plan a budget friendly vacation, it helps to have a few free events on the itinerary. From art walks, to holiday celebrations, to musical festivals, there is always something interesting on the lineup.
Be on the lookout for free art festivals, particularly the wonderful Fine Art Show, taking place each October in Pack Square.
5. Explore nature via a hiking trail
One thing is for certain – you will never run out of gorgeous hiking options in the Western North Carolina region. Many of these trails are conveniently located within a short drive of the city. While some feature incredible waterfalls, others shine brilliantly during the autumn foliage season. Others put forth their best during the barren winter season with a rare glimpse of a striking frozen waterfall. One of the best-of-the-best offering a bit of everything is the Linville Falls trail, located at Milepost 316 along the Blue Ridge Parkway.
This trail features an incredible waterfall, viewable via 4 overlooks. To top it off, the views of the Linville Gorge wilderness are just as impressive. This is one of the few hikes which is doable even on the hottest summer days due to the adequate shade coverage. And of course, you can expect tremendous fall foliage during leaf peeping season.
Location: Milepost 316 along the Blue Ridge Parkway, about 55 miles north of the city.
6. View a mesmerizing waterfall
The WNC region is home to over 200 dazzling waterfalls. In fact, you can get to many of these without venturing more than an hour outside of the city. Here are a few great options to get you started.
Looking Glass Falls – A beautiful 60 foot single drop roadside waterfall.
Catawba Falls – Easy 1.5 mile hike featuring great leaf peeping & a multiple level 100 foot waterfall.
Tom's Creek – Relatively secluded hiking trail leads you to an incredible 60 foot multi-tiered waterfall.
Whitewater Falls – At a height of 811 feet, this mesmerizing waterfall comes in strong as the tallest in the state.
More incredible waterfalls in the Western North Carolina region and easy waterfall hikes near Asheville
7. Hunt down deals at Downtown Books & News
Downtown Books & News, a wonderful used book shop, is a great place to spend a few hours on a rainy day. You will find lots of great deals here (much cheaper than Amazon). Plus, there is a special discounted dollar section. The setting is cozy and comfortable, the perfect ambiance for getting lost in your own world for a bit.
Lots of rare finds, out of print books, and a huge newspaper selection comprise the 25,000+ collection. As independent bookstores are so rare today, Downtown Books comes in as a real treat. Note: Malaprops is another great local bookshop, this one featuring a coffeeshop on-site!
Location: 67 N Lexington Ave, Asheville, NC 28801. Hours: 11am-5pm
8. Take a drive along the Blue Ridge Parkway
Although it will cost you a little bit in gas, you really can make a whole day out of exploring this scenic stretch of road without spending much. Scenic overlooks, hiking trails, museums, state parks, picnicking areas, galleries…there is so much to see and do. Whether you decide to drive just a small section, or go all out on a 400+ mile adventure, "America's Favorite Drive" is more than worthy of a visit while you are in such close proximity.
A full guide to Blue Ridge Parkway attractions. Also check out the top overlooks near Asheville.
9. Take a walk around the beautiful Omni at Park Grove Inn
Although it's quite pricey to stay at the Omni Grove Park, this extravagant resort is worthy of a visit, if anything just to enjoy the grand architecture and incredible mountain views. Grab a coffee and enjoy relaxing by the magnificent lobby fireplace or take a seat outside and enjoy the breathtaking scenery! There are also a handful of novelty shops to explore.
If you are up for splurging a bit, breakfast in the Blue Ridge Artisinal Dining Room cannot be beat! With floor-to-ceiling windows overlooking the Blue Ridge mountains and an incredible lineup of breakfast fare, it's by far the best breakfast/brunch option in town!
Location: 290 Macon Ave, Asheville, NC 28804
10. Take a stroll around Biltmore Village
While the famous Biltmore Estate is open for tours, it's quite a pricey experience. Instead of shelling out hundreds of bucks, consider taking a stroll around the lovely Biltmore Village. Window shopping, browsing the galleries, and enjoying the architecture and beautiful trees makes for a wonderful budget friendly activity.
Be sure to stop in the Olde World Christmas Shoppe – their decor is gorgeous! And, if you are on the lookout for a decent cheap breakfast swing Well Bred Cafe for a slice of quiche or delicious homemade pastry. Another great option is the lunch buffet at Andaaz, serving authentic Indian cuisine.
Also be on the lookout for seasonal events, most notably "A Dicken's Christmas" celebration featuring old time carolers (pictured above).
11. Browse the unique local shops at The Grove Arcade
The Grove Arcade is a luxurious shopping/dining complex located in the heart of downtown. First off, the historic art deco architecture is truly stunning and draws you in from the street. Second, there are about a dozen shops to explore inside specializing in regional art and local souvenirs. Treat yourself to a glass of wine and scan the huge used book selection at Battery Park Book Exchange. For a budget friendly treat, splurge on some homemade beignets with chocolate dipping sauce at Bebette's New Orlean's coffeeshop. Also be on the lookout for special events, particularly the Winter Wonderland festival.
12. Get back to nature at the Beaver Lake Bird Sanctuary
Enjoy a quaint nature stroll at the under visited Beaver Lake Bird Sanctuary. This is one of the most laid-back parks to spend an hour or 2 out in nature. The trails here are easy and short, so great for anyone looking to bird watch and/or get in a quick light workout. Guided bird walks are offered on the first Saturday of every month. Check out this handy bird checklist which you can print out for your visit.
Location: 1020 US-25, Asheville, NC 28804. Hours: Dawn-dusk
13. Get in some healthy exercise at French Broad River park
This pretty riverside park is a great place to take a jog, bike ride, or leisurely walk. The 3 mile long Greenway is the perfect distance for a short workout. The mature trees and river views provide a picturesque setting for any nature lover. It tends to get a bit busier than the other parks, so get here earlier on in the day if you are seeking peace and quiet. As a bonus, there is a fabulous dog park here with separate spaces for big and small dogs!
Location: 508 Riverview Dr, Asheville, NC 28806. Hours: 7am-9pm
14. Take a self-guided city architecture tour
The Asheville Urban trail is a great place to start if you are an architecture/history lover. Although there are numerous city trolley, pedaler tours, etc., the budget friendly route to go is walking the 1.7 mile Urban Trail. Along this route, you will cover much of the city's unique history as you stroll past historic buildings, prominent figures, various art works, and more.
Asheville Urban trail interactive map
15. Go leaf peeping
The Western North Carolina region is no stranger to incredible fall foliage. In fact, the area sees one of the longest and most colorful fall seasons in the country. The weather is usually perfect (highs in the 60's-low 70's) and there are so many trails to choose amongst, all of which are blazing with the hues of fall each October. Catawba Falls really is an amazing trail, and so close to the city. Not only will you get your fill of leaf peeping, but you will also come across one of the area's most stunning waterfalls.
More great fall color hikes near Asheville
Location: 3074 Catawba River Rd, Old Fort, NC 28762
16. View the winning entries in national gingerbread competition
The National Gingerbread Competition is the premier holiday event in Western North Carolina. This prestigious competition draws talented artists from across the county and has even been featured on various TV programs. The winning creations are displayed throughout the property each December. Some of these are so extravagant, you will find yourself questioning how it's possible that each entry is completely edible.
Really, there are some truly creative artists whom enter this competition. Despite a crazy parking fee, this extravagant display is worthy of a look. The whole grounds of the resort are decorated beautifully for the season. And, you cannot leave without treating yourself to a salted hot cocoa by the massive fireplace.
Location: 290 Macon Ave, Asheville, NC 28804
17. Visit the Smokies
Although it is a bit of a drive and will cost you a bit in the gas department, The Great Smokies is one of the only free national parks in the country. It's also incredibly beautiful and not to mention one of the top spots to see a black bear due to the unusually high concentration. The Cherokee entrance to the park is about an hour and a half drive from Asheville. Consider checking out Clingman's Dome, the highest point in the Smokies at 6643 feet. The views from the overlook are simply stunning!
Bear sightings are so common! I saw one on my first hike!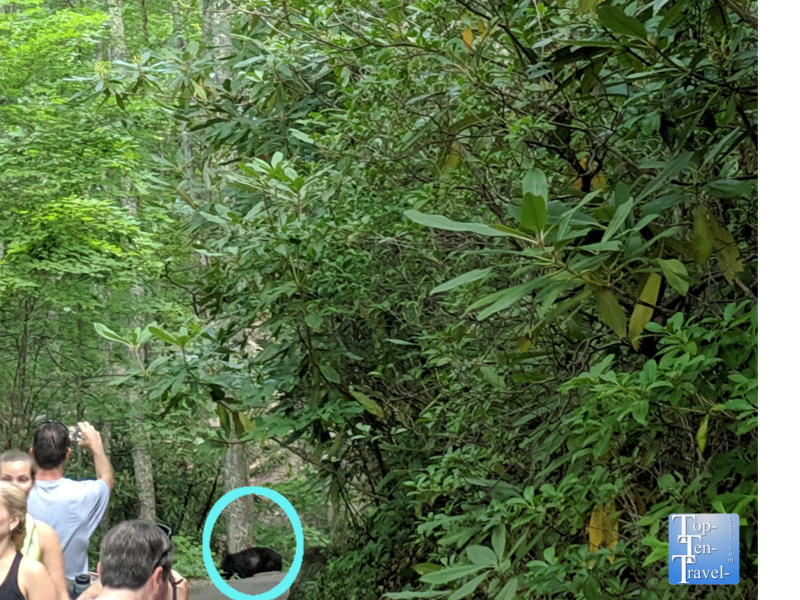 Here are a few easy waterfalls hikes in the Smokies nto get started!
18. See where the Hunger Games was filmed
Movie buffs will want to make the drive over to the beautiful Dupont State Forest and embark upon the Triple Falls trail. Not only will you get to see 3 beautiful waterfalls via a moderate hike, but you will also get to see a famous Hunger Games filming location. When you arrive at the base of the falls, you may remember the scene from the movie, although it is only featured briefly.
More info on the Triple Falls trailhead
19. Visit Grovewood Village
After exploring the gorgeous Omni property, head over to adjacent Grovewood Village, Asheville's best hidden gem. Biltmore Industries weaving and woodworking facilities were once located at this historic site. At the Biltmore Homespun museum, started by Edith Vanderbilt, you will learn how Biltmore Industries became one of the largest producers of handwoven wool.
Admission to Grovewood is free and includes entry into an antique car museum, galleries, a sculpture garden, and the Biltmore Homespun Museum. The setting amidst the tall trees truly is beautiful and relaxing.
Location: 111 Grovewood Rd, Asheville, NC 28804