The Most Scenic Views near Asheville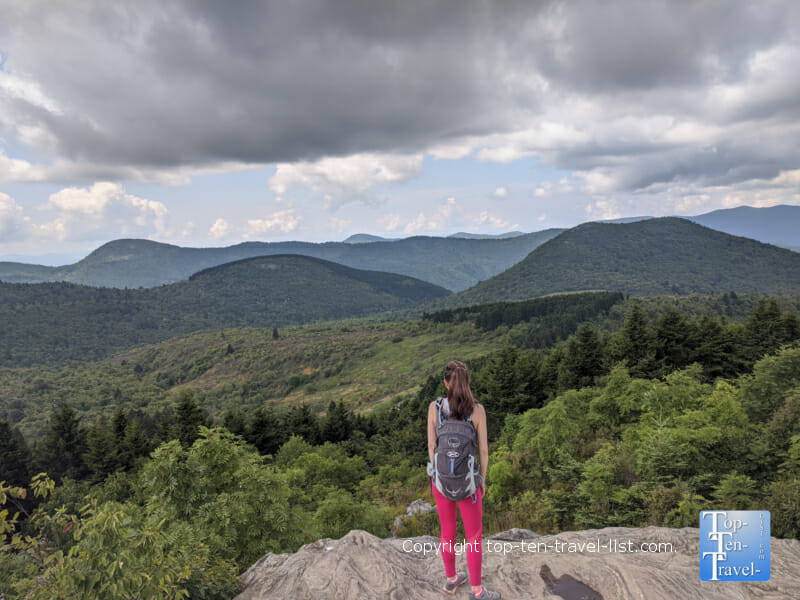 Asheville, most popular for being a foodie and artist's haven, is nestled in the beautiful Blue Ridge mountains. The Blue Ridge Parkway, along with hundreds of waterfalls and hiking trails, lie just outside the city limits. The true appeal of the city is its' proximity to so many natural wonders. Below are the most scenic viewpoints located within an hour and a half of the city. Plan a relaxing daytrip – lace up your hiking shoes, enjoy some fresh air, soak in some vitamin D, get in a quality workout, and enjoy a bird's eye view of the enchanting Blue Ridge mountains. With so many gorgeous places, this list will help you narrow down the best-of-the-best the Western North Carolina region has to offer.
Craggy Pinnacle
This super short hike of just under a mile and a half RT takes you up to a dramatic viewpoint of the Blue Ridge mountains. At 5892 feet, the views are quite stunning. The "Craggies" get their name from the jagged points of the mountains. For anyone looking for an out-of-this-world view with little effort required, this short & steep summit hike will not disappoint.
Milepost 364
Triple Falls trail
As you will get to see 3 incredible waterfalls and a covered bridge all within a moderate 3 mile hike, Triple Falls is highly worth putting on your Western North Carolina bucket list. Featuring two 125 foot waterfalls (High & Triple Falls), a powerfully wide waterfall (Hooker Falls), and a picturesque covered bridge, this is DuPont State Forest's finest (and most popular) hike. Add in terrific fall foliage and the opportunity to see a movie filming location (The Hunger Games was filmed at the base).
1300 Station Rd. Cedar Mountain
Haywood Jackson overlook
This little visited overlook near the wonderful Richard Balsam summit trail (6410 ft) offers the most dazzling mountain views. Combine a hike to the Parkway's highest summit (1.5 miles) with a picnic lunch and enjoy the fabulous mountain scenery for the afternoon (picnic table on site). At this high of an altitude (6020ft), the air is fresh, the temps cool, and the pine scenery really refreshing. Right down the road you can take your picture next to "the highest point on the Parkway" sign.
Milepost 431
Black Balsam Knob
At 6214 Feet, Black Balsam Knob is the 2nd highest mountain in the Great Balsam range. This treeless bald (there are several in the Appalachians) is quite unique as the mountain views are totally unobstructed. In fact, this hike feels more alpine in nature, and thus, a great choice if you are seeking something different after several waterfall hikes. The trek is steep, but relatively short, ending at a jaw dropping overlook where the views seem to go on forever. You may feel like singing The Sound of Music as you take in the awe inspiring sights all around you.
Milepost 420
Catawba Falls
Catawba, a 100 foot multi tiered waterfall, is located close to downtown Asheville (just 25 min away), making it one of the more easily accessible waterfalls. This one is quite photogenic as it consists of so many beautiful cascades. Add in tremendous fall foliage, and you have a real winner here. At just 3 miles RT, this one is just challenging enough (yet not exhausting) for regular gym goers. Note: this one is busy most of the year, so you will want to plan for an early/weekday hike.
3074 Catawba River Rd. Old Fort
Looking Glass Falls
This roadside waterfall stands just 50 feet tall, however, its' 35 foot width and powerful water flow creates a truly spectacular sight. As expected, tourist crowds, as well as locals seeking a free swimming hole, flood here each weekend. While the insane traffic does take away from some of the natural beauty, it's still worthy of a visit for anyone seeking a hassle-free, no-hike-required waterfall viewing. As for the name – water freezes and glistens in the sun, creating a looking glass appearance in the winter.
US-276 Brevard
Mingo Falls
One of the state's highest waterfalls, ~200 foot Mingo Falls, is easily accessible via a simple quarter of a mile hike. Note: you will have to climb up a few staircases (161 steps to be exact). On the bright side, you'll get in a decent leg workout, and the rest of the hike involves no more than a short trek through the woods. Mingo is located on the Cherokee Indian reservation, nearby the Cherokee Casino, Soco Falls, and numerous Smokie's hikes, and thus, is a nice detour.
71 Big Cove Rd. Cherokee
Tom's Creek Falls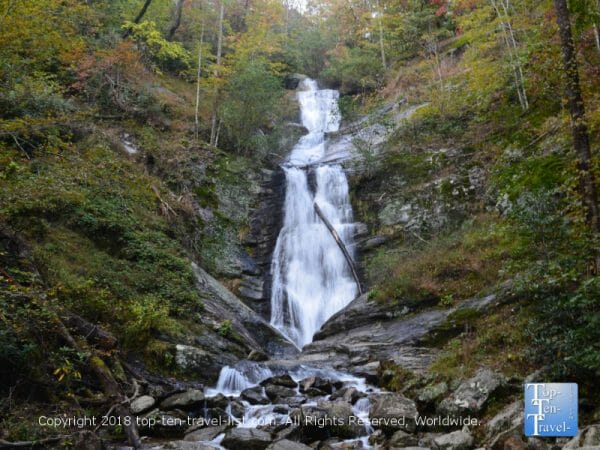 Standing 60 feet tall in a shady, secluded section of the Pisgah National Forest, Tom's Creek is a must-see for any waterfall lovers. The unique aspect of this waterfall is the mica embedded rocks which glisten on a sunny day (a mica mine once stood in the area). Today, these rocks add an extra dazzling touch to an already mesmerizing waterfall scene.
1250 Huskins Branch Rd. Marion
Mt. Mitchell State Park
Mt. Mitchell stands strong as the highest peak east of the Mississippi at 6684 feet. Definitely put a visit to Mt Mitchell State Park on your WNC bucket list. It's free, beautiful, and located less than an hour away – so what are you waiting for? Hop in your car, enjoy a leisurely cruise along the Parkway, and hike up to the observation deck (steep, but only 0.3 miles) for one of the grandest views in the area. Also check out the Balsam nature trail (.75 miles) featuring high altitude pine/spruce trees – it smells like Christmas anytime of the year!
2388 NC-128, Burnsville
Chimney Rock
Challenge yourself to an invigorating climb up 500 steps to the summit of Chimney Rock. If you love the gym Stairmaster workout, you'll love this one (and add in fabulous scenery to boot). The views along the journey are just as exciting, so this is much more than a "single view" hike. This longtime favorite is a must for any new tourists. At the top, 360 view degree views of serene Lake Lure and the Hickory Nut Gorge await you. Note: An elevator is available as an alternative means of transport to the top.
743 Chimney Rock Park Rd. Chimney Rock
Lake Lure
If you are planning a daytrip to Chimney Rock, you may want to add on a side trip to Lake Lure. A few years back, National Geographic rated it "one of the top 15 lakes in the world." Similar to the beautiful scenery found in New York's famous Catskill Mountains, Lake Lure enchants with dramatic mountain views. It was even used to film several Dirty Dancing scenes. Enjoy a laid-back narrated cruise around the lake while your tour guide points on notable filming scenes including the famous stair dance and water lift scenes!
2930 Memorial Hwy, Lake Lure
Soco Falls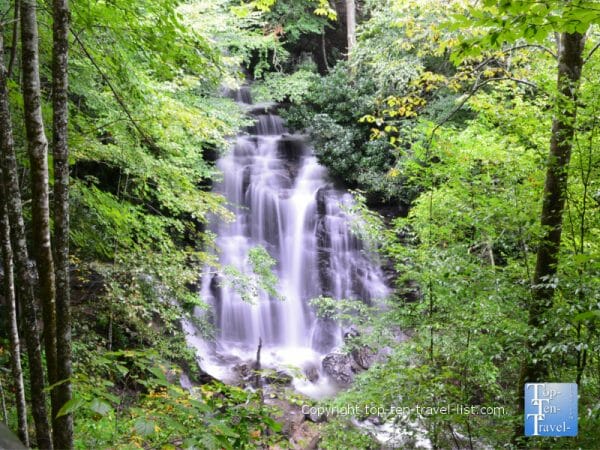 This roadside waterfall is located on US 19, about 10 miles from Cherokee, and thus, a great detour on the way to the Harrah's casino or the Smokies park region. As one of the most gorgeous and easy waterfall hikes in the state, it's worth a look. Parking is limited and the lot fills up fast, so time your visit early in the morning. An easy 10 minute walk leads you to an observing deck. During the winter months, you will enjoy views of a dazzling double waterfall. The lush foliage in the spring and summer creates an equally stunning backdrop, although only the 120 foot Upper Falls will be visible. Avoid the unmaintained trail to the base (the rocks are very slippery!)
US 19 Cherokee
Lower Graveyard Fields
This popular Blue Ridge Parkway hike consists of a simple 60 step stair climb/quarter mile of a walk to one of the area's most photographed waterfalls. While this one is a real stunner when surrounded by colorful fall foliage, it's worth a trek anytime of the year. With the little effort required to see this beauty, you really cannot afford to miss out. For a longer hike, continue on the uphill climb to Upper Falls (not as impressive, although a nice workout in a woody setting).
Milepost 418.8
Omni Grove Park Inn
This 4 star resort offers sweeping views of the gorgeous Blue Ridge Mountains from almost every inch of the property. Featuring a number of fabulous restaurants, gift shops, an on-site nature trail, as well as several bars, a daytrip here is definitely recommended. Start with a breakfast buffet in the gorgeous Blue Ridge dining room featuring beautiful floor-to-ceiling windows overlooking the mountains. Book a treatment at the world class spa or enjoy a drink on the terrace.
290 Macon Ave, Asheville
Upper Whitewater Falls
North Carolina's tallest waterfall, 411 foot Upper Whitewater, requires no more than an easy 0.25 mile walk to see. For even better vistas of this rustic beauty, challenge yourself to the small stair climb (154 steps). Despite the crowds, this is an exhilarating wonder of nature which is gorgeous enough to easily justify the hour plus drive from Asheville. Dazzling fall foliage makes the scene even more postcard perfect. Combine with a visit to beautiful Gorges State Park to justify the lengthy drive.
Hwy 281 Sapphire
Courthouse Falls
Courthouse is a secluded gem in the Pisgah which sees barely any traffic. Parking is a bit of a hassle, requiring a drive down a bumpy Forest Service road, although worth it in the end for any waterfall lover. The unique cove setting and natural pool creates an immensely picturesque waterfall, perhaps one of the most beautiful in the state. While the hike is short (just 0.3 miles), the long 2.5 mile gravel road to the falls is often closed (check the NPS site). If desired, you can walk the road and turn this into a moderate 5+ mile hike.
Courthouse Creek Road, FSR 140 Brevard
Jump Off Rock
5 minutes from Hendersonville lies one of the region's most impressive overlooks. A beautiful sunrise and sunset destination, as well as a peaceful place for reflection, Jump Off is an absolute must see. Legends involve an Indian maiden jumping to her death following her lover's death, hence the name. Hiking the on-site trails (easy/moderate, about 1 mile), and a visit to downtown Hendersonville will make your itinerary a bit more full, thus justifying the drive.
4433 Laurel Park Hwy, Laurel Park
Lake Tomahawk Park
Located in downtown Black Mountain, this quaint park offers tremendous views of the mountains. While the lakeside path is quite short at just over a half mile, the scenery is so gorgeous you may want to make a few loops. This is one of the best places for an easy walk/jog/bike ride with great scenery. While you are in the vicinity, check out the unique shops and restaurants on Main Street (Veranda Cafe serves delicious soups & sandwiches), and perk up with a quality drink at the Dripolator.
401 Laurel Cir Dr, Black Mountain
Gorges State Park
An informative clean visitor's center, 2 waterfalls, and miles of rustic hiking trails, make Gorges one of the best state parks in North Carolina. If you only have time for only one, the 1.5 mile steep, yet exhilarating climb to Rainbow Falls is worth every bit of effort. After a intense, yet tranquil walk through the wilderness you are treated to a mesmerizing & unforgettable 150 foot tall waterfall. Be on the lookout for a rainbow on a sunny day.
976 Grassy Ridge Rd, Sapphire
Chestnut Cove overlook
It's one of the most picturesque overlooks on the Blue Ridge Parkway and also conveniently located within close proximity to Asheville. Bring a book, a chair, and maybe even stay for the sunset. Even better, the North Carolina Arboretum is located just a few miles down the road. The arboretum features a world class bonsai garden and 10 miles of scenic maintained hiking trails.
Milepost 398.3
Dry Falls
The Mountain Waters Scenic Byway in the Cullasaja Gorge is home to a number of popular waterfalls. Dry Falls is the most impressive of the bunch at 75 feet. An easy paved walkway takes you right underneath the falls. The mist of the water is super refreshing on a hot summer day. On the route from Asheville, you will pass Bridal Veil falls, a 45 foot waterfall which you can walk underneath.
Hwy 64, Highlands
Linville Falls
A moderate hike of just over a mile and a half roundtrip takes you to this Parkway favorite. Expect crowds on any given weekend as this hike is quite popular due to the easy accessibility. Featuring 4 fantastic viewpoints of Upper and Lower Linville Falls, as well as dramatic overlooks of the Linville Gorge wilderness ("the Grand Canyon of the South"), this one is worth every step. Be prepared for a moderate uphill challenge. And do stop in the visitor's center, conveniently located near the parking.
Milepost 316
Wintergreen Falls
Easy 1.5 mile hike to a 20 foot waterfall surrounded by lovely evergreen trees. This one is located within the Dupont State Forest and is an easy family-friendly alterative to Triple Falls. You'll get in a great workout without totally exhausting yourself (the hike includes a gradual climb on the 1.5 mile return route). Note – this is a super busy trail, so arrive early to ensure parking and enjoy uninterrupted photos of this natural wonder.
3045 Sky Valley Rd, Hendersonville
Walnut Cove overlook
Another fabulous overlook on the Parkway, this one is located in close proximity to Chestnut Cove. Thus, if Chestnut parking is filled up, this is a great alternative. Walnut features peaceful mountain views – overall a great place to soak in the fresh air and sunlight. Also, access to a portion of the Mountains-to-Sea trail begins here, so if you are seeking a convenient place to workout, skip the gym in favor of a nice workout in a woodsy setting.
Milepost 396.4
Craggy Gardens
As one of the Parkway's busiest destinations, it can be quite hard to find parking here during the touristy summer months. Beat the crowds for the best experience – get up early, grab a coffee, and set off on a leisurely cruise from Asheville via the Parkway. Lots of scenic overlooks along the way, with the most dramatic arising via the Craggy mountains. This area is most well known for the colorful rhododendrons which bloom in early summer. Also on site is a small visitor center and picnicking facilities.
Milepost 364.4
Log Hollow Falls
Easily accessible waterfall located in an isolated section of the Pisgah. Great choice for anyone seeking an easy hike in an uncrowded area. A roundtrip hike of just over a mile (along an old logging road) leads you to 25 foot tall Log Hollow Falls. This is a beautiful wonder of nature despite the smaller size. Take the short side trail to the base for a better view. After a good rainy period, continue on another 1/2 mile to see Logging Road Falls, a gem which dazzles after a good storm.
Forest Service Road 475B, Brevard
Buck Springs Gap
A tranquil 1 mile section of the lengthy 1175 mile Mountains to Sea trail begins at the Mt Pisgah Inn near MP 308 on the Parkway. As this area is frequently skipped over by tourists favoring nearby destinations like Graveyard Fields, you will likely have the entirety of the trail to yourself. The trail itself is nice and green with plenty of shade. A leisurely walk in the dense woods culminates with a very picturesque vista of the mountains.
Milepost 308
Roaring Fork Falls
The smoothly flowing 100 foot Roaring Fork waterfall is located within a quiet section of the Pisgah National Forest. The lengthy nature of this waterfall gives it a very different look than most others in the region. An easy trail of just over a half mile each way leads you to the base of the falls. Tourists rarely visit the area, so it's quiet most of the year. The way the water flows down the rock like a stream into a pool makes for a most alluring sight.
208 Busick Work Center Rd. Burnsville