10 Most Breathtaking Waterfalls in Western North Carolina
Western North Carolina is a nature lover's oasis. The region is home to Transylvania County, which has been nicknamed "the Land of Waterfalls." There are over 250 waterfalls in this county alone. Many of these waterfalls are easily accessible via a short hike, while some are even located right off the highway. You could spend the entire year exploring the waterfalls of Western North Carolina. However, as you time will most likely be limited, here are 10 of the most stunning waterfalls to put high on your bucket list.
1. Triple Falls
See 3 waterfalls via 1 hike along this incredible trail located within Dupont State Forest. This one really offers the biggest bang-for-your-buck. There is no entrance fee, no parking fee, and you get to see 3 waterfalls via minimal effort. Really, can it get any better than that? What's more, this is a fantastic leaf peeping destinations. And movie fans listen up – The base of Triple Falls was featured in The Hunger Games. Below are pics of the 3 waterfalls.
Hooker Falls – Just 12 feet tall but super wide & powerful!
Triple Falls – 125 foot falls. Hike to the base for an awesome view!
High Falls – This 125 foot stunner is the real beauty here.
Oh, and don't miss the detour to a beautiful historic covered bridge, located about 0.2 miles from High Falls. It's well worth the short trek. All in all, the total hike to see all 3 falls is about 2.2 round trip. Not bad considering you get to see 2 of the most impressive waterfalls in the state!
How to get here: Start from the visitor's center at 89 Buck Forest Rd, Cedar Mountain, NC 28718 (a quick 50 min drive south of Asheville). There is no fee to park.
2. Looking Glass Falls
Looking Glass Falls within the gorgeous Pisgah National Forest is the best option for non-hikers who still want to take time to enjoy the great outdoors. For this one, you can simply hop out of your car and enjoy a prime view of this 60 foot single-drop classic beauty. As one of the most powerful waterfalls in the state, this one is sure not to disappoint.
Adding in that there is no effort involved whatsoever and the drive over from Asheville is quite scenic, there is no reason not to put this one high on your must-see list. Best of all, there is no admission fee and parking is usually easy to find.
Fun fact: the unique name comes from the mirror like appearance Looking Glass rock takes on during the winter season as the ice freezes and glistens in the sun.
How to get here: Looking Glass is located along Hwy 276 near Brevard, about 50 min south of Asheville. Free parking!
3. Catawba Falls
As one of the closest & most scenic waterfalls near Asheville, Catawba sees pretty heavy visitation year-round. This 100 foot waterfall really is visually appealing due to the multiple cascades and heavy tree coverage. This one is absolutely stunning in fall as brilliant hues create a picture-perfect autumn backdrop. The beautiful Pisgah National Forest really is at its' best during the colorful fall season.
The hike is slightly steep for most of the 1.5 mile out-and-back trek, although you will still see plenty of families, dog walkers, and casual hikers out there. Nothing too strenuous considering the reward in the end. You would think this one would be insanely crowded given its' easily accessibility. However, despite the full parking lots, it's easy to find a bit of peace and quiet along this woodsy, tranquil trail.
How to get here: The trailhead begins at 3074 Catawba River Rd, Old Fort, NC 28762 (30 min east of Asheville)>
4. Rainbow Falls
Hiking to the stunning 150 foot tall Rainbow Falls within Gorges State Park is an absolute must for waterfall lovers. Although the hike is a bit more challenging than the rest on this list, it is definitely one of the more majestic falls. This is one that looks even bigger and more powerful in person, and therefore, no picture really does justice.
The big boulders surrounding the falls and the deep pool that the falls plunge into really create that postcard worthy setting. On sunny afternoons, you may just see a rainbow in the mist, hence the name.
If you love hiking, you will definitely appreciate the lovely walk through nature. This trail is really isolated and heavily forested, making it a great place to get back to nature. After a few days dealing with the tourist crowds in Asheville, getting lost in nature is a real treat. The trek is 1.7 miles and steep for much of the journey, so you will get in a fabulous workout. Let's just say you can skip the gym guilt free the next day!
This is one of the newer state parks having just been established in 2009. The trails are all well maintained and the visitor's center is gorgeous. Unfortunately, parking is quite a hassle on the weekends and you may find yourself walking a bit if you do not arrive early enough.
How to get here: Gorges is located at 976 Grassy Ridge Rd in Sapphire, about an hour SW of Asheville. No fees!
5. Tom's Creek Falls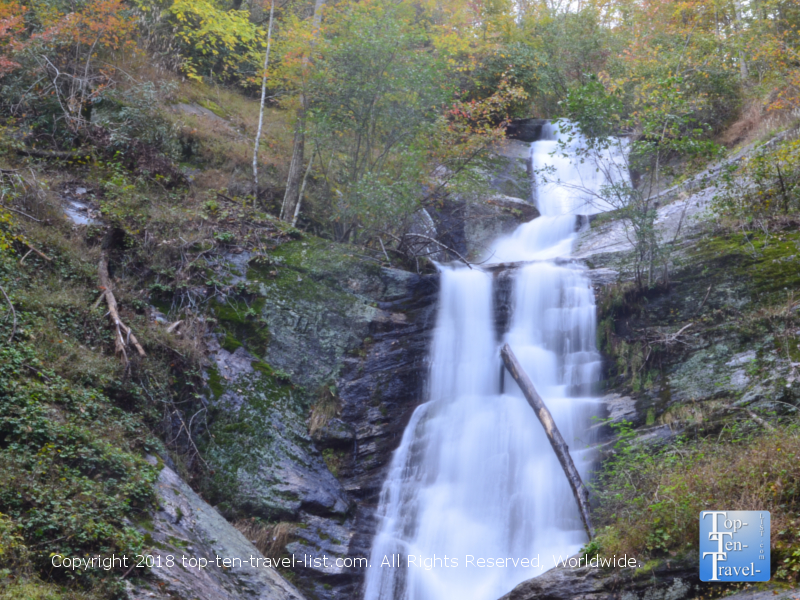 Every place has its' hidden gems which stay under the radar throughout the years. In Western North Carolina, this place is Tom's Creek Falls. This is an amazing waterfall, which remains quite secluded due to an off-the-beaten path location. This hike takes you on a quiet journey through the beautiful Pisgah National Forest. The trek is just over a half mile to get to the 80 foot waterfall.
Unlike the more popular WNC waterfalls there is not much traffic congregating around the waterfall here. This means you can take great pics and actually relax for a bit in a quiet setting before embarking on the return route. On a side note, the trail was once the site of a mica mine. Today, mica embedded rocks glisten in the sun adding an extra sparkle to an already gorgeous hike.
How to get here: Tom's is located at 1250 Huskins Branch Rd in Marion, about an hour east of Asheville. No fees to park!
6. Dry Falls
Upper Cullasaja Falls aka Dry Falls is another North Carolina natural wonder. This is one of just a handle of waterfalls which you can safely walk behind (and not get wet), hence the nickname. Requiring no more than a quarter mile walk, Dry Falls is easily accessible to everyone. The 75 foot waterfall beautifully cascades over a rock cliff into a river. The unique setting draws much traffic throughout the year.
Not only is it gorgeous and powerful but it is located within proximity to numerous other waterfalls. Hwy 64 is a hotbed for gorgeous waterfalls (check out Bridal Veil & Cullasaja while out this way). So hop in the car, pack a picnic, and plan on a whole day of waterfall hunting. This one is no secret so expect crowds if you visit on prime weekends.
How to get here: The Dry Falls parking lot is located along Hwy 64, 3.5 miles west of Highlands. Quite a drive at 1.5 hours west of Asheville, however, you can combine several falls for the best bang-for-your-buck experience. Fee: $3 per car.
7. Hickory Nut Falls
Hickory Nut is a whopping 404 foot waterfall located inside beautiful Chimney Rock State Park. While often overlooked in favor of the climb to the top of Chimney Rock, this waterfall is no small wonder. A short trek of just over a mile will take you to this beauty which was featured in The Last of the Mohicans.
As one of the top natural attractions in the state, Chimney Rock State Park is a worthy bucket list contender. Make some time to see one of the state's tallest waterfalls during your visit!
How to get here: Chimney Rock is located at 742 Chimney Rock Rd about 50 min SE of Asheville. Admission is $17 per person.
8. Linville Falls
Linville Falls is one of the top stops along the wonderful Blue Ridge Parkway. This multi-tiered waterfall beautifully cascades into the Linville Gorge, a massive wilderness area within the Pisgah National Forest which has been nicknamed "the Grand Canyon of the Southern Appalachians." The beautiful uninterrupted forest land which surrounds this waterfall is what really makes it stand out amongst the others.
The total round trip hike is a little over a mile and a half and slightly strenuous due to numerous uphill sections. There are multiple overlooks where you can take in views of the Upper and Lower Falls and the Linville Gorge wilderness. All-in-all, this is one gorgeous hike. Despite the heavy traffic, it's so easy to quickly immerse yourself in nature and forget about any crowds as soon as you hit the trees.
How to get here: Linville is located at Milepost 316 along the Blue Ridge Parkway, about an hour NE of Asheville. Parking is free.
9. Whitewater Falls
At a stunning 811 feet, Whitewater Falls comes in as one of the tallest waterfalls east of the Rockies. The Upper Falls cascade 411 feet, while the lower falls plunge 400 feet, with gorgeous uninterrupted wilderness creating a spectacular backdrop. The gorgeous Nantahala National Forest is the largest national forest in the state. The serene heavily forested scenery make it an ideal place for any type of recreation, with Whitewater being just one of many natural wonders within the forest.
The hike to see this awe-inspiring natural sight is just over a 1/2 mile round-trip. For a closer view, you can challenge yourself to a climb up and down 154 steps. It is quite a stair climbing workout, but worth the burn for the incredible viewpoint. Additionally, just across the state line in South Carolina lies the trail to the Lower Falls.
How to get here: Whitewater is located on Hwy 281 near Cashiers, about an hour and a half SW of Asheville. Fee: $2 per car.
10. Pearson's Falls
Although the entrance fee is a bit of a rip-off, Pearson's is an incredible 90 foot tall waterfall to add to your bucket list. This is the waterfall for those who love nature but hate hiking. The trail is easy, well-maintained, and just over a half a mile in total distance. The scenery is woody and relaxing with numerous small streams to enjoy.
The trail is popular with birdwatchers and is part of the NC Birding Trail. Be on the lookout for diverse species including the Hooded Warbler, the Eastern Wood-PeWee, and the Scarlet Tanager. Spring is the best time to visit due to the colorful wildflowers that cover the grounds.
How to get here: Parking is located at 2748 Pearson's Falls Rd in Saluda, about 50 min SE of Asheville. Fee is $5 per person.