3 Days in Savannah, Georgia
Savannah is a wonderful Southern vacation destination: a worthy addition to any history buff's bucket list. The "Hostess City of the South" frequently pops up on many renowned "best of" lists, and is a favorite return destination of many. A winning combination of historical attractions, beautiful public parks, amazing architecture, and gorgeous historical inns, has led to an ongoing influx of tourism.
Southern charm, an ever expanding foodie scene, along with many reported paranormal occurrences makes a trip here even more intriguing. Below is a sample 3 day guide to exploring this southern gem. As there is much to see and do, this is just a brief glimpse of some of the best attractions the city has to offer.
Know Before You Go/Prior to your trip
Fall is the best time to visit if you are looking to take part in seasonal Halloween related fun. Also, this is the best time of the year weather-wise.
If your aim is to avoid large crowds, do avoid St. Patrick's Day weekend and the Rock N' Roll marathon at all costs!
Book your hotel of choice far in advance. The East Bay Inn is a wonderful lodging choice. Hotels.com usually offers the best deals. Also check for package deals on the inn's website.
Book any tickets for tours well in advance! You do not want to get all the way here and miss out on a wonderful tour. Noble Jones and Old Town Trolley tours are my 2 recommended choices.
The airport is about 15 miles from the historic district. A lyft/taxi will cost somewhere in the range of $30. If driving, most hotels have lots. The East Bay parking rate is $16 a day.
Pack comfy clothes and walking shoes. You will be putting in a lot of miles! Savannah is a pretty casual city, so there is no need to go extra fancy.
Do not overplan. It's always better to have extra time then spending the entirety of your trip rushing around.
If you have the time, consider a daytrip to Charleston or Tybee Island, both located just a short drive away.
Day 1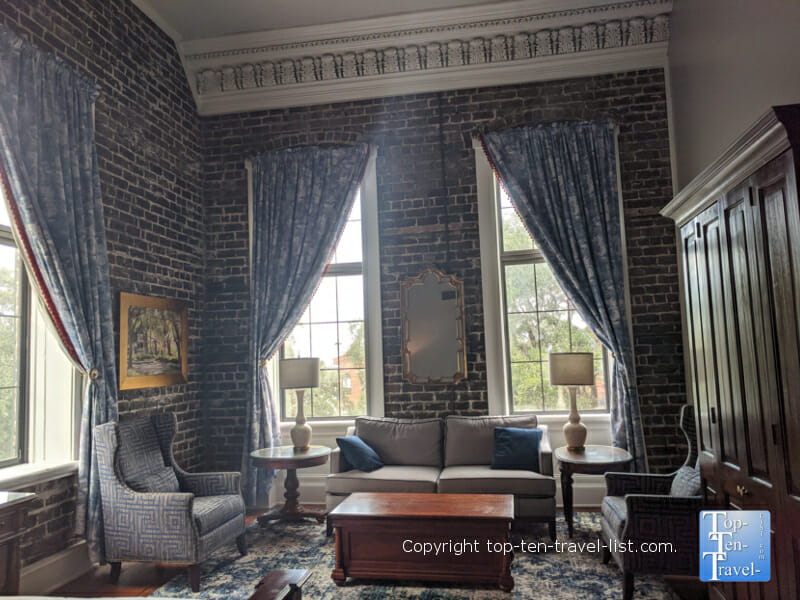 What to do:
Hotel check in at the East Bay Inn
Complimentary wine hour at Tandem
Dine & shop at City Market
Ghost tour
4pm: Check in at the gorgeous East Bay Inn. As one of Savannah's most picturesque and haunted hotels, you get a little 2 for 1 with this one. This beautiful property was built in 1852 as a cotton warehouse. The beautiful exposed brick walls and Southern charm remain.
A few highlights of the inn:
Walking distance to the riverfront & most attractions
Free trolley tour pick up from the hotel
Complimentary bottled water
One free beer or wine each day
On-site restaurant
Pet friendly
5pm: Get yourself settled in. Check out the lovely room. Head to the lobby bar (Tandem) for your free drink. Enjoy a drink window side, relax in your room admiring the historical charm, or take your drink to go along the riverfront (the city is known for its' open container law).
7pm: Take a stroll around the historic City Market, a lovely open air market dating back to the 1700's. There are a number of great shops and restaurants here. Stop by the Little Crown Pie co. for a tasty comforting vegetable potpie. Also check out the gorgeous colorful artwork at the A.T. Hun Gallery, located just next door.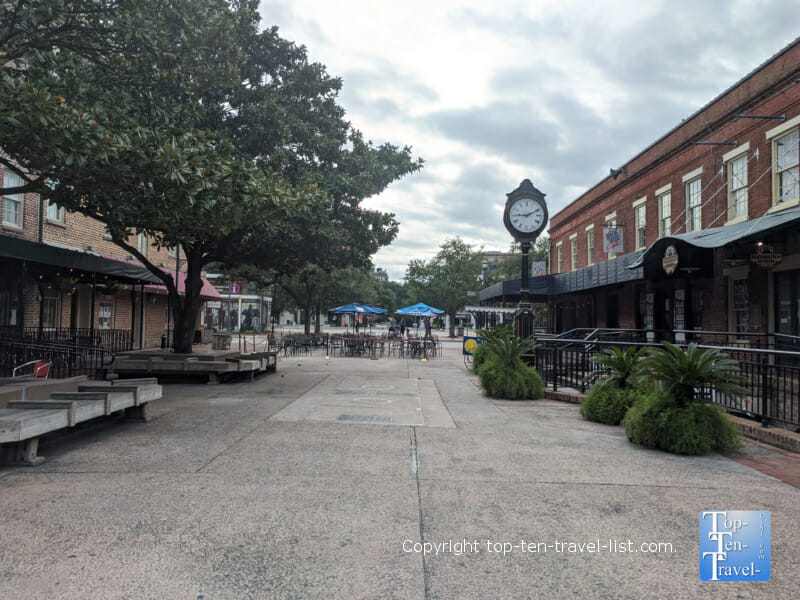 For the night owls
For anyone looking to keep the party going, you may want to get spooked on a ghost tour. Savannah is known to be one of the most haunted destinations in the country. Ghosts have been sighted pretty much everywhere. River Street Ghosts runs a family tour at 9pm and an adults only option at 11pm. Also Ghost and Gravestones runs a popular haunted trolley tour. You will learn fun tales of hauntings, drive past old cemeteries, and even get to tour the Andrew Low house at night.
Day 2
What to do:
Check out the independent coffee scene
Take a narrated history tour (walking or trolley)
Explore the local foodie scene
Stroll through a few beautiful public squares (there are 22)
Tour the oldest Roman Catholic church in Georgia
Take a stroll along the riverfront
8am – Get an early start to your day and beat the afternoon crowds. Head over to a local coffeehouse for an expertly prepared drink, along with a light breakfast. Gallery Espresso, Savannah's first coffeeshop, is a super relaxing place to enjoy a cup of joe before your walking tour. Conveniently, the tour (noted below) begins less than 1/2 a mile away. The lay out resembles Central Perk from the Friends series, so fans should be pleased! As one of my all time favorite shows, I was impressed!
9:30am – Learn more about the history of the city via the Noble Jones walking tour. The early morning tour is great due to the lack of big crowds, not to mention the temps are much more tolerable during the hot months. We lucked out and received a private tour as no one else was booked for the day! The guides are knowledgeable and personable, providing a detailed, but easy to follow intro lesson on the city. The tour is 2 hours long and departs from Reynolds Square.
Alternative: If you prefer not to walk, Old Town offers an amazing open air trolley tour. Perfect for taking pics while also learning new facts!
Noon – After working up a sweat is a great time to check out Savannah's growing foodie scene. There's lots of options here, ranging from Southern cuisine, to international favorites, to trendy vegan cafes. Six Pence Pub is a nice casual choice for comfort food after a tiresome tour. Plus, it's close to where the tour ends. The ambiance is super cozy and casual. No fish and chips here unfortunately. The nachos are a hit though! Movie buffs will quickly notice the pub from the Julia Roberts classic Something to Talk About.
1pm – After lunch, enjoy a caffeinated pick me up at Savannah Coffee Roasters located just a few blocks away. Not only is the coffee fantastic, but they also serve delicious desserts. Hey, you are on vacation – go ahead! The ambiance is charming with cozy seating and brick walls, making this an ideal place to relax before exploring more.
2pm – Spend the afternoon exploring a few of the gorgeous public squares. Chippewa Square is a must for movie buffs as the Forrest Gump bench scenes were filmed here. Forsyth Park and Lafayette Square are also especially picturesque. If you do head by Lafayette, be sure to tour the gorgeous Cathedral of St. John the Baptist, the oldest Roman Catholic building in the state. The stained glass and murals are amazing.
5pm – After a long day of exploration, treat yourself to some classic comfort fare. Little Duck is a trendy modern diner which still offers all your fun classic fare. You really cannot go wrong with a grilled cheese, creamy tomato soup, and french fries after a tiresome afternoon!
6pm – Head back to the East Bay Inn for a relaxing drink. Really, you cannot pass up on this daily freebie! The hotel is so beautiful, and thus, you will want to make sure to spend a bit of time here!
8pm: Take a romantic night stroll around the riverfront. The views are beautiful. There's also lots to do along River St. including bars, snack shops, coffee shops, etc. Most nights there is some type of live music.
Day 3
What to do:
Relax and recover from a long weekend at another great local coffeeshop
Enjoy a peaceful non touristy morning along the riverfront
Explore the historical monuments on River St.
Treat yourself to lunch and an iconic ice cream cone
8am – Enjoy a relaxed morning coffee break on the patio at Cafe M, a quaint French bistro located along the riverfront. They serve the tastiest pastries in town – try the Raspberry cream cheese croissant!
9am – Conveniently, Cafe M is located adjacent to the riverfront. After your coffee, take the opportunity to explore River Street minus heavy tourist traffic. The scene is so different in the early morning hours. This is a great time to take beautiful pictures and enjoy the peaceful scenery. There are lots of interesting monuments to see including:
WW2 cracked Earth monument in honor of Chatham County veterans
Olympic torch memorial (1996 Yachting Games)
Waving girl -in honor of a local girl who for 40yrs waved a cloth for each ship
African American monument with a Maya Angelou quote
The Anchor Monument dedicated to those lost at sea
11am – Head back to the inn to pack your room and check out.
Noon – Treat yourself to an amazing lunch at Naan on Broughton. This local Indian restaurant serves entrees with just enough flavor and not too much spice. The Naan Bread, Samosa Chaat, and Veggie Tikka Masala are all amazing. Right next door, Leopold's, an iconic old-fashioned ice cream parlor from 1919, often draws a line down the street. Stop by for a homemade scoop, a sundae, milkshake, or float!
Note: If you plan on hanging out a bit after check out, consider a few of the following attractions:
American Prohibition Museum – Exhibits on the 1920-33 alcohol ban
Savannah Riverboat cruise -Brunch, lunch, sightseeing, & holiday cruises
Savannah Belles ferry (free) – Scenic & free boat ride across the river
Ships of the Sea Maritime Museum – Model ships from the 18th and 19th century
Historic Savannah Theater – One of the country's oldest (opened in 1818)