21 Fantastic Things to do this Winter in Philly
Despite the oftentimes frigid temps and barren scenery, winter is an ideal time to plan your trip to Philadelphia. Fewer crowds and cheaper hotel rates are just a few of the reasons why winter can possibly be a more attractive time to visit the City of Brotherly Love. Add in 2 festive ice rinks, a whole lineup of holiday festivities, and discounted museum rates – now braving the cold does not sound all too bad!
Here are 20 things of the best things to do this winter season in Philadelphia.
1. Ice skate along the Delaware River WaterFront
The seasonal Blue Cross Riverrink in Old City has been a favorite winter pastime of both locals and tourists since opening in 1994. Riverrink is the biggest and most scenic rink in the Philadelphia area. Winterfest is one of the city's top winter/holiday attractions. By day, take in gorgeous views of the quaint waterfront and the Benjamin Franklin Bridge. By night, enjoy skating amongst twinkling lights. Take a break and roast s'mores by the firepit or get grab a cozy blanket, relax on a rocking chair & treat yourself to a coffee from renowned Philly roaster La Colombe.
Location: 101 S Christopher Columbus Blvd
2. Treat yourself to a specialty hot cocoa
There are no shortage of local places to grab a steaming mug of hot cocoa to warm yourself up on a cold winter's day. The Ritz Carlton offers the most decadent cocoa in a most luxurious setting, although it comes at quite a high price (a whopping 12 bucks!) A more moderate option is Max Brenner, an award- winning NYC originated chocolate shop. With a menu loaded to the brim with chocolate treats, Max Brenner is the ultimate chocolate lover's dream come true. The Chocolate Pizza here was featured on a Travel Channel special entitled "The best thing I ever ate."
Try one of 10 decadent cocoa varieties, served in a trademark warming hug mug. From peanut butter, to Oreo, to salted caramel, there's an option for every taste. The Italian Thick is the most decadent treat in town! Dairy-free milk is available, so even those with lactose intolerance can partake in this winter treat! Sundaes, milkshakes, crepes, dessert waffles, and fondues are also on the lineup, making Max Brenner the perfect date night destination for any couples with a sweet tooth.
Location: 1500 Walnut Street
3. Take in the holiday festivities
Despite little press coverage, Philadelphia actually offers a pretty engaging lineup of holiday activities, many of which are long running and highly regarded. From a zoo lights festival, to a traditional German style Christmas market, to a synchronized light & music show projected upon City Hall, the city is alive with holiday cheer this time of year.
Check out the 10 best things to do in Philadelphia for Christmas.
4. Take advantage of free museum days
Winter is the best time to check out Philadelphia's museum scene as it will be too cold/rainy to do much else. Plus, the museums will be less crowded. The world-class Museum of Art offers a pay-as-you-wish deal on Wednesday nights after 5 and on the 1st Sunday of the month. The Barnes Foundation and Brandywine River Museum (2 more great art museums) are both free on the first Sunday of each month.
Liberty Bell and Independence Hall are free all the time and winter may be your best bet to avoid hefty summer crowds! A little hidden gem (which is free all the time) is the Second Bank Portrait Gallery. Featured here are over 150 portraits of prominent figures. The National Museum of American Jewish History is also free during the winter season. Also do not forget about the Museum of the American Revolution, The Penn Museum, The African American Museum, and The Franklin Institute (not free, but still great winter attractions).
5. Get in a healthy workout
Winter is no excuse to slack in the exercise department. While at times it is quite hard to get out there with the chilly air and leafless trees, it's worth it to stay healthy and fit. You will be happy that you did so once you actually get moving and start to warm up. Plus, research says that working out in winter helps boost your immune system!
It's much easier to leave your cozy warm surroundings if there is something to motivate you to get moving. And thus, taking in the historical sights at Valley Forge National Park, the 1777-78 winter encampment of George Washington and the Continental Army, is one of the best tourist options when it comes to winter recreation. Burn some calories while taking in memorable sights like Washington's headquarters and the National Memorial Arch. History plus cardio rolled into one! Dress warm, keep it simple, and rehydrate!
Location: 1400 N Outer Line Dr, King of Prussia, PA 19406
6. Check out the local coffee scene
Move over Starbucks! There are plenty of independent coffee shops throughout Old City, Center City, and the Philly suburbs. Take in the local flavor and enjoy a hot cup of coffee at any one of Philly's wonderful local options.
In Old City, check out Menagerie Coffee, Cafe Ole, or La Colombe. La Colombe, a renowned roaster headquartered in Philly, is the place to go in Center City. This local chain serves the best espresso drinks, the presentation is great, and the pastries are amazing. Another Center City gem, Gran Caffe L'Aquila, an elegant Italian cafe, serves up high quality coffee and homemade pastry treats in a beautiful setting. Pictured above is Bodhi Coffee in Queens Village. This local gem serves Stumptown Coffee and is located in a charming historical neighborhood.
A few great suburban Philly coffeehouses include Green Engine (try the homemade pop tart!) in Haverford and Malvern Buttery (try the Quiche!).
More great Philly area coffeehouses
7. Cozy up at a great local restaurant
Philly's local restaurant scene continues to expand with new hotspots opening every year. You can find almost anything today – classic cheesesteaks, historic old-world Italian restaurants, 100% plant based cafes, unique ethnic fare, and 5 star steakhouses. One of my favorite places to escape the city clutter is Su Xing House, a wonderful Chinese restaurant that just happens to be 100% vegetarian. Not only is the food really delicious and affordable, but more importantly, this place is so low-key and just the perfect place to escape the crowds.
A few recommended cozy Center City restaurants: Parc, Su Xing House, Isot Mediterranean
A few recommended cozy Old City restaurants: Han Dynasty, Continental Diner, Spasso Italian, Farmicia.
Check out my full guide to dining in Philadelphia
8. Hit the shops
Shopping is always a fall back option if you run out of things to do or need to kill some time in between activities. There are numerous large shopping complexes downtown when you need a break from the cold and/or rain. The Shops at Liberty Place is a great option as it is located right in the midst of the hustle and bustle of Center City. You will find over 50 shops, dining options, plus access to the Liberty Observation Deck where you can enjoy 360 degree views of the city.
Fashion District is another option. Although the ambiance is a bit bland, the space includes the usual shops and dining, plus a movie theater and bowling alley. This is a great one stop entertainment destination for a full afternoon of indoor fun.
Location: 1625 Chestnut Street (Liberty Place shops), 9th & Market (Fashion District).
Shops at Liberty Place directory
9. Relive the golden age of arcade gaming at Dave & Busters
While Dave and Busters can be found in almost every major metro region today, this does not make it any less appealing. On a cold winter's day, nothing really beats a few hours of old-fashioned arcade & carnival style games. Really, who would turn down an afternoon of Skee-ball, air hockey, and old-school carnival games?
Featuring dozens of classic & modern games, and a full restaurant and bar, you can easily escape the cold for the entirety of the afternoon. Another plus, this D & B is conveniently located within walking distance of the ice rink, so you can warm up here after a brisk skating session.
Be on the lookout for game day specials. Also, the restaurant offers a special dining/game play deal every day of the week.
Location: 325 N. Christopher Columbus Blvd.
10. Warm up with a hot milkshake at the Franklin Fountain
The Franklin Fountain is a summertime staple for cool treats. On a hot, humid afternoon, nothing really beats a scoop of fresh ice cream or a sundae with all the trimmings. Not surprisingly, this nostalgia 50's style ice cream parlor draws big traffic from both locals and tourists during the warmer months. As the Fountain is located in Old City, it's a great place to fill up on some calories after all that walking from attraction to attraction.
However, summer isn't the only time you can partake in the fun. Treat yourself to a hot cocoa or a seasonal hot milkshake, available in a variety of indulgent flavors. Love that they offer dairy-free ice cream for vegans and lactose intolerant guests. For a real treat, go ahead and splurge on the Caramel Apple pie shake.
Location: 116 Market Street
11. Enjoy rock n'roll memorabilia at Hard Rock Cafe
Hard Rock Cafe is always a safe dining bet while on vacation. The ambiance is super fun (esp for groups), the food is predictably delicious, and the service is always fantastic. Hard Rock is an ideal place to indulge in some comfort style foods – go ahead, you are on vacation! Kick back and enjoy a few fun appetizers (the Jumbo combo is a must!), splurge on the best mac & cheese around, treat yourself to a fun fruity drink in a collectors glass, and enjoy the feel good music and memorabilia.
And of course, you need to stop by the Rock Shop to pick up a local souvenir! Overall, Hard Rock is a fun, vacation-y place to kill an hour or 2 on a cold winter's day! Conveniently located in Center City, it's just a quick walk from most attractions.
Location: 1113 Market Street
12. Ice skate at Dilworth Park
Philly is home to 2 great ice rinks. The rink at Dilworth Park is your Center City option. Compared to Riverrink, this is a better pre-Christmas choice as there are numerous other festive events and activities within walking distance. After skating amongst the beautiful old architecture, warm up with a drink and/or snack at the Rothman cabin.
Next, take a quick walk over to see the Philadelphia Christmas tree (uniquely topped with a cute Liberty Bell). From here, head over to the wonderful European inspired Christmas Village at Love Park (featuring old-world ornaments, decor, food, & gifts!).
Location: 1 South 15th Street
13. Enjoy a festive drink at Wintergarden
Assuming the weather is not too frosty, enjoy a mug of warm mulled wine at this beautifully landscaped garden. If you prefer to skip the alcohol, head over to Starbucks (conveniently located right in the vicinity) and treat yourself to a hot tea, cocoa, or peppermint or toasted white chocolate mocha. Find a cozy seat, enjoy the seasonal decor, people watch, and warm yourself up as you take in the sights and sounds of the season.
Location: 1 South 15th Street
15. Tour Independence Hall
Seeing the room where the US Constitution and Declaration of Independence were signed should be tops on your list when visiting "the birthplace of America." Although touring Independence Hall is free all year- round, January and February are the best months to do so as you do not need a timed ticket.
This will save you a bit of hassle as you do not have to waste time going to the visitors center prior to your visit. There will still be crowds and possibly a line, however, the entire experience is a bit smoother during the early winter season. Plus, you do not have to worry about tickets selling out, which is a definite possibility during the busier summer months.
Location: 520 Chestnut Street
16. Enjoy a free concert via the world's largest operating pipe organ
Macy's Center City is located in the beautiful historic Wanamaker Building, one of the country's first department stores. Every day at noon you have the unique opportunity to listen to the world's largest playable pipe organ. Additional shows run at 7pm on Wednesday and Friday nights, as well as on Monday, Tuesday, Thursday, and Saturdays at 2:30pm. This tradition dates back to 1911. During the Christmas season, you will be treated to a wonderful LED show, with live music via the Wanamaker Grand Organ accompanying noon shows.
The department store itself is gorgeous – it's worth visiting, if nothing else just to admire the beautiful architecture. If you are a fan of 80's movies, you will likely remember seeing this beautiful building somewhere. The cult classic Mannequin (one of my personal faves) was filmed on-site!
Location: 1300 Market Street
17. Relax fireside with a hot drink at Winterfest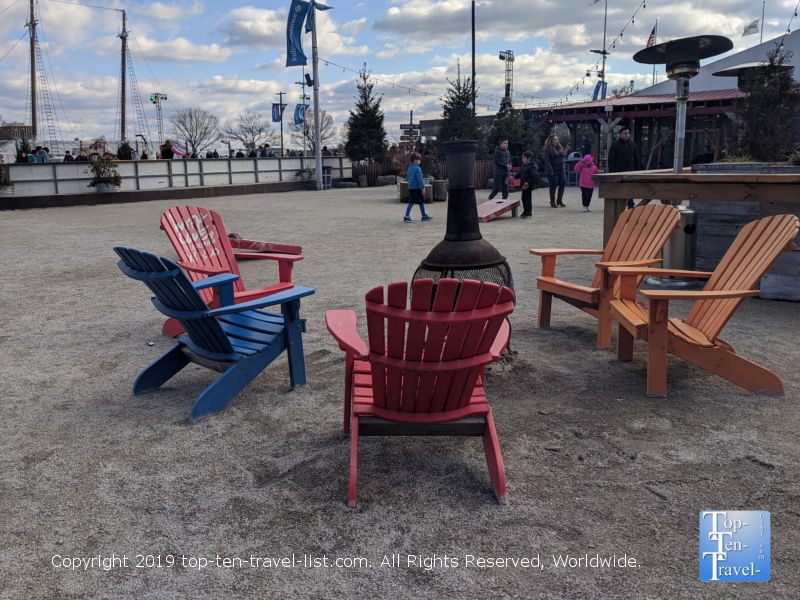 Winterfest at Penn's Landing is the place to be during the winter season in Philly. With a picturesque riverside ice rink, hot drinks and treats from The Franklin Fountain, fire pits, a warming house with cozy couches, cozy swing and rocking chairs complete with thick blankets, and special seasonal events, there's plenty of festive winter fun to be had here. The place is bustling from opening day in late November through early March.
Even if you are not a skater, you can enjoy free admission to Winterfest. Take a cozy seat inside the lodge, wrap yourself with a blanket on a cozy rocking chair, or enjoy a warm fireside seat. Head over to The Franklin Fountain and grab a hot cocoa, hot tea or coffee, or even a scoop of ice cream to accompany you as you watch the skaters glide by.
Location: 101 S. Christopher Columbus Blvd
18. Get lost in a local bookstore
Browsing bookstores is always a welcome activity come winter. Bibliophiles visiting Philly will want to check out Book Trader located in Old City. This independent shop features 2 floors jam packed with both new and rare finds. Also, lots of records, DVDs, and even songbooks to browse through. You will find tons of great deals here including a $1 section. Mostly Books located in Queens Village is another local gem.
Another one to check out is Center City's Shakespeare and Co. This indie bookshop originated in NYC and just opened shop in Philly in 2018. Here you can enjoy a quality cup of coffee/tea while searching for your next novel. They serve the fantastic La Colombe coffee, along with pastries from local favorite Metropolitan Bakery. Whether you are looking for a place to work, read, take a date, or simply enjoy a nice hot drink, Shakespeare and Co. is a great place to escape the cold & hustle and bustle of the city for a few hours.
19. Observe cats for a great cause at Kawaii Kitty Cafe
Since opening in Taiwan in 1998, cat cafes have continued to sprout up all over the world. In the US, the first cat cafe opened in Oakland back in 2014. Philadelphia's first cat cafe, Kawaii opened in 2016 in the Queens Village neighborhood. Never heard of a cat cafe? Basically it's a place where people pay to be in a room surrounded by cats (all available for adoption). Even if you have no intention of adopting, knowing that your money goes towards the cat's care is a reward in and of itself.
To date many hundreds of cats have been rescued from possible euthanasia. Kawaii works with the Philadelphia Animal Welfare Society to house cats in a safe environment until they are adopted. This place is super busy, and thus, reservations often need to be booked several days in advance.
Location: 759 S. 4th Street
A few more cat cafes in the metro
20. Plan a brunch date
Winter is a great time to check out Philly's ever expanding brunch scene. First off, it's much easier to walk in without a reservation during the slower season. Second, a hot brunch is just so much more of a treat when it's super chilly outside. Endless coffee, a delicious hot stack of specialty pancakes, a cozy setting – it just somehow fits in better with the cold months.
You will find lots of great choices throughout Old City and Center City to choose amongst. Parc in trendy Rittenhouse Square is one of the most sought after places to brunch in the city. This beautiful French restaurant overlooking Rittenhouse Square offers the perfect ambiance for a winter date. Treat yourself to the Vol-Au-Vent. Other great choices include Farmica in Old City (try the Caramel Apple French toast!) and Sabrina's Cafe (try the Mexi Scramble).
A full guide to the best breakfast and brunch in Philly
21. Stroll around Longwood Gardens
Although it is located an hour outside of the city, the drive to Longwood Gardens is well worth the hassle. As one of America's most gorgeous gardens, Longwood is more than worthy of a top spot on your winter to-do itinerary. Most likely it will be too cold to enjoy the outdoor gardens, however, the conservatory is warm and alive with plants all year round.
The conservatory features 20 diverse gardens. Christmas time, definitely book tickets to "A Longwood Christmas" featuring dozens of Christmas trees and thousands of colorful poinsettias. February & March is Orchid Extravaganza featuring thousands of colorful orchids.
Location: 1001 Longwood Rd, Kennett Square, PA 19348
More winter fun!
Generic things to do: Bowling (Check out North Bowl in trendy Fishtown), Get a massage (Really, a treat anytime of the year!), See a movie at the Philadelphia Film Center (they show classics on Thursday nights).
See a Broadway production at the Kimmel Center. Check out the lineup.
Annual Winter Events to Check Out
2019 dates. Check each individual website to verify next year's dates.
A Longwood Christmas (Nov 22-Jan. 5th)
Christmas Village at Love Park (Nov. 28-Dec 31st)
Winterfest (Thanksgiving – March 8th)
Macy's Light show (Nov. 29th-Dec. 31st)
New Year's Eve fireworks on the Riverfront (Dec 31st)
Center City Restaurant Week (Jan 12-24)
Philly Theater Week (Feb 6-16)
Philadelphia Home and Garden Show (Feb 14-16)
Philly Craft Beer Festival (March 7th)
St. Patrick's' Day Parade (March 15th)