The Top Independent CoffeeShops to Check out in the Philly Metro Region
Indie coffee houses are a bustling business nowadays. Today, tourists and locals alike flock to these unique coffee shops to savor an expertly made drink and fresh homemade pastries, all while enjoying the local charm. Long gone are the days when Starbucks and Dunkin' Donuts are the only options when it comes to grabbing a decent cup of coffee while out and about.
While you can enjoy a predictably good cup of joe at these chains, there are way too many interesting local shops to support while traveling. When you go local, you are more often than not treated to higher quality drinks, better presentation (mugs vs. paper cups), friendlier service, and a more eclectic ambiance. Below are a few of the best coffeeshops in and around the Philly metro region, including the Main Line suburbs.
Menagerie Coffee
Location: Old City
Address: 18 S. 3rd Street
Highlight: Exposed brick walls
What to do nearby: Hit the ice rink (winter) or roller skating (summer) rink at Penn's Landing
Menagerie Coffee is the best place to grab a perfectly brewed cup of coffee in the Old City region. Not only does this local gem serve high quality Dogwood coffee (a renowned small roaster based in Minnesota & Canada), but as an added bonus the ambiance is also terrific. Food selections include fresh pastries and light sandwiches. There may not be as many food options as other coffeehouses, but the few pastries they do offer are quite tasty.
Housed in a historic building from the 18th century, the exposed brick walls really add a touch of charm not found at other nearby coffee shops. The tree stump coffee table adds a nice natural touch. Bonus – you can score a prime people watching window seat if you arrive early enough!
Cafe Ole
Location: Old City
Address: 147 N. 3rd Street
Highlight: Excellent Shakshuka
What to do nearby: Walk Elfreth's Alley, the oldest inhabited US street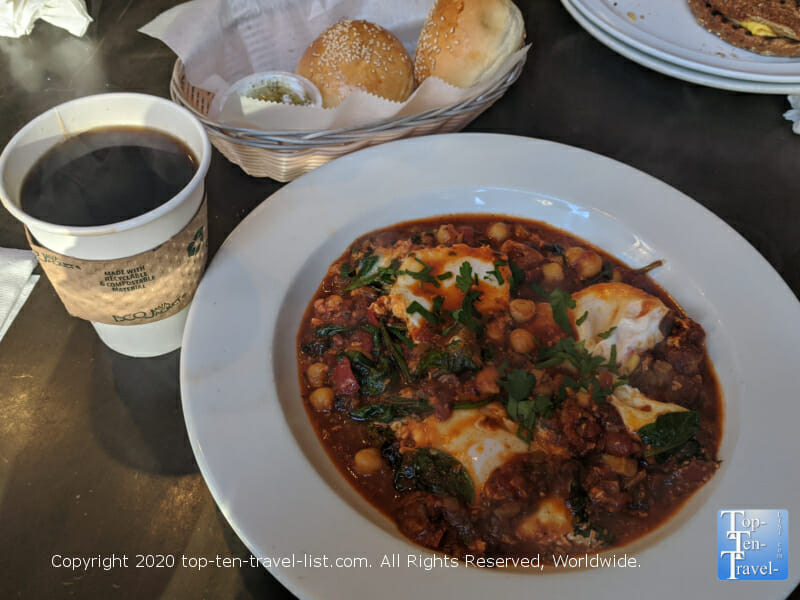 Cafe Ole has long been an Old City staple for local and visiting coffee lovers alike. Conveniently located within walking distance of most of Philly's best historical attractions, it's a great place to start your day. Cafe Ole is the best choice when you seek a nice hefty breakfast to go along with your coffee. They serve all sorts of morning fare, from bagels, to omelets, to croissant sandwiches. Lots of vegan and vegetarian entrees on the menu, so this is a great place to consider if you have special dietary concerns.
The best thing on the menu is the Shakshuka, a traditional Middle Eastern entree consisting of poached eggs in a stewed tomato based sauce. This local favorite is available as a wonderful vegetarian dish consisting of mushrooms, potatoes, chickpeas, spinach, and hummus. And the coffee is fantastic too! The house coffee is really flavorful, although offering mugs as opposed to paper cups would be a nice touch for dine-in customers.
ICI Macarons
Location: Old City
Address: 230 Arch Street
Highlight: Homemade macarons in every flavor imaginable
What to do nearby: Explore the historic Fireman's Hall museum
ICI Macarons is an often overlooked coffeehouse in the Old City section of Philly. It's located off on a quiet side street, and thus, does not see as much tourist traffic. ICI is the perfect choice if you are looking to avoid tourist crowds. The ambiance is peaceful and attractively zen-like, and charming despite being located in a touristy part of town. The soft music, miniscule decor, and immaculate cleanliness really set this one apart. And thus, ICI is a great place to read, work, or enjoy a low key date.
They serve delicious coffee from local roaster ReAnimator, along with an enticing selection of homemade pastries (try the peanut butter and jelly croissant!). The best part of all is the tantalizing selection of macarons, available in about every flavor imaginable. Start with a lemon/lavender, matcha green tea, or dark chocolate macaron, although really you can not go wrong with anything here!
La Colombe
Location: 4 Philadelphia locations and one in suburban Bryn Mawr
Highlight: Beautiful drink presentation
What to do nearby: Take your pic by the Liberty Bell
La Colombe is a popular coffee shop which originated in the Rittenhouse Square area of Philadelphia. Today, you can find La Colombe locations in numerous US cities. Not only is the coffee itself delicious, but the presentation in gorgeous custom hand made mugs is just as appealing. The Americano is by far the best in the area, hands down. The pastry selection is tantalizing. The chocolate croissant and blueberry muffin are both worth splurging calories on. Several GF and vegan options are available.
In Old City, the Independence Mall location is the perfect place to enjoy a light breakfast before embarking on your tourism to-do list. This cafe is particularly spacious with a gorgeous patio looking out at Independence Hall. You will have lots to explore during your time in Old City. Thus, if you are limited on time (no time for a big breakfast), consider treating yourself to a delicious pastry and coffee at La Colombe before hitting the historical sites.
J'aime French Bakery
Location: Washington Square West
Address: 212 S. 12th Street
Highlight: Diverse selection of French pastries & breakfast items
What to do nearby: See the Tomb of the Unknown Revolutionary War soldier at Washington Square Park
J'aime is a hidden gem in the Washington Square section of Center City. If you love French pastries & good coffee, this is the place for you. Although a tad overpriced, J'aime is one of the few places in the city where you can indulge in a savory quiche, with the option to choose amongst a traditional Quiche Lorraine or a healthier vegetarian version.
Also on the lineup is an enticing selection of dozens of scratch made French pastries, along with crepes and freshly squeezed juice drinks. They serve coffee from Philly's La Colombe, so you can count on a delicious drip or espresso to go along with your treat.
Gran Caffe L'Aquila
Location: Center City
Address: 1716 Chestnut Street
Highlight: A huge menu of speciality Italian espresso drinks
What to do nearby: Enjoy a bird's eye view of the city via the One Liberty Observation deck
For experty made espresso drinks in Center City, look no further than Gran Caffe L'Aquila. This Italian cafe is most well-known for their elegant dinner fare and desserts (they offer over a dozen award-winning gelato flavors!). However, many are unaware that the cafe also opens up shop every morning. For anyone seeking an elegant place to indulge in delicious homemade Italian pastries and fresh top notch coffee or espresso, Gran Caffe is the most classy choice in town.
Coffee connoisseurs will be impressed with the artisanal offerings. A large lineup of espresso offerings, plus 4 artisanal coffee blends, cappuccino drinks, and a selection of American coffee drinks are sure to please any coffee lover.
Red Hook Coffee and Tea
Location: Queens Village
Address: 765 S. 4th Street
Highlight: An abundance of vegan food choices
What to do nearby: Play with cats for a good cause at Kawaii Kitty Cafe
Red Hook Coffee is a cozy little place to grab your morning beverage if you happen to be exploring the Queen Village/Society Hill region of Philly. This is definitely the place to go if you are vegan/gluten-free as they offer an abundance of choices including gluten-free bread for sandwiches, vegan cream cheese for bagels, and dairy-free milk.
Their fair trade, organic coffee is pretty good, although not quite the best in town. The drip coffee is much more flavorful than the espresso. Love the unique mugs they serve the drinks in – they fit in perfectly with the quirky decor. The cozy ambiance, which includes exposed brick walls, a comfy little nook, and local artwork, makes Red Hook the most interesting choice for anyone seeking an eclectic coffeehouse experience.
Green Engine Coffee
Location: Haverford (Main Line suburb)
Address: 16 Haverford Station Rd.
Highlight: Unique pastries
What to do nearby: Brunch at White Dog Cafe
Green Engine coffee is the best local coffee shop in the Main Line suburbs of Philly. Serving coffee from highly regarded local small batch roaster Rival Bros, you can always count a quality cup of coffee here. Equipment is top notch and includes an emerald green La Marzocco GB/5 espresso machine (hence the name) and a Japanese Oji Kyoto drip brewer. Besides espresso & drip, pour over, Spanish hot cocoa, and a variety of high end loose leaf teas are also offered.
Coffee aside, the best reason to visit Green Engine is for the decadent assortment of pastries! So many unique selections are available daily including an amazing homemade pop tart (varies by season) and a delicious vegan crumb cake. Various gluten free treats are available for those following a strict diet. The ambience here is gorgeous, although it tends to get insanely busy on weekends (arrive early to guarantee a spot!).
Gryphon Cafe
Location: Wayne (Main Line suburb)
Address: 105 W. Lancaster Ave.
Highlight: Quiet vibe – nice spacious room for working and reading
What to do nearby: Shop & dine in downtown Wayne
Gryphon Cafe is a cute little local coffeehouse in historic downtown Wayne. Gryphon serves your basic espresso drinks, plus a host of specialty drinks including several hot cocoas (try the Rose White Hot Chocolate), apple cider, and kombucha. They also offer numerous breakfast and lunch selections. Breakfast fare includes bagels, avocado toast, pastries, croissants, and yogurt parfait.
This particular coffeeshop is a great choice if you are avoiding dairy as they offer 5 alternative milks. The ambiance is very local and homey with a nice quiet upstairs room for reading/working. Gryphon is one of the few coffeeshops in the Philly suburbs offers a charming local vibe. While you are in the vicinity, check out Main Point Books, a local gem right across the street.
Bodhi
Location: Society Hill (near Old City)
Address: 410 S. 2nd Street
Highlight: Serves renowned Stumptown coffee
What to do nearby: Pick up fresh local produce & goods at the Headhouse Farmers Market
Bodhi is located in the beautiful historic Society Hill section of Philadelphia. This charming neighborhood of the city is home to some of the oldest homes and priciest real estate. Escape the congestion in Old City with a refreshing 20 min walk over to this under visited local gem. They serve renowned NYC based Stumptown Coffee and also Kansas City's PT's, which has been rated one of the 10 best coffee roasters in the US.
This place stays so quiet and relaxing because it sees so much less tourist traffic than many of the other coffeehouse located closer to the attractions. It's worth exploring the Society Hill neighborhood for the architecture alone, so consider stopping at Bodhi as an extra treat along the way. The cafe's location on a cobblestone street and brick exterior give it a quaint historic vibe. Right across the street is a fantastic year-round farmers market where you can pick up fresh fruits and veggies.
Malvern Buttery
Location: Malvern (Main Line suburb)
Address: 233 E. King Street
Highlight: Spacious interior with multiple cozy couches
What to do nearby: Enjoy old fashion arcade gaming at the Malvern Pinball Gallery
Malvern Buttery is another great place to enjoy local coffee in the Main Line. This coffeehouse is known, not only for their delicious drinks, but also for their delicious food selection. Abundant breakfast choices include an unlimited toast/jam bar, quiche (veg and non-veg), yogurt parfaits, croissants, chia seed pudding, scones, pecan sticky buns, and more. Everything is made-from-scratch using mostly organic ingredients. They serve coffee and tea from notable Lancaster, PA roaster Passenger.
The space is large and cozy with plenty of comfy couches to kick back for a while. Malvern is the type of laid-back place where you can meet up with friends/family and take your time socializing over a leisurely cup of coffee. There is no rush to push people in and out the door. Despite the open space, it can feel crowded at times due to the immense popularity. Arrive earlier on in the morning, if possible.
Pour Richard's Coffee
Location: Devon (Main Line suburb)
Address: 36 Berkley Rd.
Highlight: The only fourth wave coffee roaster in the Main Line
What to do nearby: Take a hike at McKaig Nature Center
Pour Richard's is a great local 4th wave small batch roaster located in the tiny Main Line community of Devon. Here you can enjoy high quality artisan coffee in a cozy local setting. Pour Richard's works with farmers, sourcing direct trade, hand picked, high quality organic beans. They make all their goodies in-house, from the almond milk, to the syrups.
The basic drip coffee is the way to go here, and even those who do not like black coffee will likely appreciate the smooth flavor. Espresso drinks, over 20 loose leaf tea varieties, and hot cocoa are also on the menu. Pastries are homemade and include options such as muffins, croissants, and even a gluten-free sweet potato muffin. Other light fare includes breakfast sandwiches, seasonal quiche, and soups. You can't go wrong with one of the delicious muffins and a house coffee – what a great way to start the day!
Note: Free cuppings take place Sundays at 2.
Bakeshop on 20th
Location: Rittenhouse Square
Address: 269 S. 20th Street
Highlight: The best pastries in Center City
What to do nearby: Check out the famous LOVE sculpture at Love Park
If you love sweets, you will definitely want to plan for a stop at Philadelphia's best pastry shop. Every day, Bakeshop whips up the most enticing lineup of bakery treats. Especially delicious and unique are the homemade pop tarts – everyone's favorite breakfast treat, just a bit healthier. The muffins are another excellent choice. Cookies, scones, brownies, and croissants are also there to tempt your sweet tooth. Vegan and gluten-free selections are available.
The Bakeshop uses family recipes and emphasizes on creating tastier, healthy versions of your favorite childhood sweets using local ingredients. Even better, Bakeshop serves the fantastic La Colombe coffee. Thus, you can enjoy the best bakeries in town, along with the best coffee in town.
High Point Cafe
Location: Mt. Airy
Address: 602 Carpenter Lane
Highlight: The best cinnamon rolls in town
What to do nearby: Hike the Forbidden Drive trail at Wissahickon Valley Park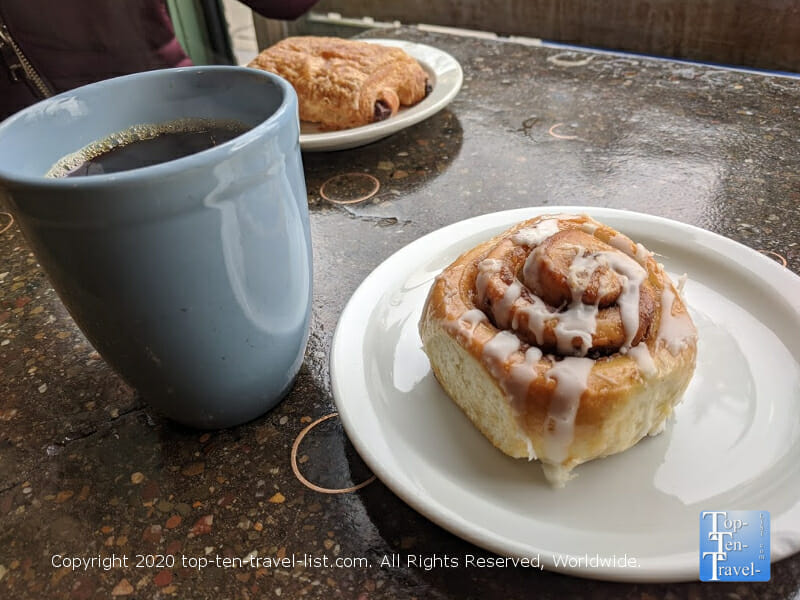 High Point is a popular local coffeehouse with a prime location in the trendy Mt. Airy neighborhood of Philly. They have been in business since 2005 with 2 convenient Philly locations. This place is always bustling with people, so it can feel a bit cramped on weekends. Nonetheless, they serve up some delicious pastries. The drip coffee here is great, and they also offer a full menu of specialty espresso drinks.
Pastry selections vary throughout the year, but a few good standards include cinnamon rolls, croissants, muffins, and coffeecake. Lots of great choices here for anyone needing dairy and gluten-free selections including soy, almond, and oatmilk, along with various pastry selections. They offer an amazingly decadent gluten-free brownie which is sure to please anyone with a sweet tooth!
Peddler Coffee
Location: Logan Square
Address: 2100 Spring Street
Highlight: Amazing third wave coffee
What to do nearby: Explore the amazing collection at the Philadelphia Museum of Art
Peddler Coffee is the best option if you are seeking a great local coffeehouse prior to exploring Philly's museum scene. Most of Philly's best museums including the Philadelphia Museum of Art, The Rodin Museum, and The Academy of Natural Sciences are located just a short walk away on Museum Row. A perfect accompaniment to a day out at the museums, the ambiance at Peddler is so tranquil with the authentic brick walls and large windows that overlook the city.
This local gem serves high quality single origin coffees. Pour over, cold brew, various espresso drinks, and specialty seasonal drinks are also on the lineup. The pastry selection is a bit smaller than most other Philly coffeehouses, although still adequate enough to please most customers. The croissants and fruit tarts are both worth splurging on if you are looking for a sweet treat. If anything, breakfast here should be enough to get you through your morning of museum exploration.
Anthony's Italian Coffee & Chocolate House
Location: South Philly
Address: 903 S 9th St, Philadelphia, PA 19147
Highlight: Featured in "It's Always Sunny in Philadelphia"
What to do nearby: Stroll The Italian Market, one of the largest & longest running open air markets in the US.
In South Philly, you will definitely want to plan for a stop at Anthony's Italian Coffee House. This family-owned business has been serving top notch pastries and coffee for 4 generations. Be prepared for treat overload here as you walk in and see all the goodies including Italian cookies, cannoli, breakfast pastries, gelato, tiramisu, and more! The coffee is excellent, although if you want to splurge they do offer a number of popular frozen frappes and other dessert drinks.
The ambiance at Anthony's is so classic and old-fashioned. There are cute little tables set up outside where you can watch the tourists visiting the Italian market. Be sure to take a stroll through this iconic market yourself before leaving the area. Fresh fruits and produce, spices, seafood, baked goods, and more can found at this unique Philly institution which dates back to the late 1800's.