The 21 Best Things to See and Do in Philly's Main Line
The Main Line is a name given to the suburban Philly towns which lie along the former Main Line route of the Pennsylvania railroad. Originally, the area was founded by notable Philadelphia families who built summer homes in the area. Many of the suburbs within the Main Line are consistently ranked as not only the best places to live near Philly, but also within Pennsylvania.
Today, the various western suburbs located along & near the Main Line are beginning to see an upsurge in tourism as new businesses continuously sprout up. This affluent area (home to 5 of the wealthiest zip codes in the country) is home to numerous private colleges, beautiful homes, and seemingly endless luxury car dealerships. However, you will also find more touristy attractions such as award-winning restaurants, quaint Main Streets, many botanical gardens and parks, and historical sites of interest.
Consider taking a day trip from Philly to explore the numerous attractions found throughout the region. Below are 25 fun must-do's in the Main Line. Also included are things to do and see in adjacent western Philly suburbs.
1. Check out the Brandywine River Museum of Art
Location: Chadds Ford
Address: 1 Hoffmans Mill Rd.
Tip: Enjoy free admission the first Sunday of each month (Feb-Nov)
The Brandywine River Museum is an American art museum located on the beautiful Brandywine river. The collection includes galleries dedicated to Andrew Wyeth, a renown realist painter of the 20th century who grew up in Chadds Ford. A sizeable collection of works from realist painter Jamie Wyeth and illustrator N.C. Wyeth, along with hundreds of other artists, can be enjoyed via numerous galleries.
In the nicer months, take a stroll along the 1 mile long river path where you will enjoy quaint riverside views, lovely gardens, and seasonal wildflowers. During the winter, be sure to check out the extravagant holiday train display, one of the Main Line's most beloved Christmas attractions.
2. Visit Longwood Gardens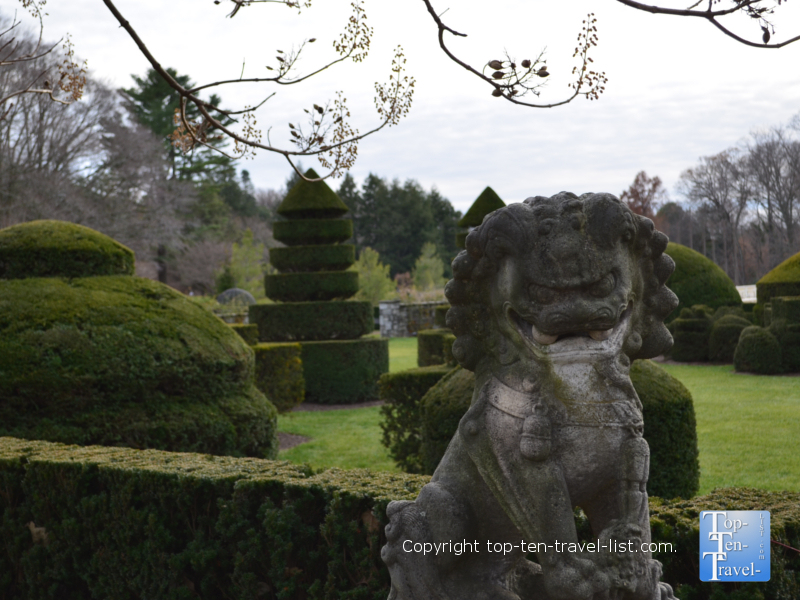 Location: Kennett Square
Address: 1001 Longwood Rd.
Note: Timed tickets are required
If you are a nature lover, you will definitely want to put a trip to Longwood Gardens (once home to the wealthy DuPont family) high on your Philly suburb to-do list. This 1000+ acre nature oasis was recently ranked amongst the most beautiful gardens in the country. Here you will be able to explore over 9000 species of plants via 20 indoor, as well as various outdoor gardens and nature trails. Be sure to plan time to see the incredible fountain shows.
The highlight here is the Conservatory, which is alone home to more than 4600 plants, plus beautiful fountains and seasonal displays. The best time to visit is during the winter Orchid Extravaganza where your eyes will be treated to thousands of colorful orchids. Also, consider planning your visit during A Longwood Christmas. Featuring thousands of poinsettias in every hue, seasonal plants, dozens of Christmas trees, and over half a million lights, this event stands strong as one of the Main Line's best Christmas events.
3. Stroll around Downtown Wayne
Location: Wayne
Address: Lancaster Ave/N Wayne Ave
Tip: Pick up a fresh loaf of bread or pastry at Spring Hill, one of Main Line's best bakeries.
Downtown Wayne is pretty small, yet still packed with plenty of interesting restaurants and shops. Take a stroll up and down Lancaster Avenue and enjoy popping in and out of various boutiques and gift shops. Treat yourself to an espresso or hot cocoa at Gryphon Cafe, search for your next novel at Main Street Books, enjoy a fresh pie at Vinnie's Pizza, and then catch a flick at the historic Anthony Wayne theater.
4. Detox & Refresh at Cyro Myst
Location: Haverford
Address: 510 Lancaster Ave
Tip: Check for special promotions on the CyroMyst website
Cryo Myst Therapy Lounge is a natural health/beauty spa located in Haverford. Here you can enjoy all sorts of rejuvenating treatments such as infrared sauna, tanning, teeth whitening, oxygen therapy, and cryotherapy. Treatments are pretty pricey, although they do offer a special Saturday deal where all services are just 10 bucks.
Nothing beats a warm infrared sauna session on a cold winter's day. Even better, infrared saunas offer numerous health benefits over regular saunas. An immune system boost, overall detoxification, joint pain relief, cellulite reduction, and improved circulation are just a few of the benefits you may see after multiple sessions. Cryo Myst is a great place to relax whether it is raining, snowing, or simply too cold to do much else.
5. Shop 'til you drop at King of Prussia Mall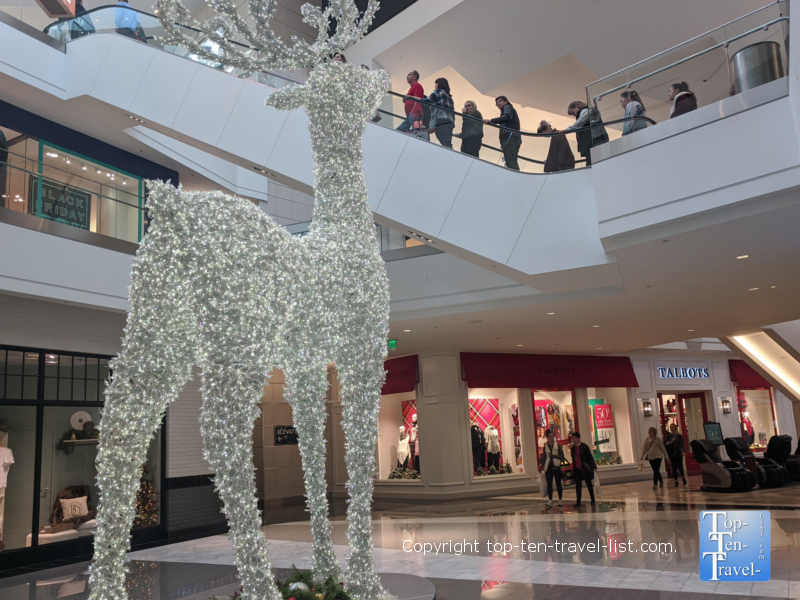 Location: King of Prussia
Address: 160 N. Gulph Rd.
Tip: Treat yourself to a coffee from La Colombe, hidden away from the bustle in a little stand in front of Neiman Marcus.
Although not as widely known as the Mall of America, King of Prussia stands strong as one of the largest malls in the country. Coming in at the number 2 position, this mall features an interesting mix of over 450 stores (versus 520 at the Mall of America). In terms of square footage, the King of Prussia Mall recently surpassed the Mall of America! However, the newly opened American Dreams Mall in New Jersey now triumphs both!
You can find anything here, from the highest end luxury boutiques like Louis Vuitton and Fendi, to common department stores like Macy's and Nordstrom. With several great dining options (The Cheesecake Factory, Maggiano's, Grand Lux Cafe, True Food Kitchen, etc), on top of the shops, you can easily waste away an afternoon here on a bleak cold, rainy day.
6. Explore the indie coffee scene
The Main Line is home to an impressive lineup of independent coffee shops. You do not have to go all the way to Philly to enjoy the high quality beans, service, and ambiance often found at local coffee shops versus chains!
And now, a few of the best-of-the-best!
La Colombe
This Philly born roaster, which originally opened downtown in Rittenhouse Square in 1994, now operates in 7 major cities. Today, you no longer need to make the trek downtown. The Bryn Mawr location is ideal if you happen to be checking out the shops or film institute downtown. La Colombe is known for their custom made mugs, high quality espresso drinks, and decadent pastry selection.
Location: 915 Lancaster Ave. Bryn Mawr, PA
Green Engine Cafe
Green Engine is a fantastic Haverford coffee shop, offering top notch coffee from local Philly company Rival Bros. Their pastry treats are the best in town. Featuring scrumptious creative pastries like homemade pop tarts and crumb cake, sweet lovers will have more than enough tempting options. The design is modern, attractive, and spacious, although the space tends to get overcrowded on weekends.
Location: 16 Haverford Station Haverford, PA
Malvern Buttery
Enjoy expertly brewed espresso & coffee drinks and fresh made-from-scratch pastries at this local favorite. Order a drink, pick up treats from the self-service food station (try the quiche (both veg/non-veg) available) or the chia seed pudding), and enjoy a seat on one of the cozy couches. Delicious food, amazing coffee, and a spacious cozy setting – definitely try this one out!
Location: 233 E. King St. Malvern, PA
7. Indulge in a Philly cheesesteak
Although you will find a much wider selection of cheesesteak options in Philadelphia, there are a few good options scattered throughout the Western suburbs. Also, most local pizza joints will have cheesesteak on their menu. Try Main Line Pizza in Wayne or Lou's Sandwich Shop (located outside of the Main Line in Norristown), a local favorite for decades.
Vic & Dean's Pizzeria Grill in Wayne and Boccella's Deli in Havertown also receive much praise.
8. Take a creekside stroll at Kenealy Nature Park
Location: Gladwyne
Address: Youngs Ford Rd & Monticello Drive
The Bridlewild Trail at Kenealy Nature Park in Gladwyne is one of the hidden treasures of the Main Line. If you love nature, hiking, and birdwatching, consider hiking the 1.5 mile loop at this lovely park. The quaint setting, abundance of native plants, and soothing views of the creek create a picturesque setting for a weekend walk.
9. Brunch at White Dog Cafe
Locations: 379 Lancaster Ave. (Haverford), & 200 W. Lancaster Ave. (Wayne)
White Dog Cafe is hands down one of the best places for brunch in the Main Line. The first location opened in University City in 1983. Today, you can enjoy 2 Main Line locations (Haverford & Wayne).
The ambiance (adorable dog decor everywhere!) is the best, the food is so delicious, and the service is always wonderful. The space is impeccably clean and the ambiance is elegant, yet casual enough for families. You will find all your standard brunch fare, although what really stands out is their delicious Kennett Square mushroom soup! Ingredients are sourced from local farms, thus, you can expect healthier versions of your favorite breakfast fare.
10. Indulge in unique mushroom inspired treats at Mushrooms Cafe
Location: Chadds Ford
Address: 880 Baltimore Pike
Note: Closed on Monday
Kennett Square is known as "the mushroom capital of the world." Farms in the area produce over 60% of the US mushroom supply. While there are many great restaurants in the area, any mushroom lovers really need to try out this eclectic cafe while in the vicinity.
The ideal time to stop by is after your visit to the Brandywine Museum or Longwood Gardens as the cafe is just minutes away from either. The menu includes a variety of mushroom loaded versions of popular dishes. There's lots of mushroom goodness to choose amongst, from an award winning mushroom soup, to a mushroom Quiche, to mushroom mac and cheese, to a mushroom loaded cheese dip!
11. Immerse yourself in nature at Ridley Creek State Park
Location: Media
Address: 1023 Sycamore Mills Rd.
One of the more relaxing places to enjoy a day out in nature is Ridley Creek State Park. Due to the quaint woodsy landscapes and beautiful setting along the creek, this park is popular with hikers, bikers, fishermen, and picnickers. It's a great place to spend the day out in a beautiful laid-back natural setting. The main paved loop around the park is about 5 miles long, so perfect for a relaxed bike ride or lengthy walk. As an added bonus, there is a small waterfall near the entrance.
12. Soothe your tired feet at Relaxation Station
Location: King of Prussia
Address: 570 W Dekalb Pike #113
Note: Prices range from $15-75, based on length of service (15-90min). Walk ins welcome.
Although it does not look like much from the outside, Relaxation Station is a wonderful place to treat yourself to a reflexology treatment. Reflexology has been used since ancient times to cure various ailments. The therapists here use just the right amount of pressure, and honestly, I have received the best foot massages here. After putting on all those miles at the nearby King of Prussia mall, treat your feel to a little much needed R&R. Whether or not it helps with any of your ailments, it sure does feel great!
13. Enjoy authentic Italian cuisine
Not surprisingly, due to the region's rich Italian heritage, there are many wonderful Italian restaurants, located throughout both Philly and the suburbs. From high end, to super casual, there is an option for just about everyone. Here are a few great places to check out while you are in the western suburbs.
Dino's Pizza & Pasta – This local gem is located in the downtown area of Bridgeport, a small manufacturing town in Montgomery County. The food here (especially the pizza) is fantastic and they offer plenty of unique seasonal specials (try the Butternut Squash ravioli if available). Also, the garlic knots are the best around. The vibe is extremely local and the staff always friendly.
Geno's – This 40+ year old Italian establishment continues to be a favorite of residents of Norristown and surrounding areas. This BYOB offers a diverse menu of traditional Italian dishes. Check out the create-your-own pasta deal which includes a variety of sauces and noodle styles. The pesto is especially delicious. Update: Closed.
Other highly regarded Italian favorites include Anthony's Pizza & Italian restaurant in Malvern, Antonella's Kitchen in Bryn Mawr, Giampino's Cucina Italiana in Havertown, and Corropolese Italian Bakery in Norristown (great tomato pie!).
14. Take a stroll around the Elmwood Park Zoo
Location: Norristown
Address: 1661 Harding Blvd.
Although quite small at just 16 acres, Elmwood Park Zoo in Norristown is interesting enough to warrant a visit. If you love zoos, this is basically your only other choice outside of Philadelphia. It doesn't hurt that admission is way cheaper and parking is free! A few interesting exhibits include the Red Panda, South American coati, and the White-faced Saki Mountain. If anything, it's a great place to get in a little workout, enjoy some fresh air, and kill an hour or so.
If you happen to be in the area in December, stop by for the Zoo Lights festival. It's not as big or impressive as the big city displays, however, the lack of crowds and low pricing definitely earn it a few bonus points.
15. Treat yourself to authentic Indian food
Locations: Etka: 1003 W. Lancaster Ave (Bryn Mawr), & Nirvana: 417 Germantown Pike (Lafayette Hill).
The Main Line area is no stranger to quality Indian food. One of the best Indian buffets in the entire Philly area can be found in suburban Lafayette Hill. Nirvana Indian Bistro hosts a daily lunch buffet from 11:30-2. Everything on the line is always fresh and delicious. The decor is limited, although classy and clean. Plan your visit during lunch hours to take advantage of the wonderful buffet! If visiting for dinner, you cannot go wrong with the Tikki Masala, Saag Paneer, Veggie Korma or the Gobi Matar. Update: Buffet is no longer offered.
Another great choice is Etka, a popular award-winning Indian restaurant with numerous locations throughout Philadelphia. Sadly, the Bryn Mawr location no longer offers a lunch buffet. However, you can still enjoy all your favorite Indian dishes at this BYOB. The Saag Paneer and Navratan Korma are particularly delicious! Recently, The Daily Meal rated Etka one of the "25 best Indian restaurants in America."
16. Go back in time at Valley Forge National Park
Location: Valley Forge
Address: 1400 N. Outer Line Drive
Tip: Pick up a free trail map in the visitor's center
Valley Forge is most famous for being site of the winter encampment of George Washington and the Continental Army in 1777-1778. During this brutal winter, hundreds of soldiers died. Besides cold and starvation, diseases like typhoid and influenza took out many soldiers.
You can read more about the history of Valley Forge via a tour (paid trolley tours and free ranger tours available) during your visit. Also on-site are over 30 miles of hiking trails. Be sure to take a walk along the paved path which leads to the National Memorial Arch. The arch commemorates the arrival of George Washington and the Continental Army. From the visitor's center the path to arch runs about 2.5 mile and is relatively steep.
17. Get active at Norristown Farm Park
Location: Norristown
Address: 2500 Upper Farm Rd.
Tip: Check out the Event Calendar
Norristown Farm Park is a 690 acre state park in Montgomery County. There are 15 historic buildings throughout the park, most built in the 18th or 19th century (the earliest dates back to 1764). This is a great place to get in some exercise as the loop around the park is the perfect distance for a jog or long walk (2.5 miles). Additionally, there are 7 total miles of trails to get lost in nature in one of the last remaining natural areas in the county.
The park offers numerous events throughout the year including 5k runs, bird walks, and guided night walks.
18. Enjoy matcha treats at A La Mousse
Location: Narberth
Address: 920 Montgomery Avenue
Traditional desserts are infused with an Asian touch at A La Mousse, a popular dessert cafe which started in Philly's Chinatown neighborhood. Fortunately, this wonderful dessert cafe recently expanded to include a location in the Main Line's Narberth community. This is the place to go for a decadent healthy dessert. Pairing a matcha green tea latte with a matcha cheesecake is definitely the way to go on your first visit!
A La Mousse offers such a wonderful selection of deserts. From a Japanese fruit crepe, to a dark chocolate Black Forest Cake, to a Coffee Cream Cake, the options are just overwhelming – everything looks to die for. Matcha infused sweets and beverages include a Match green tea milkshake, an iced match white mocha latte, and a matcha mousse cake. The presentation is wonderful – the desserts look almost as good as they taste!
19. Enjoy a quiet hike at Four Mills Reserve
Location: Ambler
Address: 12 Morris Rd.
If you prefer quaint secluded hiking, then you may want to plan for a walk at Four Mills Reserve. Two short trails, part of the longer Green Ribbon trail, make up about 2 miles of walkable trail at this small park in Ambler. Both trails are super serene as they follow the Wissahickon Creek. The trails are heavily lined with trees and you will see everything from red maples, to sycamore, and American elms. The best part of the trail is the fun stepping stones crossing over the creek. Overall, Four Mills is a great place for a quick easy nature stroll.
20. Bird watch at Dixon Meadow
Location: Lafayette Hill
Address: 548 Flourtown Road
This quaint preserve is a hotspot for birdwatching. Although the trail here is pretty short, it is a great place for anyone who loves birds. Get in a little vitamin D, a fresh workout, and enjoy birdwatching via numerous observation stations. Here is a handy little birdwatching guide detailing the various bird species you may encounter during your visit.
21. Get back to nature at Natural Lands Saunders Woods Preserve
Location: Gladwyne
Address: 1020 Waverly Rd.
This small park in Gladwyne is a great place to take a nature walk, bird watch, or picnic. While it's not the best place for a lengthy hike, there exists just enough miles of trails to get in a nice workout without going all out. The loop runs about a mile and a half and features lovely views of the forest and open meadows. Great place for a birdwatching and casual walking.