The Best Places to Get Breakfast in Philly
Before heading over to the Independence Mall, Liberty Bell, or any other Philly historic site, you will want to enjoy a filling breakfast. Fortunately, there more than enough local restaurants which serve amazing breakfast fare. Every place on this list also serves great coffee too, so you do not have to waste precious time getting coffee elsewhere. While you could easily get breakfast at your hotel, supporting local businesses is always the way to go!
Consider supporting one (or more) of the restaurants listed below on your trip to Philly!
Sabrina's Cafe
If you love cozy homestyle diners, you may want to give Sabrina's a try while in Philly. This place is super popular with locals, and thus, has expanded to include multiple locations throughout the region. Although Sabrina's is open all day, they are most well-known for their delicious brunch offerings. They serve La Colombe coffee and also offer an assortment of seasonal specialty espresso drinks.
The brunch menu includes traditional favorites like omelets and buttermilk pancakes, modern fare like avocado toast and quinoa bowls, and even vegan fare such as a tofu scramble. Their specialties include Challah French Toast and Huevos Rancheros. The Mexi Scramble is a delicious entree choice for anyone seeking a savory dish with a bit of a kick. For this dish, scrambled eggs are mixed with bell peppers, onions, tomatoes, and pepper jack cheese. Served alongside are delicious black bean grits, corn chips and avocado, and cilantro pesto.
Cafe Ole
One of the best places for coffee in Philly is Old City's Cafe Ole. Their house drip is just delicious, bursting with flavor, but never bitter or burnt. Fortunately, they also happen to be one of the only places to offer free refills. Coffee aside, they serve the most unique and delicious breakfast fare in town. Asides from the usual fare like omelets and bagel sandwiches, they also offer an exotic Shakshuka dish.
This Middle Eastern favorite consists of poached eggs in a savory tomato based sauce. It's tempting to come back here again just for this dish. The veggie version, which includes chickpeas, potatoes, and mushrooms, is sure to please anyone seeking a satisfying and tasty dish. On a side note, their bagel sandwiches are always a delicious choice for anyone seeking a more traditional breakfast. Stop by Cafe Ole before checking out the historical sites of Old City – you will not be dissapointed.
J'aime French Bakery
For the most delicious handcrafted French pastries in town, head over to J'aime French bistro located in Philly's historic Washington Square neighborhood. Every day you can count on an assortment of delectable housebaked treats including croissants, quiches, crepes, and assorted French pastries. Treat yourself to a Lemon Tartlet with Meringue, an Eclair, or a Napoleon. They also bake 3 types of fresh bread daily. Even better, they serve La Colombe coffee, one of Philly's best and most notable roasters.
The setting here is fresh and modern. Grab a seat by the window and enjoy some eccentric people watching while you linger over an amazing pastry and cup of locally roasted coffee. J'aime is a great choice no matter what you have planned for the day as it is conveniently located within walking distance of both Center and Old City.
Continental Diner
The Continental has been a local and tourist favorite for brunch since 1995. Whether you happen to be craving savory or sweet fare, there are plenty of enticing choices on the lineup. Treat yourself to a filling Kale and Gouda omelet if you are looking for something to carry you through the morning hours. It's a delicious and filling dish that will hold you over during your morning of exploration in Old City.
For anyone with a sweet tooth, you cannot go wrong with Buttermilk pancakes or French Toast topped with seasonal berries. And, pictured above, is the mammoth Big Bang entree which includes scrambled eggs, bacon (subbed for fruit), pancakes, turkey sausage, home fries, and toast.
The setting here is modern with a retro touch. This place can get really swamped on weekends, so arrive early to avoid a lengthy wait. Owner Stephen Starr went on to found Starr restaurants. Today, many of these restaurants are amongst the most popular and renowned in all of Philadelphia.
Parc restaurant
Another popular Starr restaurant, Parc is a beloved French bistro in the heart of Rittenhouse Square. This restaurant is so popular that it is quite hard to walk in without an advance reservation. Brunch is definitely the best time to plan your visit due to the more affordable pricing. Start with a basket of French pastries and a cup of local coffee. As far as entrees go, the selection is a bit limited, however, the choices available are delicious.
Vol-Au-Vent is a wonderful unique choice for anyone who loves scrambled eggs. You must be hungry to order this dish as the plate is just overflowing with eggs, served alongside fresh asparagus and a traditional French puff pastry. Order a delicious endless cup of house coffee alongside your meal. As you enjoy your meal, relaxing park scenes make you feel as if you are dining in Paris. Be sure to request a window seat in your reservation.
During the summer months, the patio is the perfect place for people watching and taking in lovely vistas of Rittenhouse Square park. On a side note, the service here is quite bad. This is quite unfortunate as both the food and ambiance are perfect!
Waterfront Gourmet Cafe & Deli
Waterfront Cafe is a nice quick choice in Center City for those looking to keep it simple. This is more of a grab and go quick service deli. Along with coffee and espresso drinks, you can order pastries, as well as a few light breakfast entrees. The oatmeal, served with fresh berries and granola, is a great choice for vegans/vegetarians. The burrito pictured above is the perfect savory entree – light, yet filling. They also offer a variety of bagel sandwiches, fresh smoothies, and a full espresso menu.
Waterfront has 2 convenient locations, one in Center City near Dilworth Park, and another in Old City near Penn's Landing. The Center City location offers scenic vistas of Old City Hall. This local cafe is a great quick choice prior to skating at the Dilworth Park ice rink or taking in vistas of the city at One Liberty Observation Deck.
Waterfront Gourmet Cafe breakfast menu
La Colombe
One of the most renowned coffee shops on the East coast originally opened its' doors in Philly. Today, you can find multiple locations across the country. Additionally, you can pick up their coffee in almost any grocery store. Nonetheless, it's best to enjoy a rich cup of coffee on-site as they use the most beautiful mugs. Great presentation seems to make the coffee taste all the more delicious. The Americano (pic above) definitely deserves an A+ rating.
La Colombe whips up an enticing selection of fresh house made pastries each morning. They even offer a few gluten-free and vegan selections, thus making it a great choice for everyone. You really cannot beat the chocolate croissant here, as well as their delicious fluffy muffins. Conveniently, there is a location adjacent to Liberty Bell, making La Colombe the perfect affordable breakfast choice before exploring Old City.
White Dog Cafe
Although this cafe is located about 20 minutes outside of the city, it's well worth the drive for one of the best brunch experiences in the metro area. White Dog, a popular farm-to-table brunch destination, now operates several cafes, the University City locale being closest to Center City. This charming restaurant is well-known for their cute dog decor, as well as for their excellent brunch menu. They source most of their ingredients from local organic farms.
You will definitely want to start with a bowl of their trademark mushroom soup. The Kennett Square mushroom omelet is the perfect way to start the day for any mushroom lovers. The Chicken and Waffles is another great selection.
Everything about this cafe is great. The service and presentation are always exceptional. The complimentary pastries sure add a nice touch for anyone with a sweet tooth. Coffee is fair trade, organic, and delicious. Basically, this place has got it all for brunch!
Little Pete's Diner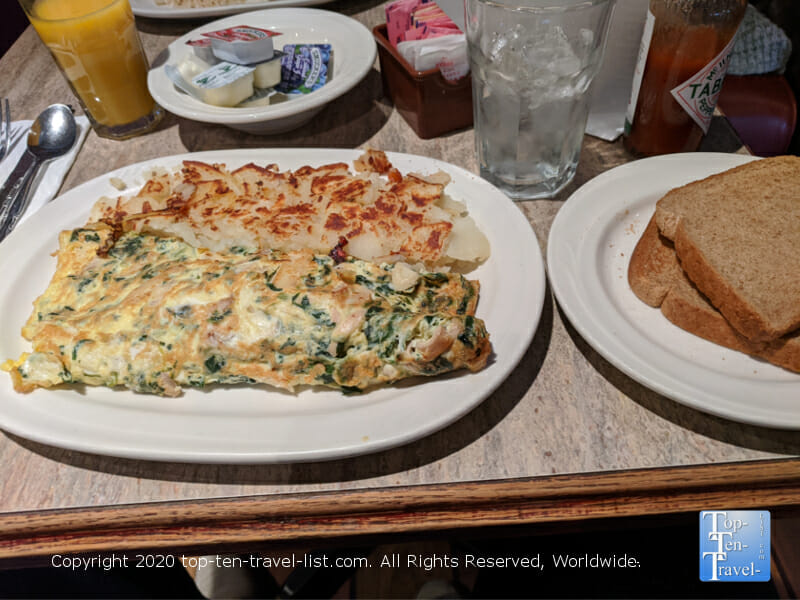 Little Pete's is your standard long running American diner. This place is super busy most weekends thanks to their huge menu of breakfast offerings which includes more than 10 omelet varieties. It's also open 24/7, so super convenient for anyone seeking an early morning breakfast or late night snack. Because of its' convenient location, Pete's is a great choice prior to exploring the Philadelphia Museum of Art, The Rodin, or any museum.
They offer a nice little breakfast deal where you get the usual eggs, potatoes, and toast, plus coffee or orange juice for one low price. The omelet is bursting with fresh veggies and the hash browns are perfectly prepared. Breakfast at Pete's is a nice all-around affordable treat before exploring the city.