Get Lost in Nature at these 11 Suburban Philly Green Spaces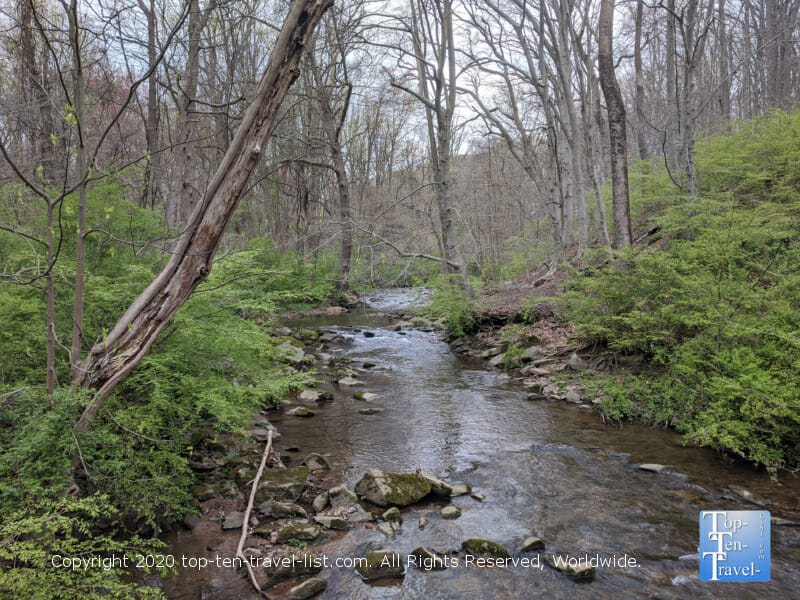 Escape the hustle and bustle of Philadelphia for a few hours to enjoy one of the beautiful lush suburban parks and preserves. There are more than enough choices to appeal to every type of nature lover. Whether you are seeking a short nature stroll, a serene place to birdwatch, a paved biking trail, an all day hiking adventure, or a nice shady place to picnic, there is a great option within a 45 minute drive of Center City.
The parks featured below are all gorgeous & easily accessible, and thus, make for the perfect nature lover's daytrip.
1. Norristown Farm Park
This tranquil park in Montgomery County is an ideal destination for anyone seeking a laid-back easy walk far away from any city crowds. The park never gets overly busy even during the warmer months. This park features 7 miles of paved & rustic trails which are great for running, walking, biking, and cross country skiing after a storm. More than 70 wildlife species and 170 species of bird currently call the park home. Be sure to check out the park's monthly events calendar which include guided bird walks.
This park is quite unique as it is a working farm which has been in operation since colonial times. Numerous historic buildings can be seen during your visit, the earliest dating back to 1764. See the map above for details on the 15 historic buildings located on-site.
2. Fort Washington Park
Fort Washington is another beautiful park in Montgomery County. This gem is most well-known for its' abundance of flowering dogwood trees in the spring, although it is a gorgeous destination anytime of year. Hikers, fishermen, picnickers, and birdwatchers will all be pleased with the amenities found here.
Serene Wissahickon Creek passes through the park and adds scenic vistas to each trail, as well as spring trout fishing opportunities. The 2.5 mile long Green Ribbon Trail, perfect for hiking and cross country skiing, offers beautiful views of the creek. Lace up your gym shoes and enjoy a lovely hike, followed by a peaceful picnic amongst the natural surroundings.
3. Dixon Meadow Preserve
The best birdwatching destination in the Philly suburbs is Dixon Meadow preserve in beautiful Lafayette Hill. This quaint park features a 2180 foot boardwalk trail with numerous observation stations. As you enjoy a nice easy stroll amidst the fresh wide open countryside surroundings, you will see all sorts of small wildlife. To date, more than 150 bird species have been sighted, as well as deer, groundhog, and fox.
This natural oasis is a great place to get in a light workout, soak up some vitamin D, see lots of birds, and enjoy Pennsylvania's native flora and fauna. In August, monarch butterflies migrate to the region from central Mexico. While they are a beautiful sight to see, unfortunately, numbers are dwindling by the year due to climate change.
4. Willow Lake Farm
This preserve is quite unique as it is located adjacent to a working farm, so you will likely see horses during your visit. Adorable mini horses often make an appearance as well. The 2.4 mile trail is easy and relaxing, with scenic vistas of both open pastures and woodsy forests. You will see lots of birds, butterflies, and small forms of wildlife along the way. Be on the lookout for deer and foxes which often make appearances.
Of all the trails in the Wissahickon Valley watershed, Willow Lake is one of the best choices for anyone looking to spend some quality time in nature. It's so quiet here with lots of opportunity to see wildlife and enjoy native scenery. And thus, Willow Lake is a fantastic oasis where you can really disconnect from it all.
5. Ridley Creek State Park
This large 2000+ acre park in Delaware Township offers a plethora of recreational activities. You can easily plan an entire afternoon here, taking in the beautiful scenery, while also getting in a wonderful workout. Active types will enjoy the variety of recreational activities. Whether you prefer to go fishing, take a guided horseback riding adventure, or enjoy one of the park's 13 miles of trails, options abound for everyone.
Most popular here is a 5 mile paved trail – the perfect distance for bikers and runners, as well as cross country skiers during the winter season. The scenery is beautiful with tranquil views of the creek and also a few small waterfalls. If you prefer more rustic surroundings, simply opt for a hiking adventure on one of the park's woodsy trails (see map above), all of which feature plenty of greenery, along with relaxing views of the rolling terrain.
6. McKaig Nature Center
This small preserve features 3 miles of tranquil creekside hiking trails. It's located in a quiet Main Line neighborhood, and therefore, a good choice for anyone looking to avoid tourists. The trails, although all pretty short, are super woodsy and serene, giving you the much needed opportunity to disconnect from technology for a bit.
Due to the easy terrain and short trails, McKaig is a great choice for families, dog walkers, and anyone else seeking out an easy nature stroll. Be sure to look into the monthly event lineup, featuring 5ks, guided hikes, and more.
7. Four Mills Preserve
In the charming small countryside community of Amber, you find a small 50 acre preserve offering 2 scenic trails along the Wissahickon Creek. The combined length of the 2 trails is just over 1.5 miles, so easily doable by anyone in decent shape. The highlight here a fun little stepping stones walk over the creek at one point.
While you will get in a decent workout, the real benefit here is enjoying all the lush greenery which includes red maple, sycamore, American elm, and box elder trees.
8. Kenealy Nature Park
One of the top places in the Philly metro to escape all the city congestion is little-known Kenealy Nature Park in Gladwyne. While the sole trail here is short (just under a mile and a half), it is truly gorgeous with so much greenery, as well as peaceful creek views. The creek crossing adds a fun and challenging touch. It's so quiet all the time – you will likely be the only one on the trail. Thus, hiking this trail will give you the perfect opportunity to rejuvenate and take in the sights and sounds of nature.
The nice thing about this trail is that it feels like a real hike in the mountains. With the rolling terrain and the need to cross over tree roots and branches, you will feel as if you are in the Poconos rather than the Philly suburbs. Tip: time your visit during the peak of fall to enjoy the lovely foliage.
9. Natural Lands Saunders Preserve
A former farm has been transformed into a beautiful nature oasis in Gladwyne. This tiny preserve is hidden amongst an upscale Main Line neighborhood, and thus, never sees more than a few local walkers. Although it's quite small at just 25 acres, the short, but scenic trail (just under a mile) passes through lovely forests, open meadows, and streams. Nature lovers will appreciate the quiet setting and lush greenery.
On an interesting side note, as you start the trail you will notice an old barn. It dates back to the 1800's and is now available for party rentals. Also be on the lookout for the tree swing, just another fun extra which makes for a nice photo opp!
10. Tyler State Park
Although this is one of the furthest parks from Philly on this list, it's also one of the most interesting and most worthy of a daytrip. Featuring the longest covered bridge (170 ft) in Bucks County, this is definitely one for the bucket list. While you are out this way, there are 11 remaining historic covered bridges to check out.
The walk to the bridge is under a 1/2 mile, so really a great option for everyone. During the fall, you will get to enjoy fabulous fall leaf peeping. Also featuring 25 miles of hiking trails, a paved biking path, picnic tables, and serene views of Neshaminy Creek, it's easy to spend half a day here.
11. Chester Valley Trailhead
This beautiful paved multi-purpose path runs a 14 mile course between Exton and Bridgeport. It is the best place in the Main Line to enjoy a long bike ride. With 14 miles of uninterrupted trail, you can get in a nice lengthy cycling workout. The path is beautiful too with plenty of trees lining the majority of the route.
This rail trail follows the course of the former Chester Valley Railroad which originally ran 22 miles from Bridgeport to Downingtown. Plans are currently underway to connect the trail to the Schuylkill River trail in Norristown, which should be a real treat for avid cyclists.