Attraction of the Week: Tyler State Park
One of the nicest quick daytrips from Philly is beautiful Tyler State Park. Anyone seeking a peaceful break from the city congestion will definitely want to plan a trip to this gorgeous natural oasis. Lace up your hiking shoes, put on comfortable workout clothes, grab a water bottle, and get ready to soak in some uninterrupted nature. This 1711 acre Bucks County park features a number of hiking, biking, & horseback riding trails. Urban fitness types will appreciate the maintained trails & beautiful countryside scenery.
It's a great destination anytime of year, whether it be during the green summer months, leaf peeping season, or the quiet snowy winter months. The 10 mile multi-use trail system is perfect for long walks or bike rides. Several miles of wooded trail open to hikers only offers a more rustic experience. The views are peaceful and serene, and even on busy days, you will still be able to get some time alone on the trail. Portions of the trail travel past serene Neshaminy Creek.
Schofield Covered Bridge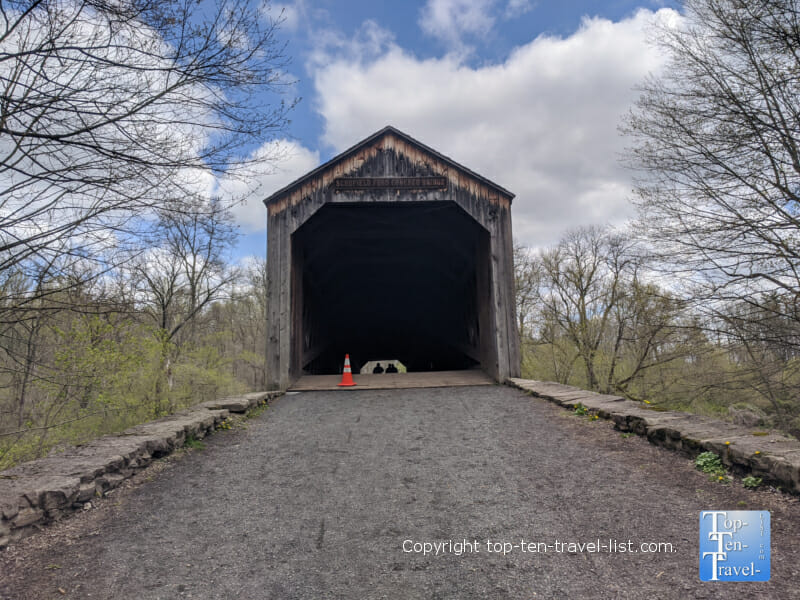 Bucks County is home to many covered bridges. Out of the 12 remaining bridges (out of 36), the longest lies within this park. Schofield Ford Covered Bridge is the most impressive sight within the park. The 170 foot long bridge looks gorgeous always, but even more so when surrounded by the bright colors of autumn. A popular photo spot for families, couples, artists, and fall photographers, you must arrive early to ensure uninterrupted photos.
The original bridge, built in 1874, unfortunately burned down (by arson) in 1991. The new bridge (which still stands today) arose in 1997.
The hike to the bridge starts at the parking lot and is just under a quarter of a mile. It's a little hilly, but short enough to be a great choice for just about anyone.
If you love nature, historic covered bridges, birds, fall colors, or are simply seeking a quiet weekend escape, Tyler State Park is one of your best bets. There really is not a better place closer to Philly where you can get lost in nature. At just a mere 40 min drive from Center City, you really cannot afford to miss out on this beauty.
Address, Hours, Parking, & Add Info
Location: The park address is 101 Swamp Rd, Newtown, PA 18940.
Parking: Free (all PA state parks have no entrance fees)
Hours: 8am-sunset, 365 days a year
Dogs allowed: Yes, on leash
Tip: Bring with a lunch – Tyler is a gorgeous place to picnic!