Attraction of the Week: The Rodin Museum
Auguste Rodin was a French sculptor most famous for his iconic "The Thinker" statue. Today, you can find over 20 versions of "The Thinker" in museums world-wide, including The Musee in Paris, The National Gallery of Art in D.C., and Philly's Rodin Museum. Rodin claims the title "Father of modern sculpture." During the 19th and 20th centuries, Rodin created thousands of magnificent sculptural pieces. The Musee in Paris houses the largest collection of Rodin's works, with more than 6000 sculptures and 7000 drawings on-site.
In Philadelphia, you will find the only museum dedicated to Rodin outside of France. Philly was also the first American museum to exhibit his works. The beautiful Beaux-Arts style building from 1929 houses one of the world's most impressive Rodin collections. Today, the collection includes over 100 bronze and marble sculptures.
A few highlights from the Collection
The Thinker, 1880-1881
The Secret, 1910
The Clenched Hand, 1885
Minerva, 1898
The Martyr, 1885
Mask of the Man with the Broken Nose, 1863-1864
Danaid (The Source), 1885
Bust of John the Baptist, 1886
Head of Sorrow (Joan of Arc), 1882
Copy of "The Kiss," 1929
Young Mother in the Grotto, 1885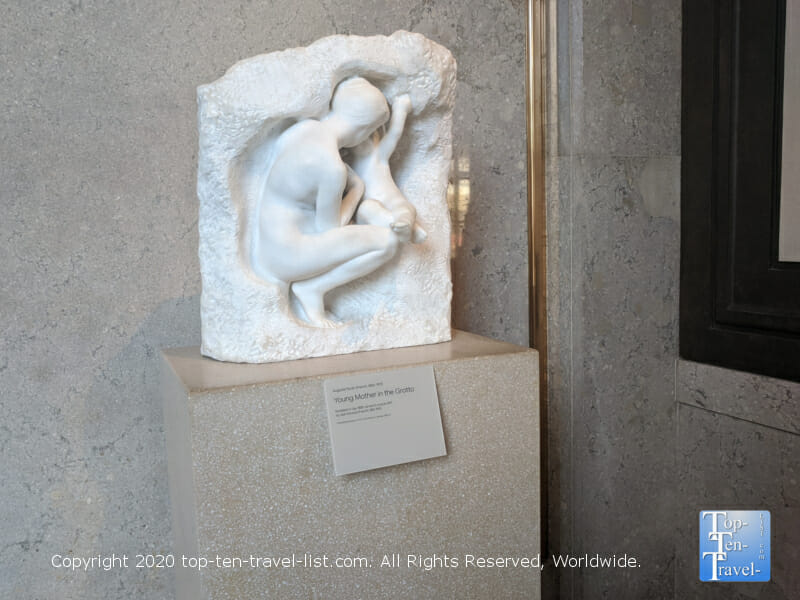 Bas-relief for "The Gates of Hell", 1882-1885
Location & Pricing
The Rodin is located on Benjamin Franklin Parkway within walking distance of Philadelphia's renowned Museum of Art, another must-see for any art lovers. Entrance to the Rodin Museum is pay-as-you-wish, however, you will receive free admission with your Museum of Art Ticket. The outdoor sculpture garden is free all year round.