10 Freebies in Old City Philly
Free fun abounds throughout Philadelphia's most historic neighborhood. Most tourists congregate in "Old City" as it is home to Independence Mall (America's most historic square mile), as well as numerous museums and historic landmarks. As many of the restaurants and attractions in this region can be quite pricey, it helps to have a few free activities lined up to keep overall trip costs more manageable.
Being the birthplace of America, there are an abundance of free historical sights to take in. Below are the 10 best free attractions in Old City!
1. Independence Hall
The top of your Old City bucket list should definitely include a tour of Independence Hall. This building claims 2 historic events, the signing of the US Constitution in 1787 and the Declaration of Independence in 1776. Tours of the 2 rooms where America's most important founding documents were signed can be viewed via a timed tour. Tours last about 30-40 min and tickets are available at the Independence Visitor Center.
Location: 520 Chestnut Street
2. Liberty Bell
The Liberty Bell is the most iconic symbol of American freedom. Inscribed on the bell is Leviticus 25:10 Bible verse "Proclaim liberty throughout all the land unto all inhabitants thereof." When the bell was originally built in 1752, it was called the State House Bell. Anti slavery groups gave the bell its' new name sometime in the early 19th century. The bell rang on numerous important occasions and was also rung to make announcements. Since its' cracking in 1846, the bell has not been rung.
Take a self-guided tour (no tickets required) to learn more of the bell's unique history.
Location: 526 Market Street
Hours: 9am-5pm, 7 days a week
3. Penn's Landing
Penn's Landing is a beautiful riverfront area which is bustling with energy and events all year-round. Take a walk along the riverfront and enjoy beautiful views of the iconic Benjamin Franklin bridge. During the winter months, the popular free Winterfest festival offers a fun wintry themed setting including fire pits, cozy blanket equipped rocking chairs, photo opps and ice skating (for a small fee). During the summer season, nap on colorful hammocks and enjoy summer style games and a roller skating rink.
4. Benjamin Franklin's Grave
Surprisingly, the famous quote "A penny saved is a penny earned, " did not originate with Benjamin Franklin. Rather, a "penny saved is two pence clear" wrote Franklin in the 1737 Poor Richard's Almanac. Today, tourists from all over the world toss a penny on Franklin's grave in honor of his words of wisdom. Franklin's grave can be found at Christ Church Burying Ground, along with 4 other signers of the Declaration.
Location: 350 N. 5th Street
5. Science History Institute
Science geeks will definitely want to add a visit to the Science History Institute to their itinerary. This small free museum houses several exhibits detailing various innovations over the years. Jam packed within this small space you will find lots of historical info, as well as interactive displays and artifacts. Overall, this is a great place to explore if you are at all interested in science and don't mind doing a bit of reading.
Location: 315 Chestnut Street
Hours: 10am-5pm, everyday except Sunday & Monday
6. Elfreth's Alley
Take a walk down the oldest continuously inhabited street in the US. Although numerous locations in the US claim this title including Leyden Street in Plymouth, it's still a gorgeous street to walk down while you are in the vicinity. This charming street, lined with 32 beautiful Georgian style homes, is said to date back to the early 1700's (the first house was built in 1724). Walking the narrow cobblestone walkway truly feels like a step back in time.
Location: 124 Elfreth's Alley
7. Carpenter's Hall
Carpenter's Hall is another interesting historical sight of interest to add to your to-do list. Take a self-guided tour of this Georgian building built in 1857, now a National Historic Landmark. This building has the unique distinction of being the first private building turned historical monument. This building served as the meeting place of the First Continental Congress in 1774. At one point it was home to the American Philosophical Society, the First and Second Banks, and Franklin's Library Company.
Location: 320 Chestnut Street
Hours: 10am-4pm, Tuesday through Sunday
8. Congress Hall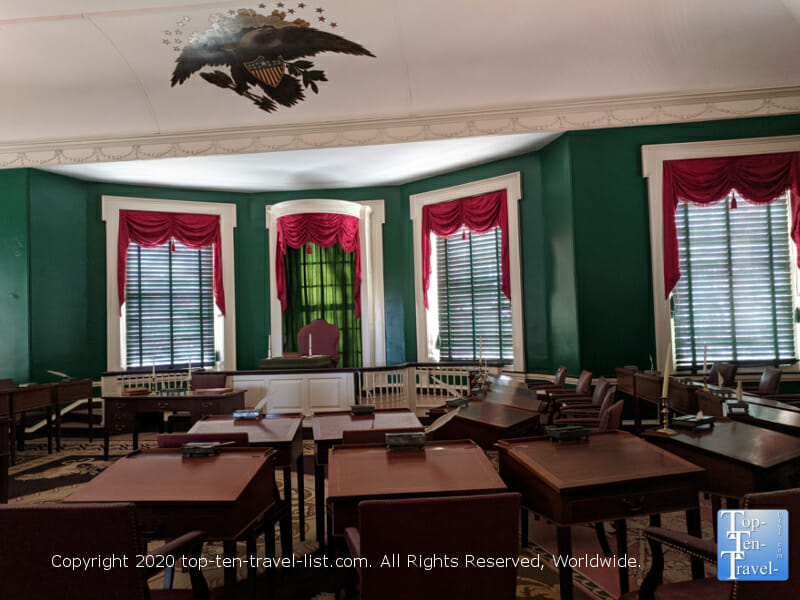 Congress Hall is another must-see for history buffs. Although quite an interesting attraction, it is often overlooked due to the popularity of adjacent Independence Hall. After touring Independence Hall, be sure to also take a tour of this historic building, which was home to the US Congress from 1790-1800. The House met on the Main Floor, while the Senate met on the Upper. During these years, Philadelphia operated as the temporary capital of the US while D.C. was being built.
Location: 520 Chestnut Hall
Tours are available March-December and last 20-30 min. Jan-Feb, the building is open for self-guided tours.
9. Second Bank Portrait Gallery
This is a cool little place to check out in between major attractions. In this beautiful Greek Revival building, you will find over 100 portraits of notable 18th and 19th century figures including the Founding Fathers. Works by Charles Wilson Peale dominate the collection. Any art or history lover will definitely appreciate this underrated gem.
Location: 420 Chestnut Street
Hours: 11am-5pm, 7 days a week
10. Fireman's Hall Museum
If you are at all interested in fire engines, then you will definitely want to take out a half hour or so to tour the Fireman's Hall Museum. It's free, and conveniently located within walking distance of Independence Hall. Not only does the museum display old firetrucks and memorabilia, but it is also located in a restored 1902 fire station. On a side note, Benjamin Franklin created the first volunteer firefighting company, Union Fire, in 1736.
Location: 147 N. 2nd Street
Hours: 10am-4pm (Closed Sun & Monday)