Attraction of the Week: Winterfest in Philly
While Philadelphia is more commonly thought of as the perfect summer destination, there is no shortage of fun to be had once the winter season rolls around. From ice skating, to endless Christmas events, to world-class museums, to cozy coffeeshops and cafes, there's fun to be had around every corner. No winter season is really complete without at least one session of ice skating in the big city. The music, the lights, the cheerful ambiance…it's the best way to get into the holiday spirit.
Unlike many other Northern cities, the city of Brotherly Love does not get bombarded with endless snowstorms. The city sees just 13 inches on average compared to the US average of 28. Yes, the temps are brisk, skies often overcast, and light snow is not rare. However, it's never gets too bone chillingly cold where you want to hide inside. Ice skating is the perfect way to enjoy the winter ambiance while also working up a sweat. As one of the best cardio workouts, you will quickly warm up as soon as you hit the ice.
Philly is home to 2 gorgeous ice rinks. Surprisingly, the city does not receive much press regarding its' wonderful ice rinks, which really is a shame. The 2 rinks here really rival the best-of-the-best found in the major cities including the wonderful Wollman Rink in NYC and Millennium Park rink in Chicago. Compared to the nearby Central Park and Rockefeller rinks in NYC, skating in Philly is more affordable, not to mention way less crowded. This means you can almost always get on the rink without waiting in line.
Philly's best ice rink
The best rink in Philly is the Riverrink located along the Delaware River at Penn's Landing in Old City. Not many ice rinks feature wonderful views of the waterfront, so this alone gives it an edge. On top of fabulous scenery, it's a great value at just $17 (skates +admission). Bring your own skates and a session will only set you back 5 bucks – a wise investment for locals looking for endless outdoor fun during the winter season.
The Olympic sized rink is so huge that even on the most busy days you will still feel like you get plenty of space to practice your moves. Whether you are a novice or avid skater, you will have a blast, taking in the riverfront scenery, the bustling vibe, and the fun holiday cheer and decor surrounding the rink.
Winterfest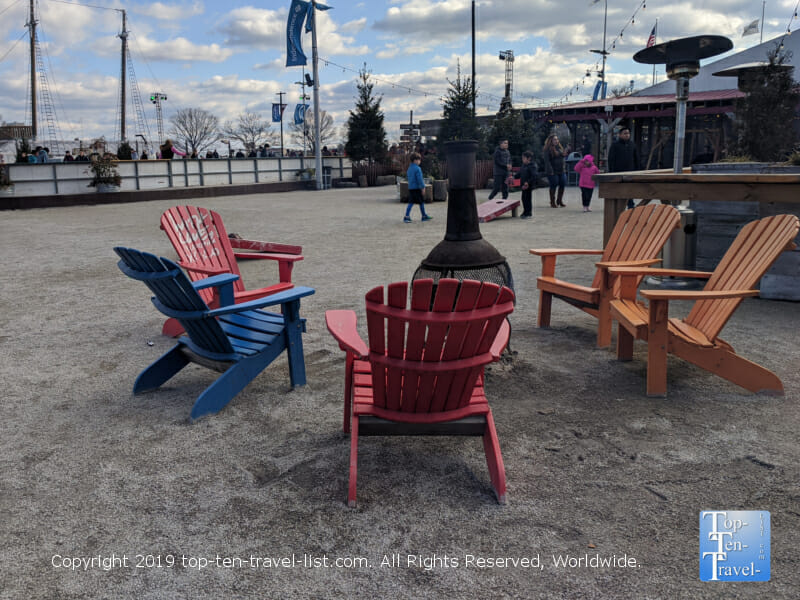 Winterfest is a annual event which features a hot cocoa stand (from local favorite The Franklin Fountain), seasonal treats, fire pits for roasting smores, an arcade, a warming lodge, a huge Christmas tree with thousands of LED lights, and plenty of cozy seating.
Grab a seat on a cozy rocking chair, wrap yourself up in a thick blanket, and curl up with a hot chocolate or coffee (from local roaster La Colombe) as you watch the skaters glide by. Entrance is free, so even if you are not skating you can stop by to enjoy the lively winter ambiance. There is no better way to liven up a dreary overcast Northern winter day!
The event & ice skating typically runs from late November (sometime around Thanksgiving) to the beginning of March.
New Year's Eve Extravaganza
One of the premier events in Philly is the New Year's Eve celebration at Winterfest. As one of the city's major fireworks shows takes place over the Delaware River, this is the place to be for anyone seeking an adventure which doesn't include sitting in front of the TV watching New Year's Rockin' Eve.
Compared to most bar coverage charges, admission to this festive event is a real steal. For just $35-45 a person, you will get a front row ticket to Philly's best firework show, hours of ice skating (including rentals), along with complimentary snacks, a champagne toast and an open bar.
Note: There are 2 different three hour skating sessions (5pm and 10pm), so if you are not one to stay up until Midnight, you may want to consider the earlier time slot. A bit hard to skate so late at night when you are falling asleep! Don't worry, the fireworks over the Delaware River take place at both 6 and Midnight.
What to do in the vicinity
There's lots to do within an easy walk of Riverrink. Being located in Old City puts you within easy reach of many historical attractions, as well as local cafes and restaurants. Below are the best things to do during the chilly winter season.
Grab a cup of coffee at a local roaster. My favorites are La Colombe, Cafe Ole, and Menagerie.
Take a tour of Independence Hall.
Explore one of the museums. The Museum of the American Revolution, the National Museum of Jewish History, the Second Bank Portrait Gallery, and the Fireman's Hall Museum are all fantastic.
Treat yourself to a Hot winter milkshake at the Franklin Fountain.
Indulge in a slice of pizza (or 2) at Gianfranco's.
Also, take a look at this full list of fun things to do this winter in Philly