My Top Winter Travel Destinations
I see winter travel as a great way to break up the monotony of winter. Winter can be a hard time of the year with the bleak skies, cold temperatures, and shorter daylight hours. It helps to have a trip or 2 planed to keep that "summer excitement" feeling all year. I like to mix in city getaways with rustic getaways as both can be equally enjoyable. Take a look at some of my favorite winter destinations. For each destination, I have highlighted a few must-do winter/holiday activities.
Chicago, IL
Chicago is my kind of city, especially during the festive winter season. No city really competes with Chicago during the Christmas season. It's no surprise that many Christmas films have taken place in the Windy City. With several wonderful ice rinks, the best zoo lights in the country, iconic parades and festivals, and the best Christkindlmarket in the country, the holiday feeling is really all around in Chicago.
*Ice Skating at Millennium Park –The McCormick Tribune Ice Rink is open from November to March. Free admission and free skating lessons weekend mornings at 9am (skate rentals extra)! Great rink featuring beautiful city views and easily accessible to city attractions. Note it can get really crowded on weekends.
*Museums – I prefer The Field Museum (awesome dinosaur and mummy exhibits) and The Shedd Aquarium (best aquarium in the country). Check the websites for special holiday events including the magnificent Christmas Around the World festival at The Museum of Science of Industry.
*Lincoln Park Zoo Lights -These zoo lights are a real bargain at just 5 bucks a person (and free every Monday!). See millions of lights in a colorful display, enjoy seasonal food and drink, and marvel at ice carving demonstrations. A fantastic event which runs from late Nov-early Jan
*Winter Holiday Events – There are plenty of holiday events such as the downtown Tree Lighting at Millennium Park, Christkindlmarket (a German holiday market), The Magnificent Mile Lights Festival, and more!
Flagstaff, AZ
Many tourists only visit the Phoenix region to soak in the winter warmth and sunshine. Just 2 hours north of the Sonoran desert lies one of the snowiest cities in the country. Yes, that's right. Flagstaff, a high altitude mountain paradise sits at an elevation just above 7000 feet. Home to the state's tallest mountains, the San Francisco Peaks, there is plenty in the way of scenic winter recreation.
*Buffalo Park – The favorite park of both locals and tourists. The 2 mile loop is perfect for cross country skiing and snowshoeing after a major storm. Bonus points for the gorgeous mountain setting. You can even catch a peak of the state's highest mountain range (The Peaks) from the trail.
*Snowbowl – Arizona's premier ski resort is the place to ski, snowshoe, and enjoy the wintry atmosphere. With an average snowfall of over 260 inches, the conditions are always fantastic for skiing. Snowbowl trails (the Aspen Nature Loop and Kachina) offer the perfect alternative for non skiers to enjoy the wintry setting – bring your snowshoes and enjoy an idyllic winter walk in a gorgeous pine forest setting.
*Arizona Nordic Center – Wonderful cross country skiing destination nestled amongst the gorgeous ponderosa pine trees. Features 40km of groomed trails with options for beginners and advanced skiers.
*Ft. Tuthill – Gorgeous quiet park located in the country's largest ponderosa pine forest. Enjoy miles of trail (along the FUTS) for cross country skiing and snowshoeing. Also a fantastic place for free sledding.
*Oak Creek Canyon – Just south of Flagstaff begins the amazing Oak Creek Canyon drive, a 14 mile journey which begins near the ponderosa pines and ends near Sedona's iconic red rock formations. This drive is super peaceful in the winter and if you are lucky, you may just catch a glimpse of the red rocks dusted with rare sow!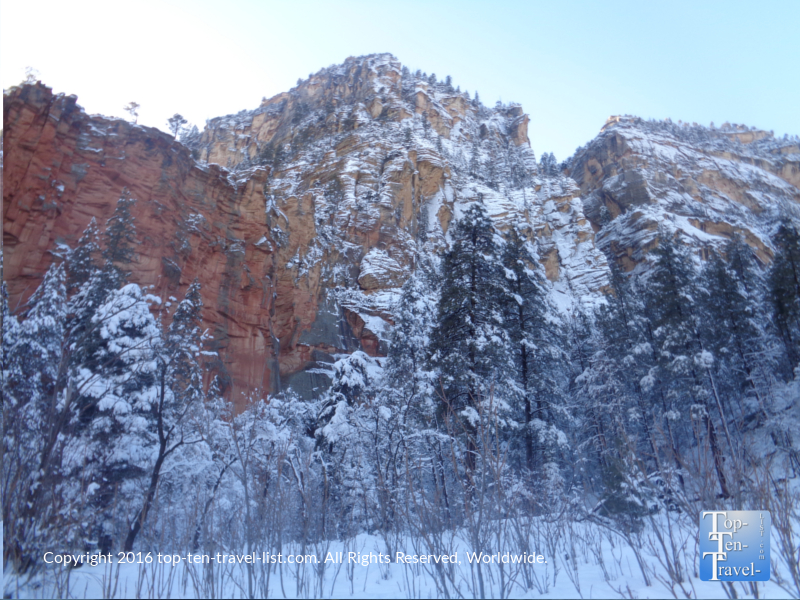 Philadelphia
While most tourists plan a trip to Philly over the spring and summer season to explore the historic sights in Old City, "the birthplace of America," the city really shines during the winter. In addition to touring Independence Hall and the Liberty Bell, you can add in a few festive holiday and winter activities to your itinerary.
*Winterfest – The beautiful Riverrink ice rink along the Delaware Riverfront allows you the opportunity to burn some calories in the most gorgeous setting. After your workout, sit by the firepit or bundle up on a rocking chair as you sip local coffee or cocoa.
*Macy's show – The beautiful Macy's in Center City (once the historic Wannamaker building) is home to the largest fully functional pipe organ. The shows are fantastic any time of the year, but even more mesmerizing during the Christmas season. Enjoy a free and festive LED light show in this gorgeous department store. Afterwards, enjoy a free walk around A Dicken's Christmas, featuring animatronics.
*Shop Christmas Village – This German market offers all the usual gorgeous glass blown ornaments, festive food and drink, and is located in beautiful Love Park. Lots of great photo opps here including the iconic Love sign and great city views.
*Dilworth Park ice rink – Another great ice rink, this one is located in Center City nearby many great restaurants and shops. Also, there is a fun, free, and festive choreographed light show projected upon City Hall. After your skate session, enjoy a festive drink at Wintergarden.
Boston, MA
With a beautiful historic setting, wonderful restaurants, an ice rink located in America's oldest public park, and many festive holiday shows, Boston is a great place to spend the holidays. With easy access to skiing, sledding, and snowshoeing right outside the city limits, a trip to Boston allows you to enjoy the benefits of both city amenities and winter recreation.
*Ice skating at Frog Pond – The Boston Common Frog Pond Rink is open Nov-March and hosts competitive figure skating events. There is a small admission free so bring your own skates (rentals are pricey). The setting is gorgeous in historic Boston Common, the country's oldest park.
*Grab a hot drink and walk around Boston Common – There are so many local places to enjoy a hot cup of coffee or hot cocoa. One of my favorite coffeehouses near Boston Common is Thinking Cup. This was the first coffeeshop in Boston to serve the renowned NYC based Stumptown coffee.
*Make sure to be in town for the Annual Christmas tree lighting – This event is complete with live music performances, hot drinks, and live entertainment!
*Grab a bite to eat at Faneuil Hall Markeplace – Lots of great restaurants to take a break from your holiday shopping!
*See a holiday productions – Every December, you can look forward to The Nutcracker, Holiday Pops, A Christmas Carol, and a host of festive shows.

Jackson, WY
Home to one of the country's top ski resorts, Jackson Hole is a top destination for skiers. However, even if you are not a skier, winter fun abounds. From festive sleigh rides, to ice skating, to hot springs, there are fun wintry activities for everyone in Jackson Hole.
*A winter sleigh ride – Thousands of elk migrate down in search of food each winter season at this sanctuary established in 1912. Sleigh rides at the National Elk Refuge start in December (wagon rides in the absence of snow) and end in March/April. Highly recommended – check out my pictures of all the Elk I saw during the ride!
*Drive through Bridger- Teton National Park – Bridger-Teton National Forest is a winter wonderland this time of the year. Consider driving along Gros Ventre Rd. where you are bound to see moose up close -a wonderful experience for the nature lover. Check the website for road closures and weather alerts.
*Ski at Jackson Hole – One of the top ski resorts in the country. Find information about prices and additional activities at the Jackson Hole Mountain website.
*Stroll around the Jackson downtown area – Besides being home to numerous local shops and restaurants, there are really cool arches made out of the shed Elk antlers.
Lake Tahoe CA, NV
Lake Tahoe can be considered both a summer and winter playground. There really is no bad time to plan a visit. During the winter months, you can look forward to world class skiing, skating, scenic tram rides, cozy restaurants, and beautiful resorts. The region sees lots of snow. According to Visit Lake Tahoe, the snow is "measured in feet not inches."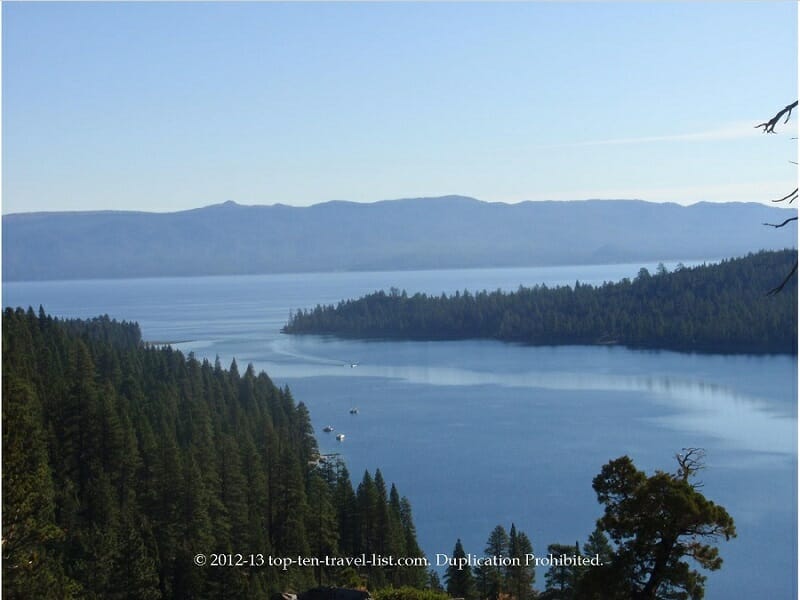 *Visit Heavenly Mountain Resort – There is something for everyone at Heavenly: skiing, ice skating, shopping, and scenic gondola rides! The ambiance is festive and touristy. There are plenty of restaurants in the vicinity after burning all those calories.
*Take an aerial tram ride – Squaw Valley offers year-round scenic tram rides. At the top you can ice skate and absorb the majestic views.
*Walk around The Shops at Squaw Valley – This scenic mountain shopping complex offers plenty to keep you busy. Amenities include outdoor fire pits, plenty of sports apparel stores, and a few great restaurants. I recommend Reserve Wine Bar!
*Ice skate at Squaw Valley – Ice skating and scenic mountain views in the winter months; what could be better?!
Island Park, ID/Yellowstone/Mesa Falls
The isolated areas out West offer a serene setting for recreation which can not me matched on the busy Easy coast. If a tranquil wintry experience is what you are after, you really cannot top the Yellowstone area. As the area is closed to vehicle traffic, the park is super desolatd and filled with wildlife. Sign up for a snowcoach tour or enjoy winter recreation at one of the many parks in the area. Hot springs, cozy inns, and homestyle restaurants are easily found in the area.
*Visit Harriman State Park – At Harriman there are plenty of winter activities including 25 miles of groomed cross country ski trails (highly recommended), snowshoeing, and more! The setting is so rustic and secluded, really it is a winter wonderland this time of year.
*Yellowstone – While spring and summer are the best times to visit Yellowstone due to the abundance of outdoor activities available, you do not need to rule out a winter visit. If anything, this is the most peaceful time to visit and also the best time to see wildlife. While the main roads are closed to vehicles, you can take a guided snowcoach tour through he park.
Mesa Falls – The most scenic waterfall in the state is accessed via a scenic drive along US 47. While the drive is closed to vehicles in winter, it is groomed for snowmobiles. Also, you can access the road via cross country skiing.
Lava hot springs – Soothe your muscles and mind in natural mineral springs. Rates are affordable and the views are incredible.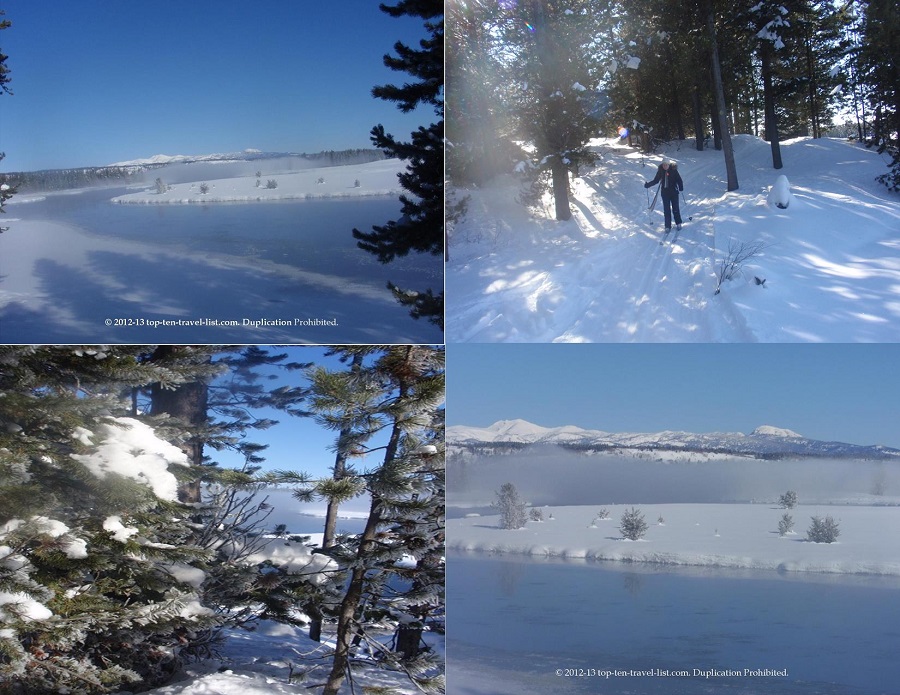 Jackson & North Conway NH (White Mountains area)
The White Mountains area is a beautiful escape for city dwellers coming from Boston, Providence, and other nearby Northeastern metropolises. The area is home to many quaint inns and there are endless opportunities for winter recreation in the mountains. From festive sleigh rides, to ice skating, the idyllic setting will take you straight into a Hallmark movie.
*Visit Nestlenook Farms – Nestlenook Farms is a winter wonderland complete with ice skating, horse drawn sleigh rides, and snowshoeing. The gorgeous Victorian ice rink and beautiful isolated setting in the White Mountains easily make this a winter bucket list contender. Bonus – there are a number of quaint inns in Jackson and surrounding towns.
*Drive around the beautiful snow covered mountains and forests.
*Stay at an inn – Winter is a great time to stay in one of the many inns in this scenic New England town. Plenty of winter activities nearby including Cranmore Ski Mountain, a town ice rink, and mountain scenic drives.
*Visit Settlers' Green Outlet stores – Over 60 great outlet shopping choices!