Vacation Spotlight: Lake Tahoe
One of my favorite vacation destinations, gorgeous Lake Tahoe on the California/Nevada border, offers a multitude of recreational activities no matter the season. Lake Tahoe is the largest alpine lake in North America and the second deepest in the US. From beaches, scenic aerial rides, and boat rides in the summer months, to skiing, ice skating, and snowy carriage rides in the winter months, there are more ways than one to take in the picturesque views year-round at Tahoe!
As one of the most scenic areas in the US, Lake Tahoe is the perfect vacation destination for outdoor buffs an nature lovers! Add in casinos, great dining, and live entertainment, and you have endless options for a fun and nature packed vacation. Because the lake lies on the border of the California and Nevada state line, you have your choice of staying in either state. Both states offer plenty of attractions, with the casinos lying in Stateline, Nevada, and most of the outdoor recreation falling on the California side.
I have organized a handy guide of my favorite attractions, restaurants, and hotels in the area.
Top 5 Lake Tahoe Attractions
Emerald Bay State Park – Emerald Bay State Park is one of the standouts in Tahoe. This beautiful park is an incredible place to hike as you will experience dramatic views of the lake and surrounding forests from every angle. Emerald Bay is also home to Vikingsholm, a historic 1800's era Scandinavian styled mansion. Tours offered daily during the summer months. The house is only accessible via boat or hiking the 1 mile long Vikingsholm trail.
Heavenly Village Gondola ride – During the summer months, the ski lift at Heavenly Village is transformed into a scenic tram ride. The entire 2.4 mile trip up to the top is breathtaking with views of both the lake and surrounding forests. The observation deck provides more beautiful panoramic views of the area. Don't forget your camera! At the top you will have access to hiking trails, restaurants, and more.
Aerial tram ride at Squaw Valley – This scenic ride is not as breathtaking as the Heavenly Village ride, nevertheless, the views as you ride over 8000 feet up to the High Camp are nothing short of spectacular! The difference here is more mountain views as opposed to the lake, which can be really gorgeous during the late spring season when there is still a dusting of snow. At the top, you will be able to skate, dine, hike, bike, and more. You will also find a small museum and sculpture dedicated to the 1960 Olympics which were held in Squaw Valley. Update: Renamed Palisades Tahoe in 2021.
M.S. Dixie Cruise in Zephyr Cove – Aboard this award-winning cruise, you will enjoy spectacular views, as well as an informative history lesson on the lake and general region. Look into the Emerald Bay sightseeing cruise, which is basically 2 hours of non-stop natural splendor!
The Shops at Heavenly Village – This outdoor shopping area located at the base of the gondola is the perfect place for a stroll. You will find plenty of outdoor gear shops, restaurants, mini golf in the summer, and a fun, festive winter ice rink.
More Spring & Summer fun
Other fun spring/summer activities in the area include relaxing at the beaches, hiking at Van Sickle Bi-State Park, hiking Mt Tallac, kayak tours, whitewater rafting in nearby Truckee, and taking a leisurely ride along the South Lake Tahoe Bicycle Path.
Tahoe in winter
I recommend visiting Tahoe during the winter months as the region is so much more quaint and beautiful, not to mention less crowded at this time. The Squaw Valley pavilion transforms into an ice rink! Ice skating and snowy mountain views – what more could you ask for during a winter vacation? Squaw Valley features an Olympic Exhibit which commemorates the 1960 Winter Olympics games that took place in the area.
Besides skiing & skating, additional winter fun activities include sledding, soaking in natural hot springs, dog sled tours, and horse drawn sleigh rides.
Recommended Restaurants
Hard Rock Café – Hard Rock Café is one of my favorite places to stop for food, music, and fun during a trip. This particular location, conveniently located inside Harvey's Casino, is the perfect beginning or end to any night out. The Jumbo Appetizer, which includes spring rolls, onion rings, chicken tenders, and loaded baked potato skins, is one of my all-time favorite appetizers.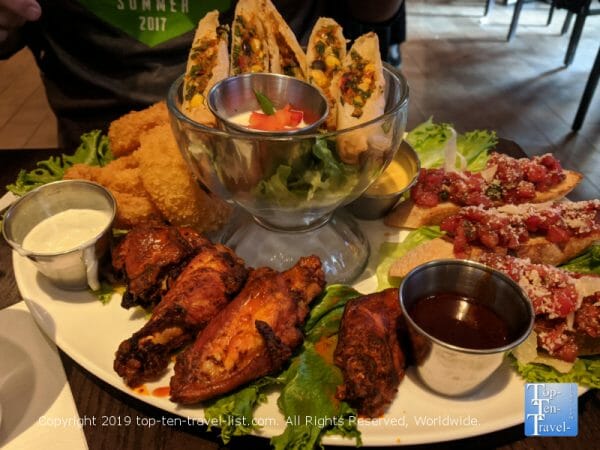 Update: Unfortunately, Hard Rock Cafe has closed.
Friday's Station – Steak and seafood restaurant located on the 18th floor of Harrah's. Features extraordinary views of the Sierra Nevada mountains and a romantic ambiance.
Recommended Hotel
Harvey's – Harvey's is the perfect spot to stay during your Tahoe visit. The views are great, the dining options are diverse, and there are plenty of specialty shops to browse/pick up souvenirs. The outdoor pool/hot tub area provides fantastic views of the area. The rooms feature great views of the lake/forest. I also loved that there was a Hard Rock located right downstairs! Harvey's is conveniently located within walking distance of most of Tahoe's popular activities and attractions.
Additionally, Grand Residences by Marriott, Marriott's Timber Lodge, & the Lake Tahoe Resort are great options. For a fantastic budget-friendly option within walking distance of Heavenly Village, check out the Blue Lake Inn.
Recommended Spa
A Body ReNEW Spa – The deep tissue massage I received here was absolutely fantastic: one of the best massages I have ever experienced. This was the perfect treat after a full day of hiking!
Recommended side trip
Reno – I recommend a side trip to Reno, Nevada, which is located only about an hour's drive away. Known as "The Biggest Little City in the World," Reno is a one-of-a-kind destination despite its' small size. With just over 225,000 residents, Reno packs over 20 casinos, numerous opportunities for outdoor recreation, and a ski resort within its' borders.
I have stayed at several hotels and casinos resorts in the area. My favorite by far is the Grand Sierra Resort and Casino. Even though this resort is located away from the other casinos in downtown Reno, it is worth checking into for the fabulous amenities. This resort features a large fitness center, a spa, shopping, a bowling alley, a movie theater, several bars and nightclubs, an arcade, miniature golf, a driving range, a large showroom, and 12 restaurants. Elements Buffet is one of the better buffets in Reno with an especially delicious dessert bar.
Attraction Address Info
Emerald Bay State Park- Hwy 89 South Lake Tahoe, CA 96150
Heavenly Village gondola- 1001 Heavenly Village Way South Lake Tahoe, CA 96150
Squaw Valley aerial tram- 1750 Village East Rd, Olympic Valley, CA 96146
M.S. Dixie Cruise- 900 Ski Run Blvd #201, South Lake Tahoe, CA 96150
The Shops at Heavenly Village- 1001 Heavenly Village Way South Lake Tahoe, CA 96150
Hard Rock Café- 18 U.S. 50 Stateline, NV, NV 89449
Harvey's Lake Tahoe-18 U.S. 50 Stateline, NV, NV 89449
A Body ReNEW Spa- 2264 Lake Tahoe Blvd South Lake Tahoe, CA 96150
Grand Sierra Resort and Casino- 2500 East Second St Reno, NV
Attraction Pricing & Hours
Heavenly Village gondola
Prices: Adults $69, Teens (13-17) $54, Child (5-12) $34, Senior $54, Kids 4 and under are Free
For times, dates, and reservations, please visit the Heavenly website.
Squaw Valley aerial tram
Prices: Adults ($44-54) Child ($31-38), midweek/vs holiday
Hours: 10:00am-5:00pm (Summer Hours)
M.S. Dixie Cruise
Prices: Adults $99, Children (3-11): $55
Hours: Cruise Schedule
The Shops at Heavenly Village
Hours: Monday-Thursday: 10:00am-8:00pm, Friday & Saturday: 10:00am-9:00pm, Sunday: 10:00am-7:00pm.
A Body ReNEW Massage Spa
Hours: Open everyday from 9am-9pm by appointment. Click here to schedule a massage.
Massage Menu