6 Easy Sedona Hikes with Fabulous Views
Sedona, Arizona is a natural wonderland – an amazing vacation destination for the hiker and nature lover. Hundreds of miles of trails give even the most avid hiker an endless supply of options. There is no ugly trail in Sedona – any hike will take you on a visually spectacular journey through the gorgeous 200+ million year old colorful red rock formations which dominate the landscape. These stunning rocks have given Sedona the nickname "Red Rock Country." While Sedona was once a sleepy little known one stoplight town, it has now become one of the most popular destinations in the Southwest.
The secret is out and more and more people are flocking to one of the most beautiful destinations in the country. With endless hikes, gorgeous natural creeks, and stunning natural vistas in every direction, every nature lover must plan a trip here. There is a trail for just about everyone, although sometimes simply taking it easy and enjoying the grand views via a relaxing hike is the best decision of all. I have rounded up my list of the most picturesque easy hikes, limiting the list to those hikes without major elevation gains, scary steep drops, or insanely long distances. Here are 6 easy & picturesque hikes to enjoy during your Sedona vacation.
The Teacup/Sugarloaf Summit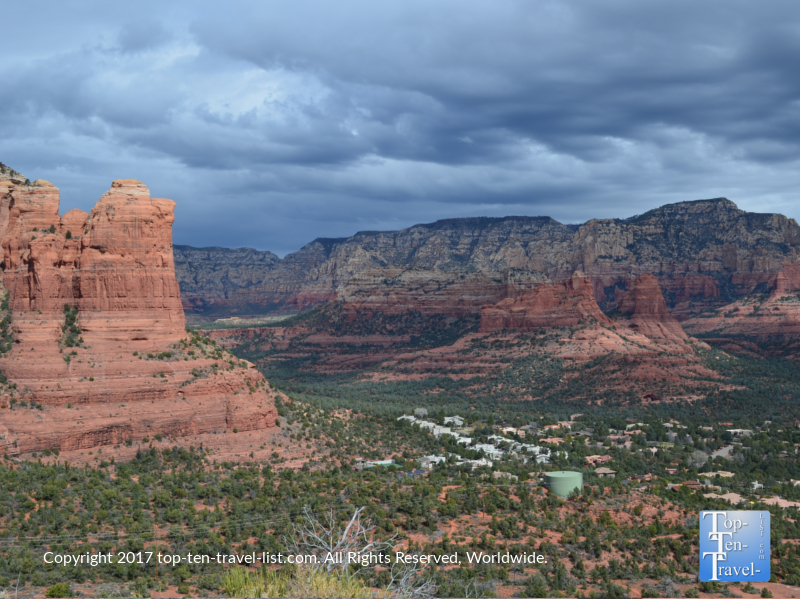 The combined Teacup/Sugarloaf Summit Trail offers some incredible vistas of the Sedona area, and the best part of all, is that these grand views are accessible via minimal effort. While many of the scenic Sedona hikes require quite a lengthy drive and/or strenuous climb, the Teacup Trail is a relatively easy trail located just 5 minutes or so outside of town. You will start with an easy nature stroll along the Teacup Trail before reaching Sugarloaf Summit, then proceed with a short little climb of just 0.3 miles up to the summit. The entire trail is just under 2 miles and can be completed in just an hour and a half or so.
After completing the short climb up to the summit, you will not be able to take your eyes off the magnificent 360 degree views. Soaking in the fantastic red rock scenery in such a quiet setting truly is an awe-inspiring experience. The majority of the time, there is absolutely no one around so you can enjoy the bird's eye view all to yourself. Crazy how so little effort is required for such world class views! This hike rarely sees big crowds like the more popular touristy options like Devil's Bridge & Brin's Mesa, which is quite crazy considering the easy access, short distance, and out of this world views! For an easy short hike with minimal effort and big views, you cannot get much better than the Teacup trail.
Distance: 1.9 mile loop
Location: Buena Vista Dr
More info on the Teacup/Sugarloaf trail
Templeton
The Templeton Trail really is a unique Sedona treasure, however, it is often overlooked in favor of nearby Cathedral Rock. Cathedral Rock is extremely popular with tourists as it is one of 4 vortex sites, which are basically areas of intense energy which supposedly have healing energies. At the first fork in the trail, you will have the option of continuing on with the crowds to Cathedral, or opting for a quieter, more scenic and relaxing journey along the Templeton trail.
The Templeton is an easy 1 mile out-and-back nature walk which has the advantage of offering nice views of Cathedral minus the dangerous rocky climb upon Cathedral itself. Plus, the ending creek views are so rewarding, not to mention a refreshing way to cool down your feet on a hot summer day. This trail offers so much greenery in comparison to others, which in turn makes it a great summer escape from the overbearing heat of the desert.   Overall, the Templeton is one of the most relaxing trails in Sedona. You'll get in a refreshing workout without completely beating yourself up, all the while enjoying diverse views of colorful red rocks, peaceful flowing creeks, and exotic desert plant life.
Distance: 1 mile out-and-back
Location:  Back O' Beyond Road
More info on the Templeton trail
Fay Canyon
Fay Canyon is a short & spectacular hike located about 30 minutes outside of town near the Enchantment Resort, so it's quite a drive if you are not staying out this way. However, this beautiful hike is well worth the effort for the fabulous red rock views and quiet wilderness like setting. This hike is one of the few that is doable during the summer season due to the dense tree coverage. Wildlife is frequently reported during the early morning hours, with black bears known to inhabit the area. Barely anyone apart from regular locals use this trail so it never feels overcrowded.
Fay Canyon is one of Sedona's easiest trails, and thus, hikers of all abilities will be able to enjoy this one. The hike combined with the scenic drive over, and perhaps lunch at the beautiful Che-Ah-Chi restaurant at the Enchantment Resort, makes for a perfect little day out in Sedona.
Distance: 1.3 miles out-and-back
Location: Boynton Canyon Road
More info on the Fay Canyon trail 
Wilson Canyon
Wilson Canyon is the perfect hike for anyone looking to take it easy, enjoy a quick summer hike in the shade, and/or looking to enjoy a peaceful nature walk without the crowds. Because it is one of Sedona's shortest and shadiest trails, it's one of the best picks on a hot summer day in the desert. There are lots of leafy trees along the way and even a hint of colorful foliage come fall. While there are not as many dramatic red rock views as others on this list, the solitude and forest like setting really set it apart from the rest.
Wilson Canyon is one of several trails which begin at Midgley Bridge, a very popular scenic overlook on Oak Creek Canyon drive. You will have to arrive early in the morning before the parking lot is completely full to enjoy this one, however, the beautiful views and serene setting more than make up for the minor inconvenience of setting your alarm clock! To motivate yourself a bit more, stop for an early brunch and espresso on the beautiful patio of Indian Gardens, Northern Arizona's best option for breakfast!
Distance: 1.3 miles out-and-back
Location: At the junction of 89A and 179, drive 1.9 miles north on 89A until reaching the parking lot near Midgely Bridge.
More info on the Wilson Canyon trail 
Marg's Draw
Marg's Draw is another simple, yet picturesque trail which is conveniently close to town. This one features gorgeous views of the red rocks, yet is never overly crowded, as it is frequented more by locals rather than tourists. The short distance & easy terrain, combined with few crowds and easy access, make Marg's Draw an easy pick for any Sedona visitor. Not much shade to be found here, although lots of interesting desert plant life is to be found, including many healthy looking green prickly pear cacti lining the trails. This trail features a fantastic view of the Snoopy rock formation. On an interesting side note, each Sedona red rock is named after the shape it resembles.
Distance:1.3 miles out-and-back
Location: Sombart Lane Sedona, AZ
More info on the Marg's Draw trail
West Fork
The West Fork trail is located along Oak Creek Canyon. There is no way you can miss this one as it is the most popular trail in the region, and during the spectacular fall season, there is often a lengthy line just to park. In fact, most of the summer after 10am or so there is a line to get in. The reason for the trail's immense popularity arises from the gorgeous natural surroundings which includes creek views, red rock views, and dense deciduous tree coverage. Like Wilson & Fay Canyon, the West Fork is another optimal summer hike. On those sunny 90+ degree days, the dense forest setting really does make all the difference.
I love this trail because it reminds more of the beautiful leafy trails found in New England. In fact, once you start you may completely forget that you are in the desert!  There are 13 fun & diverse creek crossings to explore, all a bit challenging and fun. This trail is a bit longish at 3.5 miles each way, although you can go out as far as you like and simply turn around. The trail is flat with no steep sections, so perfect for any beginners. During the winter season, the red rocks & trees surrounding the creek are often dusted with snow, creating the most magical setting – so check it out even if your planning a winter vacation!
Distance: 3.5 miles out-and-back
Location: State Rte 89A Mile Marker 384
More info on the West Fork trail