25 Must Try Restaurants in the Philly region
Philly is quickly becoming one of the country's premier foodie destinations. Today, just as many people visit the city to take in the eclectic food scene as they do to take in the historical ambiance. The city is home to one of the nation's first Italian restaurants (Dante & Luigi's opened in 1899) and one of the oldest pubs (McGillin's Olde Ale House, a popular Irish tavern which opened back in 1860). Hoagies, cheesesteaks, soft pretzels, Italian ice, tomato pie, are all quite iconic, and thus, to be found in abundance all over the city.
While cheesesteaks, soft pretzels, and Italian food have long been a part of the city's rich food history, today you can find so many unique options across the culinary board. New exciting restaurants continue to sprout up year by year. Foodie tours and Restaurant Weeks give you the opportunity to test out an abundance of new foods.
While Center and Old City offer an abundance of enticing options, there are must trys around the entire metro. Whether you are craving American, Asian, Indian, Mediterranean, Mexican, traditional Italian and Greek, or even vegan fare, there are gems to be found all over the city & suburbs. Here are 25 great dining options to check out in and around the Philly metro area.
1. The Victor Cafe
The Victor Cafe, a wonderful Italian restaurant established in 1918, is one of the most iconic restaurants in all of Philly. Rocky fans will remember seeing this quaint restaurant featured as Adrian's in Rocky Balboa and Creed. The Victor Cafe is your classic old-fashioned family run Italian place which are unfortunately rapidly disappearing.
For a wonderful meal of authentic Italian cuisine, accompanied by great service and a charming old-world ambiance, there really is no better choice. Not only is their food fantastic, but you will also be treated to live opera. As far as the food is concerned, you really cannot go wrong with the Eggplant Parmesan, followed by their signature tiramisu for dessert.
2. Cafe Ole
Cafe Ole is a wonderful local coffee shop/cafe conveniently located in Philly's most historic neighborhood. If you will be up early exploring all the great historical sights, you will want to swing by Cafe Ole first for a delicious cup of coffee and a nice filling meal to get you going. The house coffee here is so delicious, so really there is no need to spend extra on a fancy sugar laden mocha/latte drink.
In terms of entrees, do splurge on the Shakshuka as opposed to a simple pastry or bagel. This traditional Middle Eastern dish is filling enough to hold you over until lunch. The veggie shakshuka consists of a savory tomato based sauce stewed with chickpeas, mushrooms, potatoes, and topped with poached eggs (and optional hummus), served alongside delicious rolls. The Shakshuka is so good you will probably be back again before the end of your trip.
3. Dino's Pizza & Pasta
Dino's Pasta is a small neighborhood Italian restaurant located in East Bridgeport, a small community in Montgomery County. The restaurant was opened in 2003 by Italian-born Luigi Mazzitelli. In addition to excellent pizza which draws back locals time and time again, Dino's offers an enticing menu of authentic Italian fare. The ravioli here is amazing – the butternut squash, if available, is worth splurging on. For those who need gluten-free, they offer a sizeable selection of specialty pizzas.
You must start your meal with the perfectly seasoned garlic knots. They are definitely the best in the Philly area. So good in fact that you may be placing a 2nd order. Also do not be afraid to splurge on fried mushrooms, mozzarella sticks, or fried zucchini – go ahead and treat yourself!
The dining space here is small, yet still attractively decorated and cozy. Service is very friendly and the overall dining experience is casual and relaxed.
4. Gino's Ristorante & Pizzeria (Update: now closed)
Gino's is a wonderful local Italian restaurant in Norristown. Their speciality is southern style Italian cuisine, and thus, you will find plenty of seafood dishes on the menu. If you happen to be out this way visiting an area attraction like the Elmwood Park Zoo or Valley Forge State Park, Gino's is a great pick for lunch.
The highlight here is a create your own pasta deal available for just 13 bucks. You get to pick your choice of pasta plus a sauce. The pesto is so delicious and definitely worth the caloric splurge. With lots of great apps (try the pizza fries!), homemade soups, and fresh complimentary bread, you will not leave hungry.
This place is friendly with a cozy ambiance, and obviously very popular with the locals as it is always packed. Service is always great!
5. The Pierogi Kitchen
There are not a whole lot of options when it comes to good Polish food in the Philly area. Thankfully, The Pierogie Kitchen is a totally delicious place to get your potato pancakes and pierogi fix. This little gem is located outside of the city in the trendy Manayunk section of NW Philly. The space is super small, and unfortunately, there is only one table for dining in. However, once the weather finally warms up, the outdoor patio is bustling with people.
This is the place to go if you are seeking authentic Polish food. They offer over a dozen pierogi varieties, including a Philly cheesesteak, mushroom, potato, and horseradish, and even a chocolate ganache option. Of course, an order of potato pancakes is always a must! Haluski, a Central European dish consisting of buttered noodles mixed with onions and caramelized cabbage, is another must try. All food is made from scratch using family recipes, so you can count on quality each time you visit.
6. Continental Diner
Continental Diner is a fun retro style modern diner with locations in Old City and Center City. If you are looking for a filling classic breakfast to hold you over for your morning of exploration, consider stopping by Continental for brunch. They offer a huge of menu of traditional and modern favorites, from savory classics like omelets, to sweet staples like pancakes and French toast, to popular modern favorites like avocado toast.
Continental Diner was opened in 1995 by acclaimed restaurateur Stephen Starr. Today, you will find more than 20 Starr restaurants in the Philly area including award-winning favorites like Buddahak, Parc, Talula's Daily.
7. Nirvana Indian Bistro
For the best Indian fare in the Philly metro region, there is no better choice than the lunch buffet at Nirvana Indian bistro. For just 10 bucks, you will get to enjoy a wide variety of delicious Indian apps and entrees. The buffet is conveniently separated into a vegetarian/non-veg section. Some of the best-of-the-best often found on the buffet line include veggie tikka masala, saag paneer, veggie korma, and chana masala. The naan and rice pudding are perfect too. Update: The buffet is no longer offered, however, all the food here is delicious! Do try the Veggie Tikka Masala!
Nirvana's motto is "healthy but delicious," and thus, there are plenty of health conscious choices. Everything is always fresh and refilled as needed. The space is clean and the service is always wonderful. They offer a punch card where you will receive 1 entree free after 10 visits. Overall, Nirvana is the best Indian food in the Philly region, hands down! In fact, it's the best restaurant in the Philly metro area – period.
8. White Dog Cafe
White Dog Cafe is an extremely popular American style cafe which originally opened in University City in 1983, and has since then spread to include a few Main Line locations. This cafe is most known for their delicious Kennett Square mushroom soup. For those who do not know, nearby Kennett Square is one of the world's largest producers of mushrooms.
Brunch is the best time to visit, both value wise and crowd wise. Start out with a delicious Mushroom omelet. The coffee here is also delicious, so no need to go anywhere else. As a nice bonus, your waiter will bring out a few petite cakes to start your meal! The ambiance at White Dog is just as attractive as the menu. The dog decor here is so charming & unique. Also, the service is wonderful, thus making this charming cafe the perfect weekend date brunch choice.
Note: A vegetarian menu is available upon request. Along with the Mushroom omelet, they also offer a great Mushroom cheese steak for lunch.
9. Mushrooms Cafe (Update: now closed)
A great lunch stop if you happen to be visiting the Brandywine River Museum of Art or Longwood Gardens is Mushrooms Cafe. Of course, being a fan of mushrooms is a must! Here you can try a mushroom loaded version of numerous American favorites including quiche and mac and cheese. Their mushroom dip, served with pita, is the must-try starter. And of course, you have to try a bowl of the famous Kennett Square mushroom soup mentioned above.
This place is super casual and has that local vibe which is all too often missing in this area. The decor is colorful and charming. Stop by for a fresh cup of joe and a slice of mushroom quiche before your visit to area attractions. You will not be dissapointed!
10. Gianfranco's Pizza Rustica (Update: now closed)
Gianfranco's is the place to go for quality pizza in Old City. After walking around for hours on end, take a break and refuel with a slice or 2. If you are really hungry, they offer full pies, plus plenty of tasty appetizers. The garlic knots and toasted ravioli are both amazing. As for the pizza, you can never go wrong with plain cheese, although they do offer about a dozen or so specialty pies.
This place is no-frills, pretty small, yet there is still almost always a seat open. Anyone seeking a casual place for some tasty comfort food should consider Gianfranco's for lunch after exploring Old City.
11. Isot Mediterranean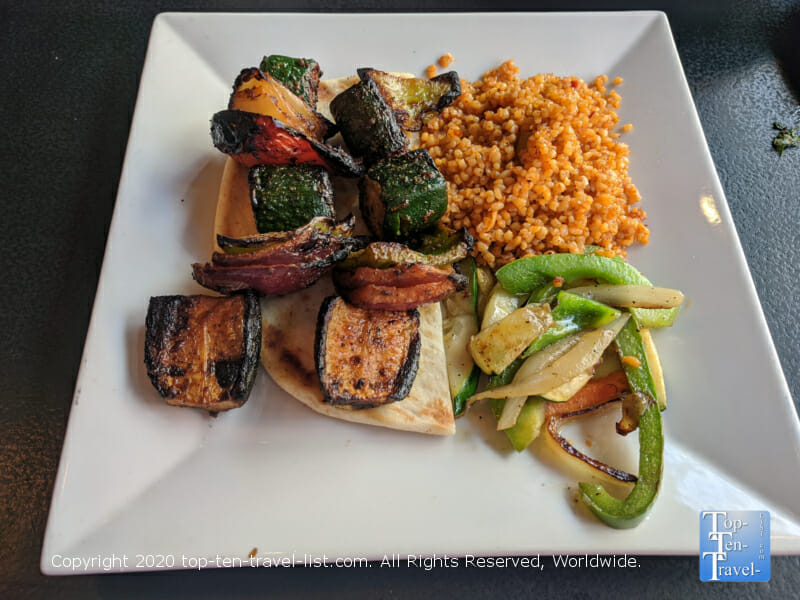 Isot is a wonderful Mediterranean restaurant located in the quaint Queens Village neighborhood. If you are looking to try something new, Isot is a great place to start. This highly regarded Turkish restaurant offers an amazing lunch deal where you will get to enjoy international fare. This is the perfect time to visit as you will save a few bucks, plus enjoy the added benefit of less crowded surroundings.
For just 12 bucks, you will get to enjoy a soup, entree, 2 sides, and a Turkish coffee or tea. I recommend the lentil soup, veggie kabob, bulgur rice, and seasoned veggies. Their coffee is outstanding, and really the best part of the meal. If you have never tasted Turkish coffee before, you are in for a real treat! The service is over-the-top amazing and the ambiance classy enough for a nice afternoon date. Overall, Isot is a terrific restaurant that must be added to any foodies bucket list!
12. Su Xing House
It's not too often that you come across a great Chinese restaurant which also just so happens to be 100% vegetarian! Su Xing house, in Center City, is just that – a fantastic Chinese place which serves an all vegetarian menu. This place is always so quaint and quiet – the perfect place to escape the city congestion for a bit.
Start with a few apps (I recommend the springs rolls, potato croquettes) and a bowl of soup (the miso and hot and sour are both excellent), and choose your entree. The Veggie Lo Mein and Fried Rice are both nice light options that will not totally overstuff you. Sit back, savor the complimentary tea, and enjoy the ambiance before heading back into the tourist craziness.
13. Parc
Parc is a super trendy upscale French bistro located in the heart of Rittenhouse Square, one of the city's ritziest neighborhoods. This place is so popular that it can be quite hard to get into if you do not have an advance reservation. Therefore, brunch is the way to go, especially if you are also looking to save a few bucks. Parc offers a "French style dining experience with a Philadelphian style flair." The elegant ambiance and charming open air patio make this a perfect choice for a date or celebratory occasion.
If you do end up visiting for brunch, start with a decadent basket of French pastries. Entree selections are diverse, including everything from a Quiche Lorraine, to Croque Madame, to Spaghetti Bolognese. Vol-Au-Vent is a delicious dish consisting of scrambled eggs, asparagus, and the tastiest puff pastry. The house coffee is great, although the espresso drinks are a bit on the bitter side. Although the service definitely leaves room for massive improvement, Parc is still one of the city's best overall brunch destinations.
14. Angelino's
Angelino's is a must visit old-school Italian restaurant tucked away on a quiet side street in the charming Fairmount Park neighborhood. If you find yourself visiting any of Philadelphia's great museums like the The Barnes Foundation or The Rodin, consider stopping by Angelino's afterwards for an authentic Italian lunch. Angelina's makes everything from scratch so do not come here if you are looking to get in and out quickly. However, if you are seeking a nice laid-back lunch experience, Angelino's is a wonderful choice.
Lunch entrees come with fresh garlic bread and a side salad. Angelino's offers a wide variety of Italian favorites like Lasagna, Fettuccine Alfredo, Ravioli, Stromboli, Pizza, and rustic sandwiches. The Veggie Lasagna and Chicken Parmesan are great filling choices, especially after a long day on your feet. You really can't go wrong with anything here, especially if you love homemade Italian fare!
15. Cuba Libre
Cuba Libre is a colorful, eclectic dining choice in the Old City neighborhood. This restaurant serves authentic Cuban food in a bright tropical inspired dining room. Although Cuba Libre started in Philly back in 2000, new locations have opened since then in Atlantic City, Orlando, and D.C.
The ambiance alone is enough to warrant a visit. At night, you will be treated to live music, while in the morning you can sit back and enjoy the laid-back tropical vibe minus the big crowds. Consider visiting during the low key brunch hours so you can enjoy the ambiance all to yourself.
Try the Cuban Black Beans, the Pastelitos (guava and cream cheese puff pastries), and Huevo Roto, a savory dish consisting of poached eggs over double blanched French fries topped with chorizo (vegan soy available), and tomato hollandaise.
16. Neighborhood Ramen
Ramen, a Japanese dish consisting of Chinese style wheat noodles, served in a meat or vegetarian based broth with various toppings, is becoming super popular in cities across the country. In Philly, the best option for delicious ramen is Neighborhood Ramen, located in Queens Village.
The menu is pretty simple, consisting of 5 different bowls with different broths and toppings, plus a handful of sides including seaweed salad and spicy sesame pickled cucumbers. The Yasai is a wonderful vegetarian option consisting of vegetable dashi, roasted mushroom, menma, shiso oil, ajitama, and topped with an egg. This bowl works as the perfect salty snack to replace lost electrolytes after working up a sweat walking around Old City. The cafe's design is very simplistic like the menu, so really it's a great place to enjoy a quick lunch before more exploration.
17. Etka Indian
Etka, a popular Philly Indian restaurant with multiple locations, was recently ranked as one of the top Indian restaurants in the US. Most of us visit Indian restaurants for their fabulous lunch buffets. Unfortunately, only one Etka location still offers the buffet. As Indian food is quite pricey for dinner, you may want to check out the University City restaurant which still offers an amazing & affordable lunchtime buffet.
As far as other locations go, the Bryn Mawr restaurant is ideal as you can explore the downtown shops prior to or after your visit. Must-try entrees include the Navratan Curry and the Saag Paneer (best Indian dish). Etka is most well-known for their amazing Naan Bread selection, of which 12 enticing choices are available! There are lots of options on the menu, from mild to spicy, from vegan to meat based, so really more than enough choices for anyone who loves Indian food.
18. Han Dynasty
Han Dynasty is a Szechuan style Chinese restaurant with several locations throughout Philly, the most convenient being the touristy Old City location. This style of Chinese cooking incorporates the use of Szechuan peppers and garlic which leads to bolder, spicier flavors. Han is known for their Dan Dan noodles, a flavorful dish consisting of noodles topped with a spicy sauce of chili oil, preserved vegetables, Szechuan peppers, and minced meat.
Of course, if you prefer your food a bit toned down, there are plenty of mild options on the menu too. Traditional favorites like Lo Mein and Fried Rice are both deliciously non spicy!
The interior of the Old City location truly is beautiful. It's housed in a restored bank building with huge ceilings. Elegant with gorgeous decor and great service, Han is thus the perfect place for an afternoon date!
19. Sabrina's Cafe
Sabrina's Cafe serves one of the best breakfasts in the Philly region. There are multiple locations, so it's pretty easy to incorporate a visit into your plans for the day. The ambiance is cozy casual with a nice homestyle vibe – basically the opposite of an informal common chain. The food is local as well, and thus, you can count on healthy entrees made-to-order using the freshest ingredients possible.
Fortunately, breakfast is served all day so there is no need to set the alarm! The menu is rather small, yet filled with interesting choices like Challah French Toast, Huevos Rancheros, Wild Mushroom Frittata, and a Quinoa breakfast bowl. If you prefer a little spice to your meal consider trying the Ultimate Mexi Scramble. This filling dish consists of scrambled eggs sauteed with pepper jack cheese, onions, tomatoes, bell peppers, and served alongside black bean grits, corn chips, avocado, and cilantro pesto.
20. South Street Souvlaki
For authentic Greek fare in Philly, head over to Queens Village for a meal at South Street Souvlaki. This local Greek joint has been serving family recipes to the community for the past 40 years. It's a quiet hidden gem lunch destination. Simply walk a few blocks down to Queens Village and enjoy the old time charm.
For lunch, try a light, yet filling Spanakopita along with a cup of lentil soup. The spanakopita (spinach, feta, and layers of filo dough) really is the best Greek dish – it never disappoints. Pitas are great too. Of course, you must start your meal with a traditional Greek salad stuffed with cucumbers, tomatoes, kalamata olives, and feta cheese. Additionally, there are lots of interesting Greek dips and appetizers to share amongst your party. Try the Baba Ghanoush or Hummus & Falafel for starters.
21. Corropolese Deli
For the best tomato pie in the Philly metro, make the drive over to Norristown, located about 30 minutes outside of the city. Corropolese Deli, a family-run Italian bakery, has been serving the community of Norristown since 1924. They are most well-known for their tomato pie, which is available in a number of tasty varieties including the best traditional (plain red sauce sprinkled with romano), veggie, and eggplant, amongst numerous others.
They also offer a huge selection of freshly made bread and rolls. Best of all, is the enticing dessert selection which includes Italian cookies, pastries, cheesecakes, and cakes. Treat yourself to a chocolate cannoli, a mini cream puff, or a mini eclair. Also be on the lookout for special holiday dessert platters.
22. Manny and Aldo's Pizzeria
Manny and Aldo's is a nice little hidden Italian gem, conveniently located within walking distance to numerous Center City attractions. This is a great little local pizza place to check out for lunch. It will not take up much of your time, nor cost you much. No frills here really, just a great simple place to enjoy authentic pizza.
In addition to classic cheese, a variety of specialty pizzas, stuffed pizzas, stromboli, wraps, grinders, hoagies, and pastas are available. There is something to suit everyone in your party even vegetarians, with a Veggie Lovers pizza, Veggie grinder, and Veggie stromboli on the lineup!
23. Goldie
This trendy Israeli cafe is a wonderful choice for vegans and anyone else who appreciates healthy food. Goldie is well-known for their unique tehina shakes. These popular dairy-free milkshakes consist of almond/soy milk, dates/sugar, and tahini (sesame seed paste). Shakes can be enjoyed plain (still amazing) or with a Turkish coffee or mint chocolate flavoring. Either way they are the most amazing treat to enjoy during your time in Philly, even more so as a refreshing cool down during the warm summer season.
You really cannot go wrong with their lunch deal which includes a falafel pita, French fries, and a tehina shake for just 15 bucks. This is not your stereotypical bland vegan food – this is really good food that even the biggest carnivore will appreciate.
24. Couch Tomato Bistro
This healthy cafe is super popular for their grilled cheese, tomato soup, various panini sandwiches, and pizza (also available as a take home package). It's also popular with those with dietary restrictions as they offer numerous gluten-free and dairy-free selections including vegan cheese and GF bread substitutes. They use local and mostly organic ingredients too so you can always count on a fresh meal.
Their sandwiches, particularly the Atomic Veggie, are really incredible. And paired with a bowl of their amazing tomato basil soup, even more amazing. They also offer fun apps like cheesy bread and garlic knots, fresh salads, and a tasty vegan roasted corn and potato salads. Lots of great drinks too including local kombucha, house made lemonade, and Maine Root soda.
25. Ishkabibbles
Known as one of the hidden gems of the Philly cheesesteak world, Ishkabibbles is a worthy addition to your Philly foodie bucket list. As most tourists head to the more popular places like Geno's and Pat's, Ishkabibbles remains a nice alternative for those looking to avoid the commotion.
In 2019, the restaurant was named one of the best hole-in-the-wall establishments in America by The Daily Meal. Ishkabibbles is known for making the best chicken cheesesteak in town, so if you are avoiding red meat, this is the cheesesteak place to consider. Also, they are well praised for their veggie hoagie (one of the few places to offer a vegetarian version of the cheesesteak). Don't forget the fries – they too are award winning!
A few more food gems to check out
Best dessert: ICI Macarons (dozens of homemade macarons), A La Mousse (incredible green tea based desserts), Goldie (unique Tehina shakes), The Franklin Fountain Ice cream shop (best ice cream), Max Brenner Chocolate shop (amazing cocoa), Rita's Italian Ice & Frozen Custard. Check out my guide to Philly's dessert scene.
Decadent homemade pastries: Bakeshop on 20th, La Colombe, Anthony's Italian Coffee House, J'aime French Bakery
Breakfast/brunch standouts: Sabrina's, Famous 4th Street Deli, Cafe Ole, Little Pete's, Green Eggs, White Dog
Best food market: Reading Terminal (one of the nation's oldest public markets is loaded with dozens of food vendors, with everything from Philly cheesesteaks, to trademark desserts, to international options).
Amazing local coffee: Menagerie, Bodhi, La Colombe, Ritual, Gran Caffe L'Aquila. Check out a full list of the best Philadelphia coffeehouses.
Best soft pretzel: Philly Pretzel Factory
Best vegan options: Goldie, Dizengoff Hummus, Su Xing House, Hip City Veg, Vedge, Indieblue, Nirvana Indian, Etka Indian, Couch Tomato Bistro
Iconic cheesesteaks: Pats and Genos
Date night destinations: Parc, The Victor Cafe, Dante and Luigi, La Famiglia, XIX Nineteen, Gran Caffe L'Aquila, Giorgio on Pine
Scenic view: XIX Nineteen, Parc, Rouge, La Veranda
Best buffet: Nirvana Indian Bistro
Fun themed restaurants: Hard Rock Cafe, McGillin's Olde Ale House, Tinsel (Popup Christmas), Mad Rex, City Tavern, Max Brenner