Winter Fun in Washington D.C. – 14 Must-Dos
With brisk temps, a slight chance of snow, and barren parks, winter may not seem like an ideal time to plan your trip to D.C. Despite the less-than-ideal weather and scenery, a winter trip brings forth numerous benefits. First off, hotel rates will be much cheaper. Second, crowds will basically be non existent. It's so nice to explore the museums without huge tourist crowds around. And finally, you can take advantage of numerous bonus seasonal activities such as light show, ice skating, & theater productions.
If you find yourself planning a winter trip to D.C., keep a few of the following ideas in mind for your itinerary.
1. Explore the Smithsonian museums
Of course, exploring a handful of the Smithsonian museums will most likely be near the top your D.C. must-do list. Museums are always a great idea during the cold winter months when it's too cold to do much else. These museums are so huge that it would nearly impossible to cover them all in a single visit. There are 17 total in D.C., with 11 being conveniently located in the National Mall. This long grassy area is home to major monuments like the Washington Monument, the Lincoln Memorial, the WW2 Memorial, and the US Capitol, along with the Smithsonian museums.
A few of the best-of-the-best museums include the National Art Gallery, The National Museum of Natural History, and the National Portrait Gallery. If you are a seasoned D.C. visitor, check out one of the undervisted gems like the National Postal Museum, the Hirshhorn, or the National Museum of the American Indian. The best part of all is that every Smithsonian is free!
Full list of Smithsonian institutions in D.C.
2. Escape to the tropics at the US Botanic Garden
Escape to the tropics (temporarily) with a relaxing stroll through beautiful thriving green gardens. While the US Botanic Garden is great to visit anytime of the year, nothing really beats stepping into the warm tropical air of the conservatory on a cold, overcast winter day. While numerous gardens are closed at this time, enough are open to warrant a visit.
After seeing barren lifeless trees for months on end, it really rejuvenates your spirit to walk through the lush green tropical, Mediterranean, and primeval gardens. As the conservatory is pretty small, this is a great place to warm up for an hour or so before heading on to your next attraction.
Bonus: If you are in town from late Nov-early January, you will get to enjoy special seasonal displays.
3. Indulge in an artisan hot cocoa
Come winter most of us start craving hot toasty drinks. What better way to escape the cold for an hour or so than by relaxing in a pretty cafe while indulging in a luxury hot chocolate? Today, you do not have to settle for an ordinary hot cocoa. So many places offer all sorts of specialty concoctions. One such place is Cafe Chocolat, a chocolate boutique which specializes in artisan hot cocoa and bean-to-bar luxury chocolates from around the world.
The hot chocolate comes in 3 varieties – dark, milk, or white. Dairy-free? No problem? You can customize your drink with almond milk. Not only is the cocoa itself out-of-this-world, the presentation is just as perfect. Let all your cares slide away as you get lost in a cup of pure chocolateness. Also on-site are the most decadent chocolate treats.
4. Skate amongst the historical buildings
Almost every major city today is home to one, sometimes several ice rinks. Skating has become a beloved winter tradition for many. D.C.'s is home to numerous rinks. The most easily accessible for those staying in Capitol Hill is the rink at the National Art Gallery Sculpture Garden. This rink is pretty unique as it faces the National Archives building. Where else can you ice skate with a view of the building which houses the country's most important historical documents?!
The rink is zambonied for the smoothest ice. It's never overly crowded unlike rinks in nearby cities like Philly and NYC. Admission is just 10 bucks and skate rentals another 4. After your session head over to the Pavillion Cafe for a warm cup of coffee and a decadent dessert. You deserve it after burning all those calories! Looking for a great date idea? The rink takes on a more romantic nature by night with twinkling lights and views of starry skies.
Ice rink hours, admission, skate lessons, and special events
5. Take a walk around the National Zoo
The Smithsonian National Zoo is one of the nation's only free zoos. It also happens to be one of just 3 zoos to house a panda. Tourists come from all over the world to see Mei Xiang and Tian Tian. While the summer season can be quite hectic, the winter months are actually pleasantly quiet.
If you can brave the cold temps, you will be rewarded with rare peace & quiet. This time of the year is perfect for anyone who wants to take their time observing all the animals. Plus, it's always good to work up a little sweat (lots of steep hills here!) to keep your immune system strong during the colder months.
6. Splurge on a specialty cupcake at Baked and Wired
Baked and Wired is a popular specialty cupcake shop in Georgetown. If you love anything sweet, then you will definitely want to make room for this one during your winter visit to D.C. What better way to warm up then sit in a cozy coffeehouse for an hour or 2, enjoying a expertly made espresso and homemade artisan cupcake?
Cupcakes come in so many flavors, from carrot cake, to pistachio, to German chocolate. I highly recommend treating yourself to the Red Velvet. Although, really, you cannot go wrong with any flavor here. Every cupcake is uniquely delicious. For those with special dietary concerns, they offer both a vegan and gluten-free option! Specialty coffee and espresso drinks including pour over and rotating espresso from highly regarded roasters are also on the lineup.
7. Check out the independent coffee scene
While Washington D.C. may not offer the hottest indie coffee scene around, there are a handful of great local coffeehouses scattered throughout the metro. If you are staying in Capitol Hill, consider Le Bon Cafe (near the Library of Congress), Peregrine Espresso (near the Eastern Market), Swing's Coffee (near the White House), or Compass Coffee (near the National Portrait Gallery).
La Colombe, which originated in Philly back in 2004, is a really popular coffee chain with numerous D.C. locations. If you are visiting the White House, a new location recently opened in the vicinity. Not only does this local favorite serve quality coffee and espresso drinks, but the presentation, service, and selection of pastries (they have the best croissants!) is just as impressive as the drinks themselves!
More D.C. area coffeeshops to check out
8. Play with cats for a good cause at Crumbs and Whiskers
Cats and coffee – what could be better way to spend a lazy winter afternoon? The world's first cat cafe opened in Taipei, Taiwan in 1998. In 2014, the first US cat cafe, Cat Town Cafe, opened in Oakland. Cat cafes are seemingly popping up in cities across the world nowadays. Today, it is near impossible to walk down a trendy street without bumping into one of these. Crumbs and Whiskers opened in D.C. in 2015 (a 2nd location exists in L.A.).
The premise is pretty simple. You pay to be in a room surrounded by cats. Tons of cat toys and treats will be in the room. Coffee drinks are usually available too (sometimes requiring an extra fee). You simply observe the cats – playing with toys, giving treats, etc. Obviously, the morning & evening hours are when cats tend to be most energetic. Your experience will be different each time depending on the natural activity level of the cats. A limited number of guests are invited at a time as to not overwhelm the cats.
The best part is knowing that your donation goes towards a good cause. Also all cats are adoptable if you are seeking a new pet! To date, over 1500 cats have been rescued and over 3000 saved from euthanasia!
More info on Crumbs and Whiskers
9. Take in the beauty of The Library of Congress
The Library of Congress, the official research library that serves the US Congress, is the largest library in the world. It is also the oldest federal cultural institution in the nation. Taking a self guided tour of the Jefferson building is one of the must-dos while in town. Additionally free guided tours are available on a first come, first serve basis.
When you arrive, simply pick up a brochure and continue on a self guided tour. Aside from the historical significance, The Jefferson is by far one of the most gorgeous buildings in all of D.C., if not the entire US. The stunning Beaux-Arts architecture, beautiful artwork, and elaborate decor is simply out-of-this-world. Along with enjoying the mesmerizing beauty of the interior, you will also get to browse a few galleries and historical exhibits.
Map of the Library of Congress
10. Shop & Dine in downtown Georgetown
If you have the extra time and do not mind paying for a Lyft, Georgetown is a beautiful area to explore. The downtown region is loaded with fantastic shops and restaurants. You will find bookstores, galleries, boutique shops, historical attractions, coffeehouses, a cat cafe, and more. Many of the best restaurants in D.C. are found in this area. IL Canale is a wonderful award-winning Italian restaurant. If you are seeking an excellent dinner experience, this is definitely a worthy choice.
Cobblestone streets and historic architecture give Georgetown's Main Street a picturesque old-fashioned vibe. During the winter, a seasonal rink opens near the waterfront. Overall, it's just a charming place to stroll around for a few hours, if anything just to escape the museums and crowds for a bit.
More info on downtown Georgetown
11. Explore the foodie scene
In recent years, D.C. has been following the nationwide foodie trend with new restaurants popping up everywhere around the metro. Founding Farmers is a really popular farm-to-table restaurant which offers an eclectic menu of fresh local fare sure to please everyone in your party. Plenty of vegetarian options here including the most delicious butternut squash ravioli. The flagship location is located just blocks from the White House.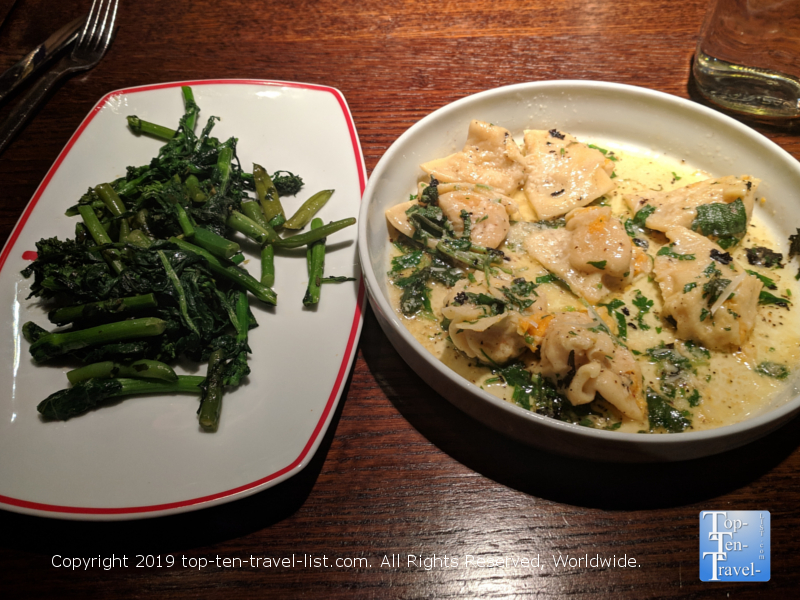 Il Canale mentioned above is the only D.C. restaurant to be honored by the Italy-America Chamber of Commerce and the National Institute of Tourism. Another interesting trendy choice is GCDC, a luxury grilled cheese cafe located a few blocks from the White House. Prices are a bit steep, although the sandwich options are pretty unique and the tomato soup is delicious!
A few other foodie choices in the Capitol Hill area
Unconventional Diner – A modern twist on classic diner fare.
Rasika – Upscale Indian fare in a modern setting.
Acqua Al 2 – The 2nd location of an Italian restaurant which originally opened in Florence in 1978.
12. Tour Capitol Hill
A tour of Capitol Hill should definitely be high up on your D.C. to-do bucket list. The tour includes a narrated walk through the Crypt, the Rotunda, and the National Statuary Hall. Separate passes are required to view the Senate and House (more details on the website). Walk up passes are available, or better yet. you can reserve in advance to ensure your spot (a must during the busy seasons).
Besides being the major symbol of American democracy, the Capitol building is an architectural wonder. You will be in awe as you tour the sights listed above. The mesmerizing paintings, grand architecture, and incredible fresco on the rotunda ceiling will leave you utterly amazed. The Statuary Hall is particularly impressive with its' impressive collection of 100 statues of notable figures.
13. See the monuments both day and night
Seeing the gorgeous monuments by day and night should be one of your top priorities visiting D.C. for the first time. In person, they are just so much more monumental and inspiring than you could ever imagine. Despite the cold conditions, winter is actually a great time to take a self guided monument tour. No crowds, easy to take unobstructed photos, and you definitely won't overheat – it's a win-win situation for sure!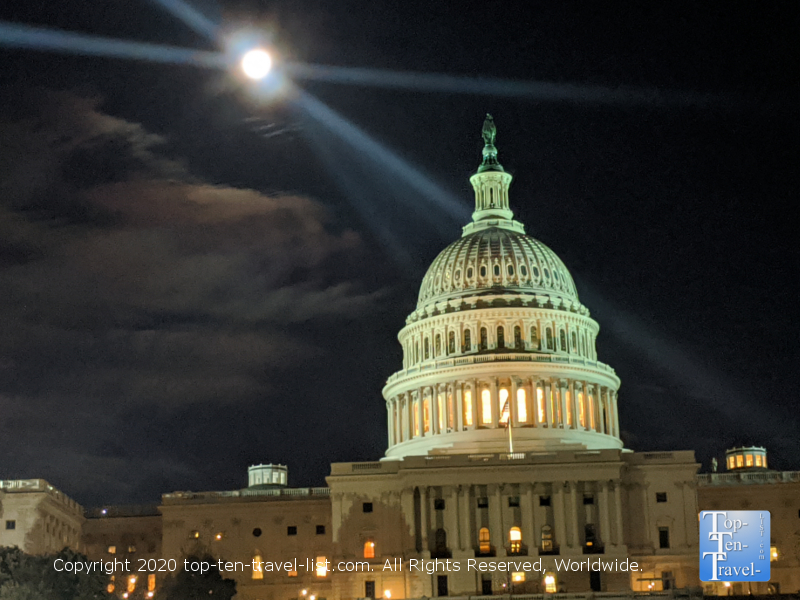 The total distance between the US Capitol and the Lincoln Memorial is about 2 miles. You will follow a gravel path through the National Mall with signs pointing you in the right direction, with additional detours to various sites of interest. Plan for at least 2 hours, more depending on how much time you spend at each monument. The entire course is beautiful with amazing architecture in every direction and the grand Smithsonians museums lining each side.
Of course, if you do not feel like putting in a bunch of miles, there are numerous tour options available (check out Big Bus tours).
You can download the National Mall map to help you along the way.
14. Browse through endless treasures at Capitol Hill Books
Capitol Books is a 3 level local shop filled to the brim with used books. This place really is a treasure for any book lovers visiting D.C. Seriously, you can spend hours in here simply browsing the floor-to-ceiling collection. I have found lots of unique books here. Best of all are the cute funny little signs posted all over the place (take time to explore and read all the hilarious post its!).
Capitol Hill Books is located right near the Eastern Market, so you can swing by after picking up a few souvenirs (so many talented artists attend this market!). Capitol Hill Books is one of D.C.'s local gems. The shop has been going strong since 1991, changing owners on several occasions, yet still as popular as ever with loyal locals.