3 Days in the Nation's Capital
Anyone interested in history, politics, architecture, and/or art, must put a trip to Washington DC on their bucket list. The National Mall is home to an amazing assortment of world class museums, galleries, and of course, stunning monuments dedicated to influential historical figures and events.
Below is a sample 3 day weekend itinerary for exploring the Capitol Hill neighborhood. Of course, a full week would be preferable to really take in all the historical sights. Note: there is so much to see and do, and thus, this list is not by any means all inclusive, but rather a helpful guide to some of the best attractions within the city.
Day 1
3:00pm – Check into the Capitol Hill Hotel. This wonderful moderately priced 3.5 star hotel is located within walking distance to the monuments. Nothing too fancy, but the price is right. Amenities include a complimentary breakfast, 24/7 coffee and tea, a complimentary wine hour, and bike rentals. Decor is pretty simplistic, yet aesthetically pleasing. Staff is friendly and willing to help with any trip recommendations.
5:00pm – Head down to the lobby for a cup of coffee or glass of complimentary wine. Light appetizers are also available.
6:00pm – Grab an early dinner to beat the crowds. Several restaurants are within walking distance if you would like to keep things stress-free your first night. If you like Chinese, Hunan Dynasty is a nice quiet local choice, serving authentic Chinese food in an attractive tranquil dining room. Other popular choices nearby include We the Pizza (pizza by the slice) and Acqua al 2 (authentic Italian).
7:00pm – One of the must-do's while visiting D.C. is viewing the monuments at night. They look even more spectacular lit up at dusk, plus the crowds are pretty much non existent, and the weather much more tolerable (during the summer season). At minimum, check out the WW2 Memorial, the Washington Monument, and the Lincoln monument. It's nice that all the monuments are connected via a walking path. The area is heavily patrolled, and feels completely safe at night. If you are not up for putting in thousands of steps, opt for a night time trolley tour. Note: The full route from the Capitol Hill Hotel to the Lincoln Memorial is about 2.5 miles each way.
Day 2
7:00am – Enjoy an early breakfast so you can get out to a few of the museums before the intense crowds hit. The breakfast is just mediocre (your basic continental fare plus eggs and oatmeal), however, the coffee is actually pretty decent. If you prefer to try something local, Le Bon Cafe is a quaint little French restaurant just around the block from the cafe. They serve great Quiche and Illy espresso.
8:00am – Get up early to walk the 2.5 mile self-guided monument path. You will get in plenty of exercise, while also taking in monumental history. Early morning is a great time to view the monuments. Photos typically turn out the best during early daylight hours. Plus, it is much more comfortable to enjoy the sights without the intense summer sun in your face. Take a look at this National Mall map to plan your adventure. Note: there are also maps along the trail.
Some of the noteworthy sights you will see along the route include the US Capitol building, the WWII Memorial, the Vietnam Memorial, the Jefferson Memorial, and the Lincoln Memorial. The White House is just a short detour (a few blocks or so) away from the Washington Monument.
If visiting during cherry blossom season (typically the beginning of April), you will want to head over to Tidal Basin Park where you will see thousands of gorgeous cherry trees. Bring with your camera – there are plenty of fantastic photo opps along the way.
11:00am – Grab a quick lunch as to not waste any precious time. There are plenty of casual cafes and quick service restaurants all over. Au Bon Pain is one of my favorite quick stops. It's not fancy, just a quick place to enjoy a healthy salad, cup of soup, or a sandwich, so you can enjoy a quick bite and be on your way. If you are planning to visit the White House, stop for lunch at GCDC, a great local cafe serving all different varieties of grilled cheese. Pi Pizzeria is a nice local pizza gem near The Portrait Gallery.
Noon – There are 11 free Smithsonian museums in the National Mall area. Unfortunately, you will not be able to get around to all of them on a simple weekend trip. They museums are really massive too (and some extremely crowded too), and so jam packed that it could take several hours to simply scan through each exhibit.
I highly recommend placing The National Portrait Gallery, The Natural Museum of American History, and The National Archives Museum near the top of your list. As the Portrait Gallery is open the latest (7pm while most other museums close at 5), you can save this one for later in the day. A tour of the Capitol Hill building is also a must. Reserve online to guarantee your spot (some walk ins are available, depending on traffic levels).
Capitol Hill highlights – National Statuary Hall featuring 2 statues representative of each state, gorgeous artwork, an amazing fresco painted on the ceiling of the rotunda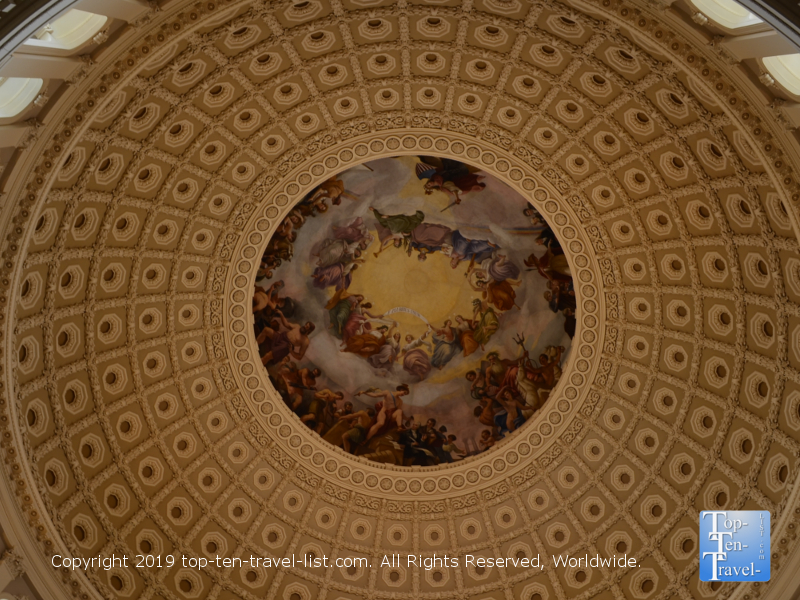 Portrait Gallery highlights – Portraits of every President, from George Washington to Barack Obama.
American History museum highlights – First Lady dresses, America on the Move (how transportation shaped our country), Wizard of Oz artifacts including Dorothy's ruby slippers, The Dolls house (an intricate 5 story, 23 room dollhouse by Faith Bradford), The Star spangled banner
The National Archives museum – See the Declaration of Independence, the Constitution, and the Bill of Rights. Sorry, no pics allowed inside! Note: this museum often has a very lengthy wait, especially on weekends!
National Gallery of Art – One of the largest art museums in the county. Also features an amazing outdoor sculpture garden. The holiday floral displays are amazing!
Note: all of the museums have cafes on site if you need a quick bite.
7:00pm – After a long day on your feet exploring the various Smithsonians, treat yourself to a dinner at Founding Farmers. This is a wonderful modern American restaurant which offers a diverse menu of comfort foods, in an attractive trendy space. The Butternut squash ravioli is a must try! The ambiance is casual, thus making it the perfect place to unwind after racking up so many miles (most days we averaged 11-13 miles!).
Day 3
7:00am – Get to breakfast as early as possible so you can maximize your last day. On weekends, breakfast is served starting at 7am. Again, if you prefer to go local, there are a few breakfast choices within walking distance. Le Bon mentioned above, Pete's Diner, and Starbucks are all within 2 blocks from the hotel.
9:00am – Explore The Library of Congress, conveniently located just a few blocks from the hotel. It was founded in 1800 and stands as the oldest federal cultural institution in the country. This is not only the official library of the US Congress, but also the largest library in the world! The architecture in the Main Reading Room is stunning, thus leading to its' ranking as "the most beautiful room in the world."
If you are a book lover, you will also want to check out the very quirky Capitol Hill Books, a used bookstore located just minutes from the hotel. This used bookstore is located in a house and every square inch is loaded with books, even the bathroom! The owner has plastered funny, sarcastic signs throughout the property. You'll likely have more fun reading the humorous signs than actually looking for books.
If you have the time, The Eastern Market is a great little outdoor market where you can pick up souvenirs or take home a unique piece from a local artist. It's located in the same area as Capitol Hill Books, so you can combine the 2 before checking out. Also, there are a number of great local restaurants in the area if you want to enjoy a nice lunch before checking out.
Note: The hotel will hold your luggage, so if your flight is later on in the day, you may want to explore a bit more. Arlington National Cemetery and Georgetown are nice quick day trips. Also consider The Museum of Natural History, The Hirshhorn Museum of Art, and The National Postal Museum.

Tips for visiting Washington D.C.
I recommend walking to get in some exercise and also to see some sights you would not see otherwise. However, taking a Lyft or Uber is another convenient way to get around, although a bit on the pricey side. A narrated trolley tour is another alternative.
If you would like a tour of the White House, you must sign up for the wait list in advance. These tours are available on a first come, first serve basis. You can register 21 days-3 months in advance. Capitol Hill tours are recommended if you are not selected for the White House tour.
Be prepared for lots of rain during the spring season. Fortunately, the Capitol Hill hotel has complimentary umbrellas in each room.
A travel tripod comes in handy for photographing the monuments at night.
Consider a daytrip to The National Zoo. It's free and one of only 3 US zoos to house a panda bear.
Book your hotel in advance. The hotels in the Capitol Hill area fill up fast especially in the prime season.
Avoid cherry blossom season if you would prefer not to deal with the extra hassle of dealing with immense crowds. This is the busiest time of the year. It's also one of the pricest times of the year to so hotel rates will be jacked up.
Be aware that there are security checks at all the museums. Be sure to leave any pocket knifes/outdoor gear at the hotel.
Wear comfortable shoes and carry a backpack so you can load it with water, snacks, and other essentials like sunblock.