Attraction of the Week: The Smithsonian National Portrait Gallery
The Smithsonian Portrait Gallery is an unexpected D.C. gem, not as highly touted as the more popular museums, however, just as fascinating and worthy of your time. Like all the other Smithsonian museums in the National Mall, admission to the Portrait Gallery is free! It's a nice refreshing change of pace planning a vacation where the majority of attractions are free for a change!
The gallery was founded by Congress in 1962 for the purpose of displaying portraits of "men and women who have made significant contributions to the history, development, and culture of the people of the United States."
JFK

George Washington
Martha Washington

Theodore Roosevelt
The Portrait Gallery shares its' space in the historic US Patent Office building with the Smithsonian Museum of American Art, one of the country's largest & most impressive art museums. The enormous building takes up an entire city block. Built in gorgeous Greek revival style in 1840, the building stands as one of the oldest public buildings in D.C.
This place is massive with more than 1400 portraits typically on display at any given time. The full museum collection includes photographs, paintings, drawings, and sculptures, for a total of more than 20,000 impressive works. Strolling around the gigantic place is literally a long walk through the history of our nation. If you choose to also visit the American Art Museum, you'll get in even more of a workout as you browse over 40,000 works by 7000 artists.
Here is a look at a few of the more interesting permanent exhibits.
Presidential Portrait Gallery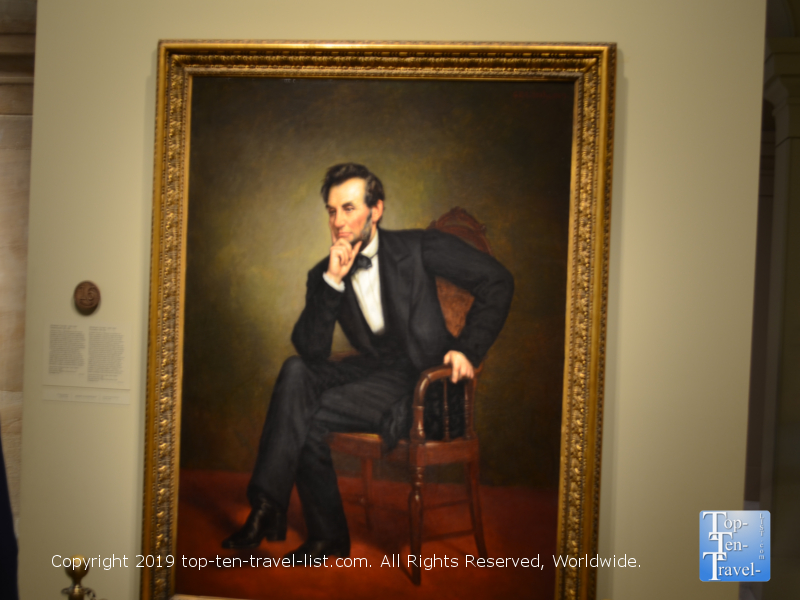 The Portrait Gallery is home to the country's only full collection of Presidential portraits (besides the White House). From Thomas Jefferson, to Abraham Lincoln, to Barack Obama, this exhibit tells the story of America's history through intimate portraits of the leaders that helped shape our nation. The highlight here is Gilbert Stuart's "Lansdowne" portrait of George Washington.
Gilbert Stuart was the first artist to paint a portrait of a President. Since his painting of George Washington in 1797, it is now tradition for every US President to have his portrait done, most commonly as an oil painting. The artists are all extremely talented. It's really incredible how precisely they were able to portray the individual uniqueness of each President.
On February 12th, 2018, portraits of Barack and Michelle Obama joined the collection. The Obamas chose artists Kehinde Wiley and Amy Sherald to paint their likeness. This marks the first time in history that African American artists were commissioned for original portraits.
The Obama portrait
The Obama portrait is wildly popular – the only one where you may have to stand in line and wait your turn for a quick photo. Since unveiling Obama's portrait, the Portrait Gallery has seen a massive surge in visitation. According to The Washington Post, the museum saw a record 2.3 million visitors the year that Mr. & Mrs. Obama's portraits went up (this is one million more than the prior year!).
If you are wondering where Trump's portrait is located, you will have to wait. Trump's portrait will likely go up at the end of his term.
Portraits are conveniently arranged by time frame, beginning with the first 4 Presidents & Founding Fathers, and ending with the well-known figures of recent years such as George W. Bush, Bill Clinton, and Ronald Reagan.
A few of the incredible presidential portraits
Bill Clinton, 42nd President

Ronald Reagan, 40th US President
George H. W. Bush, 41st President

George Bush, 43rd President
Gerald Ford, 38th President

John F. Kennedy, 35th President
Lyndon B. Johnson, 36th President

Dwight D. Eisenhower, 34th President
Harry S. Truman, 33rd President

Franklin Roosevelt, 32nd President
Herbert Hoover, 31st President

Andrew Johnson, 17th President
Abraham Lincoln, 16th President

Thomas Jefferson, 3rd President
George Washington, Founding Father & 1st President of the US
While the presidential portraits are the big draw here, the museum has much more to offer. This place is gigantic with rooms and rooms full of historical paintings, drawings, and sculptures. You will need a few hours minimum simply to briefly scan all the exhibits. (you can skip the gym for sure!). Fortunately, this museum is well worth your time – a definite D.C. bucket list contender.
The Struggle for Justice
This portion of the museum spotlights activists, including historical icons who have fought for civil and women's rights. Highlights include portraits of women's right activist Susan B. Anthony, prominent civil rights activist Martin Luther King, and Special Olympics founder Eunice Kennedy Shriver. 40 portraits line this gallery, from the most important 19th century leaders who led the way, to those who have continued to fight for rights for marginalized groups in recent years.
Additionally, "Votes for Women," is an interesting temporary exhibit which highlights African American activists.
Champions
This exhibit features portraits and various memorabilia relating to iconic American sports figures. Whether your preferred sport is hockey or swimming, you'll see Wayne Gretzky, Michael Phelps, and various other sports legends lining the walls.
American Origins
In this exhibit, you will take a walk through history via 18 galleries, taking a step back in time to the American Indian wars, the Civil War, the Gilded Age, and much more. Notable portraits include Thomas Edison, Nathaniel Hawthorne, and Alexander Hamilton. History buffs are sure to be most impressed with the diverse variety of historical figures & artifacts on display.
Here is a brief overview of the diversity of paintings, sculptures, and artifacts you will see in the American Origins exhibit.
Thomas Edison, America's greatest inventor

Edison's tin-foil phonograph
The automatic telegraph receiver, patented in 1837 by Morse.

Samuel Morse, inventor of the telegraph
The famous "Cracked Plate" photography of Lincoln, is known to be the last formal portrait taken before his assassination

A lithography of the Lincoln assassination
19 Century poet Edgar Allen Poe, most known for "The Raven"

American pioneer Daniel Boone
Steel tycoon Andrew Carnegie, known as "the richest man in the world."

Railroad tycoon Cornelius Vanderbilt, one of the richest self-made millionaires
Alexander Hamilton, one of the founding fathers

Benjamin Franklin, one of the founding fathers
Sculptural bust of Albert Einstein, Physicist known for this theory of relativity

Famous poet & philosopher, Ralph Waldo Emmerson
Andrew Jackson, 7th US President & General in the War of 1812

Sculptural bust of Andrew Jackson
Bust of Alexander Graham Bell, best known for his invention of the telephone in 1885

Bust of novelist Louisa May Alcott, best known for "Little Women"
A gorgeous Steinway piano, circa 1903, the 100,000th Steinway produced. This was the main White House piano until 1937. It was donated to the White House during Roosevelt's term. When a new piano arrived, this gold lined beauty was donated to the Smithsonian.
The Portrait Gallery is the first major museum to feature an exhibit on
daguerreotypes, the earliest practical form of photography.
Bravo!
This exhibit focuses on entertainment figures from the past to the present. Portraits range from PT Barnum (founder of Barnum & Bailey circus), to Elvis Presley, the King of Rock N' Roll.
Out of all the DC area museums, the Portrait Gallery is one of the best of the bunch. This museum is the perfect choice for history buffs and photographers alike, as well as anyone else who appreciates great art. You will not find a museum like this anywhere else in the country, and that alone makes this a bucket list contender. In short, be sure to plan out a few hours to check out this overlooked Smithsonian gem.
Best time to visit
The nice thing about the Portrait Museum is that it stays open a bit later than the other museums (7pm), so you have something to do when all the other museums close at 5. Plan on at least 2-3 hours to browse the entire museum, more if you plan on checking out the Smithsonian American Art Museum too. Fortunately, this museum does not get as crowded as the other Smithsonians. Thus, a visit to the portrait gallery comes in as a welcome break from the D.C. museum congestion.
Additional Info
Location: 8th St NW & F St NW, Washington, DC 20001
Hours: 11:30am-7pm, 7 days a week
Admission is free!