Rhode Island's Jack O'Lantern Halloween Spectacular: Over 5000 Unique Artistic Creations!
After watching a "Halloween Crazier" special on the Travel Channel, Mike & I knew we had to make a trip over to Roger Williams Park Zoo in Providence, Rhode Island for the Jack O'Lantern Spectacular Event. This amazing artistic event held every October features over 5000 intricately carved pumpkins.
As you walk along the Pumpkin Trail, you will be awed by the number of different Jack O'Lanterns present. These aren't your ordinary carvings; you will find detailed celebrity, nature, historical, and political creations. This year's theme is a dedication to the different regions of the US. The Heartland, Pacific Coast, Mid-Atlantic, Appalachians, and New England are all uniquely represented in their own Jack O'Lanterns.
It takes the artists between 15-20 hours to complete each pumpkin.  And, they replace the old pumpkins with fresh creations each week! Imagine all the time & effort involved in this event! An intricate sketch is drawn on each pumpkin. Next small pieces are carved out, rather than the traditional full cut out (the ending effect is beautiful).
The best part of the trail is arriving at the amazing grand finale. 100s of Jack O'Lanterns cover both the ground and the trees. This is one of the most jaw dropping Halloween displays I have ever seen. It really is something you need to see in person to truly appreciate!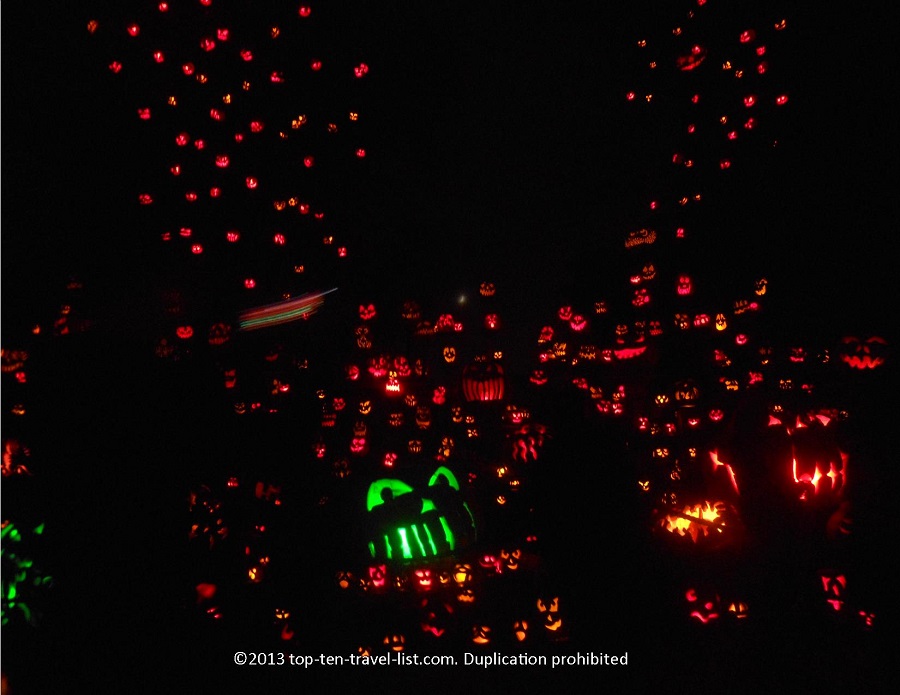 Pictures from the Pumpkin Trail
This is a very popular event. Open 7 days  a week, we figured Tuesday would be perfect, however, the crowds were still enormous! We arrived at opening time and still had to wait a half hour to get on the trail. I recommend buying online tickets in advance so you can bypass the long lines. It was hard to get as many or as high quality photos as we would have liked, however, we did our best! Enjoy looking through this spectacular photo gallery featuring some of the best pumpkin carvings of all time!
New England themed carvings
Representing Maine…lobster and lighthouse
Live Free or Die (New Hampshire state slogan)
A historic New England covered bridge
Family Guy (takes place in Pawtucket, Rhode Island)
Benjamin Franklin (born in Boston, MA in 1706)
"Boston Strong" In memory of the Boston Marathon