A Relaxing Sunday Morning Ride at Florida's Fort De Soto Park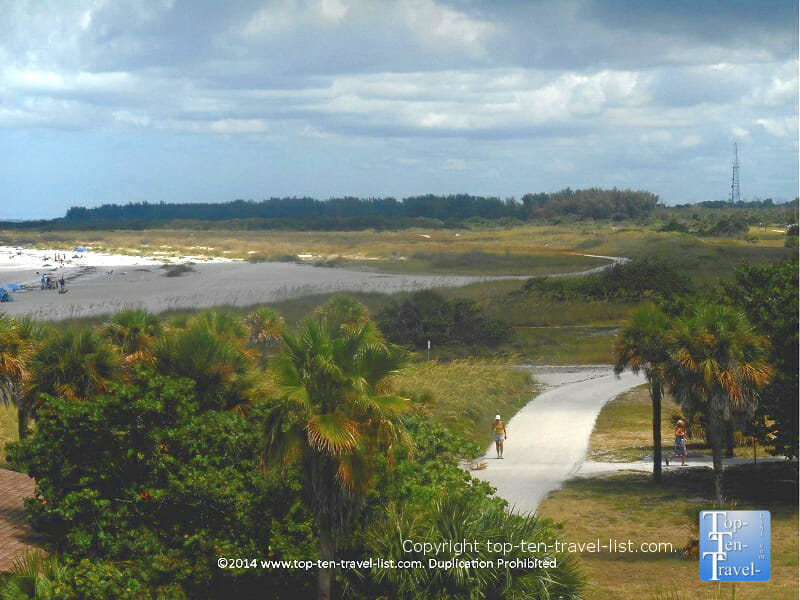 Pinellas County, Florida's largest park is Fort De Soto, a St. Petersburg treasure consisting of 1136 beautiful acres of beaches, mangroves, hardwoods, and wetlands. The beautiful beaches found here are frequently rated amongst the best in the country.
Florida's beautiful Gulf Coast park features a number of attractive amenities, including: a 6.8 mile recreation trail, 3 miles of gorgeous beaches, dozens of serene wooded picnic areas, fishing piers, a dog park, nature trails, and kayak rentals.
Biking at Fort deSoto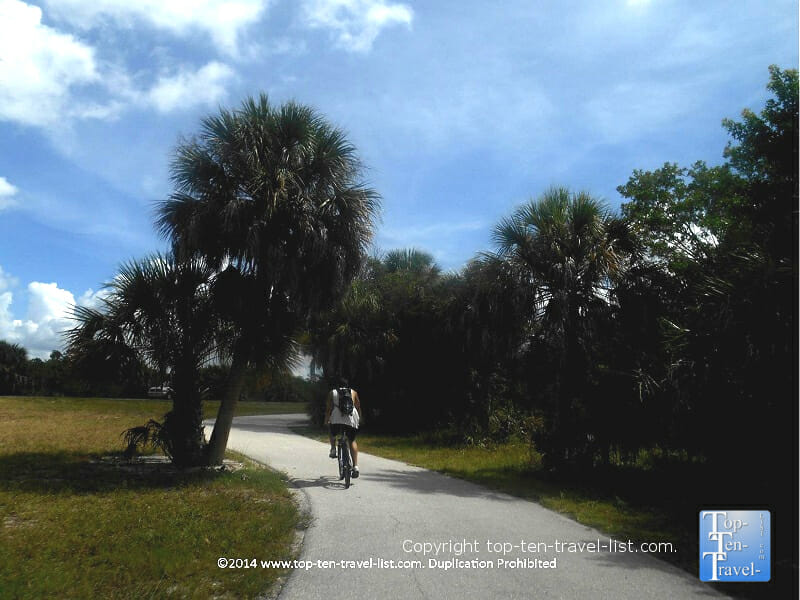 A leisurely bike ride along the flat, paved 6.8 mile trail is one of the best ways to get around the different beaches while also taking in the gorgeous views and getting in some healthy exercise for the day.
The bike trail is one of the best in the area. Unlike many other Tampa Bay bike trails, there are no busy roads to cross, no views of strip malls, and the absence of heavy traffic noise. The views are much more natural and relaxing.
The trail was surprisingly secluded with only a handful of other riders out enjoying the day. Although a road runs alongside the trail, traffic was very light. I was surprised that the park was so desolate on a weekend, especially after visiting other crowded tourist hotspots like St. Pete Beach and Honeymoon Island. It was definitely a nice change of pace!
The bike ride was smooth, scenic, and peaceful. Because the trail was so flat and fast, the 12 miles flew by. Beautiful palm trees and grassy areas line the path, giving you plenty of natural views to make your ride a more picturesque experience, rather than just a workout. The Fort De Soto trail is a great option for everyone, even beginners. It's enough of a workout, yet not too draining. It is not a loop trail, so you can turn around whenever you like. One thing's for sure – I will definitely be back for another ride!
Fort deSoto beaches
You will pass both North and East beach on the trail. The beaches of Fort De Soto are beautiful: clean, smooth white sand, warm waters, not overly crowded. Pictured here is North Beach, frequently rated as one of the top Tampa Gulf beaches. This is the perfect beach to spend a weekend afternoon sunbathing, swimming, and reading. I am definitely considering a return visit just to check out the beaches for the day.
Tips for a great visit
*Bring a water bottle with for the ride. You want to be properly hydrated, especially in the hot Florida weather.
*Plan your ride for the early morning hours when the temperatures are coolest.
*Apply plenty of sunscreen to exposed parts of your body. Most of the trail is not shaded.
*Bring with a camera. There are plenty of photo opportunities, especially at scenic North Beach.
*Bring with a swimsuit to change into in case you decide to cool off with a swim after your ride.
*Pack a picnic lunch. There are plenty of scenic areas to picnic at within the park.
*Bike rentals are available if you do not have your own. The Pedaling Pelican offers a variety of styles, from single speed beach cruisers to double surreys. Rates vary based on type of bike/number of hours purchased. Second hour is 1/2 price with free helmet rentals included.
Location & Parking Information
Fort De Soto Park is located at: 3500 Pinellas Bayway S, St Petersburg, FL 33715.
Admission is $5 (includes parking)