Attraction of the Week: Southern California's Marvin Braude Bike Trail
Sunny Southern California is a year-round outdoor lover's paradise. Endless opportunities for recreation exist both on and off the beach. One of the best ways to get in some sun, exercise, and fun is by taking a bike ride along the gorgeous Pacific coast.  Southern California is home to one of the country's top rated beach bike paths. The Marvin Braude bike trail, aka The Strand, is a favorite of both locals and tourists and has been featured in various media. I absolutely love everything about this path – the coastal views, the flat, smooth nature of the ride, the endless people watching opportunities, and the fun stops along the way.
The journey starts at Torrance Beach and ends at Will Rogers State Beach in Pacific Palisades, or vice versa. This paved path is very flat, which is great news for beginning cyclists. Even though the trail is long at 20+ miles, the numerous stops for entertainment along the way will keep you pedaling to the finish. You will pass all of the best L.A. beaches including Torrance, Redondo, Hermosa, Manhattan, Venice, and Santa Monica.
22 miles of scenic views of the Pacific coastline: what more could you ask for? The fun doesn't stop with the magnificent ocean views. Notable attractions include the Manhattan Beach Pier, the Venice Beach boardwalk, and the Santa Monica Pier. Beautiful beaches, million dollar homes, surfing, volleyball games – you name it, you will see it all along the way.
As you can see the path is well-marked along the way. I usually bring with my Garmin GPS watch to track the distance, however, these markers will help those who don't have their own watch.
Highlighted below are a few of the most iconic attractions along the route. Do take some time to explore these iconic sites without having to put up with the L.A. traffic and hassle of finding parking. It also gives your legs a bit of a rest after miles on end of riding!
The Manhattan Beach Pier
Taking a break at Manhattan Beach will give you an opportunity to get off your bike for a bit and explore this beautiful beach. At 6 miles in, this is the perfect time to stop and enjoy the views. The 928 foot pier, built in 1920, is a great spot for photography. The views at sunset are stunning. This historic pier happens to be the oldest concrete pier in the West. On a side note, Manhattan is one of the most beautiful beaches of LA county. The sand is impeccably clean and soft. There is always something going on, but it never feels too crowded, thus making it an ideal choice for a relaxing break.
The Venice Boardwalk
About 16 miles in, you will pass the Venice boardwalk. This iconic area is well known for Muscle Beach and the crazy street performers on the boardwalk (you will see just about every crazy show here possible, from walking on glass, juggling, you name it). There are plenty of touristy shops to browse through and a few restaurants to refuel before continuing on. You are going to want to park your bike and take a look around. Venice is just one of those crazy places you need to see at least once!
Did you know that the original Muscle Beach was located in Santa Monica? The gym located in Venice is called Muscle Beach Venice to distinguish it from the original location. Arnold Schwarzenegger was once a regular here. A $10 day pass is required or you can watch the various competitions held throughout the year. Note: there are also rings, bars, and other gymnastic equipment to use for free (outside of the gated weight lifting area).
The weight training area at Muscle Beach Venice
Muscle Beach acrobatic equipment
The famous Venice basketball courts (seen in various films such as White Men Can't Jump)
The Santa Monica Pier
The historic Santa Monica Pier opened back in September of 1909. Attractions include Pacific Park (an amusement park featuring a roller coaster, rides, and carnival games), an aquarium, an antique carousel, and several restaurants and bars. The must-do here is definitely a ride on the iconic roller coaster, which is worth the small admission fee. The panoramic views of the coast are amazing.
There are plenty of interesting things to see & do including a chance to take a picture holding a snake & other bizarre photo opps.
The famous roller coaster
Fantastic coastal views from the ride
A Route 66 sign marks the official end of the famous "Mother Road." The Santa Monica Pier was officially declared as the western end of the road.
As you can see, there are all sorts of attractions at one of the most popular tourist beaches in L.A. However, after all that riding, you may just feel like relaxing for a bit. Although not my favorite beach due to the touristy nature, Santa Monica State Beach does offer some pretty fantastic scenery. It's hard not to relax & drift away with views like these!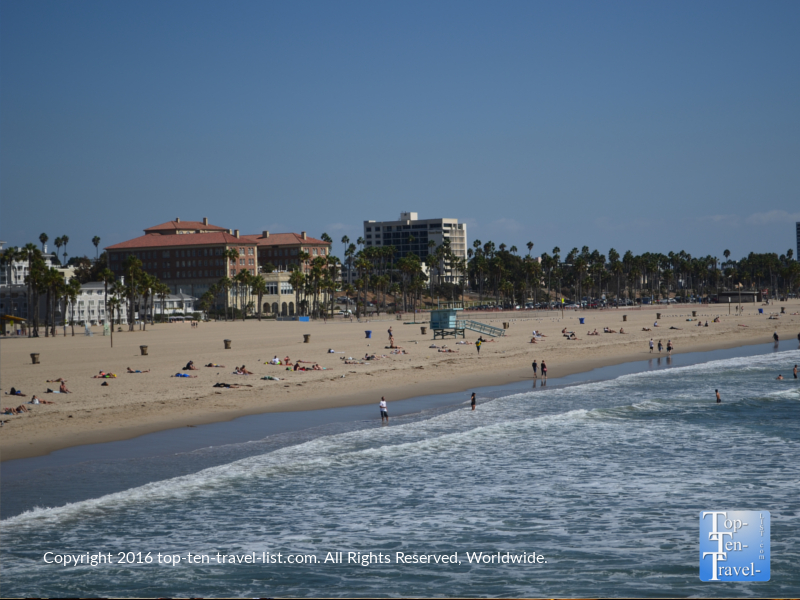 Will Rogers State Beach
This beautiful beach in Pacific Palisades has been used as a filming location for various TV shows and movies throughout the years, with one of the most famous being the classic long running Baywatch series. The beach marks the end (or beginning) of the path. I like to start at Torrance and take a break at Will Rogers before completing the 22 mile return journey.
The best free activity in L.A.!
Whether you choose to complete the entire path or just a section, you are bound to leave happy, energized, and feeling like you got a fresh workout in. This bike ride is the perfect way to start any weekend in Los Angeles. Do your body and mind a favor and get out and explore this wonderful, free attraction. There is no better way to see so much in such a short period of time. If not, you are missing out on one of Southern California's top attractions.
I'll leave you with one more fantastic photo of a sunset over Torrance Beach. What a nice sight to come back to after a 44 mile ride!
Helpful Tips for a Smooth Ride
*Get out there early! This is when the path will be the least congested and the most fun!
*I wear a camelbak whenever doing any sort of lengthy exercise. With this handy hydration backpack, you do not need to stop for multiple water breaks. The extra pockets come in handy for storing small necessities like sunglasses, your keys, a phone, or small camera, etc.
*Do not bring with a bulky camera! You are going to want to take pictures, however, you do not want a big camera weighing you down. I recommend a phone or small slim camera like the Sony Cybershot.
*Remember that you have to come back the way you came! Take this into consideration when deciding where to turn around. Although the path is pretty flat and easy, completing the entire path is definitely a major workout, not to mention time consuming!
*Pack with plenty of easily accessible small snacks like granola bars, fruit, a sandwich, and salty chips or crackers.
*If you haven't taken your bike out in a while, you may want to get a quick tune up to make sure it is in proper condition. Also be sure to check your tires for air! If you need to rent a bike, there are plenty of local shops in the area.
*I recommend eating a light breakfast/lunch before starting your ride. You want a little something, but nothing so filling that it will be bothering your stomach.
*Take frequent breaks so you do not tire out. There are plenty of attractions along the way to recover and refuel for a bit!
*A compact bicycle repair kit comes in handy in the case of a flat tire. It's always good to have on hand.
How to get here
Directions: Torrance Beach is located at 387 Paseo de la Playa. There is a paid parking lot or you can find a side street to park on for free. If starting at Will Rogers, you will want to park around Pacific Coast Highway & Temescal Canyon Rd.
Need a bike rental? Hermosa Cyclery has a wide range of options available by the hour, day, or week. Check the website for pricing and additional details.
More fun in the L.A. region
For more fun things to do in Southern California, check out my list of the top 10 free attractions in Southern California. You will finds lots of diverse fun on this list, with everything from beautiful beaches, to coastal hiking trails!