25 Fun Things to do in Southern California
Southern California is one of my favorite year-round vacation destinations. Beautiful weather, amazing beaches, and plenty of waterfront attractions place it high on my list for summer fun and recreation. Offering a plethora of fun, scenic, and more often than not, completely free things to do, a trip to Southern California should be added to every nature lover's bucket list.
With so many interesting things to do, you will never be bored no matter how many times you visit. Gorgeous sandy beaches, endless fitness opportunities, fun tourist attractions, gorgeous waterfront activities, and cultural attractions are just some of the items that should comprise your Southern California to-do list. Enjoy the suggested activities/attractions and feel free to share some of your personal favorites in the comments below.
in no particular order…
25 Fun Things to do in Southern California!
1. Take a ride along "The Strand" bicycle path
22 miles of easy riding along Southern California's gorgeous coastline awaits you on one of the best paved bicycle trails in the country. Along the route, you will pass by numerous beautiful beach towns, each with their own unique look and attractions.
Never ending views of the coast, plenty of fun stops along the way, and an awesome workout all rolled into one – who could ask for more?! Highlights along The Strand route include the Manhattan Beach Pier, Venice Beach, and the Santa Monica Pier. To date the most fun bike path I have ever experienced! A must-do on any visit to Southern California!
Address: Torrance Beach to Will Rogers State Beach
More info on the Marvin Braude Bike Path
2. Hike Runyon Canyon
Runyon Canyon is one of my favorite place to hike in Southern California. The views of Los Angeles, the Hollywood sign, and the surrounding mountains are nothing short of amazing. You will want to bring your camera for this one! If you visit on a weekday, it really is a quiet and enjoyable place (weekends are another story!). Take a break from the beaches and spend a perfect summer afternoon enjoying the incredible views, while also getting in an energizing workout. If you are up for a challenge, running along the hills here really kicks your butt (one of my favorite places for race training!). For a relaxing alternative, free yoga is offered daily – check the schedule for session times!
Address: 2001 N Fuller Ave Los Angeles, CA 90046
More info on Runyon Canyon
3. Ride the iconic Santa Monica Pier roller coaster
The historic 100 year old pier is complete with carnival games, rides, restaurants, and a small aquarium. The fun roller-coaster is not your ordinary amusement park ride, rather one loaded with stunning 360 degree ocean vistas. This is one of my favorite stops along The Strand bicycle path – a welcome treat after biking 20 miles! On an interesting side note, did you know that the pier marks the end of the famous Route 66 highway?
Address: 200 Santa Monica Pier Santa Monica, CA 90401
More info on the Santa Monica Pier
4. Bike, surf & enjoy the views in Huntington Beach
Huntington Beach is one of my favorite beach towns in Orange County. In addition to an 8 mile long bike/walking path, you will also find plenty of unique restaurants and shops and exciting events all year long. Known as the "Surfing Capital of the World," the Huntington Beach pier is a great place to observe surfers in action. The US Open of Surfing is held annually each summer. Those without a shark phobia, can sign up for a lesson! If you are going to learn to surf in Southern California, you might as well learn to do so in the Surfing Capital.
Address: Main & PCH Huntington Beach, CA 92646 (Pier)
More to do in Huntington Beach
5. Visit the San Diego Zoo
Sure, it is one of the priciest (60+ bucks a person) and toughest zoo walks around (the course is very long and hilly!), but nevertheless well worth a visit for the gorgeous landscaping, diverse variety of animals (one of few US zoos home to the Giant Panda), and unique attractions (check out the Skyfari tram ride). This large zoo, set on 100 acres in gorgeous Balboa Park, will take 4-5 hours to walk in its' entirety, so plan on getting in one fabulous workout! To save a few bucks on zoo admission & avoid the long line (hundreds of people will be lined up at least a half hour before opening), purchase discount tickets online.
Address: 2920 Zoo Dr, San Diego, CA 92101
More info on the San Diego Zoo
6. Drive up the Pacific Coast Highway
The beautiful Pacific Coast Highway, commonly referred to as the PCH, starts in San Diego and ends in Northern California's Mendocino County. One great route (if you want to stay in Southern California) is to drive from San Diego to San Luis Obispo. Along the way, you will take in the most stunning coastal scenery, as well as pass through many quaint beach towns and sights of interest. Although the Southern portion of this drive is not nearly as spectacular visually as the Central/Northern portion, it is still more than worthy of your time. If you have the time, plan a week or so for the entire drive up the coast.
7. Take advantage of the extraordinary hiking trails at Griffith Observatory
Head over for an afternoon hike at the Griffith Observatory, one of L.A's best attractions. A few miles of short, yet steep trails will take you up close to the Hollywood sign. Asides from a prime view of the famous sign, there are some great views of the skyline and surrounding hills here. Then after you hike, you can take in the views of the starry night skies at the observatory. One of the best spots in the city for night views of Los Angeles!
Address: 2800 E Observatory Ave, Los Angeles, CA 90027
More info on the Griffith
8. Enjoy a peaceful morning walk or jog along the beach
From my experience, the beaches are pretty desolate in the early morning hours. This is the perfect time to appreciate the beauty and serenity by listening to nothing but the crashing of the waves. There is nothing more motivating than jogging along a beautiful Southern California beach – no excuses now! Pictured below are 4 great beaches for morning walks and recreation: Long Beach, La Jolla Shores, Mission Beach, and Santa Monica State Beach.
Addresses: Long Beach (2100 E. Ocean Boulevard, Long Beach, CA), La Jolla Shores (8200 Camino del Oro La Jolla, CA 92037), La Jolla Cove (Coast Blvd, San Diego, CA 92037).
More to do in Long Beach and San Diego
9. Take in a unique street performance at Venice Beach
Visiting Venice beach is definitely a unique once in a lifetime experience…we saw someone walk on glass which was pretty crazy! You also have the opportunity to visit Muscle Beach, once a prime spot for bodybuilding competitions (Arnold Schwarzenegger was once a regular here!). Venice is just one of many great rest breaks along The Strand Bicycle Path, and for sure one of the most interesting after a long ride!
Address: 1500 Ocean Front Walk Venice, CA 90291
More to do in Venice
10. Hike the scenic nature trails at Torrey Pines State Preserve
Torrey Pines State Nature Preserve in La Jolla, a gorgeous section of San Diego, offers several short & scenic nature strolls to enjoy the breathtaking scenery of the Pacific. It's the place to go when you want to take your workout outside, enjoying the beautiful year-round summer weather and picturesque views of San Diego's coastline. Really, who needs a gym in an area this gorgeous!?
Address: 12600 N Torrey Pines Rd, La Jolla, CA 92037
More information on Torrey Pines
11. Shop, dine, & enjoy the views in Shoreline Village
Browsing around Shoreline Village, located near Downtown Long Beach, is a fantastic way to spend a summer afternoon. Not only is it home to the top rated Aquarium of the Pacific, there are also over a dozen restaurants located on the waterfront, all with scenic outdoor seating. Add in beautiful water views, souvenir shops, whale watching cruises, beaches, an amazing beachfront walking/biking path, and entertainment, and you have a full day of fun activities. Tip – go up to the lighthouse in the evening for fabulous city views! Tip: Sign up to receive Groupon deals in the L.A. area. Various restaurants, whale watching cruises, and attraction deals are often offered in Long Beach, as well as other areas in Southern California.
Address: 401-435 Shoreline Village Drive, Long Beach, CA 90802
More info on Shoreline Village
12. Enjoy a peaceful morning hike at Crystal Cove State Park
This hidden gem in Orange County's Laguna Beach provides serenity, scenic views, and an intense hiking trails for a fabulous workout. Crystal Cove is a beautiful, peaceful state park for enjoying nature and taking beautiful photography. The hills are very steep, so be ready for an awesome lower body workout! Crystal Cove is an outstanding place to train for races. There is a really nice beach too, which isn't as crowded as more touristy choices. After your hike, enjoy some R&R at the beach!
Address: 8471 N Coast Hwy, Laguna Beach, CA 92651
13. Take a leisurely ride (or jog) along the Long Beach Bike path
Although not the longest, nor most popular path in the area, this 3 mile trek is a great option for those limited on time and looking to squeeze in a quick workout on the beach. At 6 miles round-trip, the Long Beach path is perfect for those seeking a scenic summer workout that is not too long nor exhausting (it's so easy that we usually complete the entire path twice for a nice little workout). The path is completely flat, not overcrowded, and offers unending views of the water! As a bonus, if you continue biking past the path for another 1/2 mile or so you will be in beautiful Shoreline Village!
Address: Alamitos Ave and Ocean Blvd Long Beach, CA 90802
14. Hike the Santa Monica Mountains
There are hundreds of miles of beautiful trails to explore within the Santa Monica Mountains National Recreation area, which at 154,000 acres, is the world's largest urban national park! It's wonderful to have so many peaceful, scenic, rustic trails just a short drive away from the city. Trails are very diverse, ranging from simple nature strolls to all day adventures, with scenery highlights varying from picturesque coastal views, to up close views of the L.A. skyline.
For a bit of everything, just 10 minutes from Santa Monica beach, I recommend the Los Liones Trail. This relatively easy hike is just under 3 miles total, not very hilly, and offers wonderful views of the coast and the skyline. Bring plenty of water, wear quality hiking shoes, and set out in the morning to avoid hefty crowds, and you are ready for a rustic escape from the urban congestion!
Address: 566 Los Liones Dr Pacific Palisades, CA 90272. There is no fee to park!
More info on the Los Liones trail
15. Watch the sea lions sunning at La Jolla Cove
La Jolla Cove, a quiet beach bordered by 2 sandstone cliffs, is one of San Diego's prettiest beaches: one of the best for photography. However, photographing the beautiful coastline is not the only thing you will be interested in at La Jolla Cove, as it is common to see lots of sea lions sunning on the rocks. There are so many of them out in the early morning hours. I recommend grabbing a bite to eat in La Jolla (Caroline's Seaside Cafe is one great choice), and then heading to the beach before the afternoon crowds arrive. Other activities to enjoy here include swimming, snorkeling, scuba diving, and collecting sea glass.
Address: Coast Blvd, San Diego, CA 92037
More information on La Jolla Cove
16. Visit the Bolsa Chica Ecological Reserve
Located in Huntington Beach, this beautiful reserve is one of the best places in the OC for bird watching (I have never seen so many birds!) and provides a nice quiet setting to enjoy a peaceful nature stroll away from the suburban congestion. Bolsa Chica is a gorgeous spot for photography, and a great alternative for those who want a break from the beach crowds. As an added bonus, you can head over to Huntington Beach afterwards for recreation, shopping, and dining!
Address: 18000 Pacific Coast Hwy Huntington Beach, CA 92648
More info on Bolsa Chica
17. Take a stroll, walk, or jog along San Diego's Oceanfront Boardwalk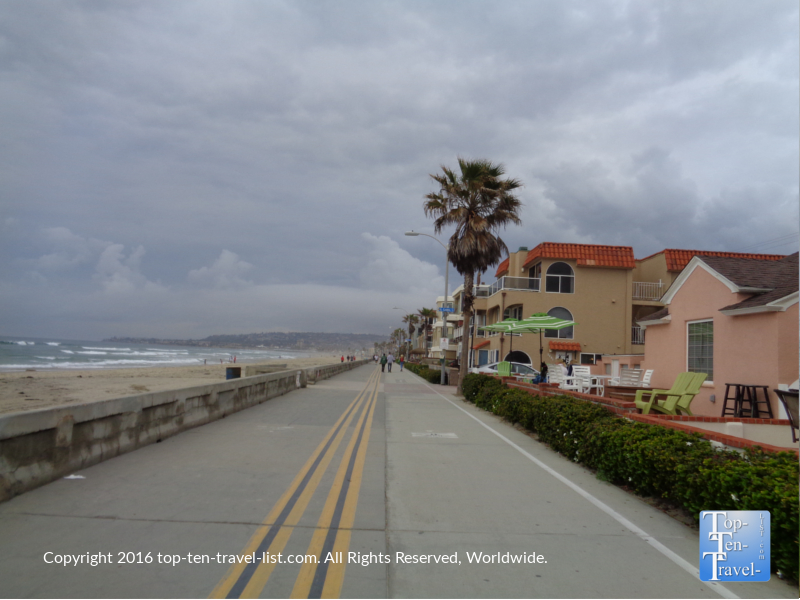 The beautiful Mission/Pacific Beach boardwalk, which spans 3 miles along the San Diego coastline, offers a picturesque setting for anyone looking to enjoy some outdoor recreation in the California sunshine, or simply take a leisurely stroll while enjoying endless views of the stunning Pacific. Fun people watching, unique attractions along the way (Check out the Giant Dipper coaster at the Belmont Amusement Park), and beachfront restaurants/shops will keep you motivated to complete the entire path. Tip: Weekends can get busy, so try to plan your visit on a weekday morning.
Address: There is a large free parking lot near the Belmont Amusement Park (3146 Mission Blvd, San Diego, CA 92109).
More information on the Mission/Pacific Beach boardwalk

18. Attend a TV show taping
Last year, I saw a summer taping of both "The Tonight Show with Jay Leno" and "Big Brother." Both tapings offered a great glimpse into the production side of the TV industry. Tickets to sitcoms, game shows, and reality TV shows are available. Why not take this once in a lifetime opportunity to make up the laugh track for you favorite sitcom as a member of the studio audience? Plenty of shows tape each season, just check tvtix.com.
Address: 3000 W Alameda Ave Burbank, CA 91503 (NBC Studios)
19. Search for your favorite stars at the Hollywood Walk of Fame
Looking for your favorite celebrities hand and footprints is a fun, free activity to do if you are visiting the LA area. Here's your best (and likely) only opportunity to take a picture next to all your favorite celebs. There is a shopping center called Hollywood & Highland (now Ovation) located within walking distance where you will find plenty of fun tourist shops and restaurants, in addition to amazing views of the Hollywood sign!
Address: Hollywood Blvd & Vine St Hollywood, CA 90068
More info on the Walk of Fame
20. Take in the beauty of Laguna Beach
Laguna is one of the most beautiful beaches in Orange County, if not all of Southern California. I love jogging along the sand, listening to the waves early in the morning before the crowds hit. Dramatic cliffs and ocean views make this beach a hot spot for photographers. After your beach visit, there are plenty of restaurants, shops, and art galleries to visit.
Address: Coast Hwy and Broadway, Laguna Beach, CA 92652
More info on Laguna Beach
21. Visit the El Dorado Nature Center
Take a little time out to visit this very quiet, scenic nature center, located far away from the tourist crowds of Long Beach. A variety of easy nature trails will take you through beautiful forests and a few small lakes, enabling you to explore an interesting alternative to the beach. You will almost forget that you are so close to the city! A great way to get out of the hustle and bustle of the city for some quiet relaxing recreation.
Address: 7550 E Spring St, Long Beach, CA 90815
More info on the trails of El Dorado
22. Window shop on Rodeo Drive
At Rodeo Drive, you can take photos and window shop along one of the most famous streets in the world. You can also have someone snap your photo by the iconic Beverly Hills sign. Plenty of photo opportunities exist at every turn. Overall, it's a fun experience for visitors new to LA to grab a coffee and people watch for the afternoon. Once you visit once you probably will agree it is too touristy, however, at least you can check it off your bucket list! Don't expect to run into any celebs here, although it's a great time for movie and TV buffs!
Address: 421 N Rodeo Dr #1, Beverly Hills, CA 90210
A full listing of shops on Rodeo Drive
23. Search for colorful seashells/seaglass
Beachcombing is always a fun activity to add to any beach vacation as you can walk away with a few free souvenirs to remember your trip. Silver Strand State Beach in Coronado is a hotspot for all different types of seashells, while La Jolla Cove in San Diego is your best bet for seaglass. While the seaglass is not as spectacular as that which you would find at the Northern California beaches (check out Ft. Bragg's stunning Glass Beach for the highest concentration of seaglass in the world), you will find some nicely tumbled shades of green, white, and brown.
Addresses: Silver Strand (5000 CA-75, Coronado, CA 92118), La Jolla Cove (Coast Blvd, San Diego, CA 92037).
24. Treat yourself to a great meal at an authentic Mexican restaurant
Southern California is home to some of the best Mexican restaurants in the country. It would be silly to waste your time here eating at the same chains you can find at home. Why not try out something different and delicious? One of my personal favorites is Casa Guadalajaro in Old Town San Diego. The food, service, and setting are all exceptional!
Address: 4105 Taylor St, San Diego, CA 92110
25. Get tickets to Mickey's Not So Scary Halloween Party at Disneyland
We all know Disneyland is amazing anytime of year, however, nothing beats an October visit for the super festive Halloween extravaganza. Known as Mickey's Not So Scary Halloween Party, this festive annual event requires a special ticket after regular park closing, thus helping to thin out the crowds. Trick or treat stations for everyone (yes adults are welcome too!), a special Halloween fireworks show and parade, Halloween decor everywhere, and a special Nightmare Before Christmas themed version of the Haunted Mansion ride, make this one event that Halloween lovers do not want to miss out on!
And there's so much more – endless Halloween photo opportunities, Halloween music, special pumpkin treats, and everyone is free to dress up in costume. I love this event – it's the top Halloween event period.
The best part of all is next to no wait time for the majority of rides. Because the traffic is centered heavily upon the Halloween festivities, popular rides like Thunder Mountain, Indiana Jones, and Space Mountain have next to no wait. The longest we waited was 30 minutes for the Haunted Mansions. Although you have limited time at the park, you will have time to enjoy the festivities and get on most rides.
More info on Mickey's Halloween Party
Other fun ideas…
*Stroll around the quaint Earl Burns Miller Japanese Gardens in Long Beach at CSULB. What a gorgeous place away from all the congestion! The Koi pond is so beautiful! Too bad photography is not allowed here.
*Take your pic by the famous Hollywood sign. Of course, you cannot leave L.A. without taking your pic by the iconic sign. As mentioned above, hiking the trails at the Griffith is your best bet for quality up close photos. Otherwise, drive up to the Griffith and you can enjoy some pretty spectacular views from the observation deck. Not as up close as the hike obviously, however, for those not keen on hiking through the desert, it is your next best bet.
*Enjoy a fun & scenic water adventure via Kayaks on the Water in Long Beach – Fantastic views and affordable prices make for the perfect weekend activity in beautiful Long Beach.
*Sign up for the Long Beach Half Marathon. If you want your first half to be a scenic one, it doesn't get much better than the Long Beach course! Enjoy a mostly flat course, immense support from the local community, and gorgeous never ending views of the Pacific! Running this race was absolutely beautiful and to this day is still one of my best times 🙂
*Stroll the 2nd Street shops in Long Beach's Belmont Shores neighborhood – This beautifully landscaped shopping and dining area is the perfect place for a summer stroll!
*Hike Joshua Tree National Park, a quiet and peaceful alternative to the more touristy places in Southern California.
*Beach volleyball! It is hard to envision Southern California and not think of volleyball. Dozens of beach volleyball nets are set up everywhere along the beaches in California, especially Hermosa, Redondo, and Huntington. Whether you want to play a game or just be a spectator, the choice is up to you!
*Visit the Long Beach Museum of Art. It's free every Friday! Beautiful works of art and even better views of the coast!
*Take a tour of the historic, haunted Queen Mary. Halloween is a particularly spooky time to visit ;).
*Check out the Aquarium of the Pacific, frequently rated amongst the country's best! As an added bonus, this aquarium is located in the gorgeous Shoreline Village area of the city, where you can dine alongside the water, take a cruise, view the lighthouse, browse souvenir shops, and much more!
*Plan a day trip to Catalina Island. Beaches, snorkeling…the relaxation opportunities are endless. Pricey, however, you can receive a free ride on your birthday!
*Shop/dine/play at the Pike at Rainbow Harbor. I love this area in Long Beach because there is just so much to do and it is easily walkable from the beach/Shoreline Village area, so you can hit all 3 in the same night. Here you'll find shops, pubs, restaurants, and even a Ferris wheel with great views of the city and coast. One must visit is the Sgt. Peppers Dueling Piano Bar!
*Get tix to a California State University basketball game. What a fantastic experience with lots of dedicated fans!
*Check out Universal Studios. Universal is always a great time for anyone looking for some youthful fun! The new Wizarding World of Harry Potter just opened at Universal, and it is an amazing experience for fans!
*Explore the beautiful Getty Museum. It's free all the time and regarded as one of the best art museums in the world.
*See a movie on the beach – During the summer months, various cities offer free movies on the beach. This is a really neat experience, especially for tourists visiting from colder climates. I have seen movies in the park before, but watching one of your favorite 80's movie on the beach is that much better! Long Beach offers a particularly nice lineup and setting.
*Ride the Ferris wheel in Long Beach – Although this one is not likely to be featured on any top travel lists, it should be! The views of Long Beach and the ocean are fantastic and it only costs a mere $3! Some of the best views I experienced during my time in Southern California!
*Attend annual celebrations – There is plenty of fun to be had in LA and Orange County during the holidays, especially over the 4th of July weekend. There is no shortage of events, entertainment, parades, and firework shows on any given weekend.
*Spend the afternoon at The Grove – The Grove shopping center in Los Angeles is one of my favorite outdoor malls. It's a major plus to be able to shop and still enjoy the nice sunny, warm California year-round weather. There is a cute trolley which takes you from one end to the other. The mall is clean, nicely landscaped, has a variety of restaurants and shops, and you can get your parking validated with any restaurant purchase! Free concerts and movies are held throughout the summer months. They always seem to be taping something here, so you might just catch a glimpse of your favorite celeb. At one point, Extra with Mario Lopez was filming here – what a nice treat for Saved by the Bell fans!
*Explore movie filming locations – Lots of popular movie and TV shows have filmed in Long Beach. In fact, it's one of the most used filming destinations. Some of my favorite destinations include the Ferris Bueller house, the American Pie house, and the Griswold house from Vegas Vacation.
Check out this lengthy list of movies/TV shows filmed in Long Beach
More to come soon…check back for updates!
It's Your Turn!
What are some of your favorite things to do in Southern California? Leave a comment below so we can get the ultimate list going!