Leaf Peeping Near Tucson: Fall Color on Mt. Lemmon
Fall color in Tucson? Yes, it does exist, although not exactly within the city itself. There is no fall foliage to be found anywhere in Tucson, however, you can drive about an hour and a half outside of the city up to the high altitude trails of the Coronado National Forest to see the colorful deciduous leaves. While Tucson is associated with warm to hot fall weather and cacti & other non deciduous desert plant life, the higher elevated mountain areas around the city are home to lots of aspens and deciduous trees, thus offering a hint of fall for anyone longing for the traditional East coast fall ambiance.
Mount Lemmon, with an elevation of 9159 feet, is the highest peak in the Santa Catalina mountain range. At this high of an altitude, the temps are about 20 degrees cooler than Tucson year-round. About 30 minutes outside of Tucson lies the Mount Lemmon Scenic Byway, a 30 mile drive which leads you on a stunning journey, where mesmerizing fields of Saguaro cacti are eventually replaced by pines, aspens, and deciduous trees. The small community of Summerhaven is a popular year-round recreational destination. Here you will find a few local restaurants, the ski resort, a fudge shop & country store, a variety of cabin rentals, and a number of hiking trails.
The trails of the Santa Catalina mountains are lined with both pines and deciduous trees which change beautiful hues of gold and red, typically around the 2nd or 3rd week of October. Of course, there are many more amazing places to see fall foliage all over the country. In fact, Flagstaff (just 3 and a half hours north) is home to the most amazing foliage in Arizona, and maybe even out West. However, if you are looking for a close day trip from Tucson, Mt. Lemmon is your best bet.
Unfortunately, fall in Tucson usually means daytime temps finally dropping into the mid 80's-mid 90's after months on end of 100 degree temperatures. While the morning temps are a bit cooler, it just doesn't feel like fall…at all! Thus, locals and tourists both make their way up to Summerhaven to enjoy the cooler temps and drastically different scenery. I wouldn't recommend going out of your way to see the fall foliage here as Flagstaff's fall season is much more impressive, however, if you are a local feeling like you have been cooped up in the house for months on end are looking for a quick, convenient, low stress day trip, you might want to check out a trail at Mount Lemmon. Even if you see no fall color, at least you get to enjoy cooler fall temperatures in a more picturesque setting.
Your 2 best bets for seeing a lot of foliage in the Mt Lemmon area are the Aspen Draw trail and the road near Bear Wallow Campground which is lined with many aspens and maples, which shine gold and red during peak season.The Aspen Trail is pretty easy and relaxing, although the entire Mount Lemmon area, as well as Tucson, could really do with more trail signage. In a high altitude, dry desert area like Tucson, the rangers really need to step up their game. Due to poor trail markage, I recommend stopping by the visitor's center and picking up a trail map. Remember that you are in a high altitude area, so take it easy, drink plenty of extra water, and only go out to your comfort level!
A few pics from the fall 2017 season – Nothing too dramatic, but about the best you can get without driving over 3 hours or taking a flight!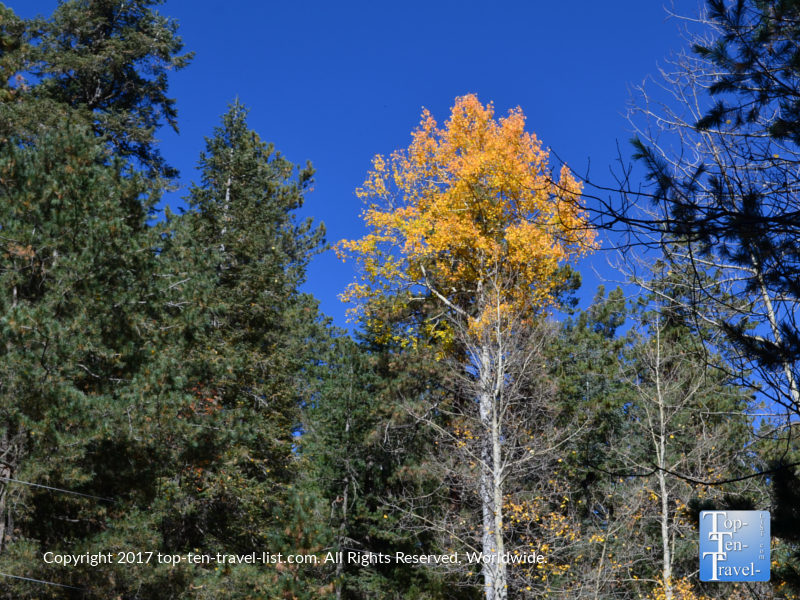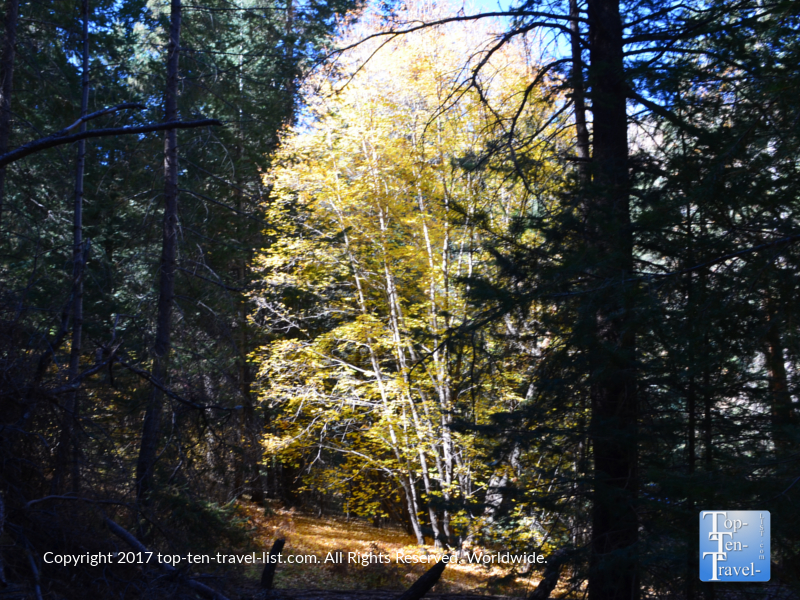 Other easy day trips from Tucson which offer a little bit of fall leaf peeping opportunities include Madera Canyon and the Ramsey Canyon Preserve.