Pittsburgh's Bicycle Heaven: The World's Largest Bicycle Museum and Shop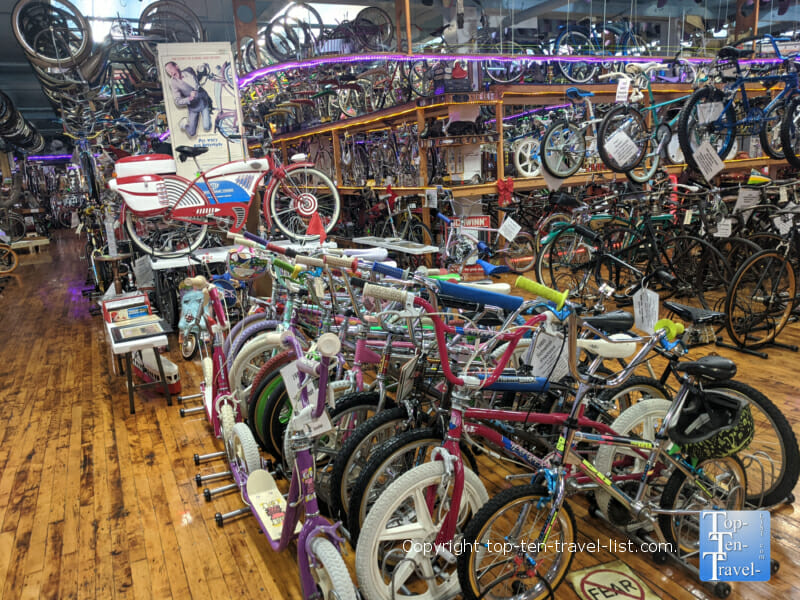 If you are into quirky, oddball attractions, then you will definitely want to plan some time to visit "the world's largest bicycle museum and shop" while exploring Pittsburgh. Craig and Mindy Morrow opened Bicycle Heaven in 2011. Craig started with one bike which he found in the junk and proceeded to collect vintage bikes while also doing repairs. He opened this iconic Pittsburgh museum when his collection outgrew his space. Today, the museum collection is quite massive.
At this quirky museum, old bikes are given a new purpose. Everywhere you turn there is a bike – even on the ceiling! Lots of fun decor, memorabilia, and cool lighting and music give this museum a retro nostalgic vibe. It's definitely a fun blast to the past!
Not only can you bring in your bike for a tune up, trade in an old bike, but you will also be able to view bikes featured in various movies and series. From Super 8, to The Monkees, to Pee-Wee's Big Adventure, you will see many iconic cycles from the big screen. The museum has received much press via various publications including The New York Times. In addition, Bicycle Heaven was recently rated the best museum and one of the top indoor attractions in Pittsburgh.
Vintage Bikes Galore
According to the website, the museum houses almost 6000 vintage bikes. Most notably, the museum is home to 17 Bowden Spacelanders, the first fiberglass bike (only 30 have been found out of the 544 made). In mint condition, this bike is worth a whopping $18,000-50,000. Interestingly, occasionally someone finds a Spacelander at a flea market/garage sale for next to nothing. According to this article by the Orlando Sentinel, one turned up years ago at a flea market in Des Moines for a mere 10 bucks. As the popular saying goes…"Another man's junk is another man's treasure." Just one reason to hit up flea markets and yard sales on the regular!
The futuristic looking Bowden SpaceLander, 1964
A few memorable vintage bikes. Keep in mind that these are just a few that caught my eye. You could easily spend hours exploring here!
Schwinn Krate Models
Date: 1968-1973
Today's value: $1000-10,000
*I love the retro streamers
Huffy Radio Bike
Date: 1955
Today's value: $5000+
*Nice 50's memorabilia
Shelby Donald Duck
Date: 1949
*The horn was a quack and the eyes lit up
Schwinn Stingray Sneaker Bikes
Date: 1978
*Bicycle Heaven is the only place where you can see both a boy's and girl's model together
Schwinn Manta Ray
Date: 1971-1972
*After numerous accidents, the stick shifter was banned.
Roadmaster
Date: 1936
*Roadmaster bikes were featured in the film Breaking Away (1979)
Schwinn Starlet
Date: 1950-1960
Mattel Vrroom Tricycle
Date: 1964
*A rare tricycle
The Bike Tree
Two vintage bikes (1930's Dayton and a 1960's Schwinn) caught in a tree.
Schwinn bike seats
A funky place
The museum is very busy with lots to see. Really, it's a sensory overload of everything bicycle related possibly imaginable. Anyone who loves classic bikes will surely leave impressed. This is a museum you may need to visit more than once to take it all in. Despite the enormity of the collection, the bicycles are presented in an attractive manner. The vibe is very funky and retro with room upon room of colorful bikes and parts.
Pictured below is the neon glow in the dark sprocket room
Pee-Wee's Big Adventure
While the shop repairs bikes and sells endless parts, it's most known by tourists for the quirky museum. Fans of Pee-Wee's Big Adventure will surely remember the famous red bicycle. Who remembers the funny exchange with Francis early on in the movie?
Francis: "Today's my birthday and my father says I can have anything I want." Pee-wee: "Good for you and your father." Francis: "So guess what I want." Pee-wee: "A new brain." Francis: "No. Your bike!" Pee Wee laughs on the ground. Francis: "What's so funny, Pee-wee?" Pee-wee: "It's not for sale, Francis." Francis: "My father says everything's negotiable, Pee-wee." Pee-wee: "I wouldn't sell my bike for all the money in the world. Not for 100 billion-million-trillion dollars!"
Several bikes were made for the movie. According to the museum, this bike is 1 out of 4 remaining of the 14 bikes used in the movie. One is owned by Paul Reubens who played Pee Wee. Another is on display at The Bike Museum of America and another sold for a whopping $38,000 on eBay! Today, you can view one of them at Bicycle Heaven. There are also a number of Pee Wee memorabilia items including the Pee-Wee Herman doll.
More movie/TV bikes
While browsing around the museum you will notice many bikes featured in various films. As the bikes are oftentimes as much of a character in the film as the actors themselves, these memorable bikes will likely jump out at you before you even reach the informative sign. Take a look below at a few of the featured bikes:
Elliott's bike from ET
Kuwahara from Japan (1982)
*On auction for $6000
The Monkees
Four-seat, gold tandem contraption used in the 1966-68 series
*On loan from a Hollywood studio
Themed bikes
Various theme bikes made throughout the years including the Beatle's Yellow Submarine bike are on display. This was definitely my favorite, although there are lots more to discover. It's definitely a nostalgic overload for anyone who grew up in the 60's.
Beatles Yellow submarine
Date: 1970
Beatles
*Another cool Beatles themed bike. This rare model was made for Capital Records
Rare vintage Beatles bike seat
Date: 1970
*One of only 50 made.
Happy Days Fonz
Marilyn Monroe
Betty Boop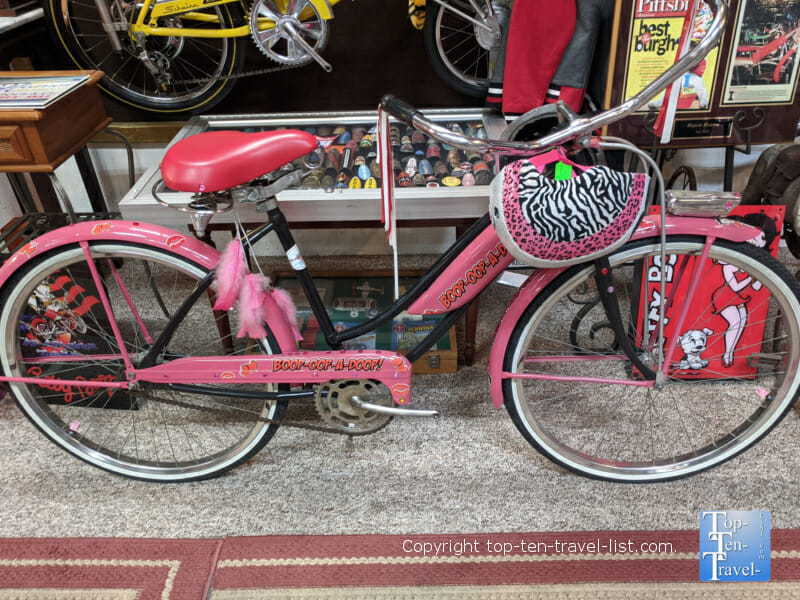 Lots of cool memorabilia too like this Bally Space Time pinball machine (1972) that the Fonz played- unfortunately out of order on our visit!
And of course, plenty of Steelers memorabilia!
Location/Parking
Bicycle Heaven is located at: 1800 Preble Ave, Pittsburgh, PA 15233. Hours are 10am-7pm, 7 days a week. Don't let the rundown industrial location fool you. Admission is free. Donations appreciated. Parking is also free. More details on Bicycle Heaven.
Biking in Pittsburgh
Pittsburgh is home to a number of paved bike paths. Biking is a great way to explore the city especially today with high gas prices. By biking, you can connect to various city sights minus the hassle of parking, traffic, and added fees. Also biking is a fun way to get in your cardio for the day and oftentimes much more scenic than a boring gym!
Three Rivers Heritage trail – The museum is located nearby this top rated trail. The majority of this 33 mile long trail is paved. Highlights include river views and easy access to local attractions. View the full map to plan your route. A few great views from the trail:
Tip: Plan your ride on Sunday when parking meters are free! The best spots to access the trail are near the Strip Market district (plenty of parking) and near The Andy Warhol museum.