9 Things to do indoors in Pittsburgh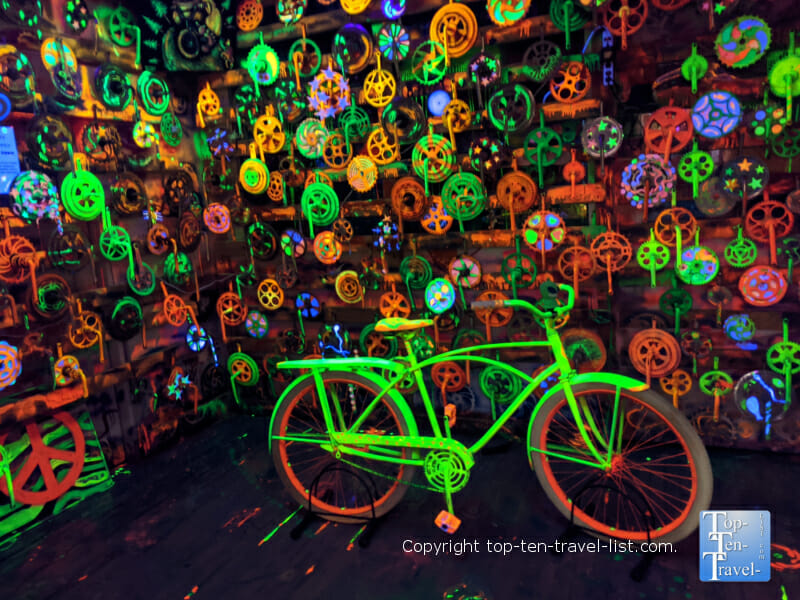 For the majority of the year, it is either too cold, too overcast, or too rainy to do much outside in Pittsburgh. This could be a good (I love overcast weather!) or bad thing depending on if you like gloomy skies and cuddling up on a cold, grey day with a good book, movie, or TV series. For those who prefer to get out there and explore, luckily, there are plenty of indoor attractions to enjoy. Featured are 10 fun ways to enjoy Pittsburgh without venturing out into the cold or rain for too long!
1. Go back in time at The Carnegie Museum of Natural History
Pittsburgh is home to several world-class Carnegie museums. One of the treasures of PIttsburgh is the wonderful Carnegie Museum of Natural History. This museum was founded by industrialist Andrew Carnegie back in 1896. Today, the impressive dinosaur exhibit is considered one of the best in the country. 75% of the fossils are original and most skeletons are real. The T-Rex is a holotype (which means it is the first specimen of a species). Also of interest are 20+ dioramas showcasing wildlife in America and Africa and an incredible Hall of minerals and gems. This museum is rather large (and also connected to the equally fantastic Museum of Art), and thus, a great way to kill a few hours on an overcast day!
Note: Bank of America members get in free (as part of Museums on Us), the first full weekend of each month!
2. Be wowed at The Carnegie Museum of Art
Andrew Carnegie founded this beautiful museum back in 1895. Carnegie envisioned the collection as a showcase to the "Old Masters of tomorrow". It is considered one of the first contemporary art museums in the country. The collection is impressive, and the architecture of the building just as incredible. The Art museum has expanded many times over the years and today is considered one of the best of its' kind. Most impressive is the Hall of Architecture featuring 140 plaster casts of masterpieces from Greece, rome, and Egypt. On a side note, the beautiful marble in the Hall of Sculptures came from the same quarry used to build the Parthenon in Athens.
3. Go old-school gaming at Pinball Perfection
For all the old-school gamers out there, a visit to Pinball Perfection is a must. I love this place – seriously I could spend all day here. This gigantic space is filled to the brim with iconic pinball and arcade machines. Your admission ticket ($12-15) includes endless hours playing your favorite nostalgic games. So leave the phone at home and take a temporary step back into time to the 80's. With over 300 machines, you will won't care what is going on outside! Love the amazing selection of Star Wars & Star Trek pinball machines!
4. Learn about Andy Warhol's life & art at The Warhol Museum
Andy Warhol is amongst a handful of notable PIttsburgh celebrities. The famous pop art icon was born in a working class neighborhood in Pittsburgh and later moved to NYC. An entire 7 floor museum (the largest museum dedicated to a single artist) chronicles his life and art work. The Warhol Museum is definitely worth exploring if you are a fan of Warhol or modern art. The museum is organized in chronological order by floor which is pretty cool. The section dedicated to his early life is pretty interesting, more so if you are a big Warhol fan. I also love the gift shop -you can really pick up some cool souvenirs here.
5. Shop, dine & explore regional history at The Strip District
This historic neighborhood was once home to many factories and steel mills. Today, you can shop at long-running ethnic grocers, pick up fresh produce from stands, score deals on Steelers merchandise, enjoy local coffee, and dine at local restaurants. Because everything is so closely packed together, strolling The Strip is a great activity on a rainy day – just bring the umbrella. There are a number of coffeehouses where you can escape the rain for a bit including local gems like Defer (a trendy favorite) and La Prima, a notable Italian roaster. The original Primanti Brothers (known for their iconic sandwiches with coleslaw and french fries) started in the Strip. Also, history buffs must browse around the Heinz Center (featuring Mr. Roger's TV set, Heinz ketchup exhibits, and the Western PA Sports Museum).
10 must-dos in the Strip District
6. Enjoy nature at Phipps Conservatory
The best time to explore the lovely gardens at the Phipps is either on a gloomy overcast or cold winter's day. This green oasis is a nice cozy escape when it is too rainy or cold to do much else. Along with exploring 23 diverse gardens and a beautiful 14 room glasshouse, you can look forward to special seasonal displays and events. What I love most about this garden is the incorporation of mesmerizing Chihuly glass pieces throughout. Since exhibiting the glass blown masterpieces by artist Dale Chihuly in 2007, Phipps continues to display some of Chihuly's incredible pieces. If your visit falls during the winter season, do book tickets to the festive Holiday Magic event.
7. Cozy up with a drink at Mediterra
Relaxing with a good cup of joe at a local coffeehouse is definitely one of the best things to do on a rainy day, and luckily Pittsburgh is home to a fantastic array of indie coffeehouses. In fact, the city is home to one of the most number of coffeeshops per capita! One of my local favorites is Mediterra, an upscale bakery/coffeehouse with 3 convenient locations. Mediterra serves excellent coffee (and offers refills!), bakes homemade pastries and artisan bread daily, and offers a full breakfast menu (the Shakshuka is so good!). As for the pastries, there are almost too many to choose amongst. Go for the cinnamon roll, danish, almond bostock, or chocolate croissant. Even better, they offer seasonal pastries and drinks throughout the year – I love the Pumpkin Danish!
Note – the setting is especially gorgeous at the downtown Sewickley cafe.
8. Take a sightseeing cruise
Enjoying the views of Pittsburgh's mesmerizing skyline and iconic bridges is best done via the comfort of a heated boat. On a rainy or cold winter's day, a cruise really is the best way to take in the scenery. You will take in amazing views of the skyline, sports stadiums, and the Allegheny, Ohio, and Monongahela rivers. While the views are fabulous and the experience iconic via the Duquesne Incline, it's not the best way to enjoy the view on a rainy day. On a narrated sightseeing cruise, you can take great pictures and learn more about the city, all in a cozy, warm setting. Gateway Clipper offers a variety of cruise options including special dinner buffet and holiday rides.
9. Tour the world's largest bicycle museum
A browse through the world's largest bicycle shop and museum is a great stop on a cold or overcast day. Bike afficianotos will have a field day checking out all the rarities on display at Bicycle Heaven. With over 6000 bikes, you could really spend some time here! Highlights include Bowden Space Landers (the first fiberglass bike) which today can be worth upwards of $40,000! To date, 30 have been found including 17 at this museum). For the movie buffs out there, they have Pee Wee Herman's famous ride, along with classic bikes from E.T., The Monkees, Happy Days, and more. The Neon Sprocket room is really cool and all the fun throwbacks to the past and vintage items will definitely bring on the nostalgia!
More to do indoors
* Relax at a local spa. Or, enjoy an infrared sauna session – detox your body and soothe muscles. Nothing feels better on a cold rainy day than relaxing in a 140 degrees sauna! Check out Melt or Revive sauna studios.
*Go bowling. Lots of alleys around the metro, both casual and upscale. I like AMF in Mt. Lebanon.
*See a movie. Great go-to option on a rainy day. Cinemark North Hills and Cinema Robinson both offer matinee deals.
*Walk around a mall. Lots of great options in the metro. The Mall at Robinson features a great mix of casual and upscale stores. For movie buffs, Monroeville Mall was used for Dawn of the Dead.
*Visit cats for a good cause. Cat cafes are seemingly popping up everywhere. The conception is simple – you pay a small fee to observe cats (which are all available for adoption). I recently adopted an orange tabby from the wonderful Kitty Cat Queen Rescue.
*Check out the local food scene. Lots of great foods Pittsburgh is known for, from sandwiches, to "the Pittsburgh salad," to pierogies. Check out my guide to the best restaurants in the 'Burgh.
*Stroll around the National Aviary. A bit small and overpriced, yet worth a look by any bird watcher.
*See a show. The Cultural District is home to several theaters including the Benedum Center featuring Broadway productions.
*Spend the day reading at The Carnegie Library. A gorgeous building to catch up on the latest novel on a gloomy day.
*See a hockey game. Cheer on the Penguins at the PPG Arena.
*Go ice skating. Pittsburgh is home to some amazing outdoor rinks. Fortunately, if it rains you are not out of luck. Indoor options include Ice Castle and Mt. Lebanon Ice Center.