10 Things to do in Pittsburgh's Strip District
The Strip District is becoming one of the most popular tourist destinations in Pittsburgh. What once was a hub for produce distribution has transformed into a trendy place to dine, shop, and live. In the 19th century, many prominent companies including Heinz and US Steel resided here. Old factories and warehouses today stand as office space, coffeehouses, and restaurants. In recent years, many tech companies have taken up office space here including Facebook. Despite the modern transformation, the area retains much of its' grittiness, uniqueness, and local flavor.
The 5 block Pittsburgh Produce terminal (the former, Pennsylvania Fruit Auction & Sales Building) is now a mini hub for dining, shopping, and fitness. A new development will include an Asian food hall. Check out the full directory and upcoming event calendar to plan your visit.
Below are a few fun activities to consider while exploring The Strip District, or simply "The Strip" as locals call it.
1. Treat yourself to a great cup of joe
There are many local coffeehouses to choose amongst in The Strip District. While some of these shops focus more on to-go business, there are also a few cozy options if you prefer to relax, socialize with friends, or enjoy a few cups of joe in a nice setting. A few of my current favorites below:
La Prima Espresso – Serving the best espresso and coffee in the Pittsburgh area, La Prima is a must try by any coffee lover visiting Pittsburgh. La Prima opened in 1988 mainly as a place to sell coffee equipment. Today, numerous locations are found throughout the city. They roast their own beans (certified organic) in small batches. Over 20 types of coffee can be ordered at their store or online.
Although The Strip location is very small with limited indoor seating, it's a nice place to kick back during the summer months (if you can handle being in the presence of many smokers – unfortunately, smoking is allowed on the patio). Bonus points for the convenient location adjacent to a local bakery.
Defer – This industrial hipster coffeehouse offers a spacious and colorful space to enjoy your drink. In addition to serving great coffee, they serve the best treats in the city. Do try the Matcha Green Tea cake. As a bonus, they offer many GF, vegan, and health conscious menu items, making it the best choice for those following special diets, as well as anyone else who prefers a healthier morning treat.
Cafetano (now Soluna) – This eclectic newer addition to The Strip coffee scene serves excellent Honduran coffee as well as Honduran and Italian based treats and pastries. The presentation is really nice here, the baristas super friendly, and the space colorful and inviting. The diverse menu includes waffles, croissant sandwiches, smoothies, and healthy treats like overnight oats and acai bowls.
Prestogeorge Coffee & Tea – Long-running local gem serves fresh roasted coffee and tea, unfortunately only take-out is available. The massive selection includes over 500 varieties of coffee beans and loose leaf tea. Best tea selection in the city, hands down.
2. Go back in time at a retro diner
Two of Pittsburgh's most iconic diners have locations right in the midst of the bustling Strip District. On any given weekend morning, you will see crowds of hungry locals and tourists lining up at Pamela's and DeLuca's. Both diners are old school to the core, relatively affordable, and feature retro decor. Most notably, Pamela's is famous for their rolled crepe styled pancakes and DeLuca's is known for their hearty menu of scratch-made fare. On a side note, even Obama enjoys Pamela's pancakes (he is known to stop by on any Pittsburgh campaign visit).
3. Explore the Heinz History Center
The Smithsonian affiliated museum features 6 floors of historical and interpretative exhibits. Highlights here include the original set from Mr. Rodgers Neighborhood, a Heinz ketchup exhibit, and an exhibit highlighting the diverse cultural groups whom settled the area. Also located within the museum is the Western Pennsylvania Sports Museum which explores the region's sports history via artifacts and interactive experiences. Although the vibe is a bit dark and dreary, the historical significance alone makes the Heinz worthy of a visit.
4. Take a bike ride along the Three Rivers Heritage trail
This 33 mile long urban bike trail is a contender for one of the top city recreational paths in the country. A short 2 mile portion of the trail can be accessed from The Strip District (hop on the path near The Yards apartment complex). Enjoy views of the Three Sisters iconic yellow bridges, the beautiful river, and other city sights along the way until reaching historic Point State Park. From here, you can enjoy some nice views of the city, the iconic fountain, and some historical markers and museums detailing Pittsburgh's involvement in the French and Indian war.
5. Enjoy a tasty blast to the past at Grandpa Joe's
Grandpa Joe's candy company has you covered for all your sweet needs. If you have a sweet tooth, you will definitely want to pop in to explore the extravagant selection. This retro shop is a fun place to pick up nostalgic candy, unique gifts, and simply just stroll around and enjoy the old-time setting. Most notably, they offer a Candy Buffet where you can fill up a box for just 5 bucks.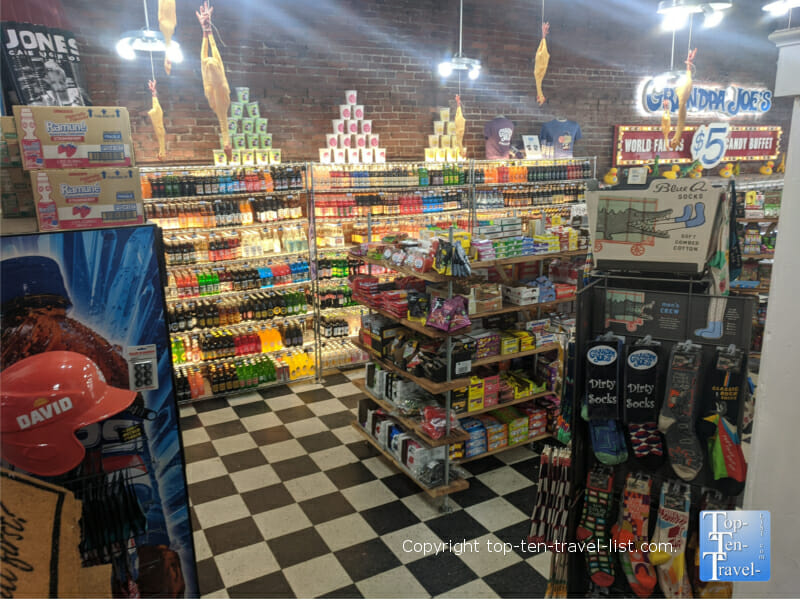 6. Shop for Italian specialties at Pennsylvania Macaroni Company
At this long running local gem, you can order specialty Italian goods from an on-site deli, purchase fresh local produce and high quality cheeses, and browse through over 5000 imported products. It's a beautiful place to just stroll around even if you do not intend to buy anything!
7. Load up on Steelers merchandise
The Strip District is by far the best place in the city to find bargain Steeler's products. Many a stand will greet you as you walk around the district. Yinzers in the Burgh carries just about anything you can think of – it's a must stop for any Steelers fan!
8. Shop ethnic markets and groceries
The Strip is the best place to go in the city if you are seeking out specialty food products. From Polish, to Italian, to Mediterranean, to Asian, you will find a bit of everything here. Take a quick walk around and you will see many produce stands, vendors selling fresh baked goods, and fish markets. If you like to eat, you are in a good place!
9. Explore the food scene
Many of the most highly regarded restaurants in Pittsburgh reside in the Strip. Primanti's, a long time favorite, is known for their humongous sandwiches topped with fries and coleslaw (it's a Pittsburgh thing!). Although there are now many locations, the original Primanti's began as a simple sandwich cart in the Strip back in 1933.
A few more to try:
Cafe Raymond – Trendy breakfast joint known for their Blueberry Ricotta pancakes.
S &D Polish Deli – Feast on authentic pierogis and potato pancakes.
Bella Notte – Casual Italian joint serving great pizza and pasta.
Colangelo's Bakery – Fresh homemade Italian pastries and pizza available daily.
10. Attend local events
The Strip is a popular destination for events year-round. From outdoor yoga, to food festivals, to special holiday themed festivals, there is something on the calendar no matter when your visit falls.
The Holiday Tree Lighting features live music from a local symphony orchestra plus plenty of vendors. The Original Taco festival, held in September, is another one to be on the lookout for. If you love tacos, then you will enjoy having over 20 vendors to choose amongst. Another popular event is the Monster Pumpkin Festival, a unique fall festival featuring 2500+ lb Atlantic Giant Pumpkins. Probably the most popular, the annual Open Streets festival, allows you to enjoy biking and walking in a rare car-free environment.
Parking info
Metered parking is available. Rates are $1.50 an hour as of 2022. The best time to visit is Sunday as metered are only enforced Monday-Saturday. Be aware that parking fills up fast, especially on busy weekends, holiday periods, or during special events.