Where to get breakfast in Pittsburgh
A filling and delicious local breakfast is a great way to start your day's adventure in Pittsburgh. Before exploring the many parks, museums, and historical attractions in The Burgh, be sure to enjoy breakfast at a local restaurant. Local breakfast joints tend to offer home-cooked food, locally roasted coffee, and a more eclectic ambiance than a common chain. Here are a few great places to add to your dining itinerary.
Central Diner and Grille
Location: Robinson
What to try: Garden Omelet
This popular family-owned Greek-American cafe serves a huge menu of breakfast classics (available all day). This place is bustling no matter what time you visit. Whether you are craving a savory omelet, a sweet stack of pancakes, or something a bit healthier like a yogurt parfait or avocado toast, you will find it all at this local diner. The Garden omelet is a really tasty combo of fresh veggies like peppers, mushrooms, zucchini, cauliflowers, and broccoli. Each entree comes with potatoes and toast. The potatoes are definitely the best in town. Central is located in Robinson, a suburb located about 15 minutes outside of Pittsburgh. If you are seeking tasty comfort food, a great value, and a cozy homestyle ambiance, definitely add Central Diner to your list.
Mediterra Bakery
Location: Sewickley & Mt. Lebanon
What to try: Shashuka
The best bakery/coffeehouse in the Pittsburgh metro is hands down Mediterra. With 2 locations, it's easy to incorporate into your itinerary. Mediterra bakes the most delicious artisan breads and pastries daily. Everything is so fresh and delicious especially the chocolate croissant, cinnamon rolls, and Danish. Festive seasonal pastries and desserts keep things interesting all year-round. As for the breakfast menu, there's much to enjoy including Quiche, Four Grain Porridge, and Milk Bread French Toast. The highlight here is a delicious savory Shashuka, a traditional Middle Eastern dish consisting of poached eggs in savory tomato based sauce. The house coffee is great and they also offer a number of espresso drinks including seasonal specials. Best of all, the ambiance is gorgeous – the perfect elegant vibe for a romantic weekend date.
The Porch at Schenley
Location: Schenley Park
What to try: Quiche of the Day
The Porch at Schenley wins the award for best outdoor patio in Pittsburgh. The gorgeous outdoor space overlooks a large park. It's the perfect laid-back setting for a relaxed weekend brunch experience. Each entree is made from scratch using ingredients from their local gardens or sourced via local partners. The menu changes along with the seasons with specials frequently on the lineup. Do try the wonderful Quiche of the Day or the delicious breakfast burrito. While servings are a bit small for the price, the food is delicious and the focus on farm-to-table ingredients is a bonus. Treat yourself to a mimosa, cappuccino, or espresso and enjoy the lovely park-like setting.
Dor-stop
Location: Dormont
What to try: Breakfast Burrito
This homestyle diner in historic Dormont is a long time favorite (opened in 1986) known for their hotcakes. Options include apple cinnamon, chocolate chip, oatmeal, banana, and pumpkin. In recent years, the diner has become popular with tourists thanks in part due to a visit by Guy Fieri of the Travel Channel's uber popular Diner, Drive-Ins, and Dives. On Season 5, Ep. 1 (What's for Breakfast) Guy can be seeing ordering the Jumbot, Dor-stop's signature egg dish featuring ham, onions, green peppers, home fries, tomatoes, cheese, and Italian toast. While the service is not as friendly as it appears to be on TV and the ambiance a bit blah, the food is decent enough. Try the Breakfast burrito featuring a mix of scrambled eggs, cheese, and sausage or veggies, topped with salsa and sour cream.
Cafe Moulin
Location: Shadyside
What to try: Tivoli crepe
If you love crepes, then you will want to plan a visit to Shadyside to enjoy brunch at Cafe Moulin. Moulin's menu includes an assortment of sweet, savory, and omelet crepes. Options include tantalizing selections such as a Cheesecake, Spinach and Feta, and Chocolate Dream. Not a fan of crepes? A small selection of specialty French Toast and Egg toasts dishes are also available. For a fresh, yet filling meal try the Tivoli crepe featuring cherry tomatoes, spinach, pesto, and mozzarella cheese. The serving is a bit small and it's overpriced, but any crepe lover should be pleased. Enjoy a cup of local coffee or loose leaf tea along with your meal. The ambiance is nice, although a bit cramped and stuffy.
Pamela's Diner
Location: The Strip, Mt. Lebanon, Oakland, Millvale, Shadyside
What to try: Blueberry Hotcakes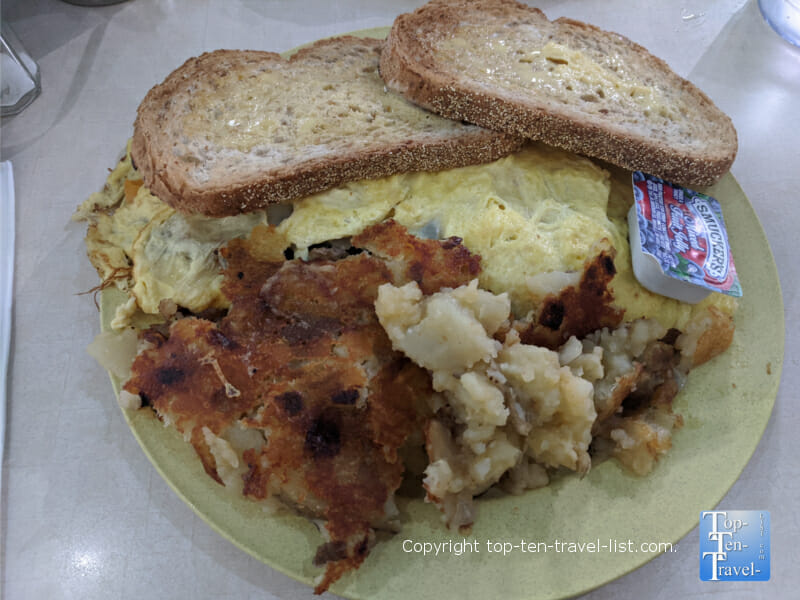 This super popular local diner first opened in Squirrel Hill in 1980. Today, there are 5 locations spread throughout the Burgh. Unfortunately, the flagship cafe closed down in 2021. Pamela's is most well known for their crepe style pancakes and Lyonnaise potatoes, although you can find just about anything on the menu. Most notably, President Obama enjoy Pamela's trademark pancakes at the Strip District cafe during a campaign stop in 2008. Pancakes aside, the omelets are also quite good especially the broccoli cheddar and veggie. On one side note, the coffee is just sub par (stop by nearby La Prima Espresso before/after your meal) and the Strip location cafe could use a good cleaning!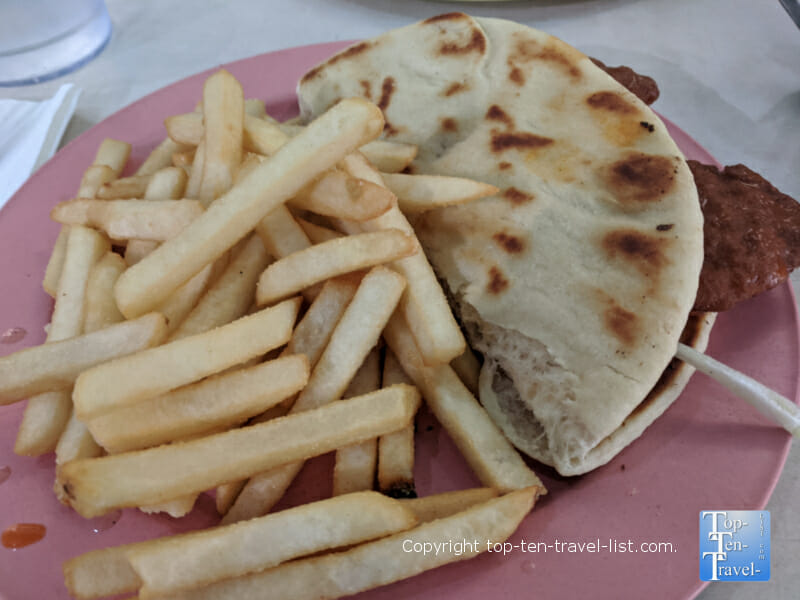 Cafe Raymond
Location: Strip District
What to try: Blueberry Ricotta Pancakes
This popular American cafe is located in the Strip District. If Pamela's has a big line (which it usually does), Cafe Raymond is a great alternative. All baked goods are made from scratch. Most notably, this cafe is known for their trademark blueberry ricotta pancakes, served with local maple syrup. If you have a sweet tooth, this is definitely the way to go. Other goodies include French Toast with strawberry compote and blueberries, Grilled Peanut Butter and Jelly, and a Vegan Quinoa Bowl. The coffee is excellent. The ambiance is nice although it gets pretty noisy and cramped on weekends. Unfortunately, it's a counter service restaurant and the line can be long.
Mel's Petit Cafe
Location: Mt. Lebanon
What to try: Coffee cake
This casual upscale French cafe and bakery is a fantastic choice in the Mt. Lebanon neighborhood. If you find yourself seeking a great local establishment in this area, Mel's is one of your best bets. Although Mel's is most well known for their selection of savory and sweet crepes, they also serve excellent coffee (from local roaster La Prima), in addition to tasty pastries. Both the coffee cake and muffins are wonderful budget friendly alternatives to the crepes. If you do wish to indulge, the Banana Chocolate crepe will satisfy any sweet tooth. The ambiance is charming and tranquil, and thus, the perfect destination for a date!